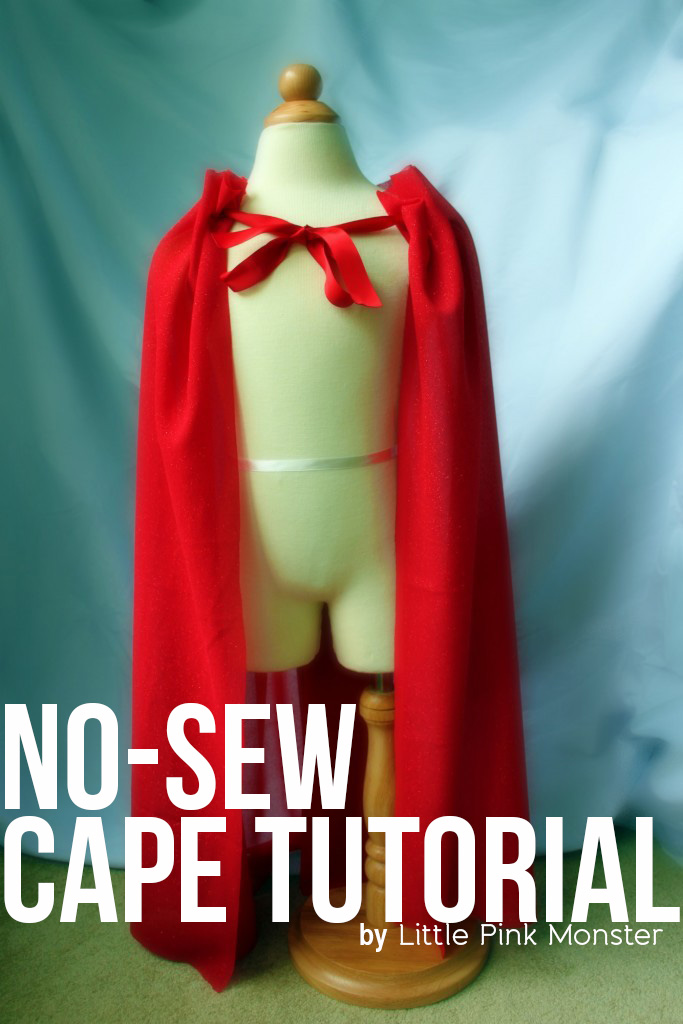 Tutorial by Little Pink Monster
Here's the easy, NO SEW, superhero cape I made for them:
All you need are a few basic supplies from your local fabric store:
1 & ½ yards of red knit fabric, (knit is like t-shirt material & the ends won't fray)
1 yard of red ribbon & scissors.
Instructions:
Lay your fabric out & along one of the long ends fold the edge of the fabric over 1″. With your scissors make several snips in the fold, 1 inch apart, down the length of the fabric. Open the fold & you'll now have several slits to weave your ribbon in & out of. After the ribbon is woven through all the slit gather the fabric towards the center. Take each end of ribbon & loop it back through the last slit & knot. To keep your ribbon ends from fraying you can quickly run the edge over a flame & it will seal them.
That's it! Very simple, very fun & for a very good cause!
Thanks again for having me Andrea! If anyone is looking for some more dress-up posts here are a few more I have to share with ya... you can also click on the tutorials link on Little Pink Monster for tons more DIY & craft tutorials
No-Sew 10 Minute Tu-Tu, DIY Cinderella Dress, Pom Pom Stuffed Tu-Tu
Check out the other Handmade Dress Up tutorials!