Make a costume cape without sewing. This easy DIY cape is perfect for Halloween or a kids dress-up bin. Full supply list and instructions for this no sew cape are below. No sewing machine needed! You can make these for adults or children.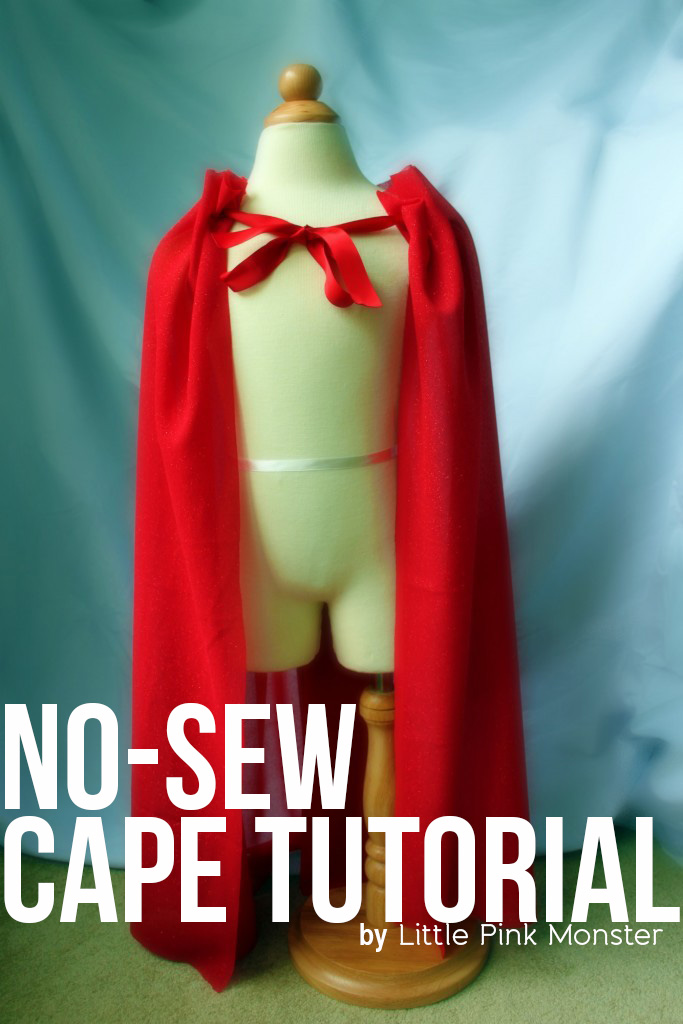 Tutorial by Little Pink Monster published originally in 2011. Updated in 2022.
These no sew superhero cape instructions are easy to follow. No sewing skills needed. If you're wanting something a little fancier, try this DIY Almost No Sew T-Shirt Superhero Cape Tutorial.
Supplies
1 & ½ yards of knit fabric: You need a rectangle of fabric. The length depends on how long you want to make it. Knit fabric is like t-shirt material. The raw edge (sides and bottom of the cape) won't fray. You could also use a thin fleece fabric.
1 yard of ribbon
scissors
Optional: safety pins or sewing pins
Instructions:
Step 1: Lay your fabric out flat. Fold one short edge of the fabric over 1-inch. This one inch of fabric will form the casing for the neck tie. You can pin this down or iron it to lay flat.
Step 2: First cut several snips in the folded edge, 1 inch apart, down the length of the fabric.
Step 3: Open the fold & you'll now have several slits to weave your ribbon in & out of.
Step 4: After the ribbon is woven through all the slit gather the fabric towards the center.
Step 5: Take each end of ribbon & loop it back through the last slit & knot.
Optional: To keep the end of the ribbon from fraying you can quickly run the edge over a flame & it will seal them.
That's it! Very simple, very fun & for a very good cause!
Thanks again for having me Andrea! If anyone is looking for some more dress-up posts here are a few more I have to share with ya… you can also click on the tutorials link on Little Pink Monster for tons more DIY & craft tutorials
Costumes That Require Capes: