I love this video tutorial. Learning how to sew an invisible zipper with a lining is a skill anyone who sews garments needs to learn. It looks a lot more difficult than it is! Keep reading to learn how to make a pillow cover with a zipper (invisible), how to use an invisible zipper foot, add an invisible zipper to a dress, sew a skirt with an invisible zipper and make an invisible zipper in a clutch bag.
Garments or pillows with an invisible zipper will always get you lots of compliments! Invisible zippers really impress people even though it's really not hard once you learn.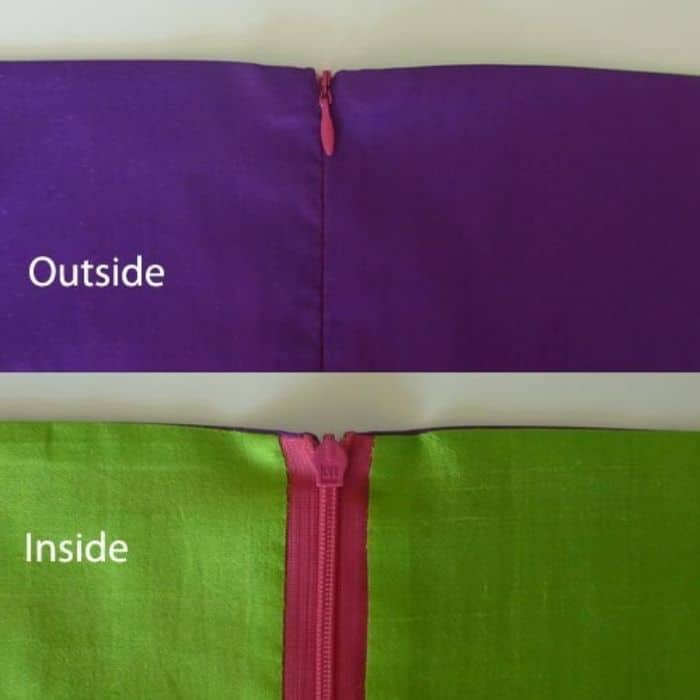 All About Invisible Zippers
What is an invisible zipper?
An invisible zipper is different than a "regular" zipper or exposed zipper. When sewn properly, an invisible zipper is not visible on the outside of a garment, except for the zipper pull.
Can you sew an invisible zipper without a lining?
Yes, absolutely! You can sew an invisible zipper without a lining. If your garment isn't lined it can still have an invisible zipper.
Just follow these instructions, sans sewing to the lining. You'll be able to see the zipper on the inside of the project but for many things that doesn't matter.
What does an invisible zipper look like?
Unlike a regular zipper, the teeth of an invisible zipper do not show from the front of the zipper. See how this zipper is completely hidden.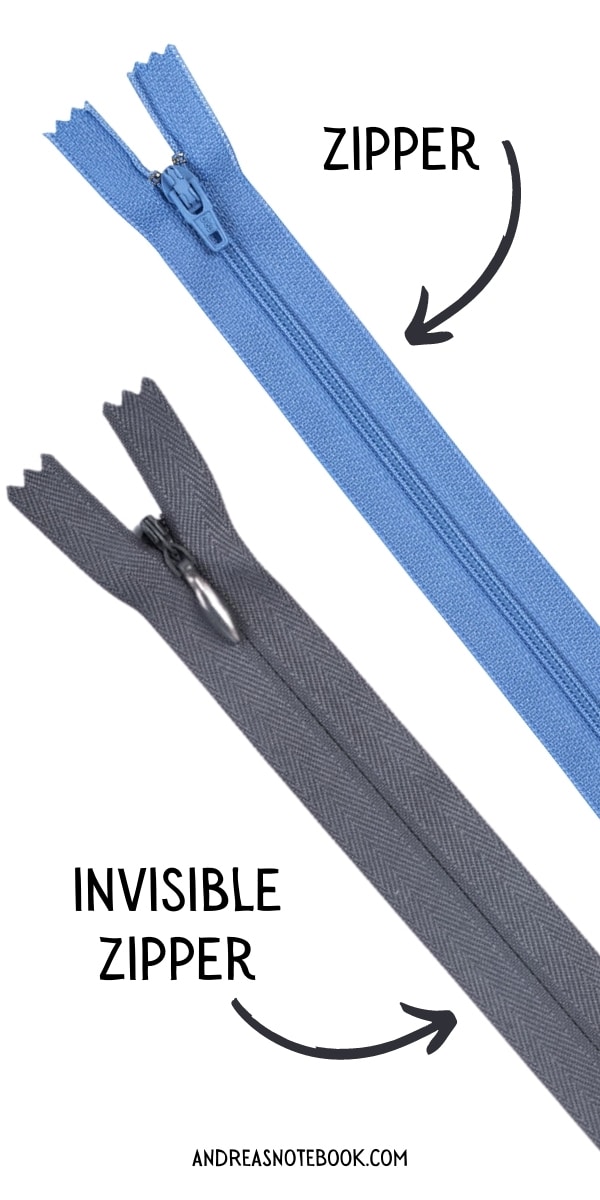 Do you need a special sewing machine foot to sew an invisible zipper?
It's not absolutely necessary but it will be much easier to sew an invisible zipper with an invisible zipper foot.
Things To Sew With An Invisible Zippers
Dresses
Dresses are the most common place to find an invisible zipper. A side zip under the arm or a zipper down the back are usually invisible zippers.
Wrap Dress
This beautiful and fun dress tutorial by Melly Sews has an invisible zipper closure in the back.
I love the wrap front detail and the gathers. It's such a flattering summery dress!
Lined Dress
This beautiful dress tutorial by The Girl Inspired is really helpful. Check out her excellent tutorial.
The tutorial uses her little girl dress pattern but you can adapt it for any dress pattern.
Skirts
Pencil skirts usually use invisible zippers. As I've mentioned, an invisible zipper gives the garment a more professional look so a pencil skirt is the perfect place to put one.
Circle Skirt Tutorial
Make this beautiful skirt in any size! Melly Sews shows you how to make this to fit your body.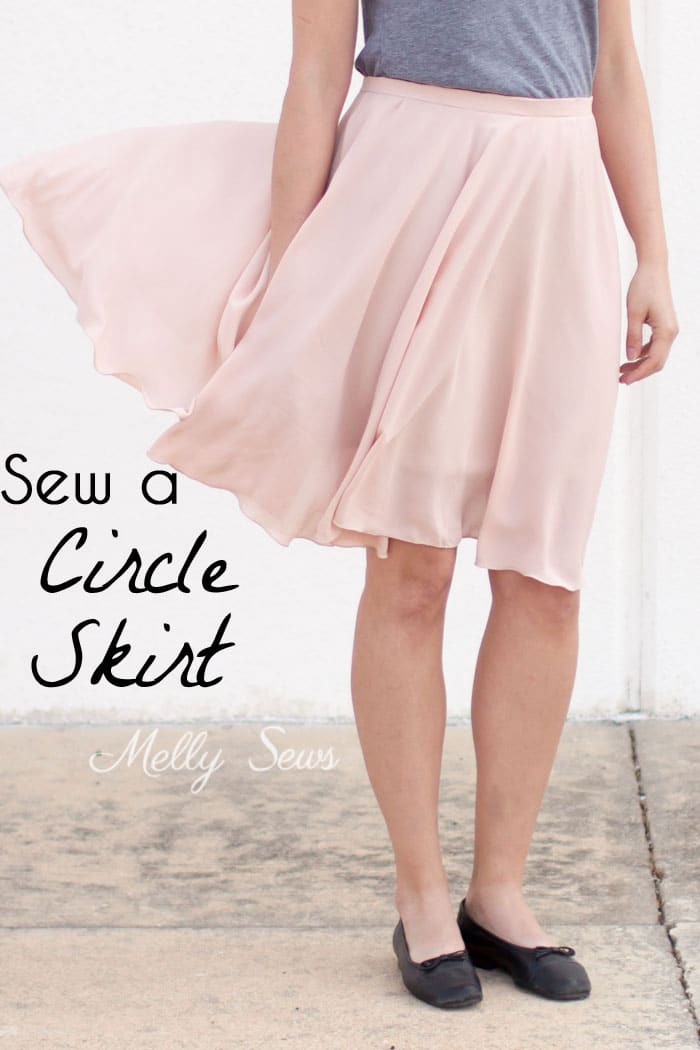 Lace Lined Skirt
This beautiful lace skirt with an invisible zipper by The Girl Inspired is great. It is fully lined just like the video tutorial below.
Pillows
Invisible zippers in a decorative pillow give a nice finished appearance. If you don't want to make an envelope pillowcase for your pillow form then an invisible zipper is the best option.
Knotted Pillow Tutorial
I love these pillows by See Kate Sew! They're a fun way to display your favorite fabrics.
The knotted detail is one of my favorite pillow details, especially if you use contrasting fabrics for the front and back of the pillow.
Piped Pillow Tutorial
These tips and tutorials by The Girl Inspired will help you sew beautiful pillows. Learn how to make a pillow cover with zipper. I love the ones with the pom poms as well. They at a cute, whimsical touch to any sofa.
Make lots of pillow covers to every season. You can unzip and swap them out whenever you want.
Basic Pillow Sham
A basic pillow sham with an invisible zipper is one of the first invisible zipper projects you should sew! Learn how to make a pillow cover with zipper. This tutorial by Melly Sews is helpful.
I love making pillow covers this way so they're easily removable. We're hard on pillow covers. They need to be washed every now and then.
Bags
Clutch With Invisible Zipper
Also consider using an invisible zipper in a zipper pouch. This tutorial shows you how to put an invisible zipper in a clutch.
Supplies Needed To Sew An Invisible Zipper
When learning how to sew an invisible zipper with a lining you'll need a couple supplies. It doesn't take much to sew in the zipper.
pins
invisible zipper
invisible zipper foot for your sewing machine
standard zipper foot
thread
iron
Need to sew a regular zipper? Try this tutorial.
Tips before you start
Always press your zipper teeth away from the tape (the fabric part of the zipper). This will help make a straighter stitch close to the teeth. Set your iron to low heat to prevent melting.
Use a backstitch when starting and stopping your sewing. You want your zipper extra secure so it doesn't pull out with use.
Press the fabric back with your iron after your stitch. Ironing a project when finished makes a big difference.
Video Tutorial: How to sew an invisible zipper with a lining
Skill Level: Advanced Beginner
❤️ Free Baby Leggings Pattern