Sewing skirts is one of the easiest sewing projects to start with. If you're ready to make your first skirt I recommend starting with something simple. When you're ready to move on this free pleated skirt tutorial is adorable! I'm sharing this free skirt tutorial as part of Simple Simon & Co.'s Skirting The Issue series. They're collecting skirts for girls in foster care. If you're interested in sewing a few skirts please check out their resources and all the great tutorials.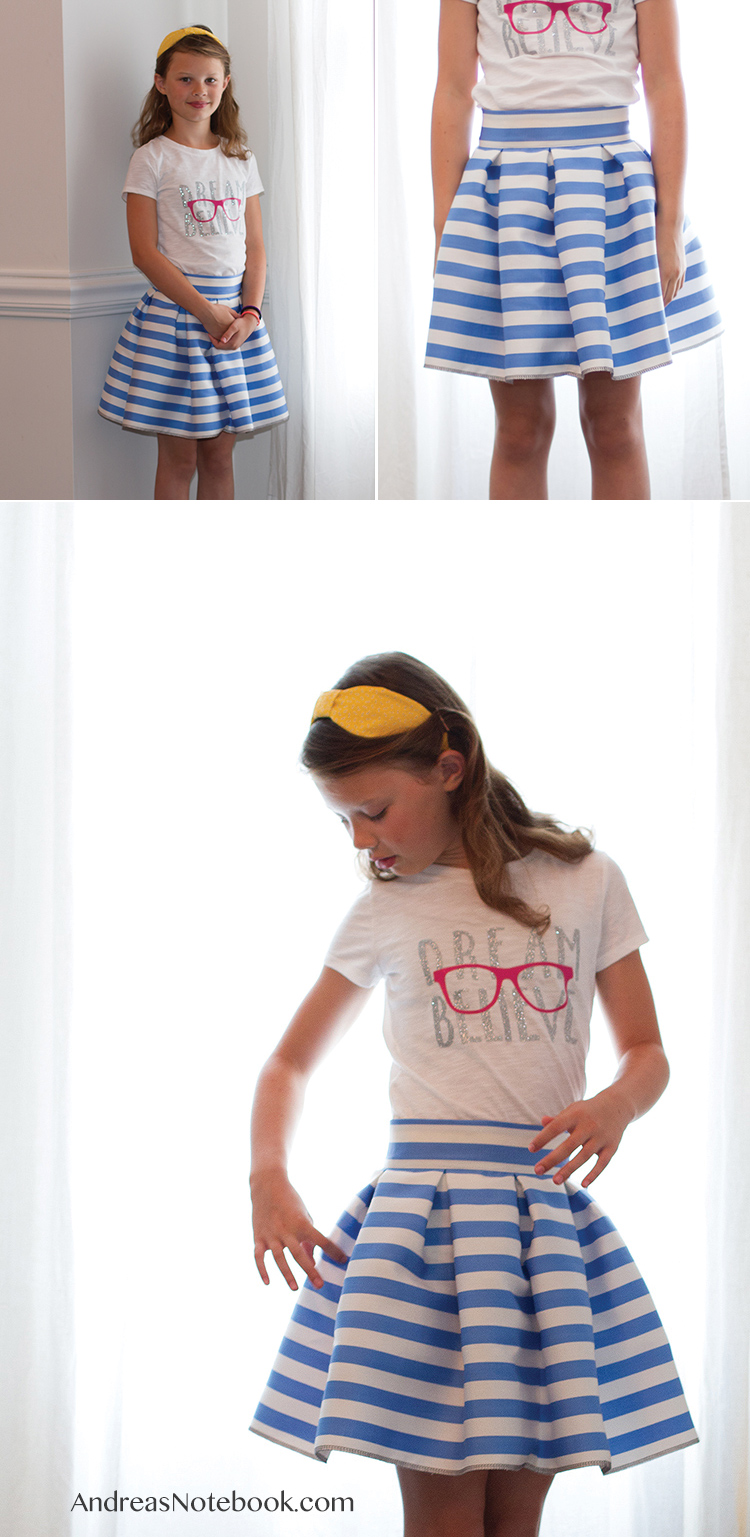 headband: handmade (tutorial) // shirt : iron-on tutorial soon // skirt: handmade
This skirt is a girl's size 10 with a 24″ waist. With a little planning you can adjust this to any size for women or girls.
Supplies:
1 yard of fabric // I used a stiff fabric that I got from the red tag section. I'm guessing it is supposed to be for curtains but it makes the fullest, lovely skirt.
1 zipper // I would have used an invisible zipper if I had one but I used a great metal zipper I have.
Hook & Eye
Coordinating thread
Ruler
Cut Pieces:
Cut 2 waistband pieces 25″ by 3 inches. Optional: Cut an additional piece of stabilizer to iron onto your waistband to make it stronger.
Cut 2 pieces for the skirt, 16″ by 36.5″.
Sew:
Fold, pin and press pleats. (see diagram) Baste pleats.
Right sides together, sew side seams using ½″ seam allowance. Leave one side seam open at top for zipper.
Sew waistband pieces right sides together. Sew one side, right sides together to top of skirt.
Turn waistband, press end ⅜″ under, pin and stitch.
Sew in zipper.
Finish hem. I just serged the hem on mine and ended up loving the look.