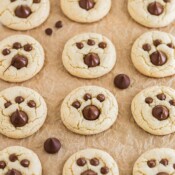 Make these easy and fun bear paw print cookies with a 4 ingredient cake mix chewy cookie base and a chocolate bear claw top.
Discover Bear Paw Cookies with Cake Mix – easy, adorable, and irresistibly delicious. Create these sweet treats using Hershey's Kisses, chocolate chips, and a 4-ingredient cake mix cookies. Follow these step-by-step instructions for bear paw-inspired paw print cookies cookies. The cake mix cookie forms the chewy cookie base and the chocolate make the paw prints. If you love Hershey Kiss cookies ou might also love these peanut butter blossoms cookies or these chocolate peppermint blossoms cookies.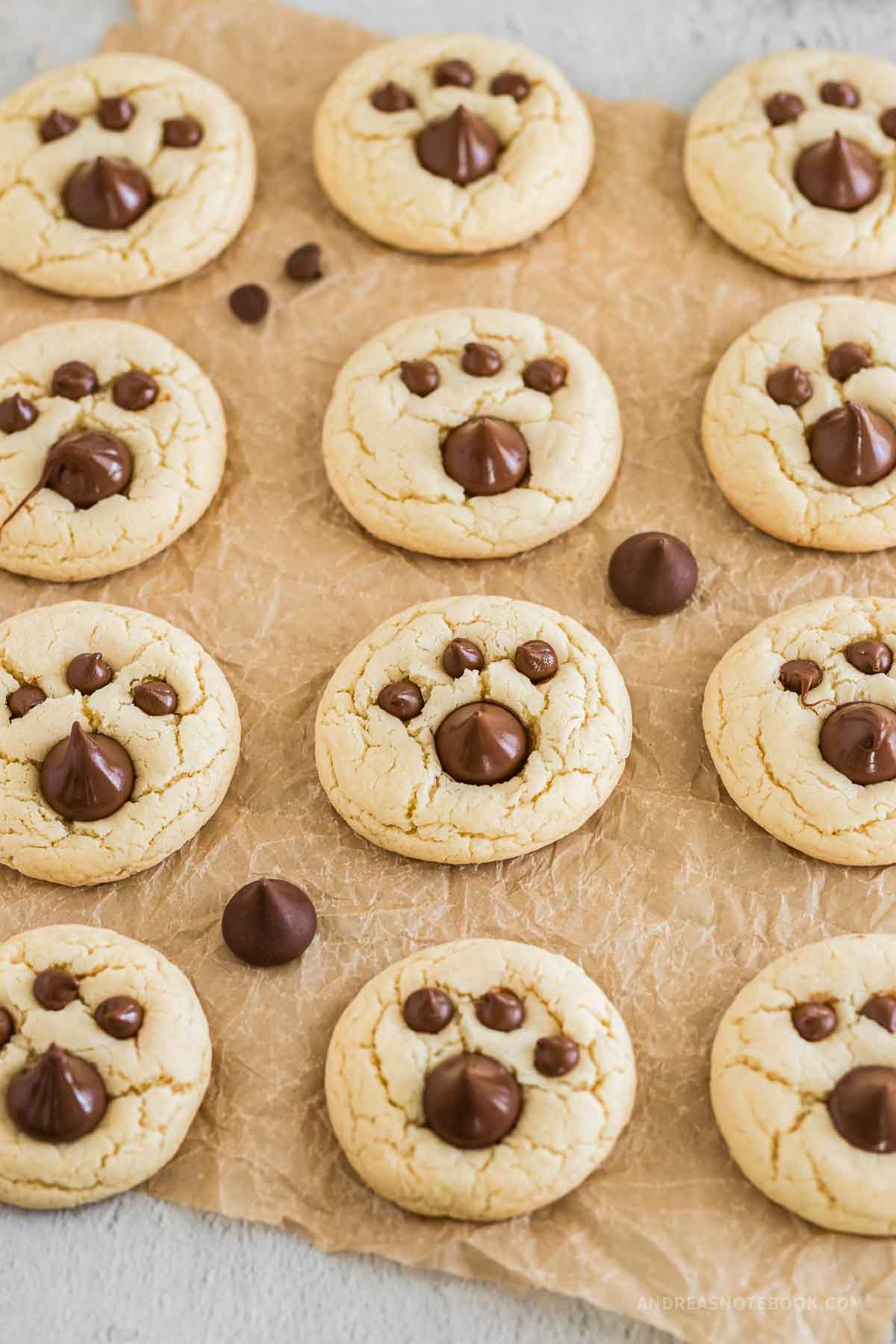 When To Make Paw Print Cookies
Paw print cookies are a versatile treat that can be baked and enjoyed on various occasions. Here's when to whip up these delightful creations:
Bake Sales: Paw print cookies are a hit at bake sales. Their cute design and scrumptious taste make them an easy sell for fundraising events.
Class Parties: Whether it's for Halloween, Valentine's Day, or a simple class celebration, paw print cookies add a fun and creative touch to class parties.
Birthday Parties: Kids and adults alike love paw print cookies. They're a great addition to any birthday party spread, especially if you have animal-themed decorations.
Valentine's Day: Show your love with homemade paw print cookies on Valentine's Day. You can even customize them with heart-shaped prints for an extra romantic touch.
Christmas Cookies: While they may not be the traditional Christmas cookie, paw print cookies can bring a unique and delightful twist to your holiday cookie platter or cookie exchange. Polar bear paw print cookies are fun for kids of all ages on holiday cookie trays.
Any Day: The beauty of paw print cookies is that they are incredibly easy recipe to make. You can whip up a batch for a quick and delicious dessert anytime you crave them or want to put them in school lunches for a sweet surprise!
With their adaptability and straightforward preparation, paw print cookies are a delightful treat suitable for many occasions. Whether it's a bake sale, class party, birthday celebration, or just a sweet craving, these cookies are always a crowd-pleaser.
Why You'll Love This Easy Recipe
Flavor: These adorable bear paw cookies are made with cake mix so the base is a cake-like cookie. It's soft and chewy and quite delicious.
Time: From start to finish these cookies take 20 minutes to make. These are the easiest cookies.
Diet: Vegetarian, Gluten Free option, Dairy Free
Method: Oven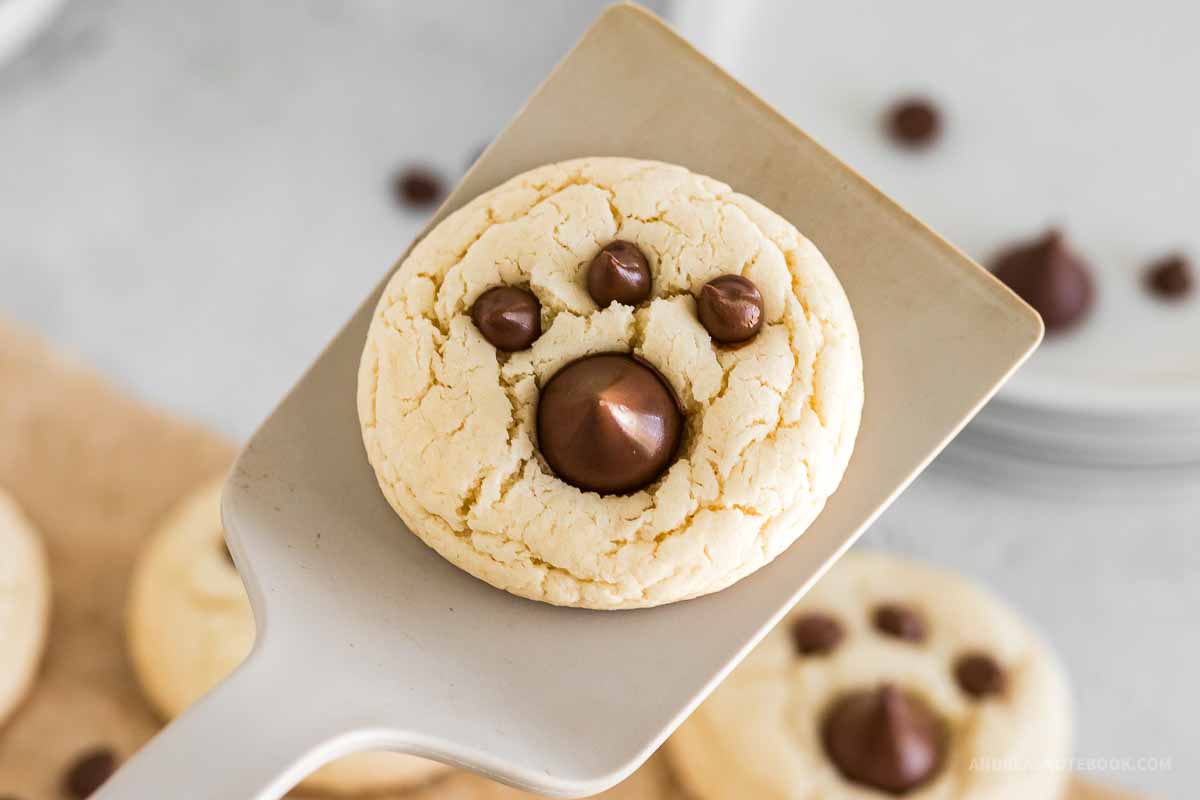 Ingredients
For a full printable list of simple ingredients for these easy cake mix cookies are in the recipe card below.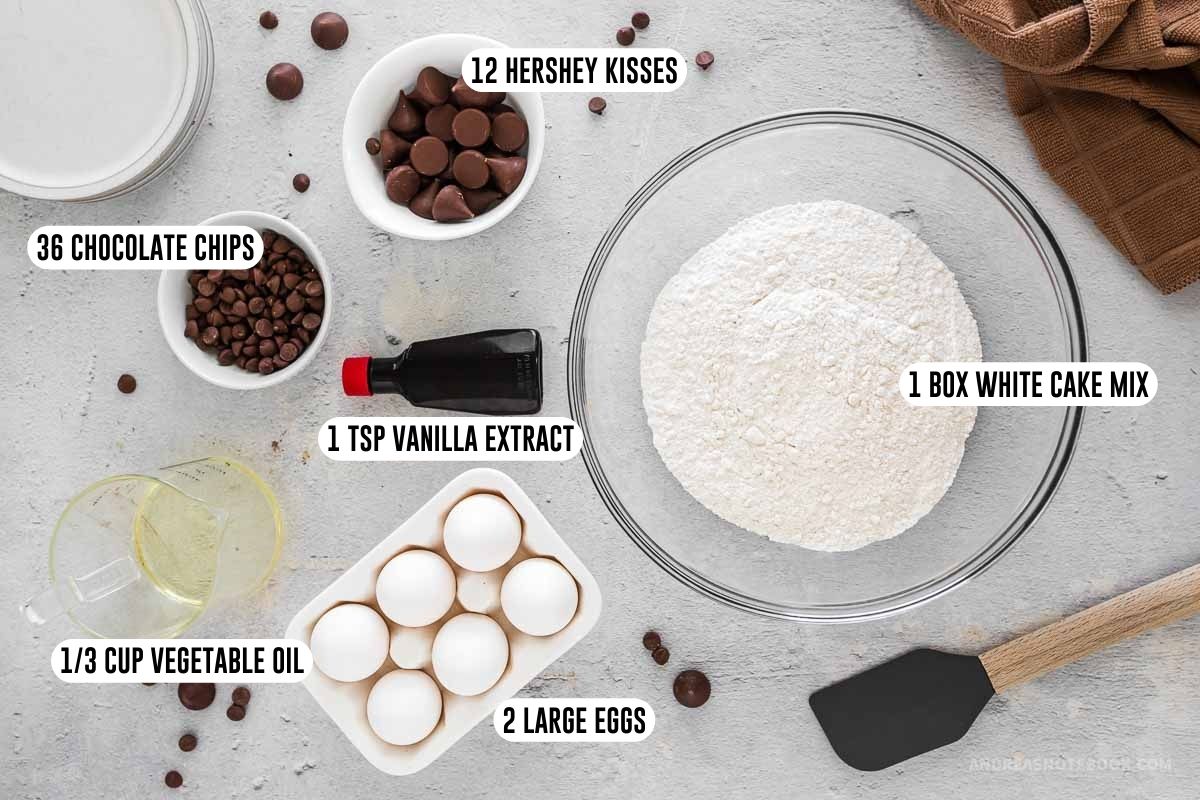 Box of Cake Mix: Cake mix cookies, particularly those made with a white cake mix, offer a distinctive taste. They combine sweetness with a subtle vanilla essence, resulting in a tender texture. These cookies are lighter and airier than traditional recipes, thanks to the cake mix. If you're looking for a sweet, fluffy cookie, these won't disappoint. Use a white cake mix for results that look just like those in the photograph.
Vanilla Extract: Vanilla extract in baking acts as a flavor enhancer, imparting a warm and comforting aroma and taste to cookies. It elevates the overall flavor profile, making cookies more aromatic and delicious. When used in moderation, it adds a subtle sweetness and depth that complements other ingredients.
Eggs: Large eggs play essential roles in cookie recipes. They act as binders, ensuring the ingredients stick together to form a cohesive dough. Eggs also provide necessary moisture, preventing cookies from becoming overly dry. They contribute to the cookie's structure and texture, resulting in either a chewy or cakey consistency, depending on the recipe. Additionally, in some cases, eggs assist in leavening, creating a lighter texture. To achieve the best results in your cookie baking, make sure your eggs are at room temperature before adding them to the mix.
Oil: When baking cookies, opt for vegetable oil. It's a versatile and neutral choice that won't overpower your cookie's flavors.
Chocolate: Use milk chocolate kisses and milk chocolate chocolate chips or opt for semi-sweet chocolate. The kiss makes the pad of the paw and the chocolate chips make the bear claws.
Substitutions and Variations
Change cake mix flavor: Consider using a different kind of cake mix for your cake box cookies. Use a box of chocolate cake mix, box of vanilla cake mix, box of yellow cake mix, box of strawberry cake mix or box of red velvet cake mix for a fun variation. The flavor of cake mix will make a different flavor of cookie.
Change Hershey kiss flavor: If you use chocolate cookies or red velvet cookies, use white chocolate kisses and white chocolate chips. Consider the flavor combination when choosing your kiss flavor. A dark chocolate would be a great choice, as well.
Use refrigerated dough: But refrigerated cookie dough in your favorite flavor like peanut butter cookie dough, sugar cookie dough or chocolate cookie dough. Cook as directed on the package and add the kisses and chocolate chips as directed below.
Melted butter: Use melted butter in place of oil if you desire. Use unsalted butter.
Mini Peppermint Patty: Use a mini peppermint patty or junior mints instead of the Hershey kiss for the bear paw pad.
Gluten Free Option
To make this gluten free use a box of gluten-free cake mix. At the time of writing this, the original Hershey kisses are gluten free. Make sure your chocolate chips are gluten free. We enjoy the gluten free versions of Betty Crocker cake mix and King Arthur's cake mixes.
Prep: Preheat oven to 350°F. Line a baking sheet or cookie sheet with parchment paper.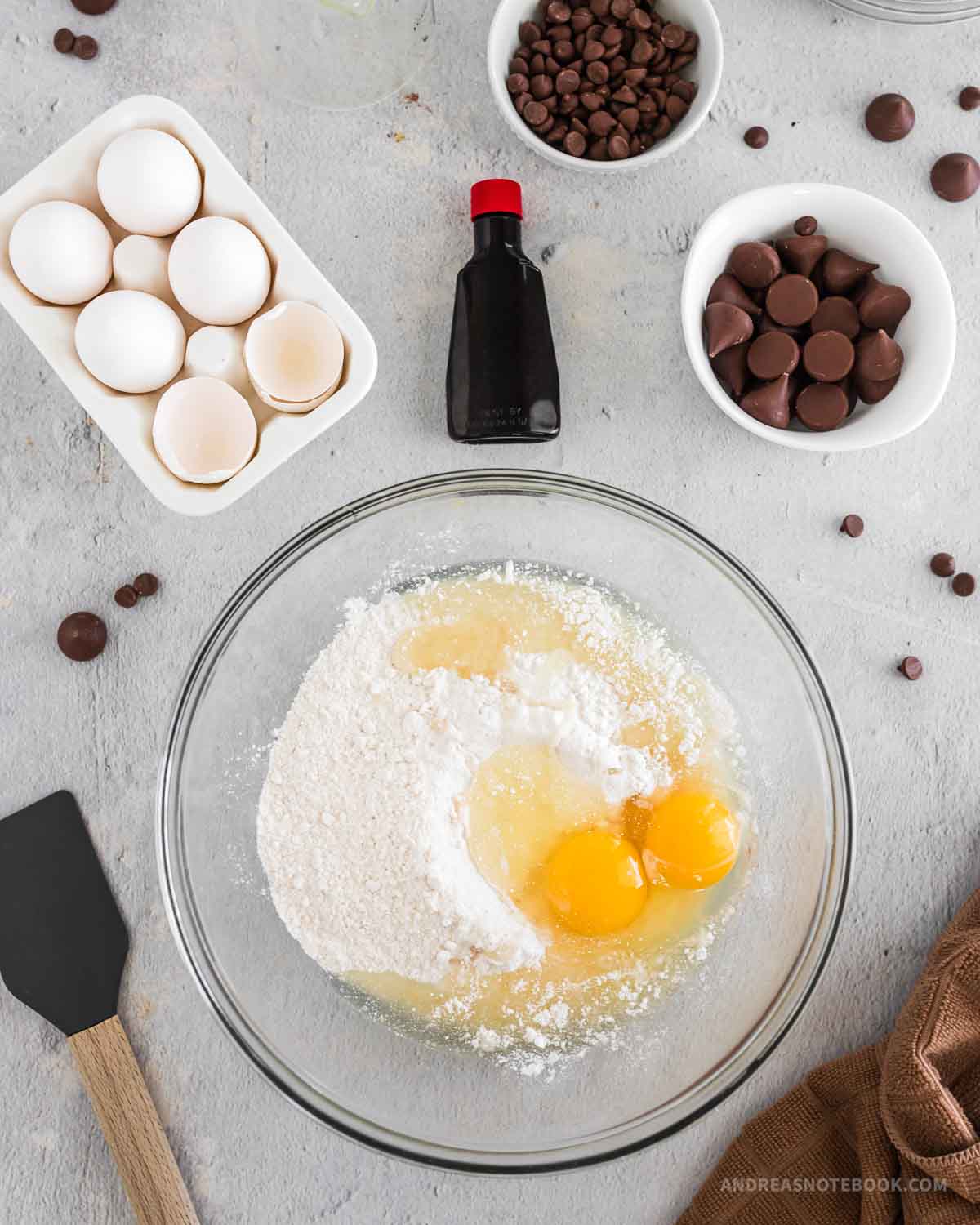 Step 1: In a large bowl, combine dry the dry ingredients and wet ingredients at once. Mix the cake mix, 1 teaspoon vanilla extract, 2 large eggs, and ⅓ cup oil, stirring until soft dough forms.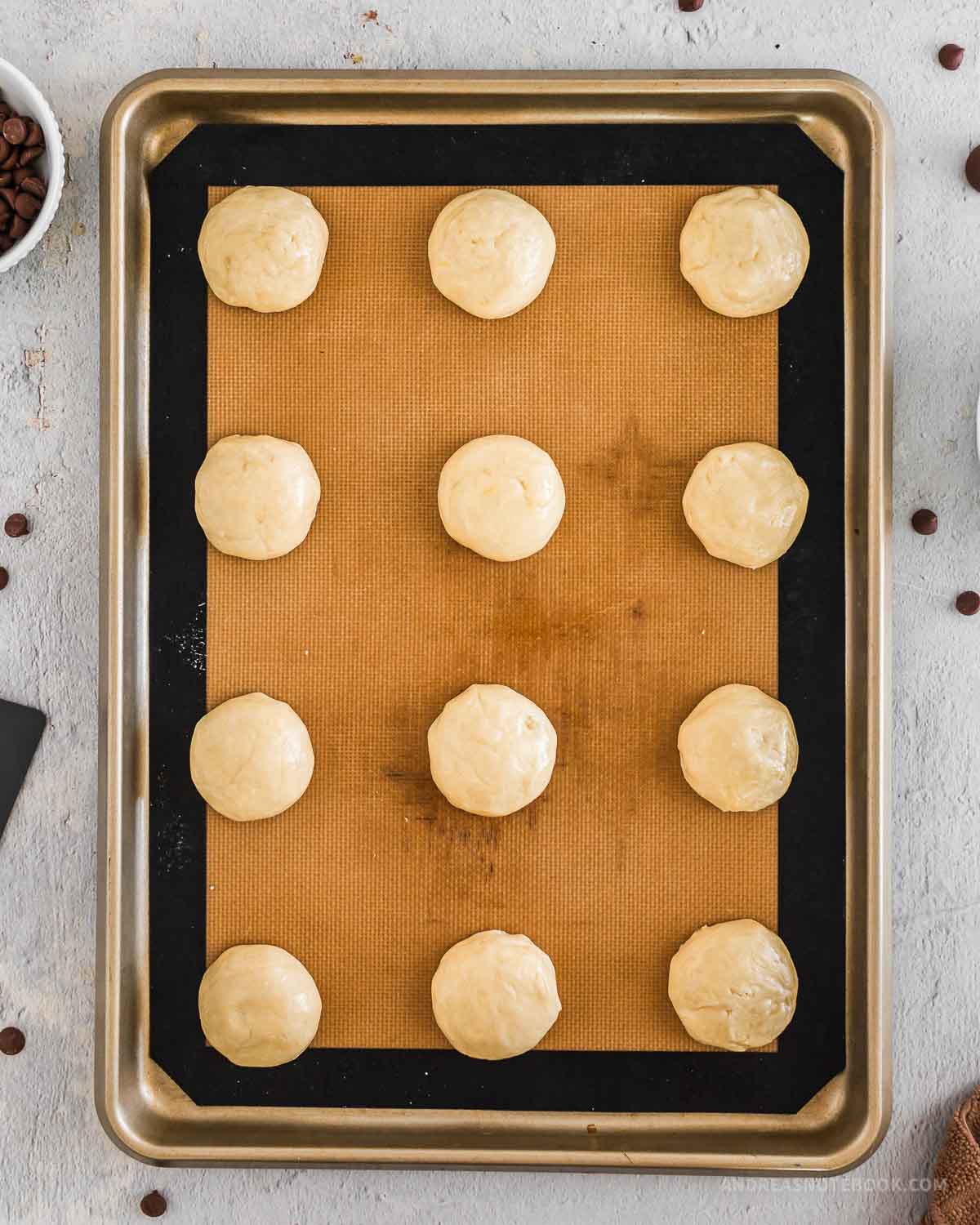 Step 2: With a 1-inch cookie scoop, scoop about 1 tablespoon of dough to form 12 uniform cookie dough balls and position them on the lined baking sheet, leaving a 2-inch gap between each of the balls of dough. Cookie scoops aren't necessary but they're very handy.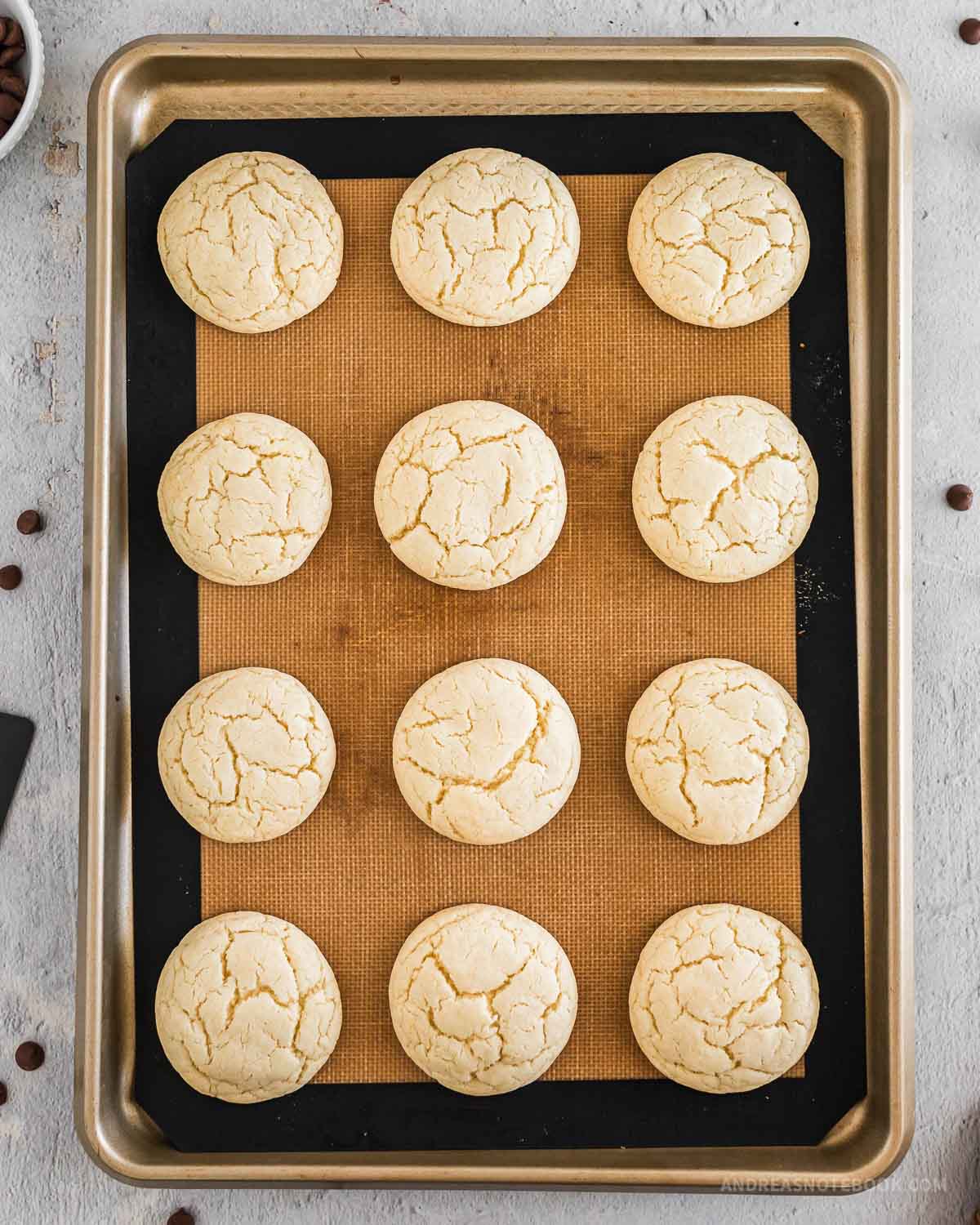 Step 3: Place in the middle rack of your preheated oven and bake for 10 minutes. Look for a slight golden color on the bottoms and white tops.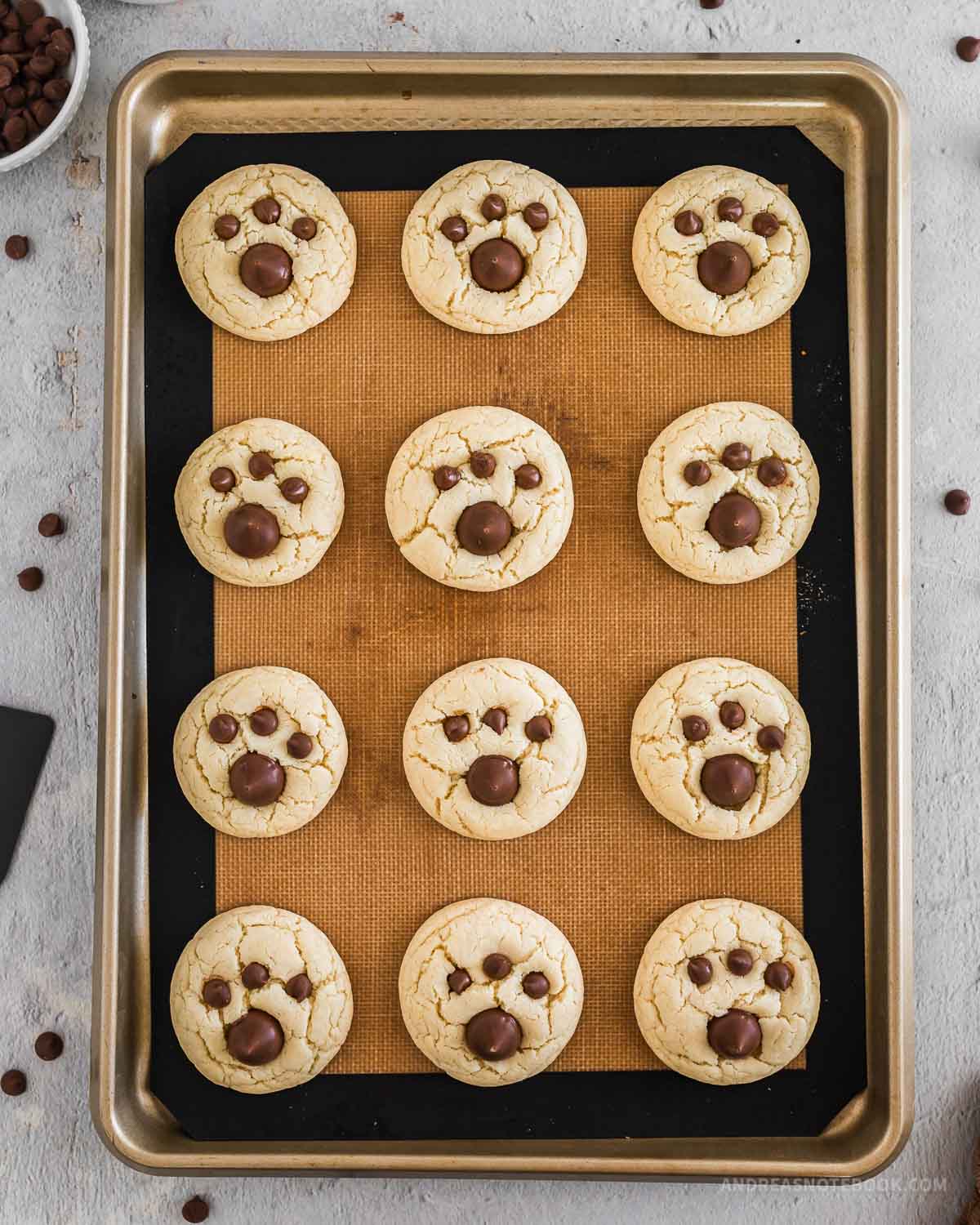 Step 4: Take baked cookies out of the oven after baking. Allow to rest for 1-2 minutes then add the chocolate to the top of each cookie. Press a kiss into the center of the cookie's bottom and arrange three chocolate chips in a circle around the top of the kiss to form a paw print.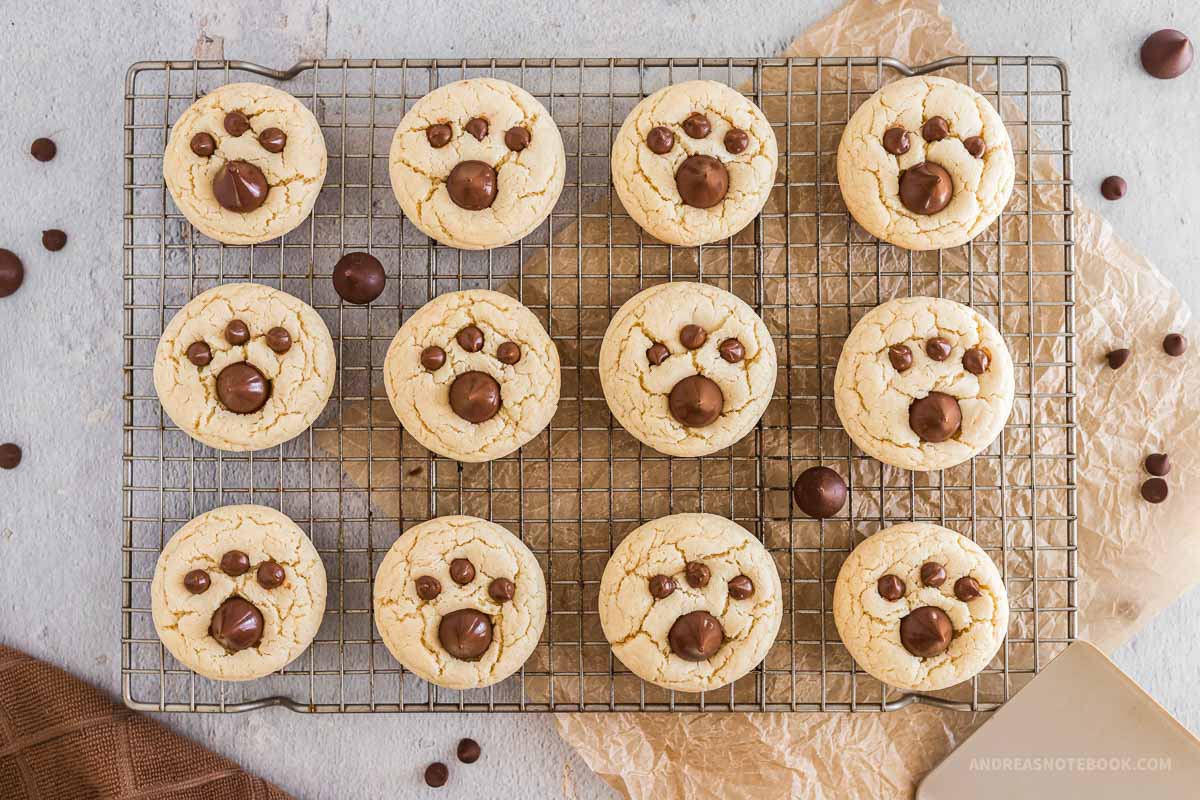 Step 5: Remove adorable bear paws cookies to a wire rack to cool. Once the fun bear paws cookies have completely cooled on the cooling rack you can store them for later or eat them!
storage tips
Ensuring the longevity of your homemade cake mix cookies is as important as baking them to perfection. Follow these practical guidelines to store your chewy treats and make them last:
Cool Completely: Allow your cookies to cool completely to room temperature before storing.
Airtight Containers: The secret to keeping your cookies fresh and chewy lies in a good-quality air-tight container or plastic wrap. These containers prevent exposure to air and moisture, which can turn your cookies into dry, crumbly disappointments. Ziploc bags are another great way to store your cookies. Place them in the bag, remove as much air as possible, and seal it tight. This method keeps cookies fresh and prevents them from becoming stale.
Room Temperature: Cake mix cookies are at their best when stored at room temperature for up to 3 days. Avoid refrigeration, as it can dry them out and alter their texture.
Freezing: If you're looking to extend their shelf life, cake mix cookies can be frozen. Wrap them tightly in plastic wrap or use a ziplock bag to prevent freezer burn. Store in freezer for 2-3 months. When you're ready to enjoy, simply let them thaw at room temperature.
By following these storage methods, your homemade cake mix cookies will remain irresistibly chewy and delicious for an extended period, ensuring you can savor their delightful taste whenever you please.
Frequently Asked Questions (FAQs)
What does a cake mix cookie taste like?
Vanilla cake mix cookies deliver a delightful taste experience. These cookies are known for their chewy texture and sweet vanilla flavor. They offer a homemade charm despite starting with a cake mix.
When do you know a cake mix cookie is done?
Knowing when a cake mix cookie is done is crucial for perfect results. Keep an eye on the oven. When the edges look cooked and the center sets, your cookie is ready. Insert a toothpick; it should come out clean or with a few crumbs, but not wet batter. Don't overbake to maintain that soft, chewy texture.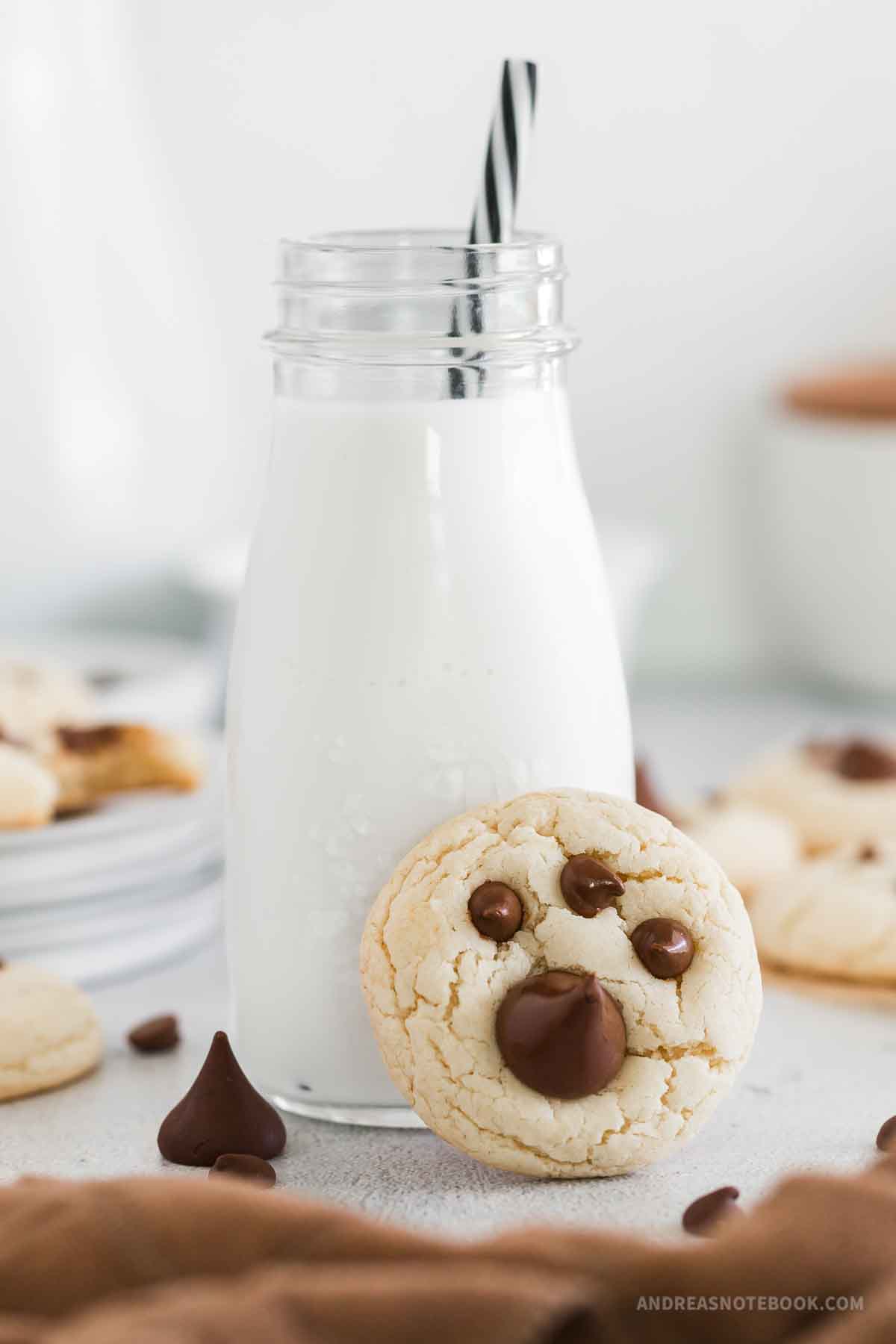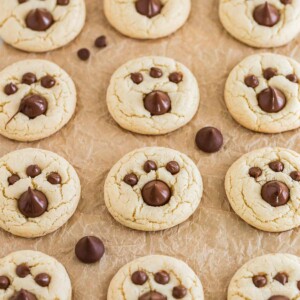 Cake Mix Bear Paw Print Cookies Recipe
Make these easy and fun bear paw print cookies with a 4 ingredient cake mix chewy cookie base and a chocolate bear claw top.
Equipment
1 Baking Sheet

1 parchment paper

1 small cookie scoop

1 large mixing bowl
Ingredients
1 box white cake mix
1 teaspoon vanilla extract
2 large eggs room temperature
⅓ cup oil
12 chocolate kisses
36 chocolate chips
Instructions
Preheat oven to 350°F. Line a baking sheet with parchment paper.

In a large bowl, mix together cake mix, vanilla extract, eggs, and vegetable oil until a dough forms.

Using a 1-inch cookie scoop, create 12 even dough balls and place them on the prepared baking sheet 2 inches apart.

Place the baking sheet in the center rack of the oven for 10 minutes. The bottoms should be slightly golden brown and the tops will be white.

Remove the paw print cookies from the oven and allow to cool for 1-2 minutes.

Press a kiss and 3 chocolate chips into the top of the cake mix cookie to create a paw print.

Remove from cookie sheet to a cooling rack. Enjoy!
Notes
This recipe can be made with any cake mix. A cute variation would be chocolate cake mix with white kisses and chips These cookies will keep in an airtight container of a ziplock bag for 3 days at room temperature or in the freezer for 2-3 months. The tops on these cookies will not be golden when done, they will still be white. Check the bottoms to see if they are golden, that's when you know they'll be done!
Nutrition
Serving: 1cookie | Calories: 264kcal | Carbohydrates: 41g | Protein: 3g | Fat: 10g | Saturated Fat: 3g | Polyunsaturated Fat: 2g | Monounsaturated Fat: 4g | Trans Fat: 0.2g | Cholesterol: 2mg | Sodium: 305mg | Potassium: 35mg | Fiber: 1g | Sugar: 23g | Vitamin A: 8IU | Vitamin C: 0.05mg | Calcium: 120mg | Iron: 1mg