Hershey kiss cookies come in many varieties! Learn how to make, store and freeze blossom cookies for your next party.
Attention cookie connoisseurs and holiday bakers! Ever wondered how to create those classic treats known as blossom cookies? Look no further. I'm sharing the perfect Peanut Butter Blossom Cookies but also share how to store and freeze blossom cookies. From the iconic Hershey's Kiss cookie to variations like Chocolate Peppermint Blossoms, and Vanilla Bear Paw Blossoms.
Blossom Cookie Recipes
I have three recipes for blossom cookies that you can use in your holiday cookie trays or for sharing as a class treat! Click the links below for detailed instructions and cooking time.
Peanut Butter Blossom Cookies: These are the classics that come to mind when you think of blossom cookies. They start with a base of soft, chewy peanut butter cookies, known for their slightly salty and nutty flavor. What sets them apart is the signature chocolate kiss, which is gently pressed into the center of each cookie just after baking. As the cookie cools, the kiss becomes soft and gooey, creating a perfect harmony of flavors and textures. Other names for these are PB blossoms, peanut butter blossoms, peanut blossoms, peanut butter thumbprint cookies, Hershey's Kiss cookies and peanut butter kiss cookies.
Notably, these cookies contain creamy peanut butter, all purpose flour, sugar, light brown sugar, eggs, baking soda, baking powder, salt, unsalted butter and vanilla extract. And don't miss the hershey kisses! This is my favorite out of all the peanut butter blossom recipes.
Mint Chocolate Blossom Cookies: If you're a fan of the refreshing taste of mint combined with the richness of chocolate, these cookies are a must-try. They start with a chocolate cookie base and are topped with a red and white striped peppermint candy kiss.
These chocolate mint kiss cookies contain all-purpose flour, unsweetened cocoa powder, cornstarch, baking powder, salt, unsalted butter, granulated sugar, eggs, vanilla extract and candy cane kisses.
Bear Paw Blossom Cookies: These cookies add a touch of whimsy to your baking repertoire. Make vanilla cookies using a boxed cake mix and top with a milk chocolate hershey kiss and chocolate chips to make adorable little bear paw cookies.
So, next time you're in the mood for a sweet treat, consider trying out these different types of blossom cookies to satisfy your craving.
How To Cool Blossom Cookies
Before even thinking about storing your favorite Christmas cookies like peanut butter blossom cookies or chocolate peppermint blossom cookies, make sure they have cooled completely. Patience is the first step in preserving their deliciousness.
Placing a hot cookie directly into an airtight container is a recipe for disaster. The trapped heat can lead to moisture buildup within the container, causing your delightful treats to turn soft and even soggy.
To ensure the best texture and flavor for your cookies, follow these steps:
Let the freshly baked cookies sit on a wire rack for about 10-15 minutes after they come out of the oven. This allows them to cool slightly.

After they've cooled a bit, transfer the cookies to a wire rack to cool completely. Leaving them on a hot cookie sheet can cause them to continue cooking from residual heat.

Ensure your cookies are at room temperature before storing them. Warm cookies can create condensation in an airtight container, making them lose their delightful texture.

Remember, the extra minutes it takes for your cookies to cool completely are well worth it. Your patience will be rewarded with perfectly preserved, scrumptious peanut butter blossom cookies or any other classic Christmas cookies and treats you decide to bake.
Use an Airtight Container
When it comes to preserving the delightful freshness of your Christmas cookies, investing in a good-quality airtight container is a must. These containers are available in various sizes, so pick one that snugly accommodates your batch of cookies without too much extra space. Less air inside the container translates to fewer chances of your cookies going stale.
Here's how to make the most of your airtight container:
Single Layer: Place your cookies in a single layer inside the container. If you need to stack them, separate the layers with sheets of parchment paper or wax paper. This simple trick prevents cookies from sticking together.

Avoid Moisture: Before placing cookies inside, ensure they are completely cool. Warm cookies can create moisture inside the container, leading to a loss of texture and flavor.

Christmas Cookie Tray: If you have a beautifully decorated Christmas cookie platter, consider placing a piece of plastic wrap over the cookies before sealing the container. This extra layer of protection helps preserve the intricate designs and decorations. Consider adding the Peppermint Blossom Cookie as well.

Seal for Freshness: Lock in the freshness by sealing the container properly. Check that the airtight seal is securely fastened to keep your cookies at their delicious best.

By following these simple steps and storing your Christmas cookies in an airtight container, you can enjoy their scrumptious taste and texture for days to come. Your efforts will ensure that each bite is as delightful as the first.
Keep at Room Temperature
When it comes to storing your beloved classic peanut butter blossoms, room temperature is your cookie's best friend. These favorite Christmas cookies retain their soft and chewy texture when stored in a temperate environment. Avoid the temptation to refrigerate them, as this can lead to undesirable consequences. Your cookies should still be good for up to 5 days at room temperature.
Here's why room temperature is ideal:
Texture Matters: Classic peanut butter blossoms are renowned for their delightful softness and chewiness. Storing them at room temperature helps maintain these coveted qualities, ensuring each bite is as satisfying as the last.

Preserve Freshness: Refrigeration can cause cookies to lose moisture and become dry. This alteration in texture can significantly affect the overall enjoyment of your peanut butter kiss cookies.

Convenient Accessibility: By keeping your cookies at room temperature, they are readily accessible for snacking, sharing, or gifting during the holiday season. No need to wait for them to warm up to the perfect consistency.

In conclusion, your favorite Christmas cookie, the classic peanut butter blossoms, is best kept at room temperature to preserve its delectable softness and chewiness. Avoid refrigeration to ensure that each bite is a delightful experience.
Avoid Moisture
When it comes to preserving the freshness of classic Christmas cookies like the iconic peanut butter blossom cookies, moisture is their arch-nemesis. Here's how you can safeguard these chewy peanut butter cookies for the best results on your holiday cookie trays:

Bread Magic: To prevent your cookies from absorbing unwanted moisture, consider placing a slice of bread in the container alongside them. These moisture-absorbing agents act as shields, ensuring your classic cookies maintain their chewiness. The bread's innate ability to absorb moisture is a time-tested trick. Just make sure the bread doesn't come into direct contact with the cookies to avoid any transfer of flavors. Bread flavored cookies is not what we're going for here!

Silica Gel Power: Silica gel packets, commonly found in various products' packaging, are excellent moisture absorbers. They help maintain the integrity of your peanut butter blossom cookies, keeping them as fresh as the day you baked them. This is not my preferred option.

You can ensure that your classic Christmas cookies, like the beloved Hershey Kiss cookies, stay chewy on your holiday cookie trays. Say goodbye to the perils of moisture and hello to the best results for your classic cookie delights.
How To Freeze Peanut Butter Blossom Cookies for Long-Term Storage
So, you've baked a batch of classic Christmas cookies, those delectable Hershey's Kiss-topped peanut butter blossoms that everyone adores. But what if you can't devour them all within a day or two? Or you want to prepare for a future cookie exchange or a sudden craving? Freezing is your answer! Follow these simple steps to ensure your cookies stay deliciously fresh:
What You'll Need:
Classic Christmas cookies
Plastic wrap
Airtight container or freezer bag
The Process:
Prepare Your Cookies: Ensure your peanut butter blossoms are fully cooked and have cooled to room temperature. You wouldn't want to trap excess heat or moisture in the wrapping.

Wrap Them Up: Take each cookie or stack of cookies and wrap them tightly in plastic wrap. Make sure they are well-sealed to prevent freezer burn.

Airtight Protection: Place your wrapped cookies into an airtight container or freezer bag. This extra layer of protection ensures that no odors or frost affect the peanut butter flavor.

Label and Date: Don't forget to label the container or bag with the date of freezing. This helps you keep track of how long they've been stored.

Freeze: Freeze peanut butter blossom cookies by placing your air-tight container into the freezer.

When the Craving Strikes:
Thawing: When you're ready to eat those cookies, simply remove them from the freezer and thaw at room temperature. This typically takes about an hour, so it's a good idea to plan ahead.

Enjoy: Once they've thawed, enjoy your peanut butter blossom cookies just as if they were freshly baked. The Hershey's Kisses will still have that satisfying snap, and the peanut butter cookie dough will maintain its perfect texture.

By freezing your classic Christmas cookies, you can have your favorite treats on hand whenever the mood strikes. Whether it's for a cookie swap, a surprise visit from friends, or a personal indulgence.
Consume Within a Week or Freeze
These cookies, with their soft, peanut buttery base and chocolate Hershey's Kiss on top, are a cookie that everyone loves. But like all good things in life, they have a limited shelf life in their prime state. To ensure you enjoy these delicious cookies at their best, you need to understand how to store them properly.
Here's a simple guide to keeping your peanut butter blossom cookies fresh and scrumptious:
Freshly Baked Goodness: Peanut butter blossom cookies are at their peak within the first week of baking. During this time, they maintain their softness, chewiness, and that perfect combination of peanut butter and chocolate kiss.
Room Temperature: Keep your cookies at room temperature to preserve their delightful texture and flavor. Avoid direct sunlight and overly warm areas.
Don't let these favorite holiday cookies go to waste. Follow these storage tips, and you'll always have a batch of delightful peanut butter blossom cookies ready to savor. Indulge in their irresistible taste, whether it's for your personal enjoyment or to share with friends and family.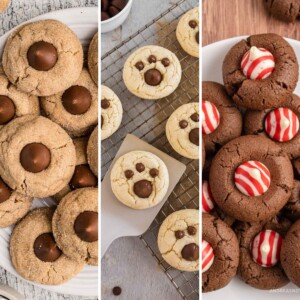 3 Blossom Cookie Recipes
Hershey kiss cookies come in many varieties! Learn how to make, store and freeze blossom cookies for your next party.
Instructions
Make blossom cookies according to instructions.

Cool cookies on a wire rack at room temperature.

Store cookies in an airtight container for up to 1 week.

Store cookies in the freezer for up to 3 months.
Notes
Consider wrapping cookies in plastic wrap before freezing in an airtight container to prevent freezer burn.
Defrost cookies at room temperature before eating.