Mother's Day is a special time to celebrate your mother, your grandmother, your mother-in-law and most of all, yourself! It can be overly busy and complicated and sometimes, just sometimes you don't end up feeling very appreciated or celebrated. I'm here to tell the men and children what moms really want for Mother's Day.
Note: No, not all moms are the same, though I'm sure most of you will be shouting, "YES!" when reading this.
What moms with kids at home really want:
1. She wants a day without cleaning.
Do not read that as a day where nothing gets cleaned. The point isn't that she has twice the cleaning on Monday. And if you want to go all out and detail her car, she won't complain.
2. She wants special time with loved ones.
She wants stressless time with family. If great uncle Martin always causes drama, don't invite him. It's Mom's day. If there are 7 moms in your family that need celebrating, take 5 out to dinner Saturday night and keep the celebrations more low key on her special day.
3. She wants some time alone.
Moms, working and stay at home, don't get a lot of time to do the things they want to do. She wants an hour (or four) to go get a manicure or just wander through a store to buy herself a new floppy hat. Or whatever. She just wants a little uninterrupted time.
4. She wants kind words.
She knows she isn't perfect and you know she isn't perfect but she doesn't want to hear it today. She wants you to tell her the things you love about her and what makes her special to you.
What moms who have experienced the loss of a child or a mother want:
1. All of the above
2. They want you to remember their child or mother.
Make a special effort to recognize and acknowledge the pain this holiday may cause.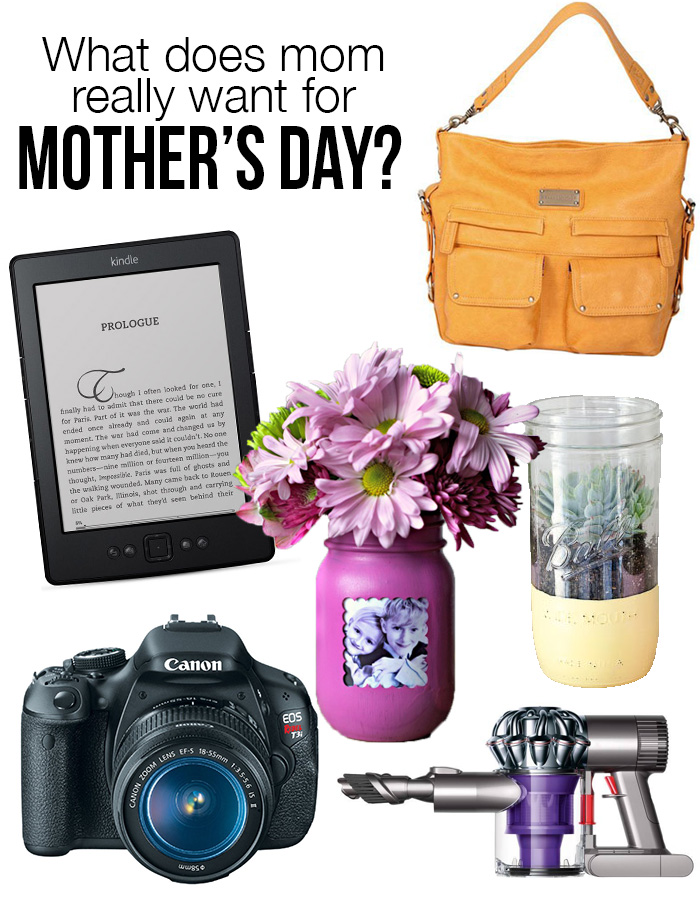 Now let's talk about gifts.
I've gathered my top 5 favorite gifts and gadgets for moms. All moms are different, we've established that. But if you've got a mom in the "average" 80% there's a chance she'll love one of these.
A kindle or a tablet.
Being able to read her book and check her email while sitting on the bleachers watching the third soccer practice this week is a luxury she'll appreciate. (affiliate links, buy wherever you like)
A new vacuum. But only if you do it right.
This is tricky. You really don't want her to think you're giving her something so she can clean more. I suggest the vacuum comes with a promise to use it. It's a gift that's promising her less work. That's always nice.
The gift of feeling good.
Gifts that help her feel beautiful!
Gift cards. Not just any gift cards.
Don't go to your local grocery store and pick up the first gift card you see. Think about what she loves but wouldn't usually buy for herself. I suggest:
A good camera.
She wants to preserve the memories of her family. If she doesn't have a camera that takes decent photos then she'll love one of these.
Extra bonus points:
Write her a poem
Write her a list of all the things you love about her
Do something special with a family photo
Ask her what she wants! Maybe she wants a new sewing machine or a fabric shopping spree, or a tent or possibly some new running shoes!
What do YOU want?