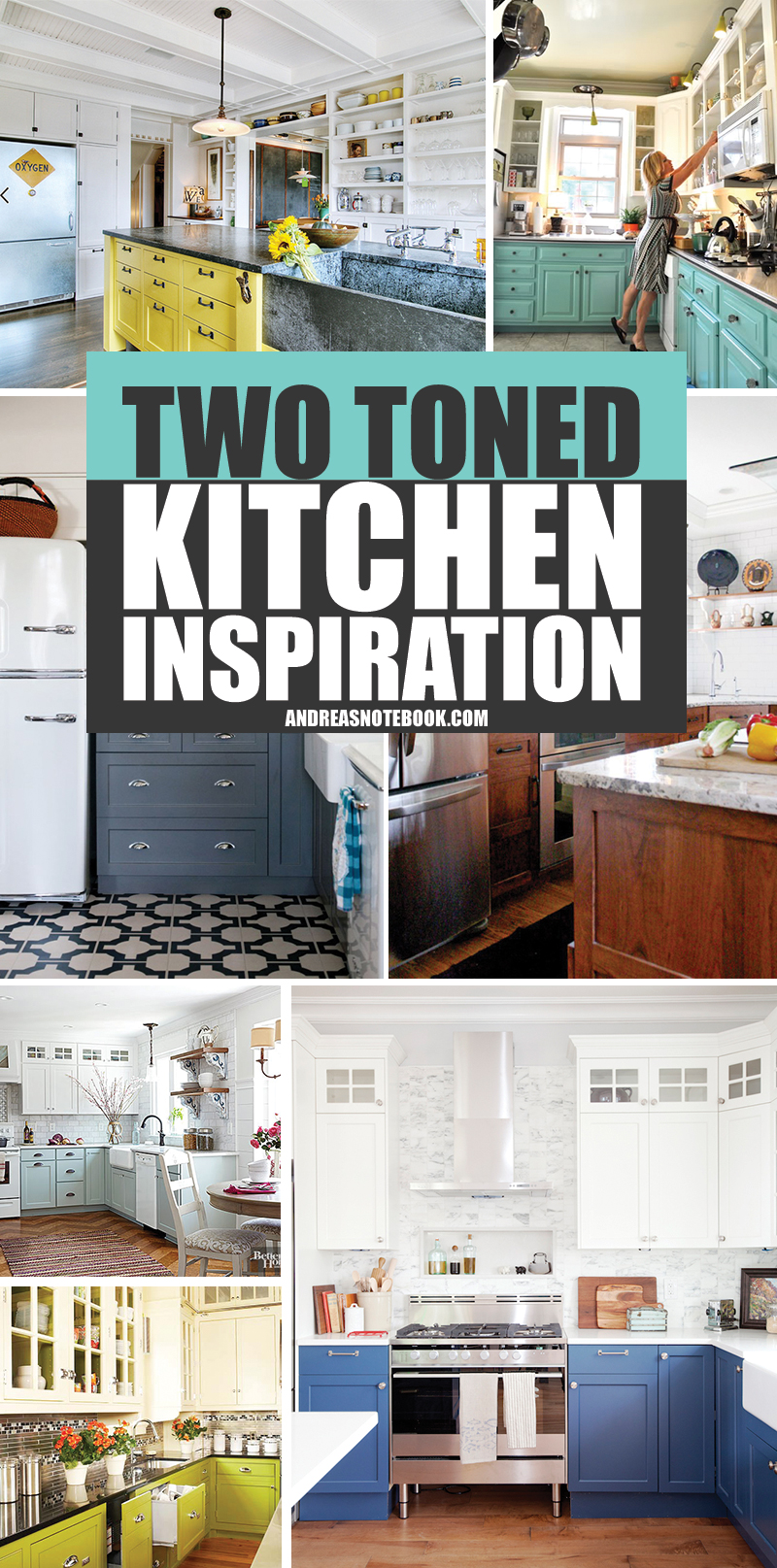 The two toned kitchen cabinet trend is hot right now. They're popping up everyone in home decor magazines and on blogs. I happen to really love the look of many of them. It allows you to use a bolder color without overwhelming the room. In some cases, lighter two toned cabinets work really well too.
I will say, after looking at hundreds of photos, I wasn't partial to 90's style kitchen cabinets painted white and light gray. I saw many versions of that and didn't like any of them. If you've got that older style (rather than the shaker style in many of these photos) I'd consider painting the uppers white and either removing some upper doors or adding glass doors and going with a bolder color on the bottom. I'm not linking to any of these ones I didn't love because, obviously, these are people's homes and they love them! But if your cabinets are the style of the ones below, take a look around Pinterest before painting to see what you think!
Here are some of my favorites:
Fresh blue and white kitchen | Jillianharris – That blue is really heavenly. It looks fabulous with white countertops, white marble tile backsplash and white uppers.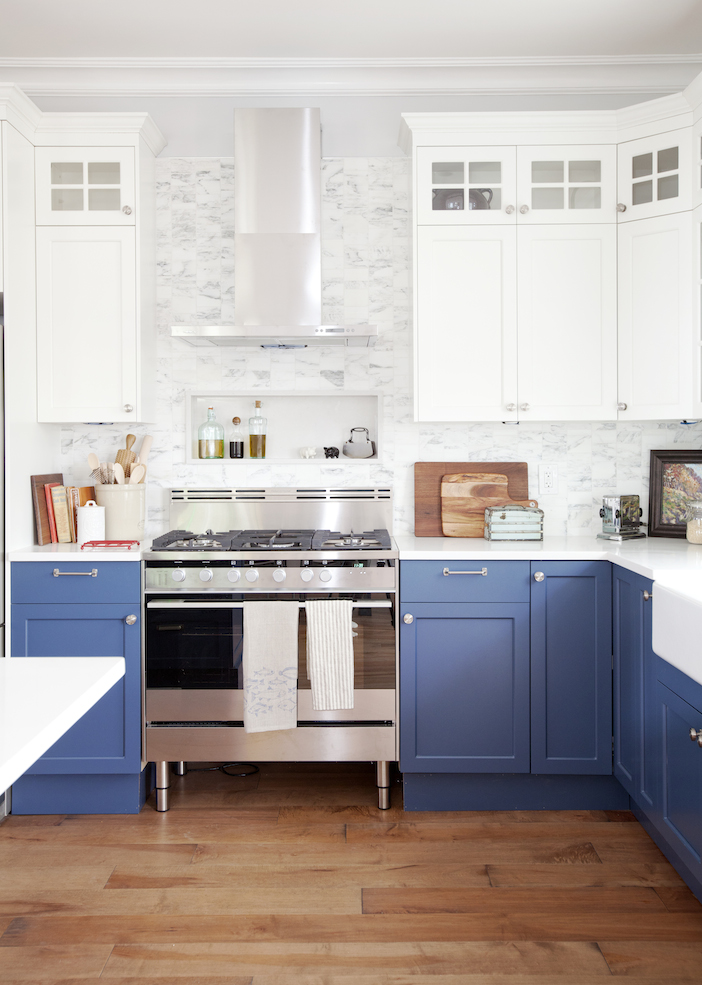 ---
Eclectic Yellow + White Kitchen | via Houzz by J.A.S Design Build – If you love a good yellow, this is definitely one. That's one bold kitchen island and I love it!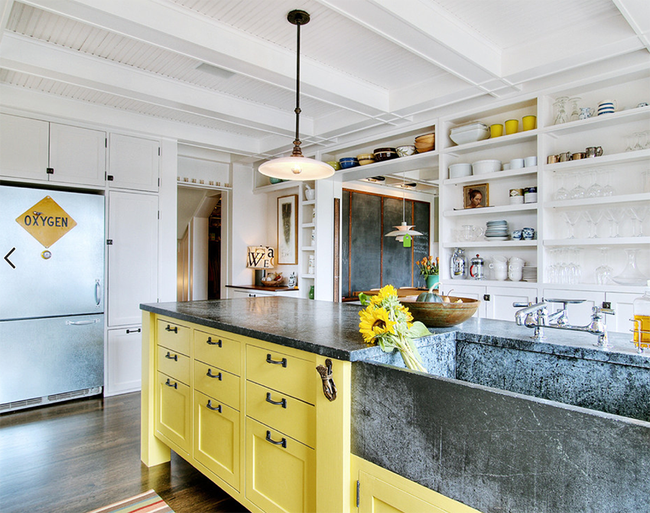 ---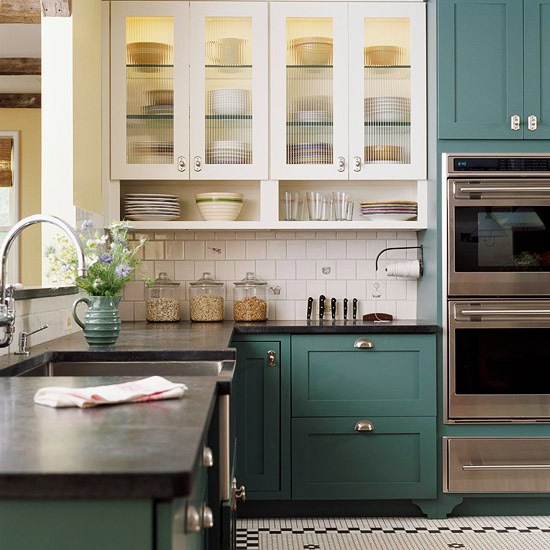 White and teal cabinets | BHG – Oooh! So much to love here!
---
Shaker Farmhouse Kitchen | via Houzz by Harvey Jones Kitchens – The earthier look is still great with two tones. This is a totally different look with the white cabinets sitting right next to the natural wood cabinets. This isn't my favorite but I know some people will love this.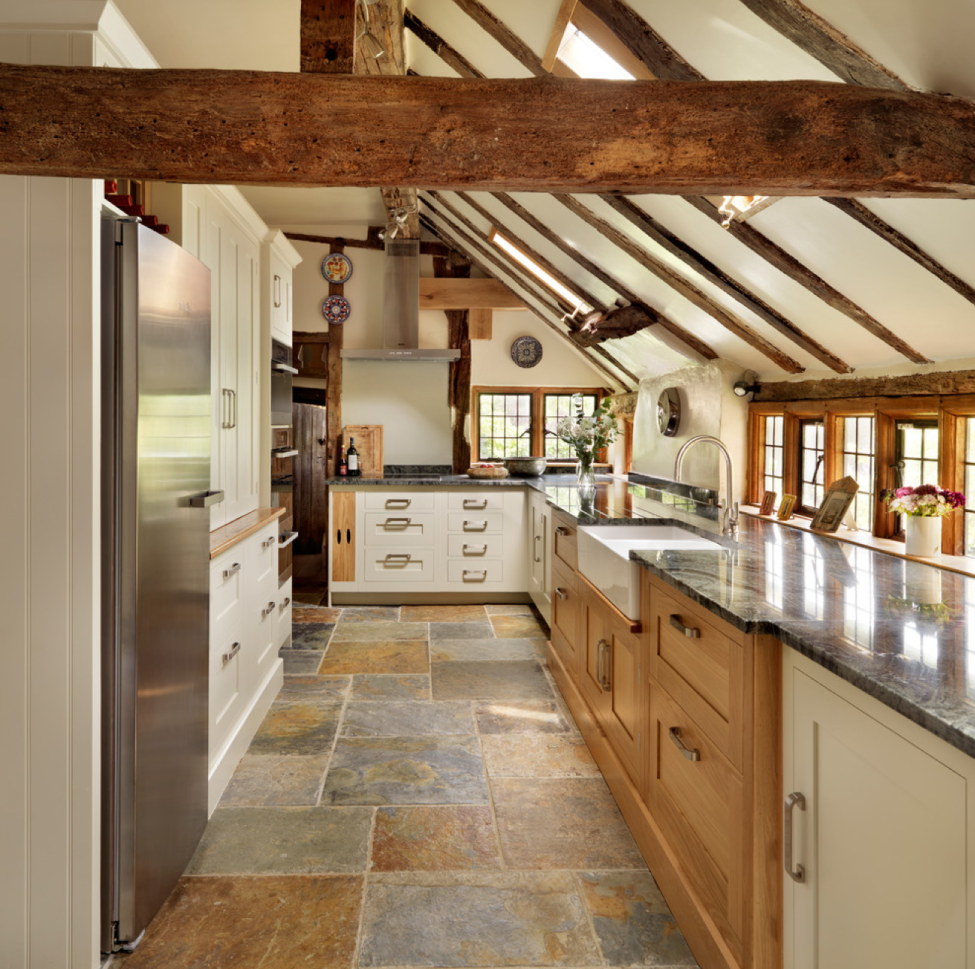 ---
Black, White + Copper Kitchen | British Standard by Plain English – If I could do this I would. I know this would drive about 50% of you absolutely batty but I can't help but love this paint job. The open space on the right is odd but the paint has me sold.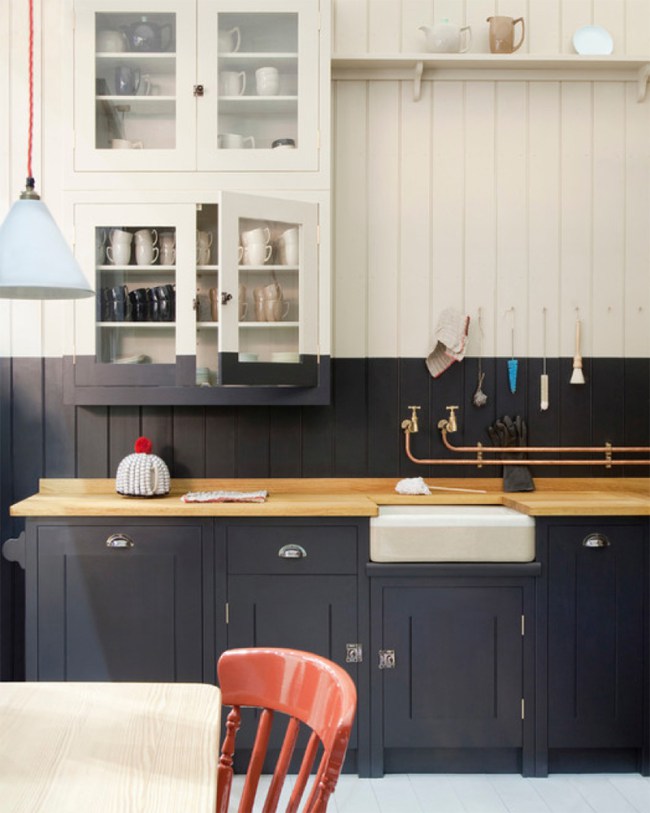 ---
Soft pastel two toned kitchen | BHG – A light gray/aqua looks nice in this small space with white appliances!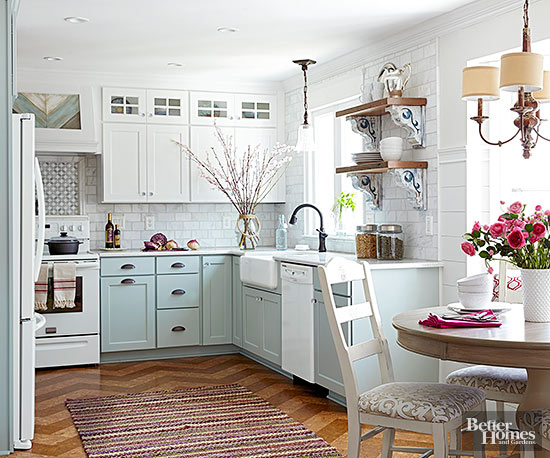 ---
Bold green and white kitchen | BHG – I'd get sick of this color after a couple years but the tone really is nice. It gives the kitchen a very fresh feeling.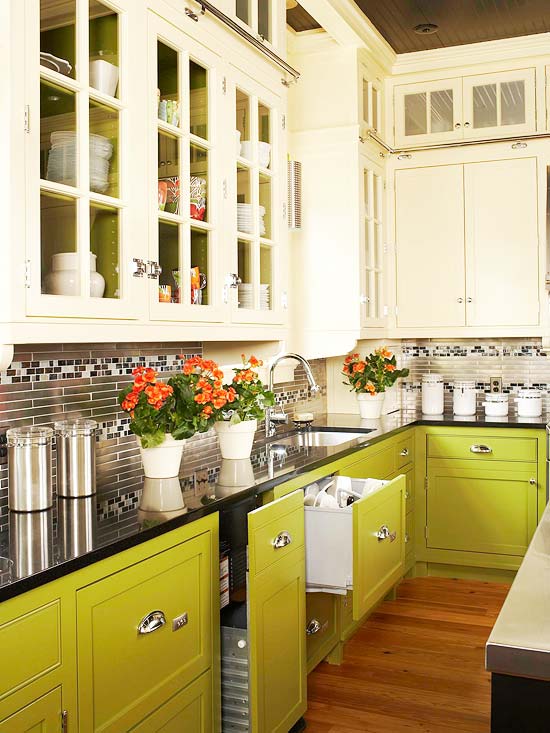 ---
Modern Kitchen with Brass Drawer Pulls | Sarah Sherman Samuel – I would not have expected to love this green color but it looks rather nice in this space. I don't know how I feel with gold handles and stainless steel appliances together. What do you think about that?
---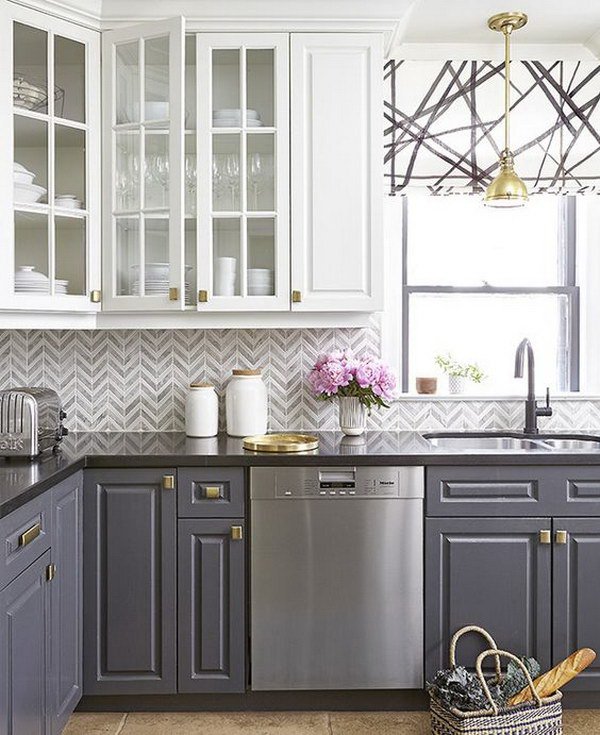 White and gray with gold hardware | House and Home – A slightly bluer gray that above. I like it less but it looks good in this space.
---
Two toned gray kitchen cabinets | decorpad – A very light taupe-gray and a light blue-gray. This whole kitchen is not my style but it's lovely anyway!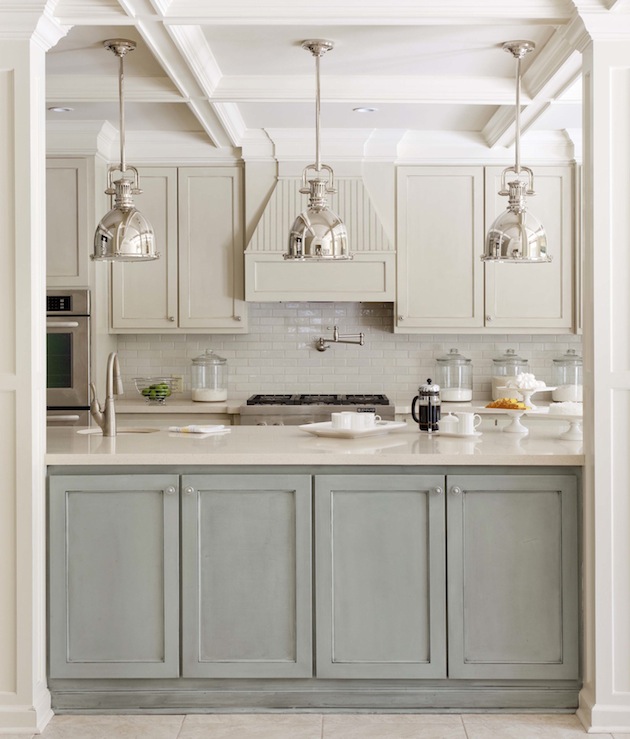 More Posts You'll Enjoy