---
If you love modern lines and circles, this tree house is for you. I love how that window spins open!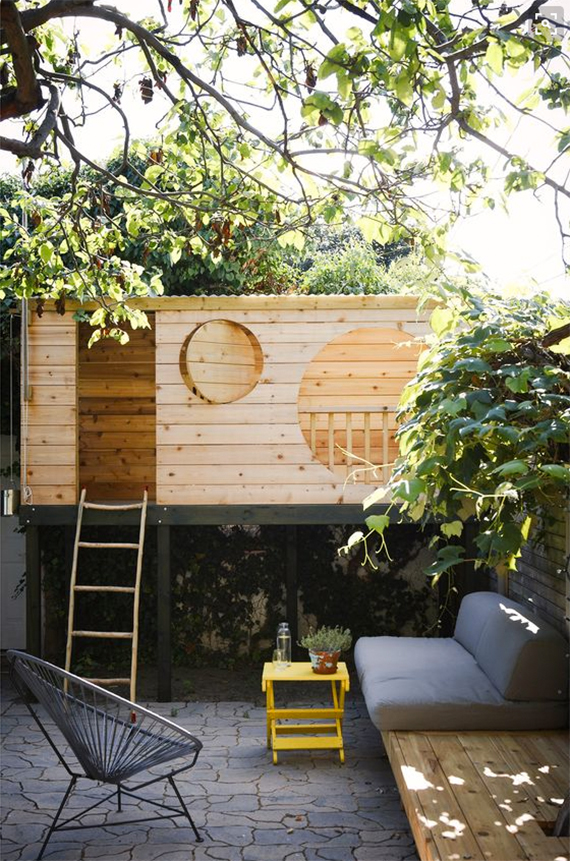 (Bohemian modern treehouse via Domaine.)
---
Nautical and sweet! This playhouse looks really cozy. It probably smells really good too!
(Hobbit Hole playhouse via Houzz.)
---
Who doesn't love a good pulley system? This one is two stories with some really fun features.
(Two story modern playhouse by CedarWorks.)
---
Build a two story playhouse with an amazing slide!
(Two story playhouse in the woods from CedarShed.)
---
Put up a triangular shade to keep them cool.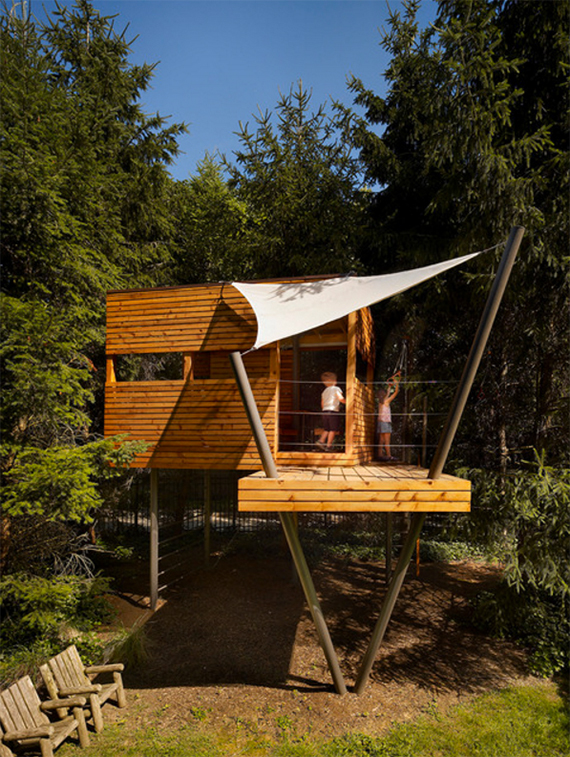 (Contemporary treehouse by Verner Architects via Houzz.)
---
This tiny house is simply adorable. Perfectly girly and fun.
(Girly playhouse via Lay Baby Lay.)
---
If you want it to blend well with your garden or double as a potting shed, consider something like this one.
(Modern farmhouse-style white shed playhouse.)
---
(Woodsy cabin playhouse via Handmade Charlotte.)
---
I love that great climbing wall!
(Over the top eco-friendly playhouse via Houzz.)
---
Tiny and it even has electricity!
(Modern backyard playhouse from Made By Joel.)
---
Wow! This one is so nice you could live in it!
(Modern elevated playhouse via House Tweaking.)
---
This one looks like it would do as a man cave as well.
(Modern studio or playhouse by Kangaroom Systems.)
---
(Modern open-air tea house via Apartment Therapy.)
---
Adorable little cottage with a red door! Lovely!
(Swedish backyard playhouse.)
---
(Gorgeous girly cabana playhouse via My Domaine.)