You haven't had delicious ribs until you've had this dry rub recipe for baby back ribs in the oven. They're easy to make any time of year and are tender enough to fall off the bone. The rib dry rub is delicious as well. You can't beat this flavor! If you love a saucy rib this is for you.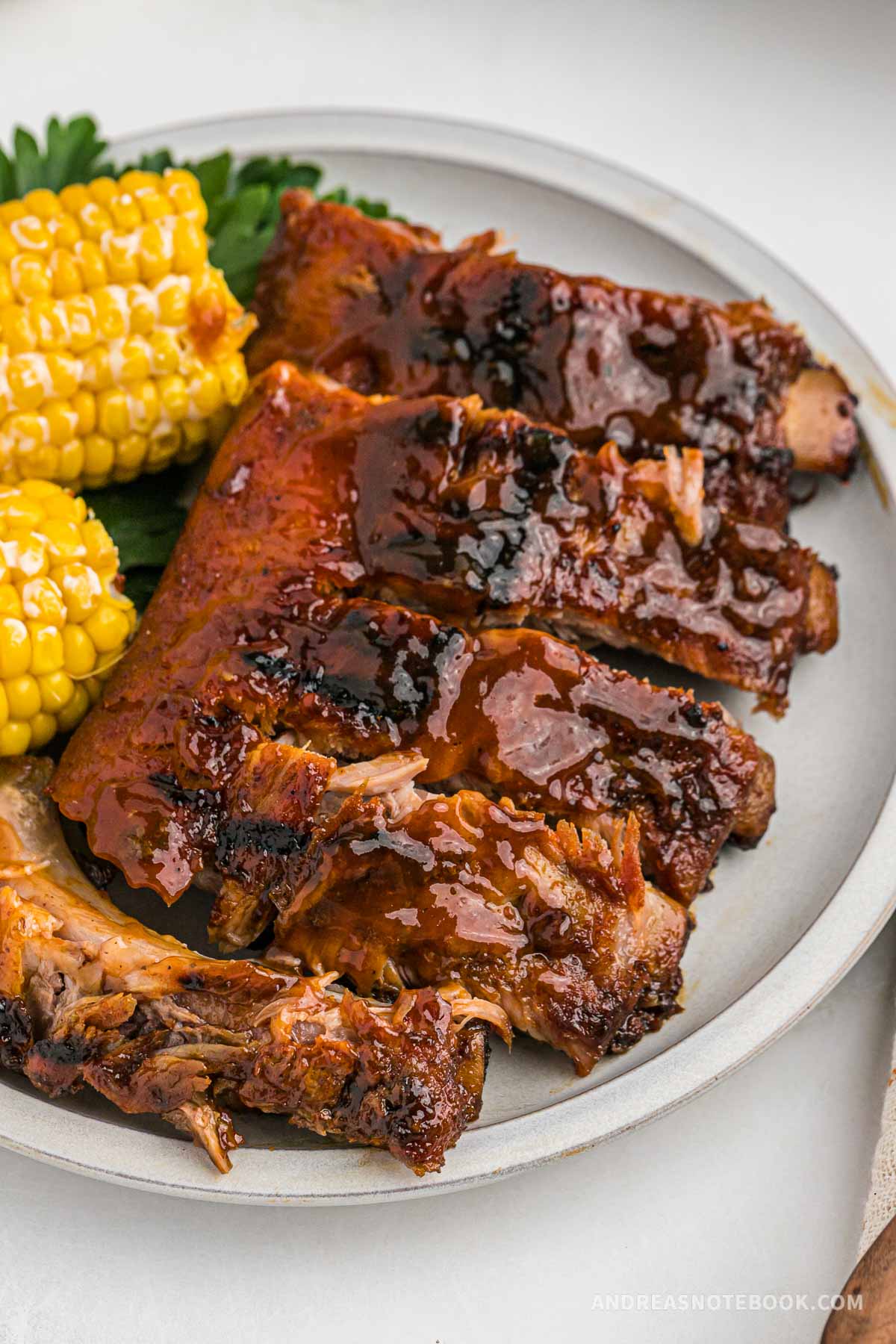 What Are The Different Types Of Ribs?
There are four different types of pork ribs and three types of beef ribs. You can use this brown sugar rub for any type of rib, however, I recommend pork ribs vs beef ribs for their tenderness and flavor.
Types of Pork Ribs
Pork ribs are the most popular type of ribs. When cooked correctly, they're tender and flavorful. The four types of pork ribs are spareribs, St. Louis-Style ribs, country-style ribs and baby back ribs. I used baby back ribs in this recipe but you can adapt it for other types of pork ribs.
Spare ribs are also known as back ribs or side ribs. They are flatter than baby back ribs and are cut about 6 to 8 inches wide. Spare ribs are cooked best by smoking, grilling or braising.
St. Louis style ribs are the meatiest and most flavorful type of ribs. They are similar to spare ribs but a rectangular shape and closely resemble baby back ribs. Cook St. Louis ribs on low temps in the oven, on the grill, or in the smoker.
Country style ribs are boneless pork shoulder steaks. These are not technically ribs but have a flavor like ribs. Cook these slowly on low temperature so they're tender. I love this Instant Pot Country Style Ribs recipe.
Baby back ribs are shorter than spareribs. They are not from baby pigs. This is a less fatty cut of meat than spareribs. Baby backs are cooked best by grilling, smoking or in the oven. These are the best ribs for this easy recipe. And, in my opinion, this is the best way to cook ribs.
Why You'll Love This Rib Cooking Method
Flavor: These are the most tender, fall of the bone ribs you'll ever eat. This method of cooking ribs produces very tender meat is the only way you'll ever do it again. And the dry rub recipe is perfection. Use this dry rub rib recipe on all your meat!
Cooking Time: Prep time to rub the ribs takes only 5 minutes! Cook time is about 2 hours.
Equipment: This recipe requires a large baking sheet and heavy duty foil. A grill is optional to finish the ribs.
Main Ingredients: Baby back ribs, brown sugar, barbecue sauce, spice blend
Diet: Gluten Free, Dairy Free
Method: Oven Cooked and Air Fryer methods included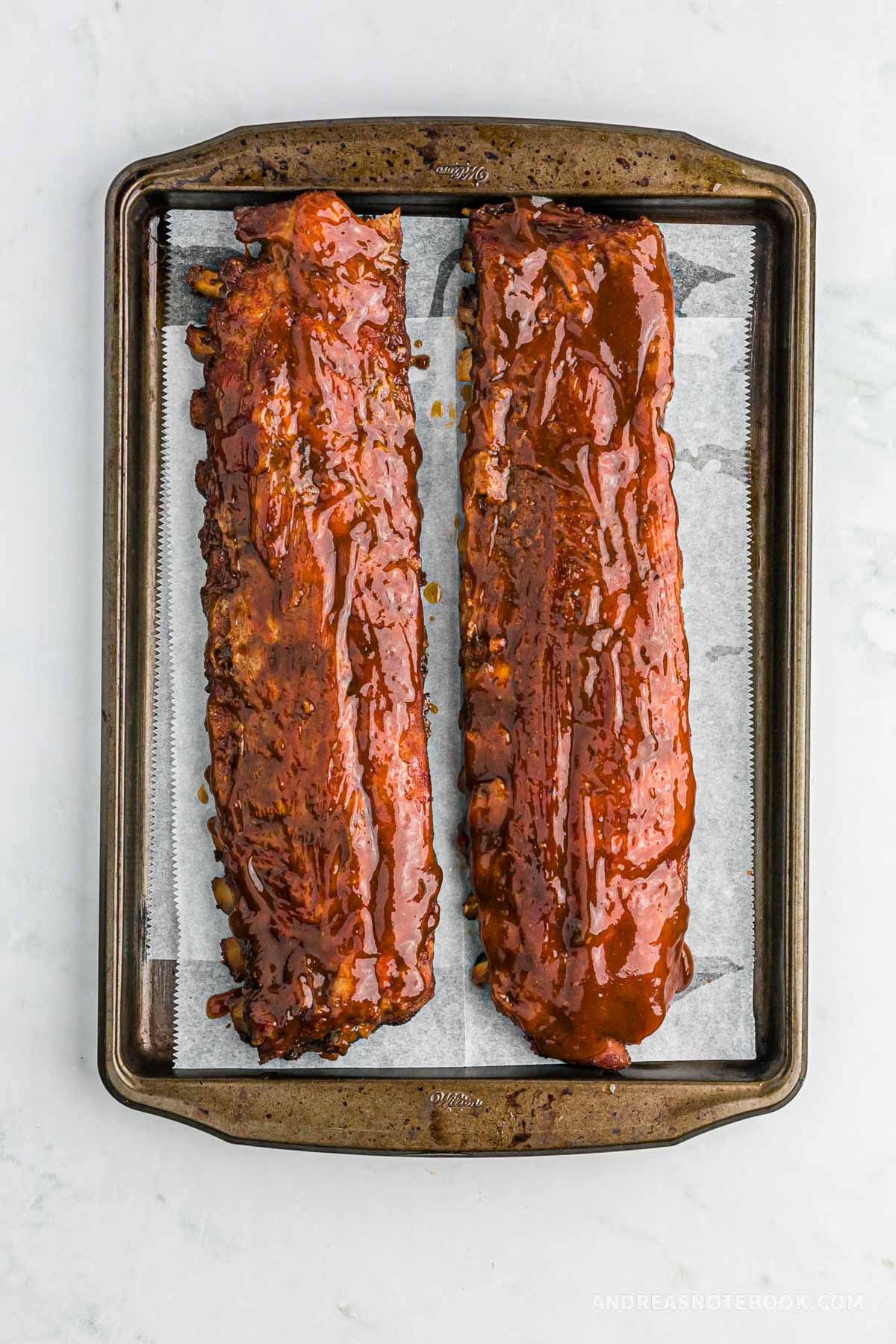 TRY THIS: Everyone loves mac and cheese or mashed potatoes as side dishes for barbecue ribs!
Ingredients
For a full printable homemade dry rub ingredients list and instructions are in the recipe card below.
4 lbs pork ribs — This is 2 rib racks. Baby back pork ribs are preferred for this recipe. You could also get great results with other types of ribs. See notes on types of ribs above.
1 tablespoon garlic powder
1 tablespoon smoked paprika
¾ cup light brown sugar
1 teaspoon sea salt
2 cups BBQ sauce — Use your favorite BBQ sauce or make your own. This is my favorite homemade BBQ sauce recipe. It has liquid smoke in it and a really bold flavor.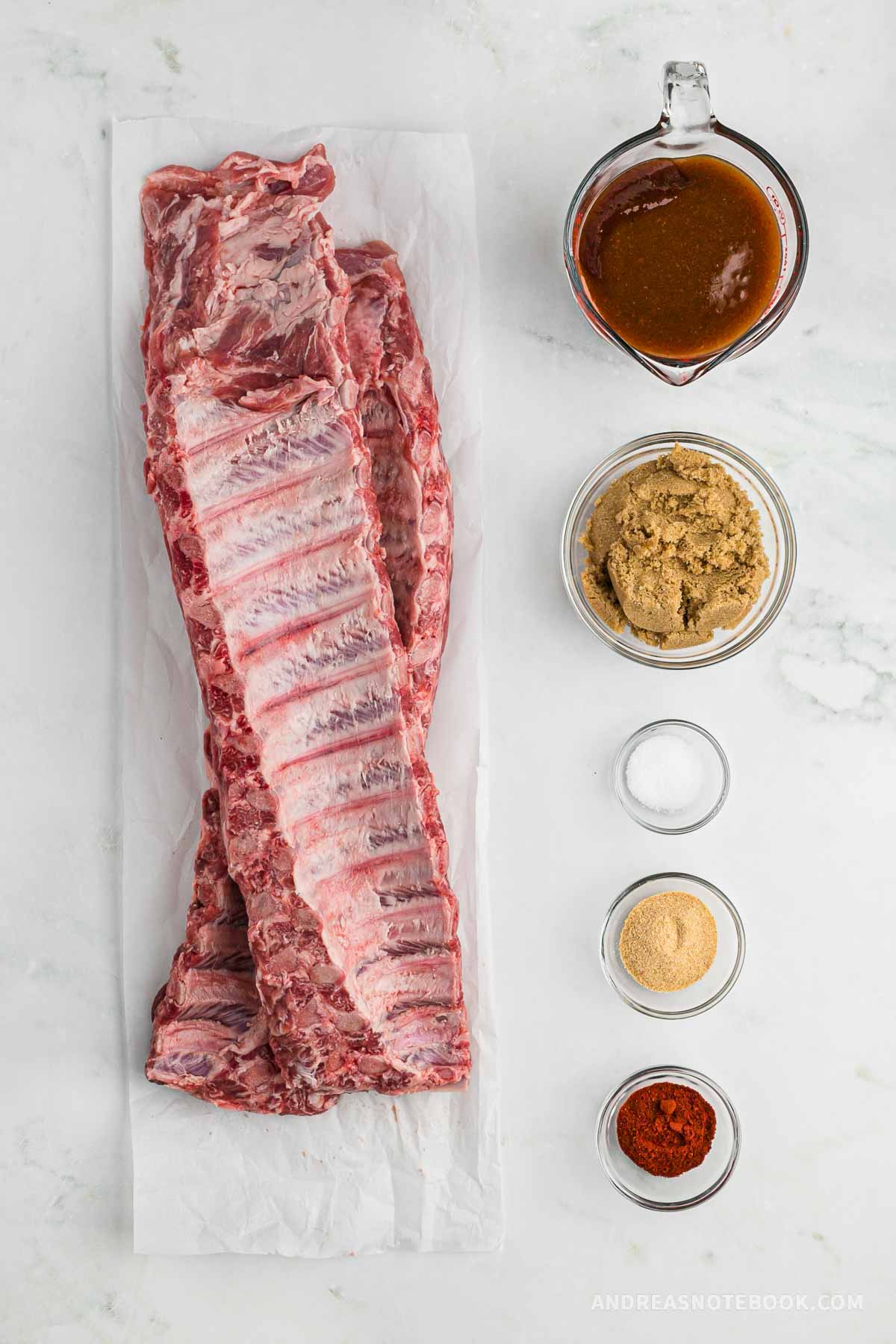 Instructions
Full step-by-step instructions are in the recipe card below. You can print or save to Pinterest for later.
Prep: Preheat your oven to 375°F. Cut 2 large pieces of heavy duty foil long enough to wrap each rack of ribs. Tin foil is a great way to keep the moisture in the ribs while they're cooking in the oven. This will produce juicy ribs from the oven.
Remove the membrane from the back of the ribs. It is the thin silver skin connected to the back of the ribs. You can peel it off fairly easily. Grab the edge of the thin membrane or use a knife between bones to get a hold of it. Give it a good pull and it should peel off.
Make Your Own Dry Rub: Mix the spice rub in a small bowl, mix the garlic powder, smoked paprika, brown sugar, and sea salt.
Rub Ribs: Using your hands, rub all the dry rub into all sides of the ribs. You should rub it on the meaty side and the bone side. Massage the spices into the meat so it won't fall off when moved.
Wrap Ribs In Foil: Place one of the racks of ribs in the center of one of the pieces of aluminum foil. Bring the two sides together and fold the foil down in the center until it meets the ribs. (see photo below). Fold over the ends and roll them up. The whole rack of ribs is sealed tight. This is essential to this method of cooking ribs!
Cook Ribs: Place the large baking sheet with foil wrapped ribs into the center rack of the oven. Cook for 2 hours. The ribs are done when the meat begins to pull away from the bones on the ends. Use a meat thermometer to check the internal temperature to make sure it is at least 145°F to be safe to eat but should be about 190°-200° to be the most tender.
Final Step: Baste your ribs with your barbecue sauce. You can finish the ribs one of two ways. My preferred method is to heat the grill to high heat. Then cook for about 2 minutes on each side. The other method is to turn on your broiler and move your oven rack to the top level. Keep your ribs on the sheet pan. Broil for 2-3 minutes on each side until slightly charred. Keep an eye on them so they don't burn.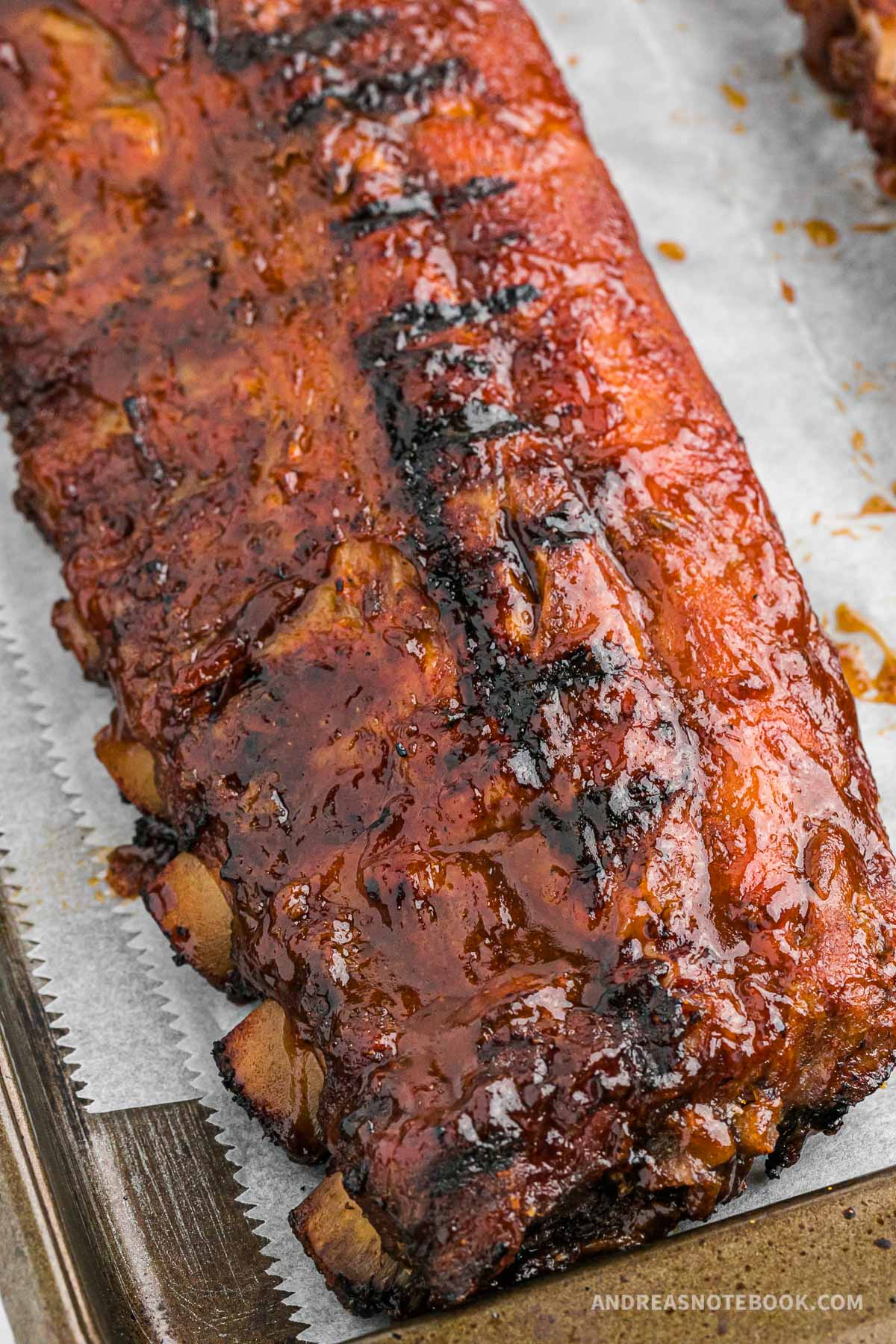 Tips For The Best Oven Cooked Ribs
Don't skip the rub! This rub is the best thing about these ribs.
Wrap them in heavy duty aluminum foil. Make sure they are securely wrapped in foil by rolling the foil ends together to seal. this will keep all the moisture inside the foil packet, making them more tender.
Make sure they're hot! Ribs are most tender when they're cooked to 190°F.
Serving
Place your oven-baked ribs on a cutting board. Don't cut directly on your cookie sheet! Using a sharp knife, cut the ribs apart by cutting between the bones. This will make it easier to pick up and eat your ribs.
Serve your ribs with some mac and cheese, corn on the cob, potato salad or some baked beans. Make sure you have a paper towel roll with plenty of paper towels or napkins handy!
How To Cook Foil Wrapped Ribs In The Air Fryer
You can cook ⅓ to ½ a rack of ribs in most air fryers. After you have rubbed your ribs with this dry rub seasoning, wrap in foil as directed. Cook in the air fryer on 350°F for 30 minutes. Remove the foil and baste all over with your favorite barbecue sauce. Cook for an additional 10 minutes with the meaty side up until the BBQ sauce begins to caramelize. Check the temperature to make sure the baby backs are hot enough.
Storing
Store leftover ribs in the refrigerator within 2 hours of cooking. Do not refrigerate or save if the ribs have been left out longer than 2 hours.
If you have leftover ribs, wrap them in plastic wrap or store them in an airtight container. Freeze them for up to 3 months or place the container in the fridge for 3-4 days. Throw away after that time for food safety.
Reheating
Before reheating your leftover ribs, baste them in lots of BBQ sauce and then wrap your leftovers in heavy duty foil again. Place on a baking sheet. Cook in a 250°F oven until the internal temperature is 145°F. Cook unwrapped for 10 minutes. You want to reheat in low heat so the ribs don't dry out. It's tempting to raise the temperature so they warm up faster but don't do that.
Frequently Asked Questions
What is the best temperature for ribs?
Ribs should be cooked low and slow, usually. This recipe works well cooking your baby back ribs at 375°F in the oven because of the thick foil wrap that keeps the juices inside.
What temperature should baby back ribs be cooked to?
Baby back ribs are safe to eat if they are cooked to 145°F. However they are bone tender at 190°-200°F. The meat will fall-off the bone easier at that temperature.
How can you tell when ribs are done cooking?
When ribs are done cooking the meat will begin to pull away from the ends of the bone. Using a quick read meat thermometer, you can check the internal temperature of the ribs to make sure they are safe to eat. Ribs should be at least 145°F to be safe to eat. To be bone tender they should be between 190-200°F.
How long do I cook ribs in the oven?
Foil wrapped ribs will take about 2 hours in the oven cooked at 375°F.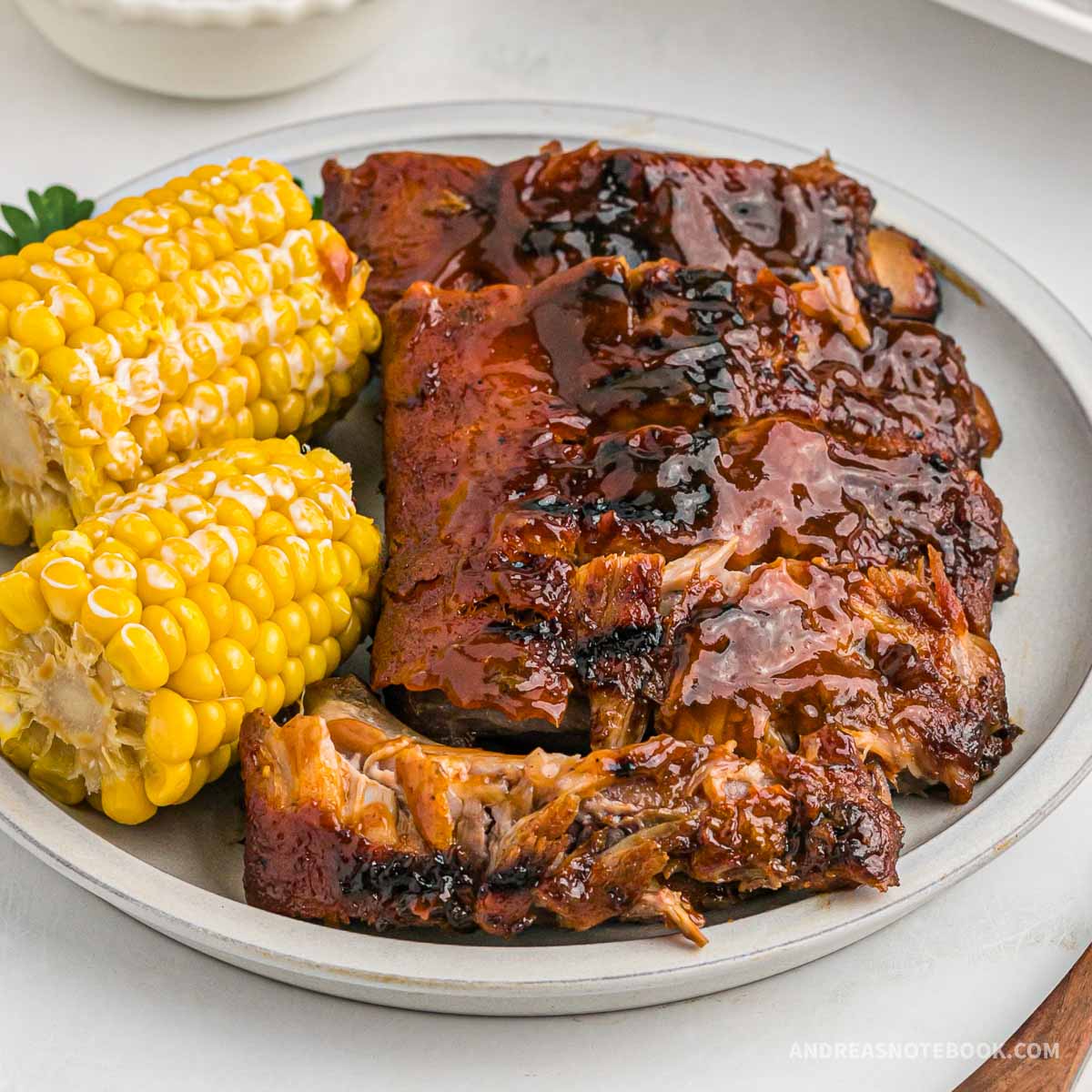 Ingredients
4

lbs

pork ribs

1

tbsp

garlic powder

1

tbsp

smoked paprika

¾

cup

brown sugar

1

tsp

salt

2

cups

BBQ sauce
Instructions
Preheat the oven to 375°F.

Mix the dry ingredients together. Rub onto both sides of the ribs.

Wrap ribs in heavy duty foil, folding down the edges to seal in the juices. This is the best secret to really tender ribs! Place in the oven on a large baking sheet.

Place cookie sheet on the center rack of the oven. Cook for about 2 hours, or until the meat begins to pull away from the ends of the bone. Internal temperature should be 165°F.

Remove ribs from the oven and remove from foil. Cover with the BBQ sauce.
Finish On The Grill
Place ribs on a grill over high heat for about 2 minutes on each side.
Finish Under A Broiler
Leave ribs on the baking sheet. Do not cover in foil. Turn oven to broil and broil on the top rack of the oven for about 3 minutes. Flip the ribs over using tongs and broil for another 3 minutes until ribs begin to char slightly.
Serve
Allow the ribs to rest for 5 minutes. Cut apart with a sharp knife.
Notes
Air Fryer Instructions:
To cook these ribs in the air fryer, cut the ribs in half, or into a portion that will fit into your air fryer. Make the dry rub and rub all the ribs. Refrigerate or freeze the ribs you aren't cooking. Wrap the ribs in foil, as instructed. Cook in the air fryer for 30 minutes at 350°F. Remove the foil and baste all over with your BBQ sauce. Cook for an additional 10 minutes until the sauce begins to caramelize. The meat should be beginning to pull away from the bone on the edges. Internal temperatures should be at least 145°F. The ribs will be most tender at 190-200°F.
Storing:
Wrap ribs in plastic wrap or place in an airtight container and refrigerate or freeze as soon as they've cooled down if you are not eating them. Store in the refrigerator for 3-4 days or freeze up to 3 months.
Nutrition
Calories:
647
kcal
|
Carbohydrates:
51
g
|
Protein:
25
g
|
Fat:
38
g
|
Saturated Fat:
12
g
|
Polyunsaturated Fat:
6
g
|
Monounsaturated Fat:
14
g
|
Trans Fat:
0.4
g
|
Cholesterol:
127
mg
|
Sodium:
1163
mg
|
Potassium:
609
mg
|
Fiber:
1
g
|
Sugar:
44
g
|
Vitamin A:
591
IU
|
Vitamin C:
0.4
mg
|
Calcium:
68
mg
|
Iron:
2
mg