Lasagna is my absolute favorite meal. As a kid my mom made the best lasagna. I still make a recipe that is very close to my mom's no egg lasagna recipe. This lasagna recipe with cottage cheese can be made with ricotta if you prefer.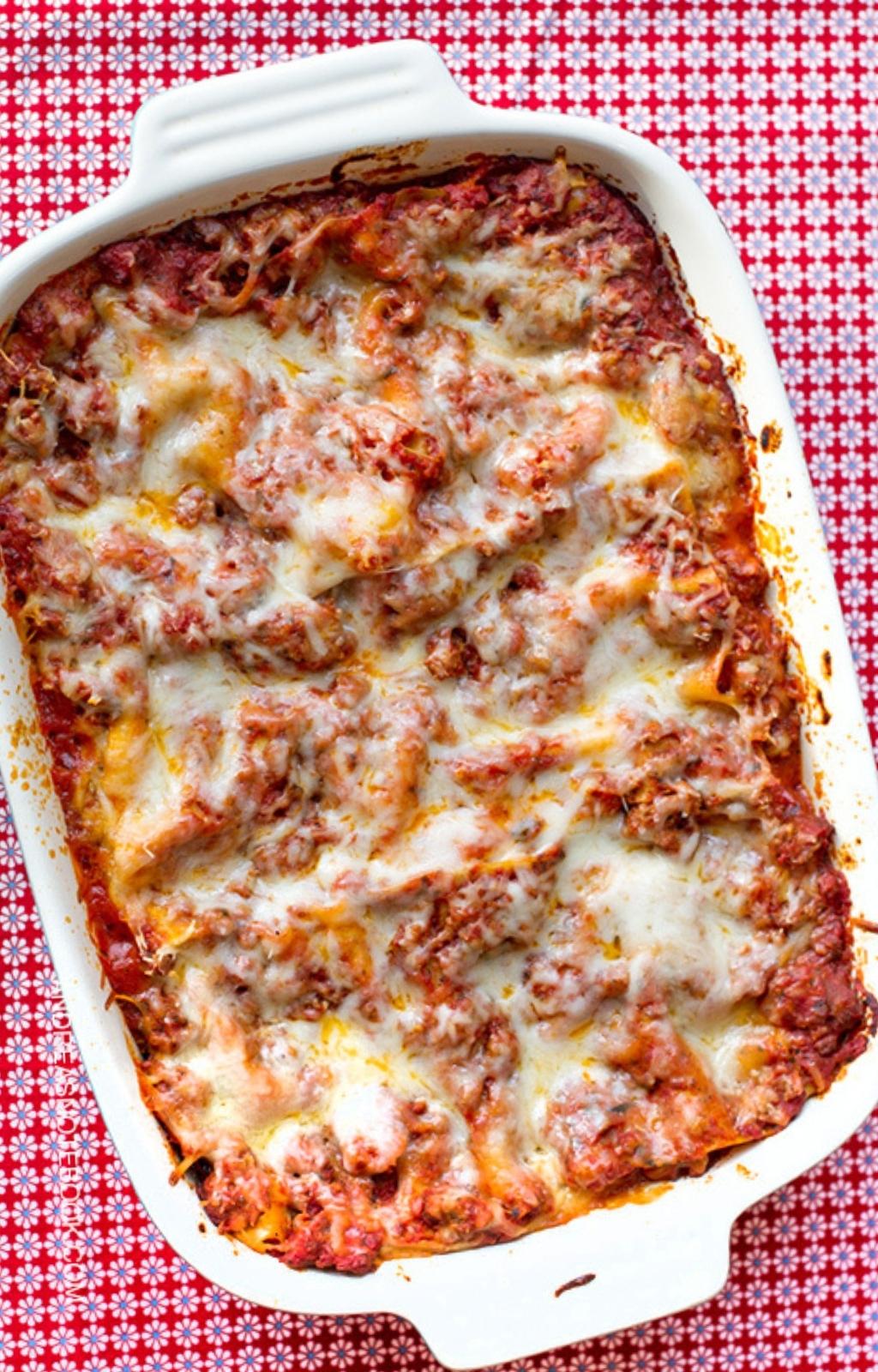 This homemade lasagna recipe is similar to a classic lasagna, but a bit cheesier and tastier, I think. Serve with an Italian Salad, Greek Salad and some Lion House Rolls Copycat or 20 Minute Cheesy Garlic Rolls.
I usually quadruple the recipe and, after putting together all the lasagnas, freeze 3 of them. Last time I made lasagna I made 4 small individual size lasagnas as well so the kids can pull them out of the freezer and cook them when they're craving lasagna.
Ingredients
I usually keep most of these ingredients on hand in my pantry or freezer. Gather your ingredients for this cheesy lasagna recipe with cottage cheese and make any substitutions you need to. This is a no egg lasagna recipe.
ground Italian pork sausage (mild): If you want it spicier, use a hot sausage. For a milder flavor, use half ground beef. For a healthier option you could substitute ground turkey.
small yellow onion: Chop the onion. You'll only need half of a large onion.
garlic: Use fresh garlic cloves or refrigerated minced garlic.
spices: Use dried spices including parsley, basil, and oregano.
sugar: Use basic white granulated sugar.
canned crushed tomatoes: Don't drain these!
tomato sauce: Use canned tomato sauce or puree whole canned tomatoes to make tomato sauce. Some people prefer to use a marinara sauce in lieu of crushed tomatoes and tomato sauce.
no boil lasagna noodles: If you want to use regular boil lasagna noodles just boil them before assembling the lasagna. Rinse with cold water and lay them out flat on parchment paper to prevent them from sticking to themselves.
cottage cheese: I like to lightly puree the cottage cheese before using. You can substitute for ricotta if you prefer.
parmesan cheese: grate fresh parmesan for best results.
mozzarella cheese: Use low moisture full fat mozzarella cheese and grate it yourself for best results.
Can You Use Jarred Pasta Sauce?
Part of what makes this lasagna so delicious is the homemade lasagna sauce. However, if you're in a hurry and need an easy lasagna recipe, substitute a jar of marinara sauce (48 ounces) for the canned crushed tomatoes, tomato sauce and sugar.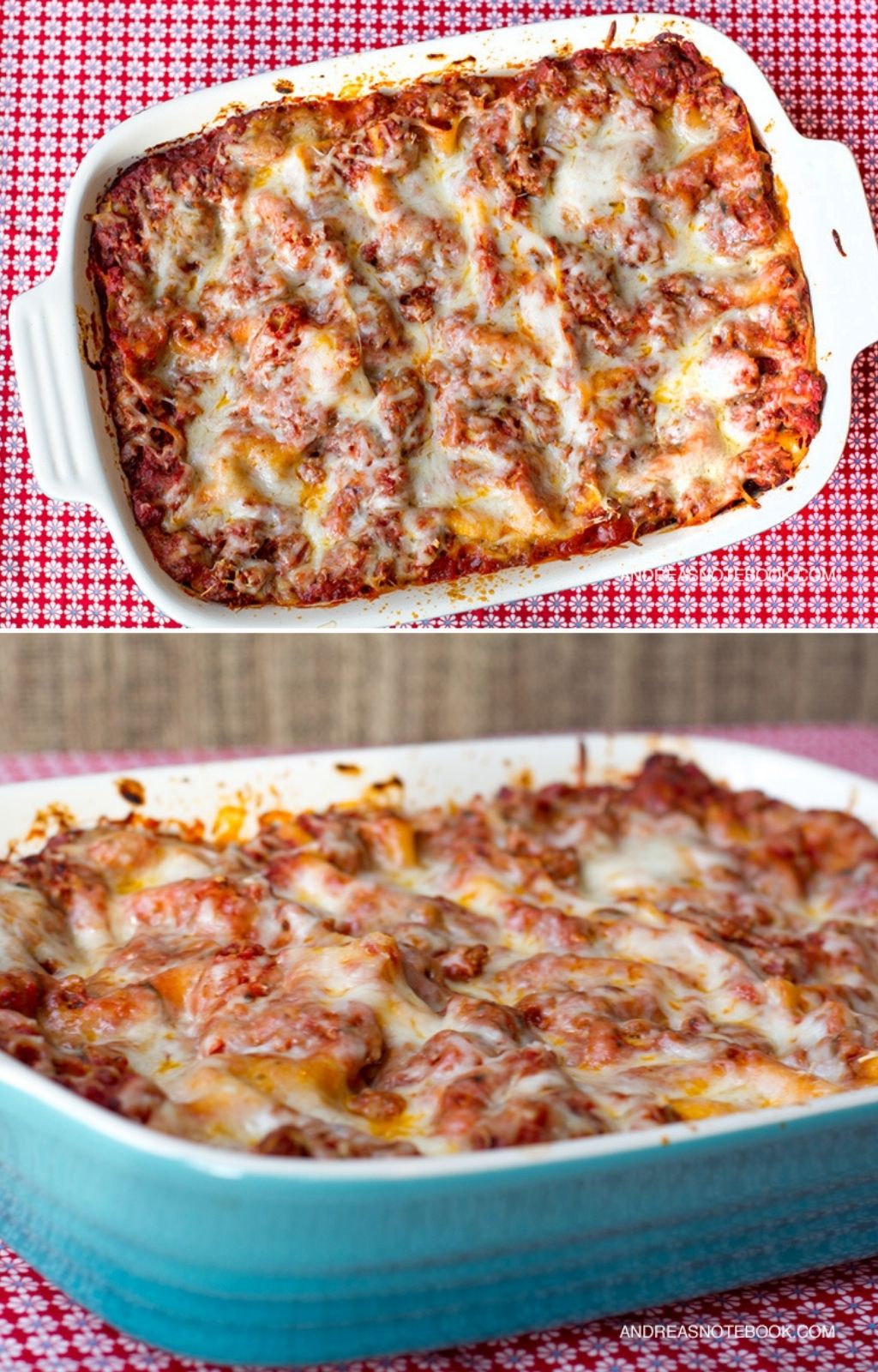 Instructions
Full instructions and ingredients for the lasagna recipe without ricotta cheese are below in the recipe card.
Prep: Measure all your spices and ingredients before you begin. Shred your cheese and chop your onion and garlic.
Brown Sausage: In a large pot brown the ground sausage and the onions over medium heat. Stir frequently and use your spatula to break up the ground sausage and prevent burning. When the sausage is cooked through and is no longer pink and the onions are translucent, drain the grease into a container to throw away. You can also cook it in a large skillet with high sides and a lid. You will be adding the tomatoes to this pan.
Finish Sauce: Add minced garlic and heat while stirring for 1 minute. Stir in 1 tablespoon of parsley (reserve the rest), all the basil, sugar, tomatoes and tomato sauce. Bring to a boil over medium-high heat then reduce heat to low-heat and simmer uncovered for 45 minutes. Stir frequently. Sauce will be slightly thickened.
Preheat Oven: Set oven to 350°F.
Make Ricotta Cheese Mixture: In medium bowl or large bowl, mix cottage cheese, ¼ cup Parmesan cheese, remaining ½ tablespoon parsley and the oregano. Use a spoon or form to mix well.
Layer Lasagna: Put 1 cup of meat sauce mixture into the bottom of an empty 13x9-inch baking dish. Layer with 3 noodle sheets, ⅔ cup of cottage cheese mixture, 1 cup of sauce and ⅔ cup of mozzarella cheese. Repeat twice. Then place the last 3 lasagna sheets on top. Top with the remaining meat sauce then mozzarella and parmesan cheese.
Bake: Cover with aluminum foil and bake for 30 minutes. Uncover and bake for an additional 15 until the cheese is baked and the sauce is bubbly.
Serve: Let sit for 15 minutes before you cut into it to allow the sauce to thicken and cool a little. Cut into 9 pieces and serve.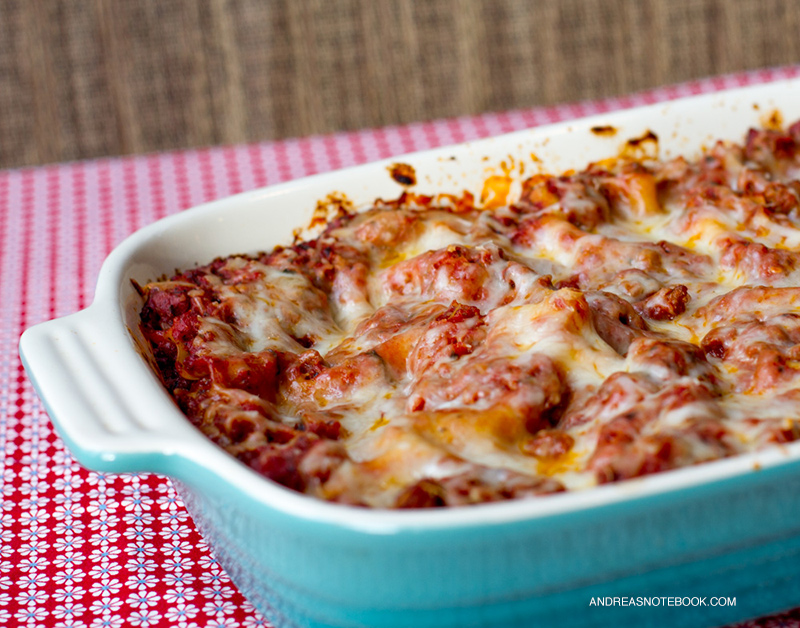 Common Questions
Can you add sausage to lasagna?
We like to add ground sausage to lasagna to give it a little more flavor. If you like a milder flavor, add half mild sausage, half ground beef. For a spicier flavor you can use spicy ground sausage.
Can you use sausage in a casing?
Yes, you can use raw ground sausage in casing. Cut the wrappings and cook the sausage outside of the casing as you would any ground meat.
Can you add vegetables to lasagna?
Yes! Absolutely! If you want, layer some thinly sliced zucchini or spinach between your sauce layer and ricotta cheese mixture layer. Alternatively, you can add diced pepper and spinach to the sauce when you're cooking it.
How long to let lasagna cool?
It's tempting to cut into lasagna right out of the oven. Let the lasagna rest for at least 10-15 minutes before cutting into it. This will help thicken up the sauce and cool it enough to eat.
How long can I keep lasagna in the fridge?
After your lasagna is assembled, you can keep it in the fridge up to 1-2 days before cooking. If you store in the refrigerator before cooking, I recommend not storing in the refrigerator for longer than a day after it's cooked. If it's cooked right after you assemble it you can store in the refrigerator for up to 3 days.
Can you premake lasagna with no boil noodles?
Yes, absolutely! You can use no boil noodles in this lasagna recipe. Please make sure each noodle is covered completely with sauce. This will help the no boil noodles cook completely when baked.
Is lasagna better with ricotta or cottage cheese?
This is a personal choice! Cottage cheese give the lasagna a bit more moisture, while ricotta cheese is a bit more traditional.
What To Serve With Lasagna
This lasagna recipe with cottage cheese pairs well with crusty garlic bread or pizza dough garlic knots with lasagna! Try these other delicious recipes.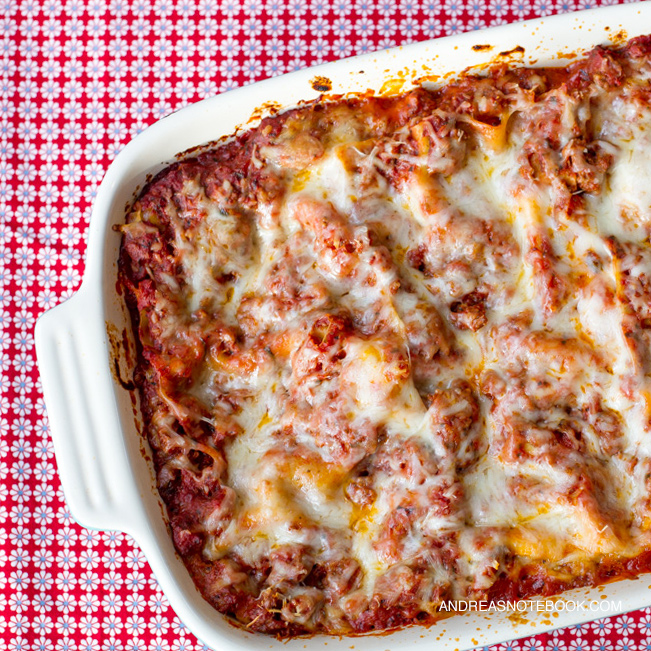 Ingredients
1

pound

ground Italian pork sausage

1

yellow onion

(small)

1

clove

garlic

(crushed)

1.5

tablespoons

dried parsley

1.5

teaspoons

dried basil

1

teaspoon

granulated sugar

28

ounce

crushed tomatoes

(undrained)

28

ounce

tomato sauce

12

no boil lasagna noodles

(or boil 12 regular lasagna noodles)

15

ounce

cottage cheese

(lightly pureed)

½

cup

parmesan cheese

(grated)

1.5

teaspoons

dried oregano

2

cups

low moisture mozzarella cheese

(shredded)
Instructions
In a large pot over medium heat, cook ground sausage and onion until the sausage is cooked through and the onion is translucent. Stir continually to prevent browning. Drain the grease. (Do not pour grease down the sink)

Add garlic. Cook about 1 minute, until fragrant.

Stir in 1 tablespoon of dried parsley, all the dried basil, sugar, tomatoes and tomato sauce. Heat until just beginning to boil. Stir occasionally. Reduce heat to low. Simmer uncovered about 45 minutes, or until the sauce is slightly thickened.

In a medium bowl, mix the cottage cheese, ¼ cup parmesan cheese and the remaining parsley and all the oregano. Mix until well combined.

Spread 1 cup of the sauce mixture into ungreased 13x9-inch baking dish. Top with 3 no-boil lasagna sheets.

Spread ⅔ cup of the cheese mixture over the noodles. Spread 1 cup of sauce over the cheese mixture.

Sprinkle with ⅔ cup of shredded mozzarella cheese.

Repeat with 3 more lasagna noodles, ⅔ cup of cottage cheese mixture, 1 cup of sauce mixture and ⅔ cup of shredded mozzarella cheese.

Top with remaining noodles and sauce. Sprinkle with remaining mozzarella cheese and ¼ cup parmesan cheese.

Cover, bake for 30 minutes. Uncover and bake an additional 15 minutes or until hot and bubbly.

Let stand for 15 minutes before cutting.
Notes
Refrigerate leftovers for up to 3 days covered in the fridge.
To freeze, cover tightly before you bake. Store in the freezer for up to 3 months. Defrost in the refrigerator and cook as director. Or cook from frozen by covering with foil and adding 45 minutes to the cooking time. Remove the foil the last 15 minutes of cooking.
Nutrition
Serving:
1
piece
|
Calories:
481
kcal
|
Carbohydrates:
38
g
|
Protein:
31
g
|
Fat:
24
g
|
Saturated Fat:
10
g
|
Polyunsaturated Fat:
3
g
|
Monounsaturated Fat:
9
g
|
Trans Fat:
0.1
g
|
Cholesterol:
78
mg
|
Sodium:
1478
mg
|
Potassium:
912
mg
|
Fiber:
5
g
|
Sugar:
12
g
|
Vitamin A:
936
IU
|
Vitamin C:
18
mg
|
Calcium:
367
mg
|
Iron:
3
mg