Learn how to make olive oil bread dip with five different recipes. All of them are easy, no cook recipes. Just mix the herbs and spices with your extra virgin olive oil and enjoy dipping your favorite bread!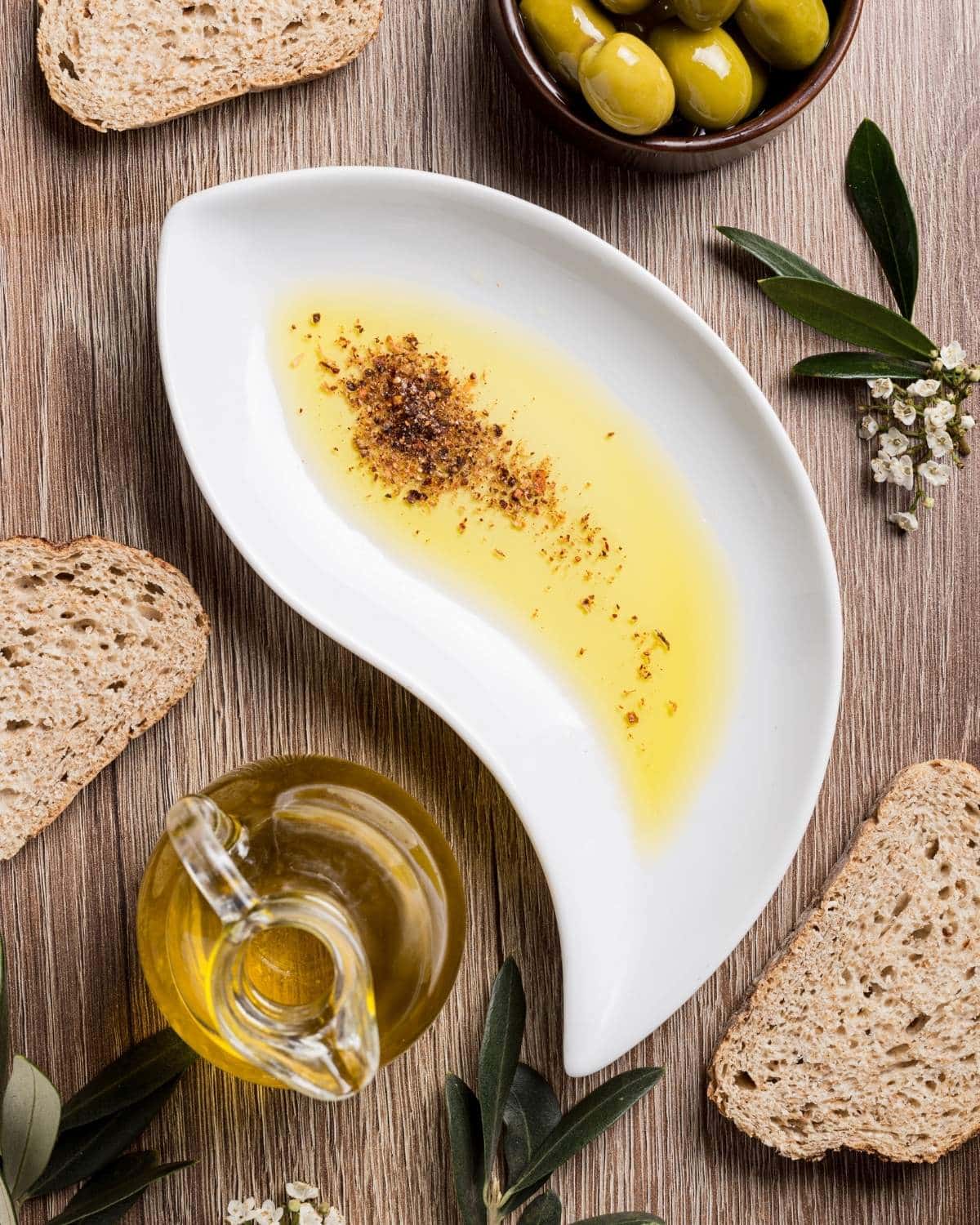 What Is Olive Oil Bread Dip
Olive oil bread dip is a dry herb-infused oil based dip, usually served on a small plate or small dish, that you dip your bread into. You will usually see it served at Italian restaurants or at a dinner party. You might have had it at your favorite Italian restaurant or a chain restaurant like Buca di Beppo, Olive garden, California Pizza Kitchen or Romano Macaroni Grill. It's a great alternative to plain bread or buttered bread.
Serve it as a simple appetizer or quick pre-dinner snack. Place your delicious bread in a bread basket and serve your room temperature herb dip in a small bowl. This is an easy appetizer that will leave your guests impressed.
Best Oil For Bread Dip
Use a high quality extra-virgin olive oil. Good quality extra virgin olive oil is not mixed with other oils, like vegetable oil. This is the best tasting oil when you'll be dipping your bread directly into it. Good olive oil is an important key to good dip!
What Bread Goes With Bread Dipping Oil
Traditionally, a crusty Italian bread is dipped in an olive oil based dip. Though any warm crusty bread will work! Try a French baguette or French bread, Ciabatta bread or sourdough bread. Any delicious bread will work as long as it's fresh bread. Try making these garlic knots.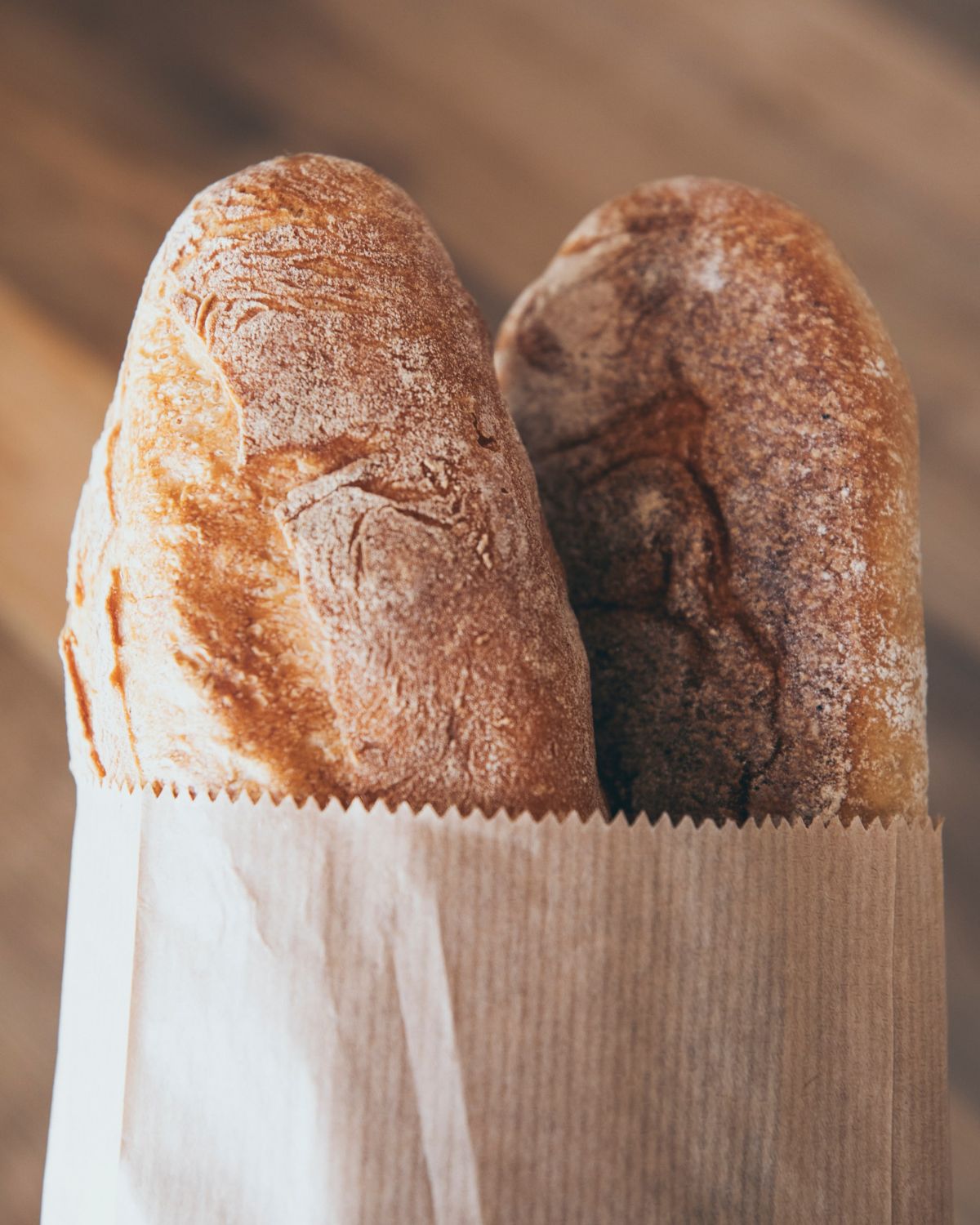 5 Olive Oil Dip Recipes
These 5 recipes are each delicious! Mix the herbs then add them to a dish and drizzle extra-virgin olive oil over the top of the herbs. Each recipe can be combined with about 1 cup of olive oil. You can add more or less spices to your olive oil to get your desired flavor.
Prep time for each of these is under 5 minutes to make the herb mixture and add it to oil.
If you want to substitute fresh herbs for dried herbs the conversion ratio is 1 Tablespoon fresh herbs equals 1 teaspoon dried herbs.
Note: Throw out your dipping oil after 2 hours. Do not keep at room temperature or refrigerated after that time. See storage notes below.
Traditional Herb Dip
This is a restaurant style dip. It is a personal favorite.Next time you make a dipping oil, start with this one! It has a lot of ingredients but it's so worth it. This olive oil bread dip recipe does not disappoint. Enjoy it with a glass of wine and your favorite bread. The different flavors come together in a great way.
1 clove of garlic, minced
1 teaspoon dried oregano
1 teaspoon dried basil
1 teaspoon dried parsley
½ teaspoon onion powder
½ teaspoon freshly cracked black pepper
½ teaspoon red pepper flakes
½ teaspoon kosher salt
¼ teaspoon dried thyme
¼ teaspoon dried rosemary
Fresh grated Parmesan cheese, optional on top
Simple Olive Oil Bread Dip
This oil recipe is similar to an Olive Garden bread dip copycat recipe. If you're looking for an easy oil recipe this is it. Use your best olive oil and your best bread and enjoy a delicious appetizer.
3 fresh minced garlic cloves
1 ½ teaspoon Italian seasoning
1 teaspoon parsley
½ teaspoon crushed red pepper
sea salt and pepper to taste
Balsamic Vinegar Dipping Oil
When you find a good balsamic vinegar pair it with a good extra virgin olive oil. This recipe is full of garlic and Parmesan cheese as well. Add your spices to the plate, drizzle the olive oil and then the balsamic vinegar. Top with cheese.
3 garlic cloves, minced
1 teaspoon dried oregano
1 teaspoon dried thyme
½ 5 Tablespoons balsamic vinegar
¼ cup shredded fresh Parmesan cheese
Cheesy Italian Dipping Oil
This simple recipe for bread dipping oil is a Macaroni Grill dipping oil copycat. At the restaurant they will add pepper to a plate then add olive oil. If you ask for the seasonings and cheese they'll add them for you.
2 teaspoons Italian seasoning
3 Tablespoons parmesan cheese
⅛ teaspoon fresh cracked black pepper
½ teaspoon garlic powder
Spicy Garlic Chili Oil Bread Dip
If you are a garlic lover and a spicy food lover you'll love this herb bread dip. It has a bold garlic flavor and a kick of spice. This easy recipe makes a great appetizer for all types of food.
6 garlic cloves, minced
3 Tablespoons crushed red pepper flakes
1 ½ teaspoons paprika
¾ teaspoon sea salt
How To Store
Raw garlic mixed with oil should never be kept longer than two hours due to the risk of botulism. Do not store leftover olive oil dipping sauce in the refrigerator. There is no shelf life to home-mixed garlic and olive oil. If you want to store your mixed bread dip you can strain it, store the oil in the refrigerator and use within 1-2 days.
I recommend buying a commercially prepared garlic infused olive oil and omitting the garlic in the recipe if you want to be able to mix it and store it.
Store your herb mix (without garlic) in an airtight container at room temperature.
Serve this appetizer with a fresh homemade lasagna or Greek salad.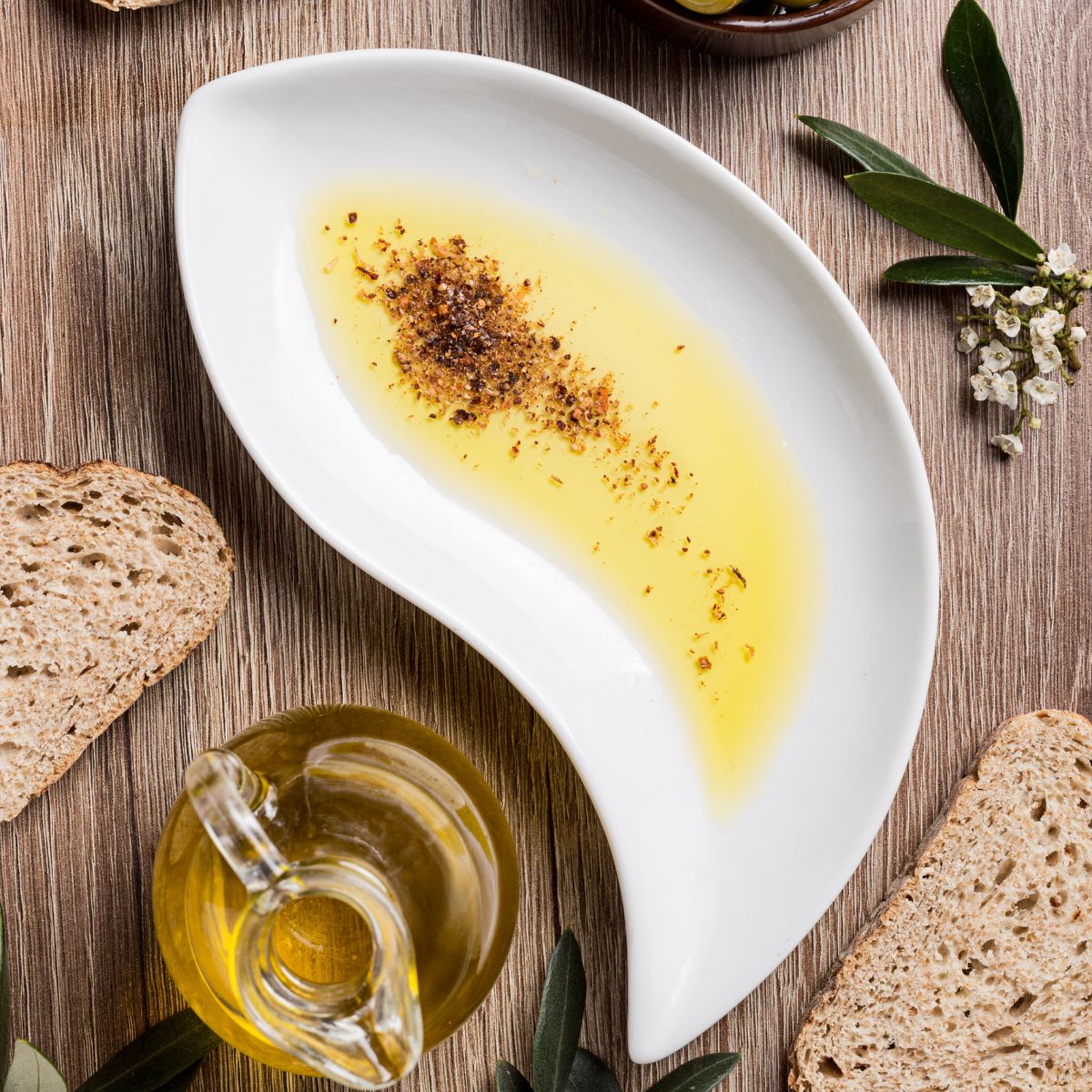 Ingredients
1

clove

garlic

(minced)

1

tsp

dried oregano

1

tsp

dried basil

¾

tsp

dried parsley

½

tsp

onion powder

½

tsp

crushed red pepper flakes

½

tsp

sea salt

½

tsp

dried thyme

¼

tsp

dried rosemary

½

cup

fresh grated Parmesan cheese

(optional)

1

cup

extra virgin olive oil
Instructions
Mix all the dried spices and garlic together.

Sprinkle 1 tablespoon of herb mix into a small bowl. Drizzle ½ cup of extra virgin olive oil on top of the herbs. Sprinkle with 2 tablespoons of cheese (optional). Repeat with a second bowl.
Notes
Dipping oil that has been sitting out at room temperature for more than 2 hours should be thrown away.
Do not save any oil that has been mixed with garlic.
Dip fresh crusty bread into your herbed dipping oil.
Nutrition
Calories:
214
kcal
|
Carbohydrates:
1
g
|
Protein:
2
g
|
Fat:
23
g
|
Saturated Fat:
4
g
|
Polyunsaturated Fat:
2
g
|
Monounsaturated Fat:
16
g
|
Cholesterol:
4
mg
|
Sodium:
206
mg
|
Potassium:
19
mg
|
Fiber:
0.2
g
|
Sugar:
0.03
g
|
Vitamin A:
79
IU
|
Vitamin C:
0.2
mg
|
Calcium:
52
mg
|
Iron:
0.4
mg