Tired of pajamas scattered around your child's room? Discover the magic of DIY Pajama Eater Pillows – adorable companions that gobble up pajamas while adding a touch of whimsy to bedtime routines! These pajama keeper pillows store kids' pajamas during the day. They're like pajama storage pillows that are decorative and cute sitting on beds. Don't miss the pillowcase sewing tutorial or the envelope pillowcase tutorial.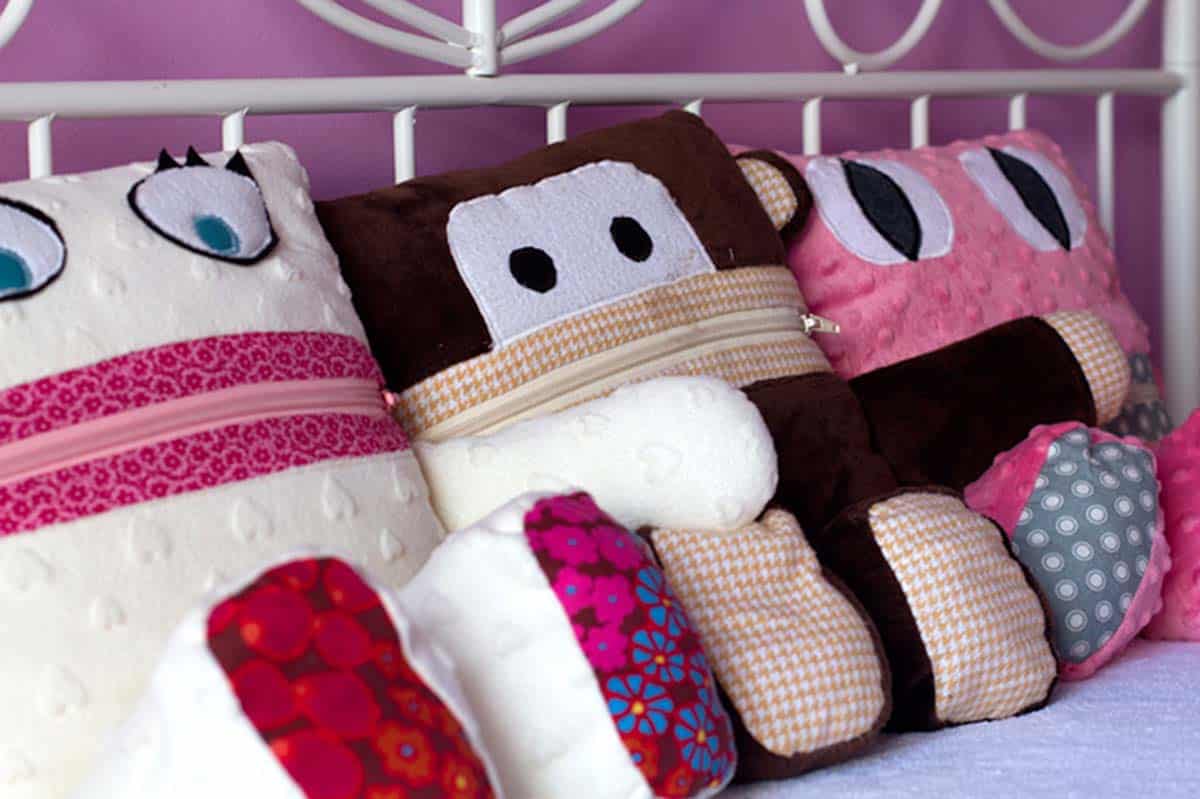 What Is A Pajama Eater
A Pajama Eater Pillow is a unique plush toy that doubles as a storage pouch for pajamas. It has a special compartment where you can store your pajamas during the day, and at night, it becomes a cuddly pillow to sleep with. It's a fun and practical item for kids to keep their pajamas organized and have a cozy companion at bedtime. It's a pajama pouch pillow that closes with a zipper mouth.
Great Gift Idea
I made 4 of these cute little pajama monster pillows to hide pajamas. Here are the 3 I could actually find when it came time for photos. It's not that the 4th is unloved and tossed aside. I think it was actually in the cardboard fort in my 7 year old's room but I didn't go inside to get it. Pajama holder pillows like these pajama monsters are not just decorative! They're also fun stuffed animals.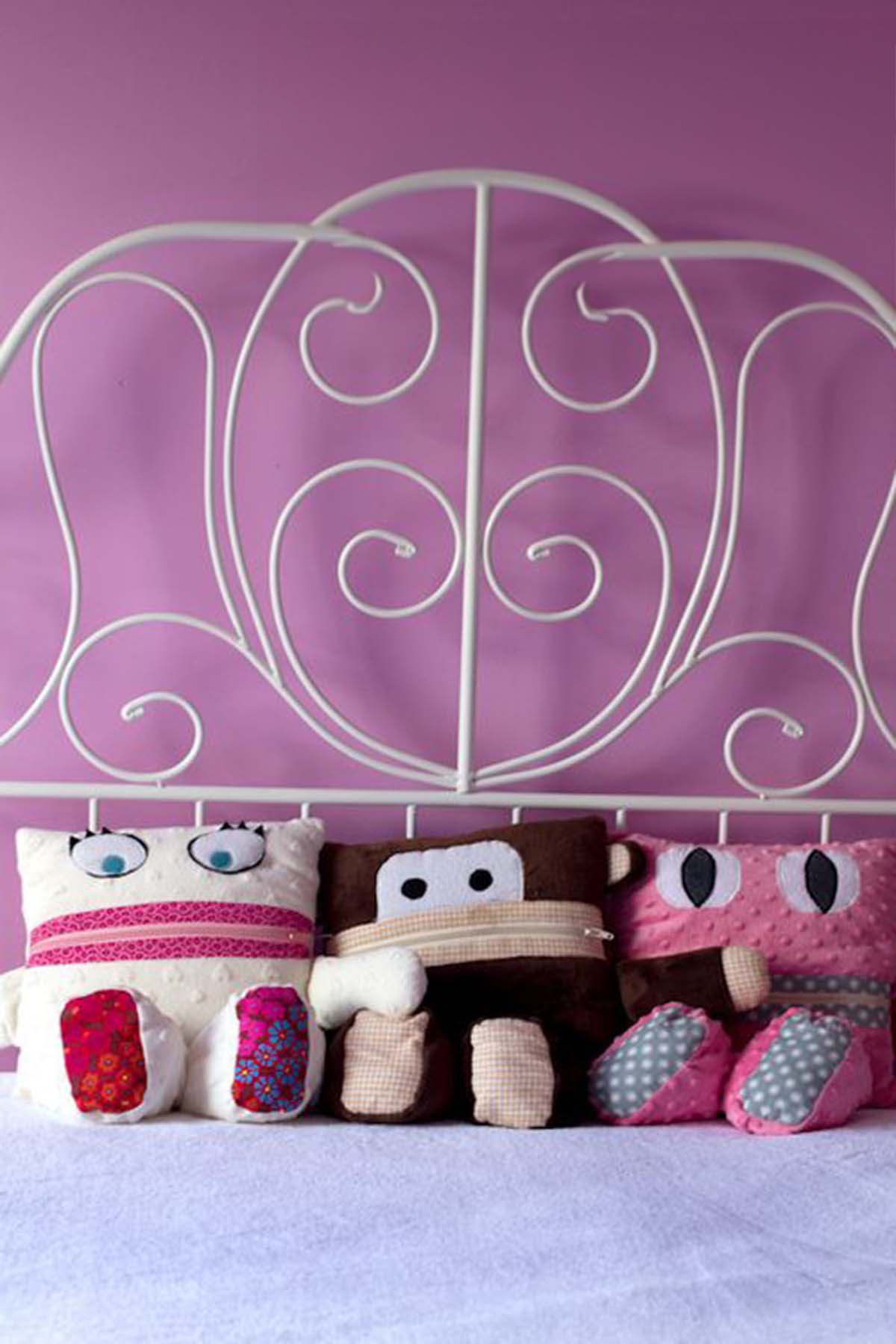 I made a Glam Monster, Monkey and Cat, which is more like a monster because I didn't add the whiskers or ears. The fourth is a penguin. Super cute. Trust me on that one.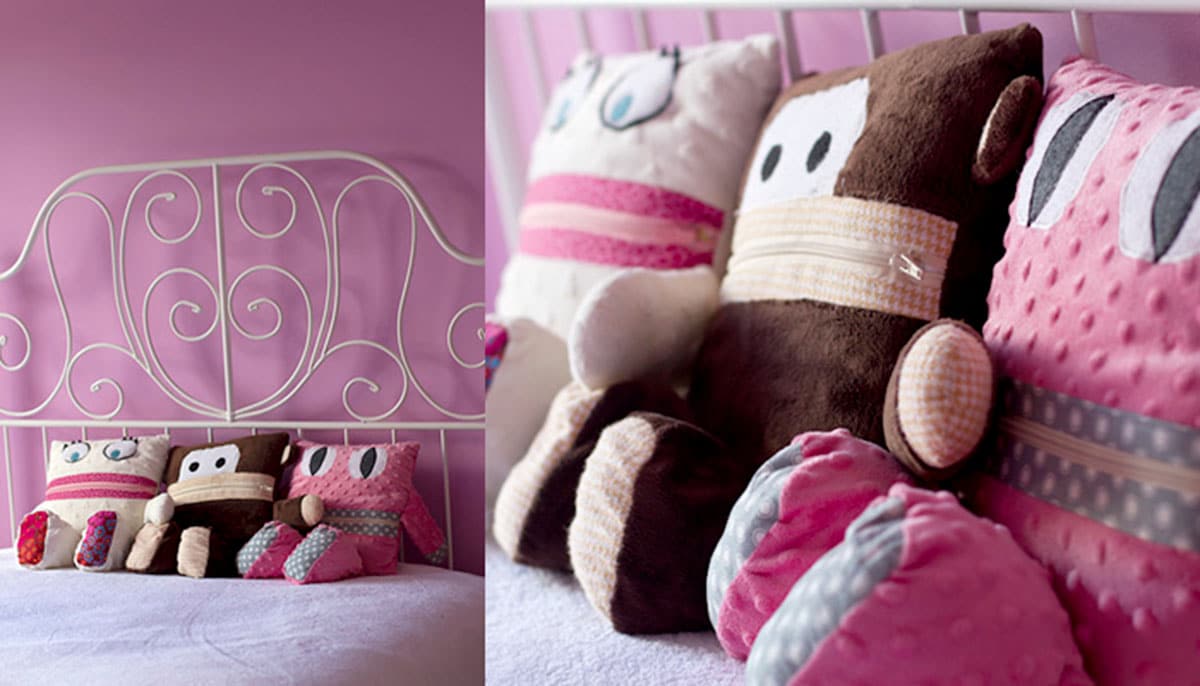 I used a thin pillow form to stuff 3 of them. The pattern calls for stuffing. The pillow form makes it easier. Just don't get a super overstuffed form because it will be hard to get the pajamas into the monster.
Where To Get A Pajama Eater Pattern
I used the Sew Fearless pajama pillow pattern. I definitely recommend this pattern. It's not free but worth it. You can get the Pajama Eater pattern here at Sew Fearless.
Tips and Tricks
Choose the right fabric: Opt for soft, durable fabrics like fleece or cotton that are easy to work with and comfortable for cuddling.
Use contrasting fabrics: Consider using different fabric colors or patterns for the main body and the mouth to create an eye-catching and playful look.
Measure and mark accurately: Take precise measurements for the mouth opening and mark the fabric with chalk or fabric pens to ensure accuracy while cutting and sewing.
Secure the zipper ends: To prevent the zipper from coming undone, sew a few stitches across the ends of the zipper tape where it meets the fabric.
Test the zipper: Before sewing the entire pillow, check if the zipper opens and closes smoothly to ensure functionality.
Sew slowly around the zipper: Take your time and sew slowly when sewing close to the zipper teeth to maintain neat and even stitching.
Reinforce the mouth opening: Stitch around the mouth opening a second time or use a zigzag stitch to strengthen the seam and prevent fraying.
Clip corners and curves: Trim excess fabric and clip corners and curves to help the pillow maintain a crisp shape when turned right-side out.
Securely close the stuffing opening: Use a ladder stitch or slip stitch to close the opening for turning and stuffing, ensuring a seamless finish.
Experiment with embellishments: Personalize your pajama eater pillow by adding eyes, a nose, or other decorations using fabric markers, embroidery, or felt appliques.
Remember, everyone's sewing skills may vary, so don't worry about achieving perfection. Focus on enjoying the creative process and embracing the unique charm of your handmade pajama eater pillow.
Inspiration and Variations
Animal-themed Pajama Eaters: Give your pillow a unique twist by incorporating animal-inspired features. Add ears, a tail, or use different fabric patterns to create a cat, dog, or any other animal companion.
Personalized Embroidery: Consider embroidering your name, initials, or a special design on the pillow to make it truly one-of-a-kind. This adds a personal touch and enhances its sentimental value.
Colorful Patchwork: Combine various fabric scraps or use pre-cut fabric squares to create a patchwork effect on the pillow's body. This adds a vibrant and playful element to your creation.
Character-inspired Designs: Take inspiration from your favorite characters, whether from movies, books, or cartoons, and recreate their features on the pillow's face. This is a fun way to bring beloved characters to life.
Miniature Pajama Eaters: Create smaller versions of the pillow to serve as travel companions or pocket-sized organizers for smaller items like jewelry or small toys.
Decorative Trims: Embellish the edges of the pillow with decorative trims, such as rickrack, lace, or pom-pom trim, to add texture and visual interest.
Applique Accents: Use fabric appliques to add playful details to your pajama eater. Consider shapes like hearts, stars, or other whimsical designs to enhance the overall charm.
Customized Shapes: Experiment with different shapes for the mouth opening. Try a zigzag pattern, a wavy line, or a heart-shaped mouth for a unique and eye-catching design.
Family Collaborations: Get the whole family involved in creating their own pajama eater pillows. Each person can personalize their pillow with fabric choices, designs, or unique features, making it a special keepsake for everyone.
Seasonal Themes: Tailor your pajama eater pillow to different seasons or holidays. Use holiday-themed fabric, add Santa hats or bunny ears, or incorporate seasonal colors to match the festive spirit.
Let your imagination run wild and use these ideas as a starting point for your own creative variations. The beauty of DIY projects is that you can customize them to reflect your personal style and preferences, making each pajama eater pillow a unique and cherished creation.
Frequently Asked Questions
Can I use different types of fabric for my Pajama Eater Pillow?
Absolutely! Choose soft and durable fabrics like fleece or cotton, but feel free to get creative and experiment with different textures and patterns.
Can I adjust the size of the Pajama Eater Pillow to fit my needs?
Certainly! You can adjust the dimensions of the pillow to make it larger or smaller, depending on your preferences and the amount of space you need for storing pajamas.
Is this project suitable for beginners in sewing?
Yes! This project is beginner-friendly and a great way to practice basic sewing skills. Take your time, follow the instructions, and enjoy the process.
How do I clean my Pajama Eater Pillow?
Spot cleaning is typically recommended. Use a mild detergent and a soft cloth to gently clean any stains or dirt. Avoid submerging the pillow in water, as it may damage the filling.
Creating your own Pajama Eater Pillow is a delightful and practical project that combines functionality with creativity. By following the step-by-step instructions and incorporating your personal touches, you can craft a unique and cuddly companion to keep your pajamas organized and add a touch of whimsy to your bedtime routine. Whether you choose vibrant colors, playful designs, or customize it to match your style, your handmade creation is sure to bring joy and comfort. Enjoy the process of sewing and embrace the happiness that comes from crafting something with your own hands.