Now that it is recommended that everyone wear a mask when they're around other people, it's time to sew a DIY face mask for yourself and your community. We've been trying out the different patterns we've found online and there are some favorites and some that we don't like as much. Don't know how to sew? We've got our favorite NO-Sew mask tutorials here as well! And don't forget to get your mask sewing supplies. I've compiled a great list of in stock items.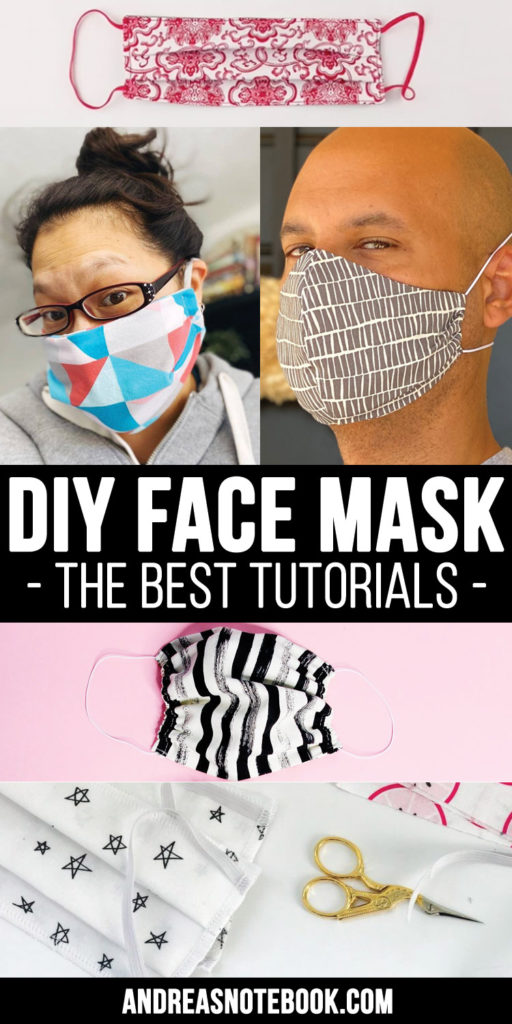 What you'll need to sew a DIY face mask:
Optional:
Tips before sewing any pattern:
Wash your fabric before using. It will shrink during the first wash.
Try the pattern on a test fabric first if you only have a little of your favorite fabric.
Make sure the print is facing up when you're wearing it.
Make sure it is obvious which is the inside and which is the outside. Nurses are requesting this because if they take it off they don't want the part that was outside back against their mouth when they put it back on.
Choose your DIY face mask pattern
There are 2 basic types of mask patterns out there. The pleated kind that most resemble a surgical mask and the fitted kind. I personally prefer the fitted kind, however, the pleated kind are preferred by some people. Both are quick to make if you've ever sewn before.
DIY Fitted Mask Patterns
Rae Gun Ramblings - Fast fitted mask pattern. This post also has great mask wearing advice.
Craft Passion pattern: This one comes in different sizes. There's men, women/teen and 2 child sizes. There's an option for making a mask filter pocket. There's also a Cricut cut file option. You can see the one I made for my husband from this pattern below.
Dao Shows You How - If you prefer to learn through YouTube video this is a good one for you.
DIY Pleated Mask Patterns WITH a Filter Pocket
Girl Inspired - This pattern includes ties instead of elastic behind the ears. It also includes an easy to watch and follow video.
See Kate Sew - This is another good pleated mask with a filter pocket. This version has bias tape all along the top and bottom and may take a bit longer to sew but is very cute.
DIY Pleated Mask With Elastic (Surgical Style Mask)
See Kate Sew- Make a simple mask 3 different ways with See Kate Sew. This includes a pattern you can print if that's easiest for you.
Cloth With Pegs - This is a simple pattern. She'll give you the dimensions and instructions.
Anjurisa - Simple tutorial for beginners.
CDC - The CDC even has its own tutorial on its website.
Simple Simon & Co - 5 minute face mask tutorial if you have a serger!
Have you found a pattern or tutorial that you prefer? Let us know in the comments!
CDC guidelines:
"CDC recommends wearing cloth face coverings in public settings where other social distancing measures are difficult to maintain (e.g., grocery stores and pharmacies), especially in areas of significant community-based transmission.
CDC also advises the use of simple cloth face coverings to slow the spread of the virus and help people who may have the virus and do not know it from transmitting it to others. Cloth face coverings fashioned from household items or made at home from common materials at low cost can be used as an additional, voluntary public health measure.
Cloth face coverings should not be placed on young children under age 2, anyone who has trouble breathing, or is unconscious, incapacitated or otherwise unable to remove the mask without assistance.
The cloth face coverings recommended are not surgical masks or N-95 respirators. Those are critical supplies that must continue to be reserved for healthcare workers and other medical first responders, as recommended by current CDC guidance."