UPDATE: During this time of self isolation consider giving front line workers a simple THANK YOU for their hard work stocking shelves, driving trucks, caring for sick people and keeping our neighborhoods safe!
My dear friend, Kara Noel's mother broke her leg before Christmas. She is still young, not yet 60. Breaking a leg should be no problem. Unfortunately,breaking a leg has been anything but no problem. Since that time she's been through a series of nightmarish health scares, surgeries and comas. She is still in the hospital, critically holding onto life. As you can imagine, it is difficult to watch a friend go through this with her mother. I can only imagine what she is going through. From having a healthy mother one moment, to one whom might not live through the day, the next. The thing about Kara Noel is that she has a HUGE heart. I repeatedly asked how I can help her (did I mention she has 4 little kids??). While her mother is in a coma hoping to make it to the top of a kidney transplant list, all she asks me for is to make something for her mom's nurses. Seriously. For the nurses. Are you crying yet???
So I made something. It wasn't much, but I made cookies. Horribly inadequate under the circumstances but that's what I did for her. Chocolate chip cookies for each of the nurses. And as I tried to figure out how to package them it hit me. They needed something else. I made these free printable thank you notes to add to the cookies.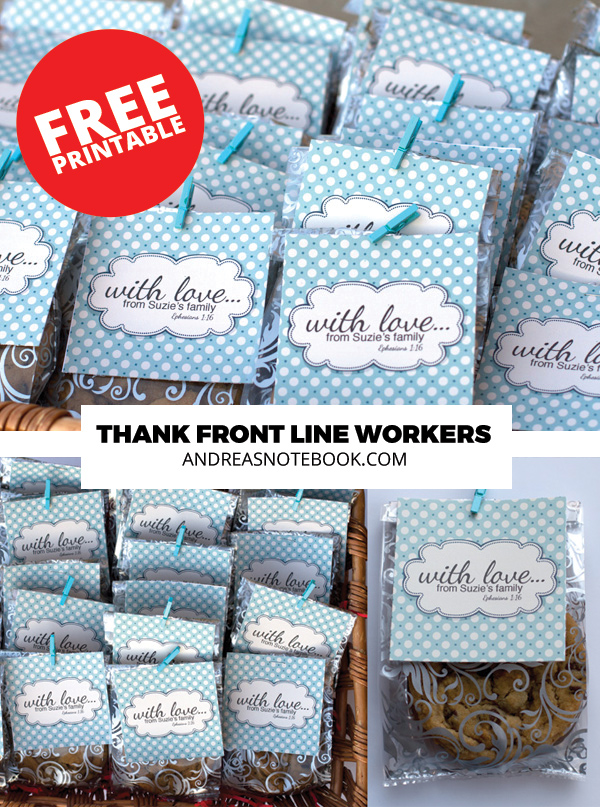 They needed a little card to go on each of them. A little way for the nurses and doctors to know these were from Suzie's family. And not only are these from Suzie's family, but they're praying too. Because they are. I know Kara Noel does pray without ceasing for her mother and for all the nurses and doctors. And it's good for people to hear that they are appreciated and people pray for them.
I printed out this cute little thank you note card on card stock. Then I clipped (or stapled when I ran out of little mini clothes pins) the card onto the cookie bags.

It wasn't much, but it's what I could do. And now you can too. You can download the cards to print yourself. Perfect for when you're headed to the hospital to have a baby, get surgery or when you're visiting a loved one. They're even perfect for teacher gifts!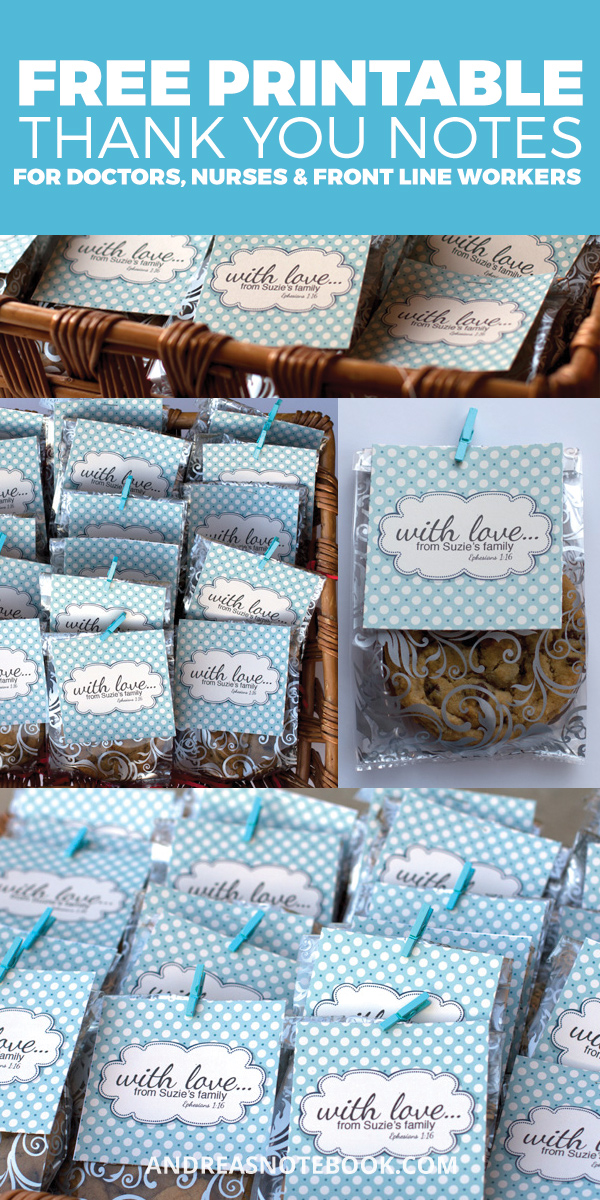 Free Printable Thank You Note
Download with love cards then print. They are two pages. Print page one then flip it over and put it back in your printer to print page 2 on the back. Use these cute little clothes pins to secure to your pastry package.
How will you use the "With Love..." cards?