For Thanksgiving this year use your Instant Pot to save a little time. You can cook everything in the meal in the electric pressure cooker. It's great if you're cooking the whole meal or even if you're just making one thing. These Instant Pot Thanksgiving recipes are easy and delicious!
I love cooking in the Instant Pot as much as possible. I usually cook chicken, pork or stew but these recipes are tempting me! I'm definitely going to try the turkey breast recipe.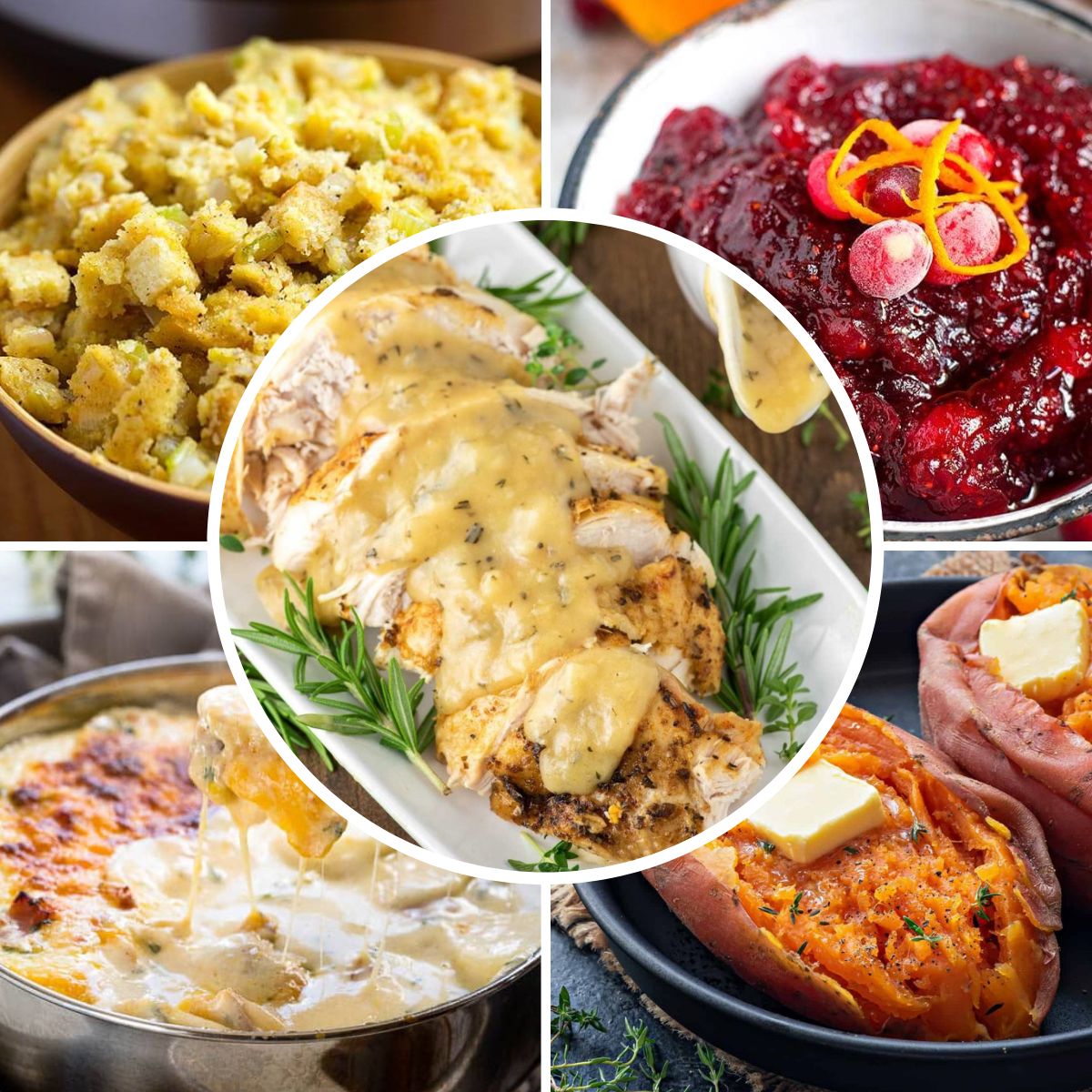 The best Instant Pot Thanksgiving recipes are the kind that are low maintenance and don't take a lot of extra steps. If you're cooking a whole holiday dinner you want to use the Instant Pot to make things easier.
Thanksgiving foods on your Thanksgiving menu you can make in an Instant Pot to keep your oven open for other recipes:
desserts (cheesecake, pumpkin pie, pecan pie, cake in a bundt pan)
side dishes (Instant Pot brussels sprouts, green bean casserole, green beans and bacon, glazed carrots, sweet potato casserole, rice, apple butter, stuffing, mashed potatoes, soup, vegetables)
gravy
main dish (turkey breast, roast chicken)
Recipe & photo by Cubes n Juliennes
Oh yum! If you like sweet potatoes or yams you won't want to miss this one! Don't these look delicious? And cooked in an instant pot so what could be easier? These make a great side dish or even a lunch. The sweet potatoes are cooked perfectly. Add your favorite toppings. Maybe even some chicken or pork to make them a taco base?
Recipe and photo by Chisel & Fork
Doesn't this look amazing? Skip the whole turkey and just do a turkey breast if you only have a few guests. You'll save time and it's so much easier to carve! This is perfect for a small crowd, or when you only like breast meat.
This is so easy you'll want to make a turkey meal more than just once a year! Add a few easy sides and you can have Thanksgiving meal all year long.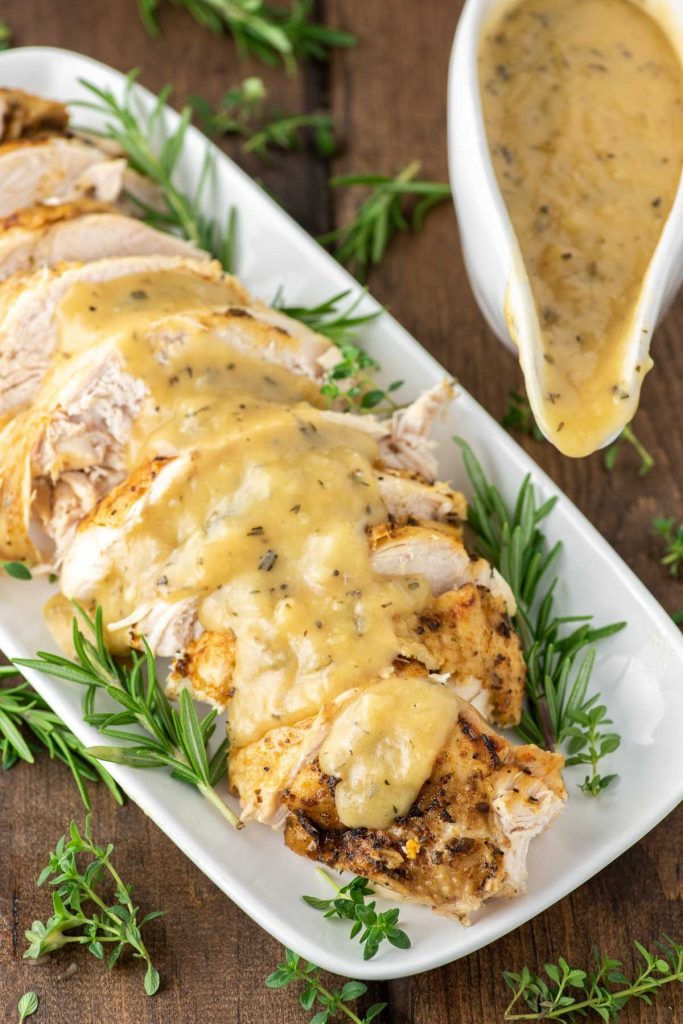 Recipe and photo by Balancing Motherhood
I'm a sucker for cheesecake. Have you tried making one in an Instant Pot yet?? All you need is an Instant Pot springform pan. Though any brand will do. This recipe looks really tasty. I might sprinkle some cinnamon and drizzle some chocolate on the top for a mix of my favorite flavors: chocolate and pumpkin. Serve with vanilla ice cream or whipped cream.
Recipe and photo by This Healthy Kitchen
This is the easiest way to make mashed potatoes when you're busy cooking everything else on Thanksgiving. I love good, buttery mashed potatoes and these fit the bill! This easy recipe makes creamy, must-have buttery mashed potatoes. Season with salt and pepper and some chives.
Recipe and photo by Mama Cheaps
Free up your stove by cooking the corn in the Instant Pot. They turn out perfectly every time! Thanksgiving corn on the cob is something kids love! Cooking it in the pressure cooker is a great way to free up space on the stove.
Recipe and photo by Cubes n Juliennes
Try a twist on a traditional butternut squash soup by making this curried version. It looks like it would smell and taste delicious! Instant Pot butternut squash soup makes a simple appetizer or side dish for the holidays. It's a creamy soup that's healthy and hearty.
Recipe and photo by Little Sunny Kitchen
Have you ever tried stuffed pumpkin? Use a pumpkin from your garden or buy one from the grocery store. Cooking it in the Instant Pot will help it turn out perfectly every time! This recipe makes quite a presentation. It's the kind of thing you want to serve fresh ingredients for a fancy Thanksgiving dinner party. This makes a great vegan or vegetarian Thanksgiving meal option.
Recipe and photo by Simply Happy Foodie
If you love homemade cranberry sauce you'll love this recipe. Fresh cranberry sauce is so much tastier than canned cranberries. You won't get the can shape but your tastebuds will thank you!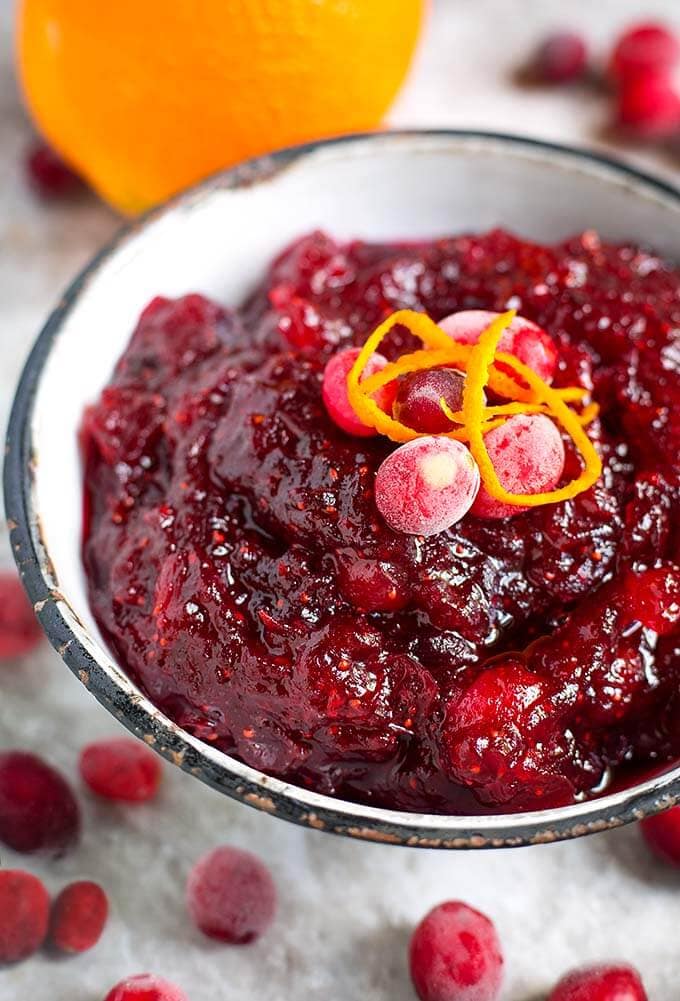 Recipe and photo by Simply Happy Foodie
Fix it and forget it. This cornbread stuffing couldn't be easier! Don't stuff your turkey with stuffing. Make this easy stuffing recipe to save time on the big day. Instant Pot stuffing takes only minutes to make and then you don't have to cook it on the stove top. Make it from scratch with cornbread stuffing pieces, onion, celery, garlic, broth and spices.
Recipe and photo by Busy Cooks
Love cheesy potatoes? These classic scalloped potatoes are the ultimate comfort food. This recipe is full of cheese and even includes ham. It could be a meal by itself on a day you need comfort!
More Instant Pot Recipes
More Recipes You'll Love