Finding the best way to store bread is an age-old debate. With so many types of bread available, each with its own shelf life, understanding bread storage is nothing less than a necessary art. It's a constant balance between keeping your loaf fresh and tasty while avoiding mold growth and staling. Learn all about the factors affecting bread storage and learn how and where to store bread in the kitchen to keep it fresh and tasty longer!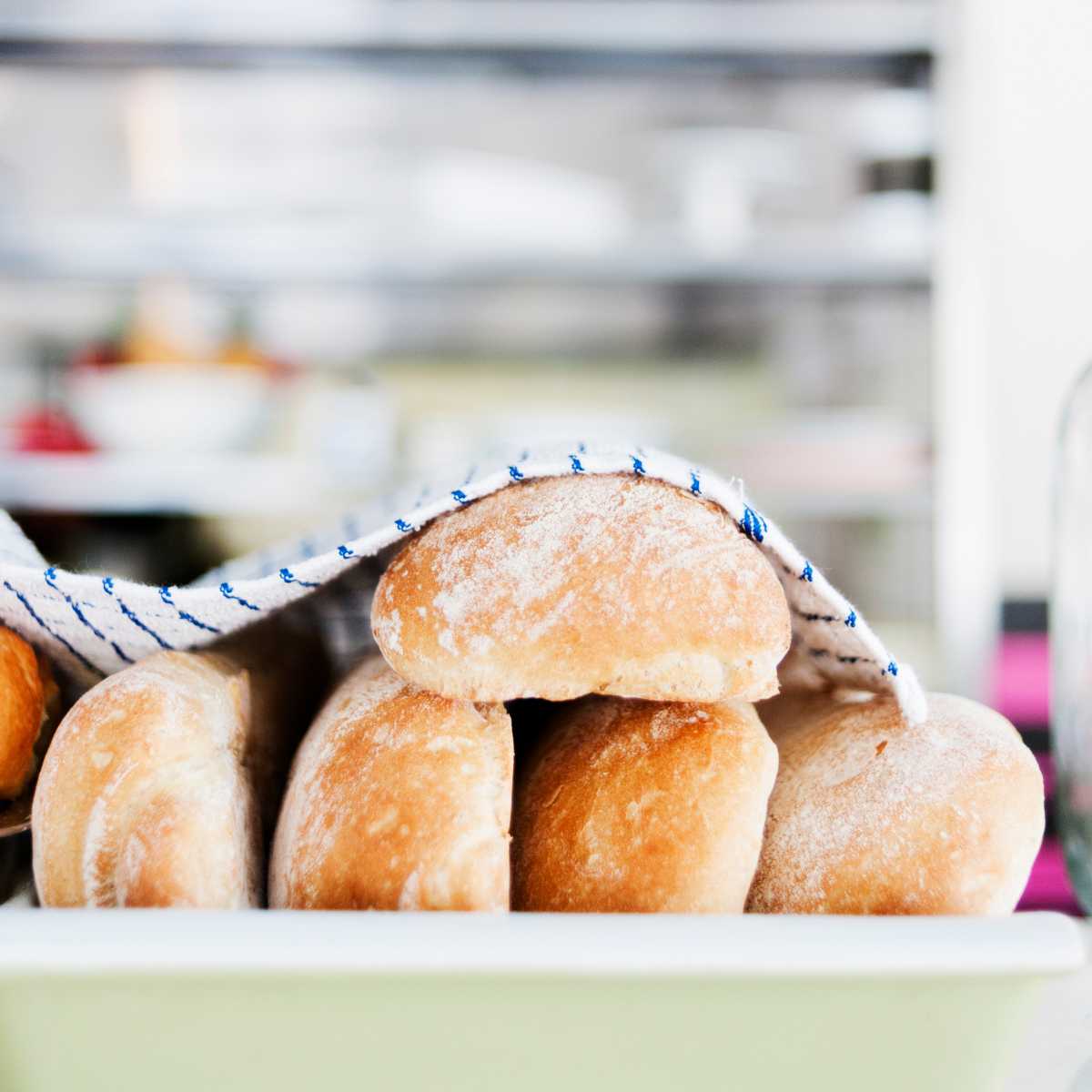 Understanding Bread Storage
Bread storage involves more than just tucking your loaf away. It's a deep dive into bread's scientific makeup and how it interacts with its surroundings. Flour, yeast, water, and salt unite in bread, fermenting and forming a structure responsive to changes in light, humidity, and temperature.
Each bread type, from dense, moist banana bread to light, crusty French baguettes, needs specific storage. For example, fresh sourdough bread from your local bakery needs immediate attention, lacking preservatives. If left at room temperature, it might harden or mould within days. On the other hand, store-bought bread, filled with preservatives for a longer shelf life, requires less immediate care.
This requirement indicates a need for a strategic approach. The storage should cater to the specific bread type, its ingredients, and climatic conditions. Grasping these variables' interplay is the initial step towards bread storage mastery. This understanding can help you avoid dreaded mouldy bread or the let-down of a stale slice that has lost its freshness and flavor.
The goal of optimal bread storage is balance. It aims to limit air exposure, maintain correct humidity, and ensure temperature conditions that don't hasten the staling process or promote mould growth. Poor storage can lead to waste, a disappointing outcome considering the time and resources used to produce this staple food.
In a nutshell, grasping bread storage is an essential art, combining science, personal preferences, and occasionally, a hint of creativity. It's the key to savoring your bread at its best, whether for a filling sandwich, a slice of delicious French toast, or the simple joy of a fresh slice with butter.
Breaking Down Bread: A Look at the Ingredients and their Role in Storage
Bread's basic composition consists of four main ingredients – flour, water, yeast, and salt. Each element crucially influences the final bread's texture, flavor, and storage requirements. Comprehending these ingredients and their effects on bread's longevity offers essential insights for bread storage.
Flour is the backbone of any bread recipe. It provides structure, contributing necessary proteins and starches that react during baking to shape the bread's crumb and crust. The flour type, be it whole wheat, rye, or all-purpose, can affect the bread's lifespan. For instance, whole grain flour bread, containing the oil-rich wheat germ, generally has a shorter shelf life than white flour bread.
Water, another vital ingredient, serves as a solvent. It allows even distribution of yeast and salt throughout the dough. It also triggers the flour proteins to form gluten, bestowing the characteristic chewiness to the bread. However, water can encourage microbial growth, leading to quicker spoilage if not stored correctly.
Yeast, a fungus type, is the leavening agent for bread. It consumes the dough's sugars and produces carbon dioxide gas, causing bread to rise. Bread with more yeast may spoil quicker due to yeast presence, despite most being killed during baking.
Salt flavors the bread and controls yeast activity despite its smaller quantity. It also serves as a natural preservative, extending the bread's lifespan.
Many store-bought breads include preservatives like calcium propionate to ward off mold and bacteria, thereby significantly prolonging the bread's lifespan. However, homemade bread or bakery-fresh bread usually lack these preservatives, making them more susceptible to spoilage if not eaten within days.
In short, your bread's composition, from the flour type to the preservatives' presence, can substantially influence its storage needs. Understanding these factors can guide you to the best storage methods, ensuring every bread slice you eat is as enjoyable as intended.
Why Proper Bread Storage Matters: Keeping Your Loaf Fresh and Tasty
Bread storage is essential to prevent excess moisture, which can lead to mold, or a lack of moisture, causing the bread to become stale. A well-preserved loaf maintains its soft texture and delicious taste, offering the perfect base for your favorite sandwich or a delightful side to your soup.
The Challenges of Storing Bread: Mold, Staling, and More
Bread storage may seem like a straightforward task, but several obstacles can make it more complicated than it appears. Understanding these challenges is vital to ensuring that your bread remains fresh, appetizing, and safe to eat. The three main issues that arise when storing bread are mould growth, staling, and freezer burn.
Mold Growth: Mold growth is a common issue with bread storage. Mold spores thrive in warm, damp environments and are almost everywhere. Bread, with its moist crumb and starchy nature, is a perfect mold breeding ground. A sealed plastic bag can prevent drying but might increase mold risk if it retains too much moisture.
Staling: Staling, contrary to common belief, is not about drying but a process named retrogradation. It involves the bread's starch molecules recrystallizing, resulting in a firm, stale texture. This process can happen at any temperature but accelerates at refrigerator temperatures, fueling the age-old debate about refrigerating bread.
Freezer Burn: Freezer burn can affect bread stored in the freezer without proper protection for long periods. This condition can change the bread's texture and flavor but doesn't make it unsafe to eat. It occurs when the bread's surface loses moisture in the dry freezer environment. This leads to ice crystal formation and, eventually, a dry, leathery texture.
Pests: Pests like ants, mice, or other insects can pose a bread storage challenge, depending on where you live. They are attracted to bread's starchy deliciousness and can quickly become a problem if the bread is not adequately protected.
Each of these challenges presents a puzzle to solve when storing bread. Tackling these issues requires a balance of the right storage conditions, protective measures, and practical solutions. It's a trial-and-error process, and the "best" solution might vary depending on the type of bread, your kitchen environment, and personal preferences.
Choosing the Right Bread Storage Location
Picking the perfect place to store bread in your kitchen can feel like a daunting task. After all, the location you choose has a substantial impact on the bread's shelf life and freshness. Several factors come into play, such as air circulation, temperature, and light exposure, making the decision more complex than simply tucking your loaf away in a convenient spot.
Investigating the Pantry: Pros and Cons of Storing Bread Here
Traditionally, a pantry, cupboard, or a deep drawer, offers a cool, dry place away from direct sunlight, making it a favorable option for bread storage. This location helps protect the bread from excess moisture, thus reducing the chances of mold growth. However, if the pantry isn't adequately ventilated, it can potentially foster a damp environment. Consequently, ensure that your pantry or cupboard isn't overly crowded and allows for some air circulation.
The Fridge Factor: Is It Ideal for Bread Storage?
You might think the refrigerator is a good place for bread storage due to its cool temperature. However, it can hasten the staling process. The fridge's low temperature accelerates the bread's starch retrogradation, making it harden quicker. Yet, it can also help to hinder mold growth. This makes it a reasonable short-term storage for high-moisture breads prone to quick molding.
Bread Boxes: A Classic Solution with a Modern Twist
A bread box presents a middle ground, providing a controlled environment that balances humidity and air circulation. A stainless steel bread box or a wooden one with small holes can protect the bread from pests and light while allowing enough air to prevent condensation, thus reducing the risk of mold growth. However, it's still important to consume bread within a few days to prevent staling.
Exploring the Freezer: Long-Term Storage for Bread
The freezer can be a great option for storing bread that won't be consumed immediately. It effectively halts the staling process and inhibits mold growth. However, improperly stored bread can fall victim to freezer burn, so it's essential to store the bread in a sealed freezer bag with as much air removed as possible. Additionally, remember to slice the bread before freezing as it allows you to thaw only the amount you need.
Bread Bags and Their Benefits: Plastic, Paper, or Cloth?
The kind of bag you store your bread in can also play a significant role in preserving its freshness. While plastic bags can help keep the bread soft, they might encourage mold if they trap too much moisture. Paper bags, on the other hand, allow the bread to breathe, preserving the crust's crispiness but can lead to faster drying out. Cloth or linen bread bags strike a balance, allowing the bread to breathe while retaining some moisture.
Unconventional Storage Spaces: Creative Ideas for Bread Storage
If you're limited on space or looking for a unique solution, there are several unconventional storage spaces for bread. A deep, unused appliance garage can be perfect for storing bread, keeping it accessible yet out of sight. A flat top, such as the top of the refrigerator or a microwave, can also serve as a bread storage spot, but it's crucial to ensure these areas don't get too warm, which could speed up the bread's spoilage.
Factors Influencing Bread Storage
There are several factors that can impact how well bread is stored and how long it retains its freshness.
Humidity: Bread storage is greatly influenced by humidity levels. Excess moisture promotes the growth of mold and other fungi, spoiling bread prematurely. Conversely, very low humidity can cause the bread to dry out and become stale. As such, striking a balance between dry and humid is crucial for bread storage. The use of bread boxes or bags that allow for slight air circulation can help maintain this balance.
Temperature: The temperature at which bread is stored also plays a significant role in its preservation. Cooler temperatures slow down the growth of mold, thus extending the shelf life of the bread. However, refrigeration can cause the starch in the bread to recrystallize more rapidly. This leads to a process known as retrogradation, which results in stale bread. Therefore, unless you plan to freeze the bread for long-term storage, room temperature is best.
Air Circulation: Bread requires a certain amount of air circulation to prevent moisture buildup and subsequent mold growth. Too much exposure to air can also lead to drying and staling. A well-sealed yet breathable storage solution, such as a bread box or a paper bag, is recommended.
Light: Light, especially sunlight, can increase the temperature and can cause the bread to dry out and spoil faster. Therefore, bread should ideally be stored in a dark and cool place. Moreover, light exposure can also degrade certain vitamins and other nutrients present in bread, particularly in whole grain varieties.
Type of Bread: The type of bread you're storing can also dictate the best storage method. For instance, whole grain bread has a higher oil content. This can turn rancid if exposed to heat and light over extended periods. On the other hand, white bread and breads made from refined flour tend to have a longer shelf life. Those can be stored at room temperature.
Storage Method: The method used to store bread, whether it's a bread box, bread bag, or a bread drawer, also affects its freshness. Each of these methods has its own pros and cons and can be more or less effective depending on the other factors mentioned above.
White Bread vs. Whole Grain: Does Storage Method Differ?
The choice between white bread and whole grain bread often comes down to personal taste and health preferences. However, when it comes to storing these bread types, the differences in their composition require separate considerations.
White Bread Storage
White bread, often made from refined or processed wheat, tends to have a longer shelf life than whole grain varieties. Its lower oil content means it's less likely to turn rancid, and it can withstand room temperature storage for a reasonable amount of time without significant degradation in taste or texture.
However, like all bread, white bread is still susceptible to mold growth, particularly in warm, humid environments. Therefore, it's typically a good idea to store white bread in a cool, dry place. Bread boxes, bread bins, or even a deep drawer that's away from heat sources can serve as ideal storage spots. Alternatively, for longer storage, white bread can be frozen in an airtight container or sealed freezer bag, with individual slices separated by wax paper for easy retrieval and defrosting.
Whole Grain Bread Storage
Whole grain bread, with its higher oil content, requires more careful storage. The oils in whole grain bread can turn rancid if exposed to light and heat for prolonged periods. Consequently, whole grain bread often benefits from cooler storage conditions.
Storing whole grain bread at room temperature is acceptable for short-term usage. However, if you plan to store it for longer, freezing is the best choice. When freezing whole grain bread, similar to white bread, ensure it is well wrapped in a freezer bag with as much air expelled as possible. Slices of bread can also be separated by wax paper or beeswax wrap for easy individual use.
Regardless of the type, all bread should be stored in a way that minimizes its exposure to air, moisture, and light. This means a well-sealed yet slightly breathable container placed in a cool, dry area away from direct sunlight. Storing bread correctly can significantly slow down the staling process, ensuring you can enjoy fresh, soft bread for longer periods.
Storing Specialty Breads: Sourdough, Baguettes, and Rye
A vast variety of breads populate the culinary landscape, each with unique compositions and textures that demand specialized storage strategies. Let's delve into the world of specialty breads – sourdough, baguettes, and rye – and explore their specific storage requirements.
Sourdough Bread Storage
Sourdough bread is beloved for its characteristic tangy flavor and chewy texture, traits that owe much to the bread's long fermentation process. This natural preservation technique grants sourdough a longer-than-average shelf life, but proper storage is still crucial to maintain its quality.
For short-term storage, a linen bread bag or a bread box is an excellent choice as they allow just enough air circulation to prevent the bread from molding while maintaining its crusty exterior. If you only have part of a sourdough loaf, make sure to store it cut-side-down on a cutting board or inside a paper bag to keep the exposed interior from drying out.
For long-term storage, sourdough bread can be frozen. As with other bread types, ensure it's well wrapped in a sealed plastic bag or aluminum foil to prevent freezer burn. Slicing the bread before freezing can also be a great option for quick and easy access to individual portions.
Baguette Storage
Baguettes, with their soft interior and crispy crust, are a staple in many households. However, these loaves have a notoriously short shelf life, often staling within a day. The best way to enjoy a baguette is to consume it on the day of purchase.
For storing an entire loaf overnight, a good option is to keep it in a paper bag at room temperature. This way, the baguette can breathe, maintaining a crispy crust and soft interior. A linen bag or a bread box can also serve the same purpose.
For longer storage, freezing is the best choice. Wrap the baguette tightly in aluminum foil and place it in a freezer bag, removing as much air as possible before sealing. When you're ready to eat the baguette, you can heat it in the oven without thawing, which can help restore its original texture.
Rye Bread Storage
Rye bread, particularly dark, dense versions, have a relatively long shelf life compared to other bread types due to their low fat content and acidity. For short-term storage, a bread box or a cool, dry cupboard away from light and heat sources is ideal. A plastic bread bag can also be used, especially for softer rye breads, but make sure the bread is completely cooled before placing it in the bag to prevent condensation.
For longer storage, rye bread can be frozen, following the same general principles as other bread types – wrap it well, remove as much air as possible from the freezer bag, and consider slicing it before freezing for convenience.
Remember, the unique compositions of these specialty breads mean they each have their own ideal storage conditions. However, the general principles of bread storage – protecting from excess air, moisture, and light – still apply. Adhering to these storage guidelines can help maintain the quality and extend the shelf life of these delightful bread varieties.
Sweet and Savory: Storing Flavored Breads and Pastries
Flavored breads, both sweet and savory, often feature additional ingredients that can impact their shelf life and storage needs. Whether you're indulging in a sweet banana bread or a savory cheese-stuffed loaf, proper storage can significantly extend freshness and taste.
Sweet Bread Storage
Sweet breads such as banana bread, cinnamon swirl bread, or pastries like danishes and croissants have added sugars and fats which can accelerate the staling process but can also act as natural preservatives. These types of breads are also more prone to attract pests due to the high sugar content.
For short-term storage, keep sweet breads at room temperature in a cool, dry place. An airtight container or a bread box can serve as perfect storage spots. The airtight container helps maintain the soft texture and prevent the bread from drying out. However, ensure the bread is fully cooled before placing it in the container to prevent condensation and resultant mold growth.
For long-term storage, sweet breads can be frozen. Wrap the bread tightly in plastic wrap or aluminum foil, then place it in a freezer bag, removing as much air as possible to prevent freezer burn.
Savory Bread Storage
Savory breads, such as garlic bread, cheese bread, or olive loaf, can contain ingredients like herbs, cheese, or vegetables, which might reduce their shelf life. The oils and fats in these ingredients can turn rancid over time if not stored properly.
Store savory breads at room temperature for short-term use. Use an airtight container or bread box and let the bread fully cool before storing. The refrigerator can slow down the process of rancidity for higher fat breads like cheese bread. But remember, it also speeds up staling, so consider the trade-off.
For longer periods, freeze savory breads as you would sweet breads. Wrap them tightly in plastic or aluminum foil, get rid of as much air as you can, and put them in a freezer bag.
Whether sweet or savory, flavored breads and pastries can retain their taste and freshness when appropriately stored. By understanding the impact of additional ingredients on the storage of these delicious treats, you can ensure they remain as enjoyable as the day you bought or baked them.
How to Store Bread for Maximum Freshness: A Step-by-Step Guide
Preserving the freshness of your bread revolves around a delicate balance of maintaining moisture while also avoiding the risk of mold growth. Here is a comprehensive guide to store bread for maximum freshness:
Step 1: Allow Bread to Cool Fully
If you're dealing with homemade bread or a loaf fresh from the bakery, let it cool completely before you consider storage. Storing warm bread can lead to condensation within the storage container, which can speed up the growth of mold.
Step 2: Choose the Right Storage Method
The appropriate storage method depends on when you plan to consume the bread. For daily use, store your bread at room temperature in a bread box or a bread bag with small holes, which allows some air circulation to prevent condensation and mold growth while also keeping the bread from drying out.
Step 3: Wrap the Bread Properly
If you're using a bread bag, simply place the bread inside and secure the opening. For longer storage, if you decide to refrigerate or freeze the bread, wrap it tightly in plastic wrap or aluminum foil to protect it from exposure to air and moisture, which can lead to staleness or freezer burn, respectively.
Step 4: Avoid Heat and Light
Regardless of the storage method, aim to keep your bread away from direct sunlight and heat sources, like the stove or the top of the refrigerator, as they can accelerate the staling process.
Step 5: Consider Freezing for Long-Term Storage
If you don't plan to consume the bread within a few days, freezing is a great option. Remember to slice the bread before freezing, as this allows you to use only the amount you need each time. Thaw frozen bread at room temperature or toast it directly from the freezer.
Step 6: Revive Stale Bread
If your bread has lost its fresh texture but hasn't grown mold, you can revive it. Sprinkle the bread with water and heat it in the oven for a few minutes. This process can help restore some of the bread's original moisture and softness.
By following these steps, you can keep your bread at its best, reducing waste and ensuring that every slice is as enjoyable as possible.
Reviving Stale Bread: Techniques to Bring Back the Freshness
Stale bread needn't go to waste. You can revive it with a few simple techniques. Let's explore these bread freshness hacks.
First, try the water method. Preheat your oven to 300°F (150°C). Dampen the bread surface slightly with water. Then, place it directly on the oven rack for 6-10 minutes. The heat helps the bread absorb the moisture, restoring its soft texture.
For a quicker fix, use the microwave. Moisten a paper towel, wrap it around the bread slice, and microwave for 10 seconds. However, this method works best for small bread quantities.
Another trick involves using a toaster. Lightly dampen your bread slice and pop it into the toaster. The heat combined with the moisture will revive the bread's softness.
If you have hard bread rolls, the steaming method can work wonders. Bring water to boil in a pot. Place the rolls in a steamer above the pot. Cover and steam for a few minutes until the rolls regain their softness.
Lastly, the 'bread and celery' technique is useful for a whole loaf of bread. Place a stick of celery into the bread bag. The bread absorbs moisture from the celery, returning it to a fresher state.
Remember, these techniques are short-term solutions. It's always best to store your bread correctly in the first place to maintain its freshness.
Selecting the Best Bread Storage Products
It can be tricky to pick the right bread storage product. You have to consider the bread type, kitchen space, and your personal taste.
Bread Boxes: Bread boxes are perfect for storing bread on countertops. You can find them in different materials and designs. They provide a dark, dry space, good for bread. I like this double layer bamboo bread box. It's perfect for a family that has different types of bread.
Bread Bags: If you prefer short-term storage, bread bags are good. They are small, light, and easy to carry. But ensure your bag has tiny holes for airflow. Try these cloth bread bags. They come in many different sizes.
Airtight Containers: These containers keep moisture out. This helps prevent mould on the bread. Remember to store them in cool, dry areas to stop condensation. If you use traditional loaves of white or wheat bread these airtight bread containers are great.
Bread Bins: Bread bins offer a traditional touch to your kitchen. They are similar to bread boxes. But they usually use materials like wood or ceramics. This white bread bin would be really cute on a countertop.
Bread Drawers: If your kitchen is big, think about a bread drawer. You can fit one into your current cabinets. It keeps your bread out of sight.
Freezer Bags: When freezing bread, use freezer bags. They are designed to handle cold temperatures. They also help prevent freezer burn.
When choosing bread storage products, consider their cleaning ease, durability, and size. Make sure they can hold full loaves or just slices. The right storage products can make keeping your bread fresh and tasty a lot easier.