Sewing stuffed animals is a fun gift to make and give. I made my first stuffed animals over a decade ago and they're still well loved. I decided on an elephant sewing pattern (see below). If you're going to sew a stuffed animal I recommend that stuffed elephant pattern.
I learned some important things while sewing the elephant sewing pattern! For instance, after you sew up the shell of the stuffed elephant, don't just hand it to your husband with a bag of stuffing and expect him to just "figure it out."
Updated: originally published December 28, 2009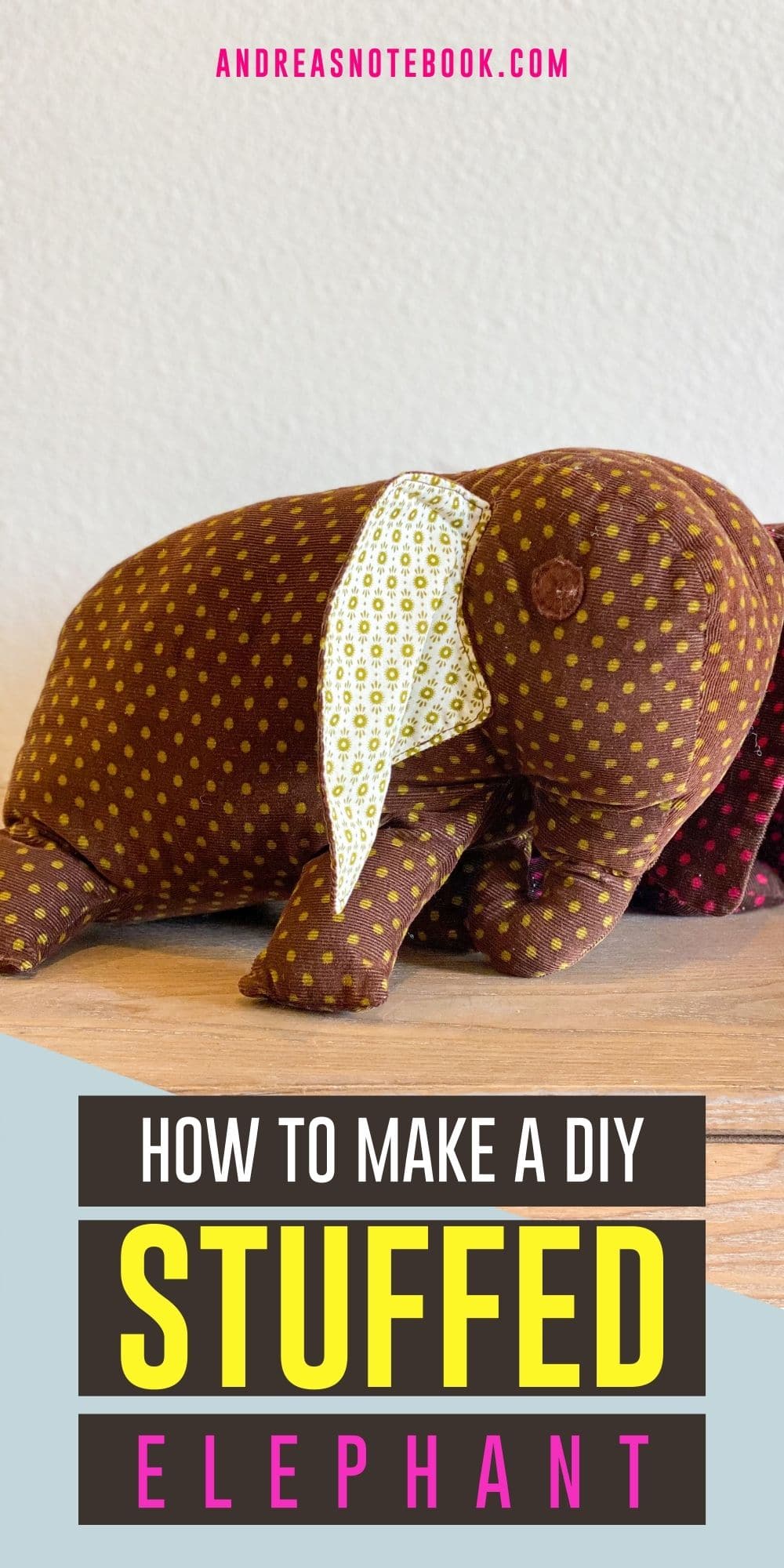 I also learned that I hate hand sewing. I'm not very good at it. It takes too much time and concentration. If I was going to make these elephants again I would cut some more corners and avoid some more hand sewing.
More Things To Sew For Kids
The elephant sewing pattern is from the book Sew Everything Workshop. I love the book. It is a great book, especially for beginners. I did make a few changes, in case you plan to make this little buddy yourself. He does take a bit longer than I expected. I can't say exactly how long it takes to make but I would say plan on 2 to 3+ hours, depending on your level of experience sewing, and the amount of distractions you have!
Stuffed Elephant Pattern Supplies
Tips For Sewing A Stuffed Elephant Pattern
Time needed: 2 hours.
Tips I learned along the way for sewing a stuffed elephant pattern from the Sew Everything Workshop book.
Add a layer of fusible interfacing on each of the ears.

Fuse the interfacing to one of the outer fabrics before stitching right sides together. This makes the ears a bit sturdier so they'll stand out from the elephant's head.

Instead of hand sewing the opening in the ear closed after turning it I topstitched the whole ear.

I don't think it detracts from the ear. If anything, it gives it more character.

Leave the opening in the elephant on the underside rather than the top of the elephant.

This way is a bit more forgiving for your hand stitching of the stuffed elephant pattern.

Sew the button eyes on before sewing the little guy together.

The pattern tells you to stitch the button eyes on after your stuff the elephant. I discovered it's easier to do it before. I also chose to make the eyes out of felt on my baby's elephant to make it safe from choking hazards.
There, now go make yourself some cute little elephants.