Creating stylish new garments from old t-shirts can be a fun, cost-effective way to revamp your wardrobe. This easy DIY t-shirt upcycle guide will show you how to transform your old tees into trendy outfits.
Remember, the key to successful DIY t-shirt refashioning is creativity. Experiment with different designs and techniques. Once you start, you'll see the potential in every old t-shirt.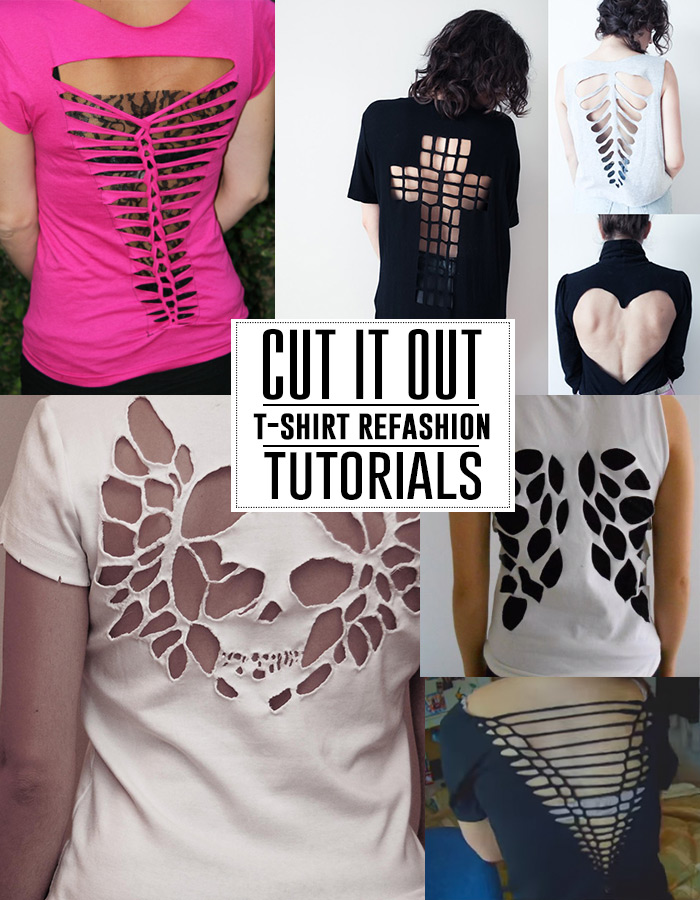 How To Upcycle A T-Shirt
Gather your old t-shirts. Look for tops with fun designs, bright colors, or unique textures. These can make your new clothing pieces stand out.
Get your tools ready. You'll need sharp fabric scissors, a ruler, and fabric markers to make precise cuts. A sewing machine is handy, but not necessary – you can hand-sew your designs too.
Plan your designs. Draw them out on paper first. You can make a variety of clothing pieces from t-shirts, like tank tops, crop tops, skirts, or even headbands.
Mark your cuts on the t-shirt with the fabric markers. This will ensure you get the shapes right when you cut.
Start cutting! Follow your marks carefully. It's okay to make mistakes – that's part of the process.
Sew your pieces together. You can use a sewing machine or a needle and thread to connect your parts into a brand-new garment.
This method not only gives your wardrobe a fresh look but also helps the environment by reducing textile waste. It's the perfect activity for a fun, creative afternoon and a great way to express your personal style.
T-Shirt Upcycle Inspiration and Tutorials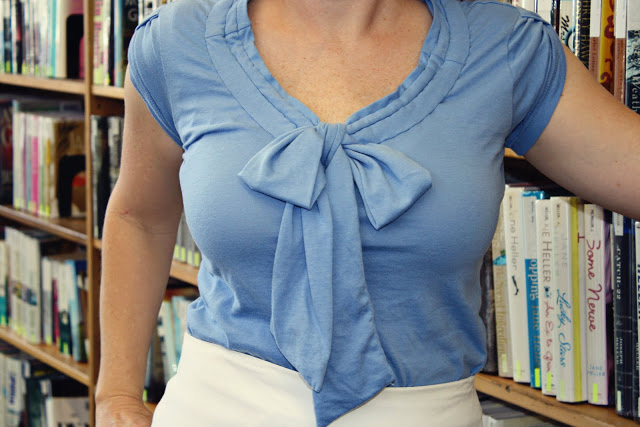 This might be the cutest t-shirt I've ever seen! How adorable! I definitely need to try this. The neckline and bow is perfect! This adorable t-shirt refashion by iCandy Handmade.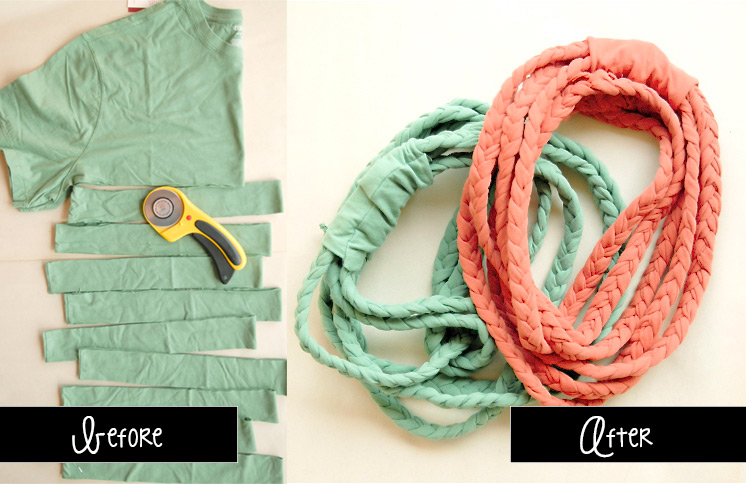 Up cycling a t-shirt doesn't mean it has to become another t-shirt! Look at this necklace!
T-shirt to braided necklace on I Still Love You.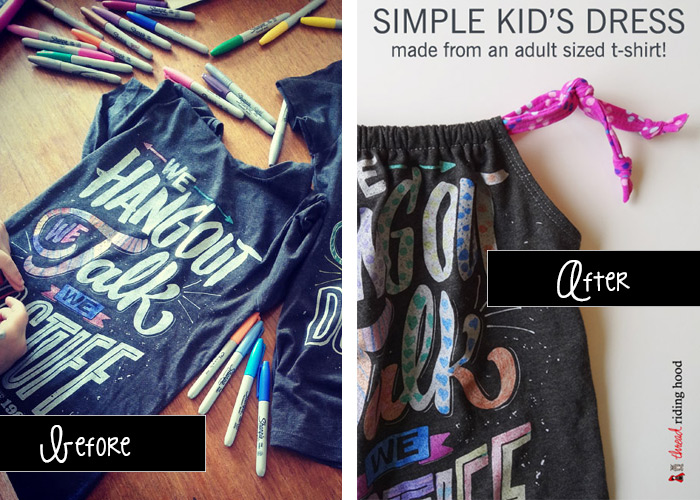 Using the right graphic tee for this one would be key! This little dress turned out so well and I bet it's very comfortable. If you're a beginning sewer this would be a good project.
Adult t-shirt to cute, easy girls' dress tutorial by Thread Riding Hood.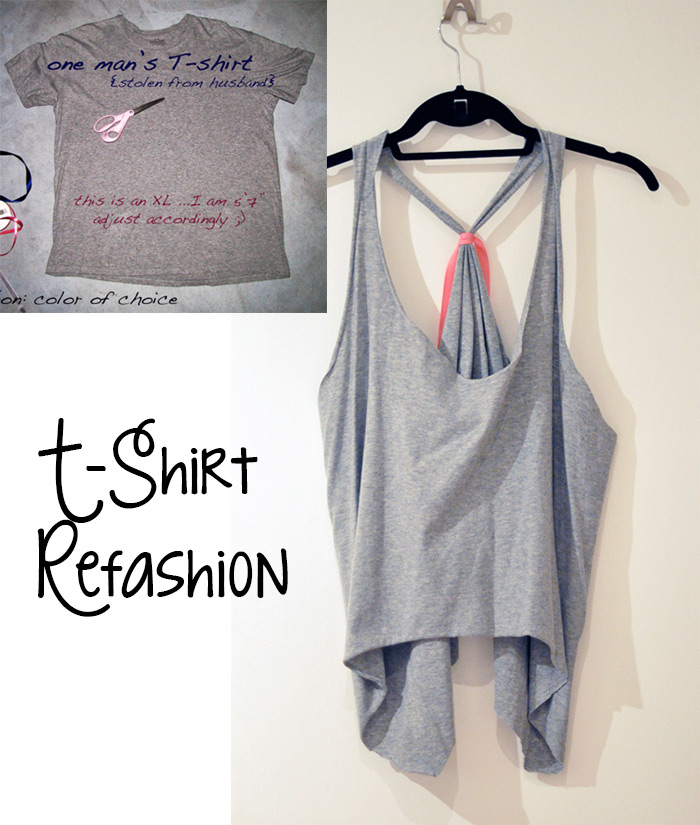 Easy peasy! Just grab your scissors for this one!
T-shirt to tank top refashion by Love Maegan.
T-shirt refashioning is an excellent example of upcycling, turning your old, unused tees into brand-new fashion statements. With a little creativity and DIY spirit, you can transform a basic tee into a trendy piece of clothing. This process, often called DIY t-shirt designs, allows you to put your personal touch on your wardrobe. Whether you're turning a shirt into a stylish tote bag or a trendy tank top, t-shirt refashioning is an easy DIY project that anyone can tackle. Not only does it breathe new life into old garments, but it also promotes sustainability by reducing waste. So, next time you think of throwing away that old t-shirt, consider giving it a new lease of life through refashioning instead.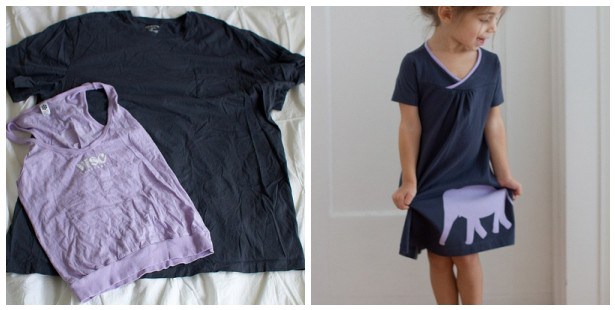 Cute men's shirt to girl's dress tutorial from Skirt As Top.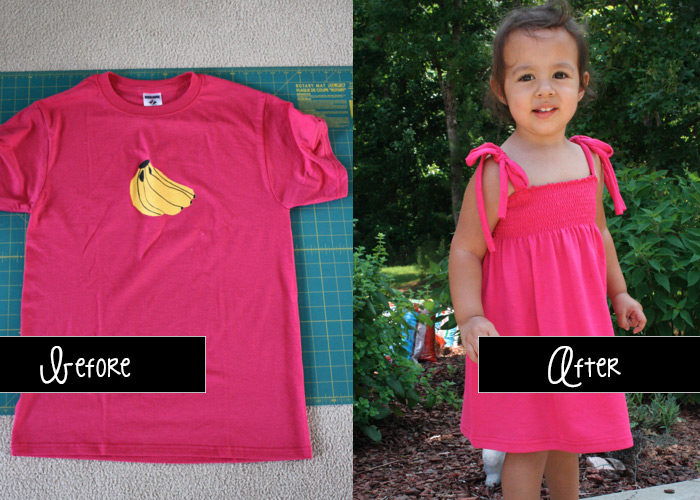 Cute shirred dress upcycle tutorial by Sew Like My Mom.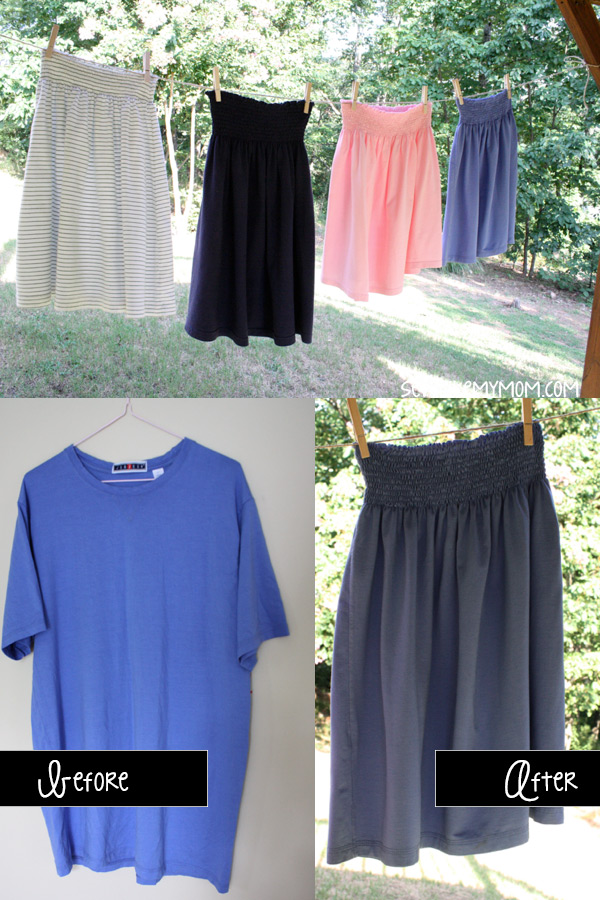 t-shirt to skirt refashion tutorial by Sew Like My Mom.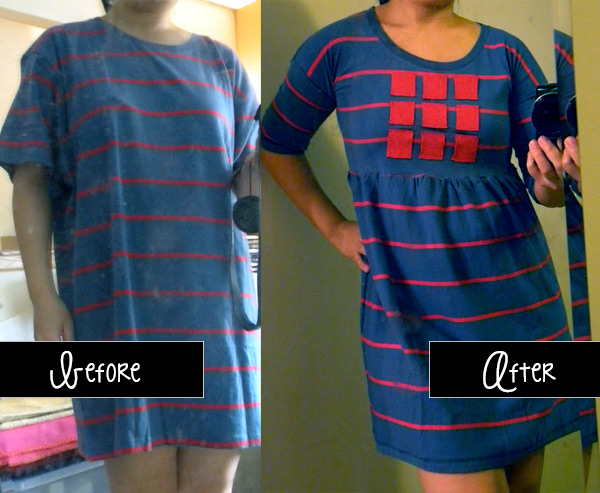 Handicraftiness made a cute dress from a huge men's t-shirt.
---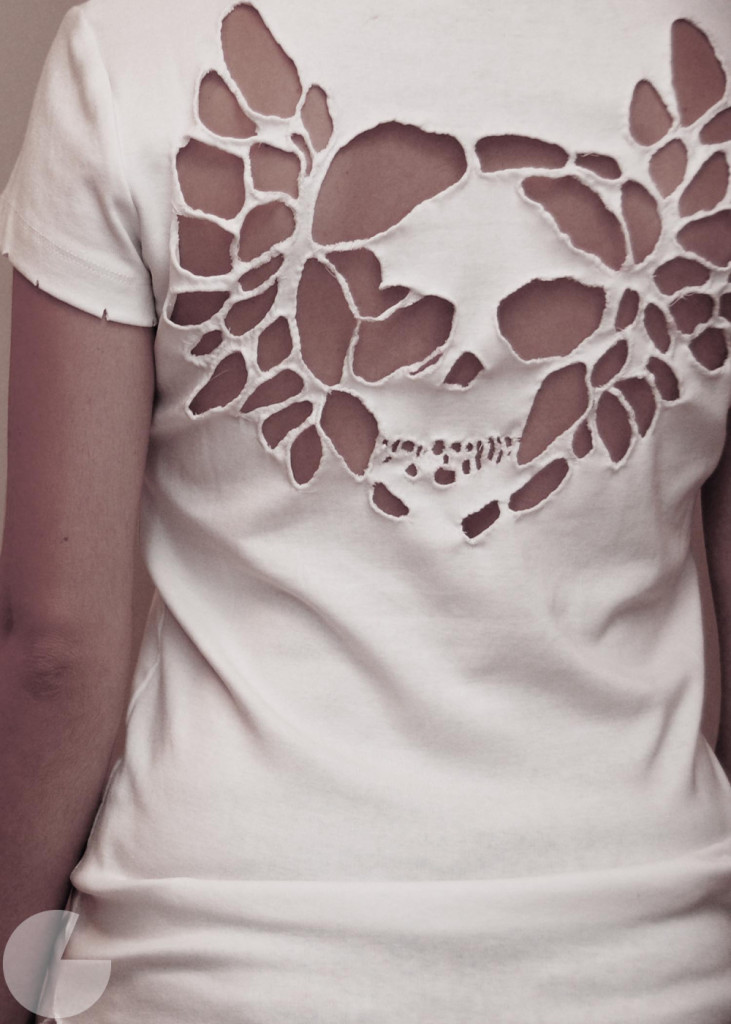 Cutout a skull from your t-shirt with this great tutorial from Runway DIY (tutorial no longer available).
---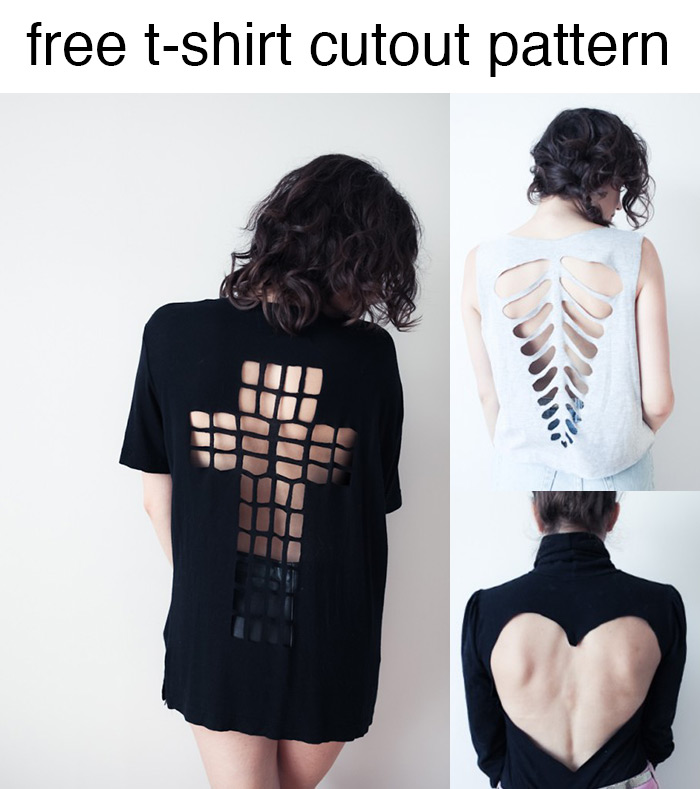 Free printable templates for these awesome t-shirt cutouts from Boat People Boutique. (tutorial no longer available)
---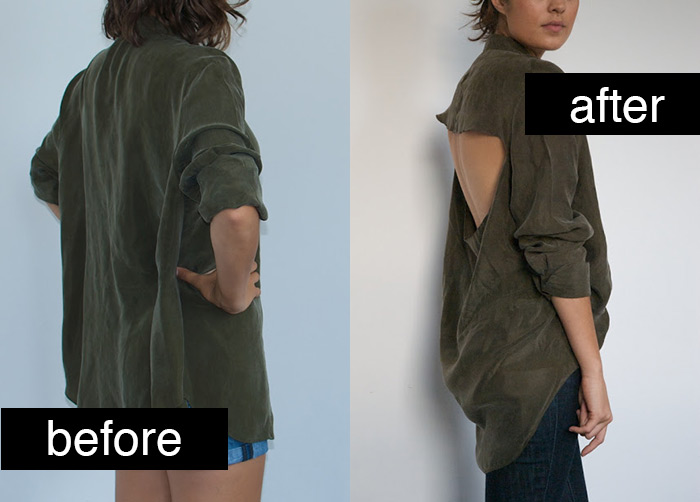 Fantastic shirt refashion by a Pair & a Spare (tutorial no longer available).
---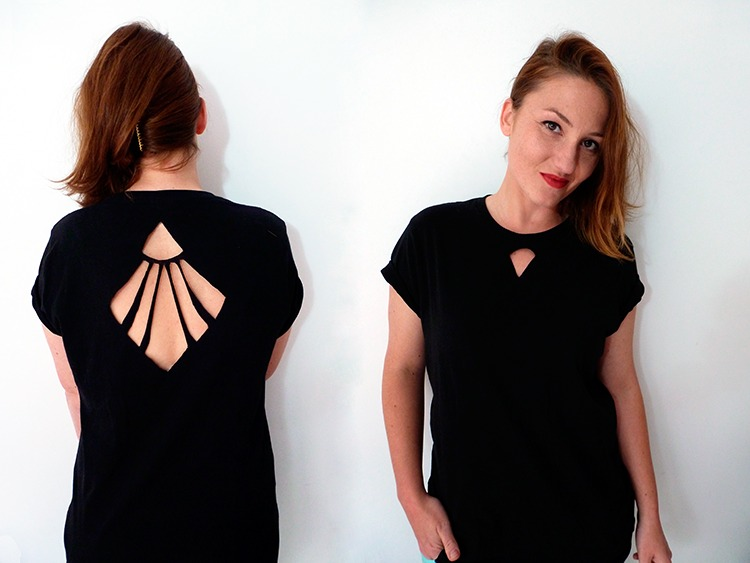 Great cutout tutorial from Cut Out And Keep.
---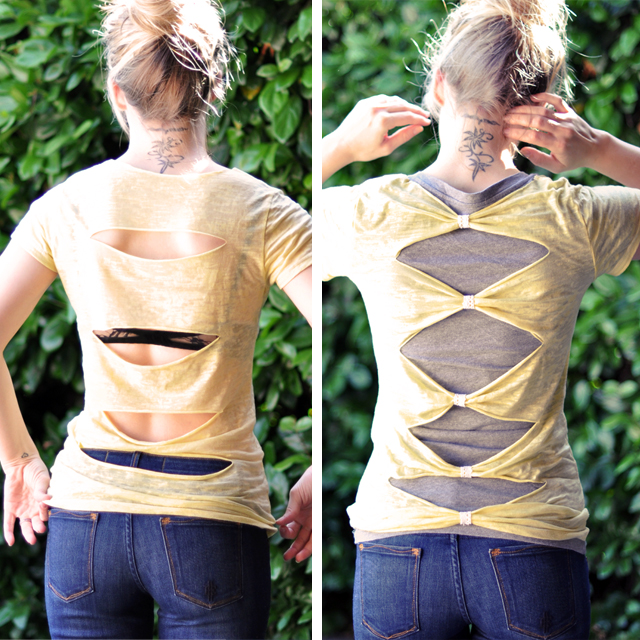 Great tutorial for a cute back cutout by Love Meagan (tutorial no longer available).
---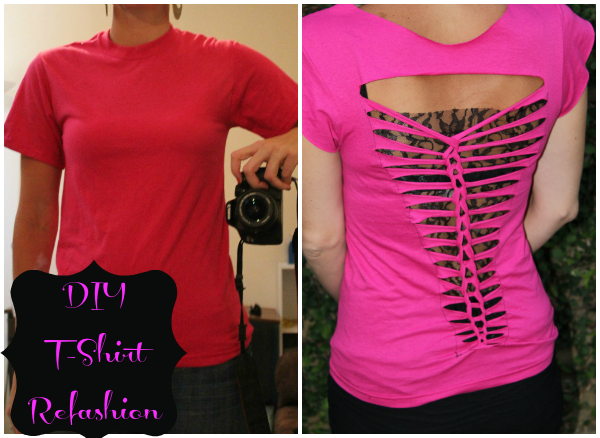 DIY t-shirt upcycle from Ma Nouvelle Mode (tutorial no longer available).
Can you sew? This project might be fore you. It involves some cutting and sewing to make this much more feminine version of a gray t-shirt. Large t-shirt made into dolman t-shirt by Trash to Couture (blog no longer available). The neckline on this one makes me think it would be a fun workout shirt as well. Pair it with your yoga pants!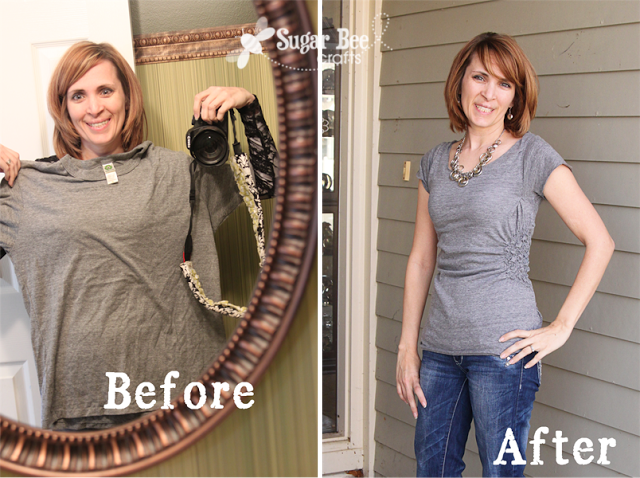 Wow! This one made quite a transformation! Isn't that so cute now! From a simple gray shirt to this very feminine fitted style. I'm loving it!
Men's shirt to adorable side gathered t-shirt tutorial by Sugar Bee Crafts. She's got lots of great projects over there!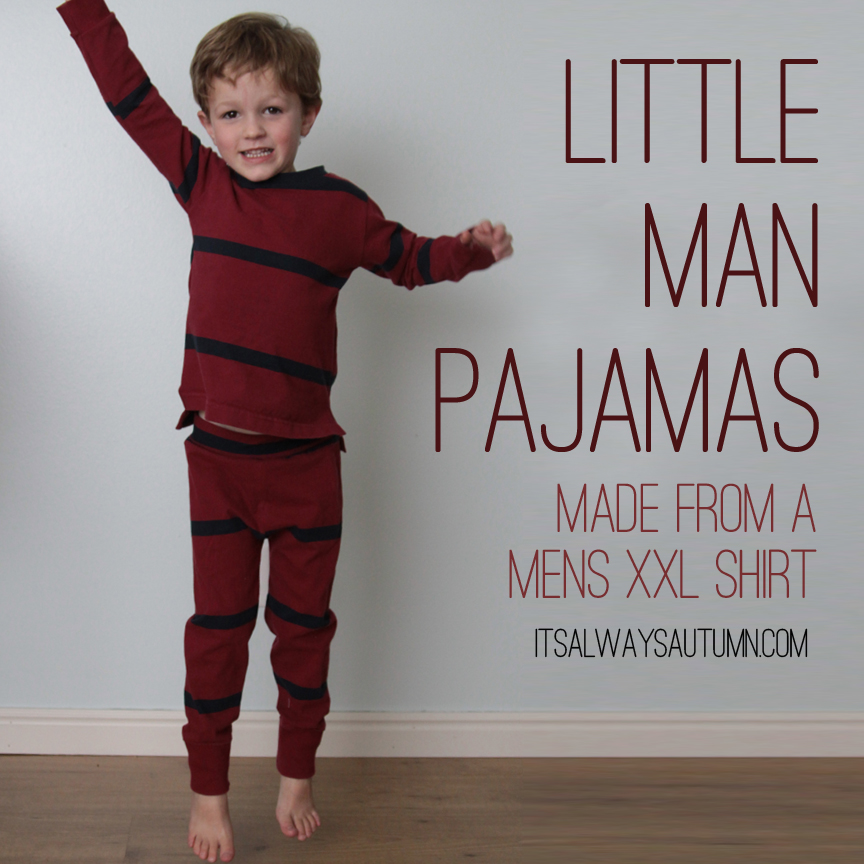 Make pajamas from a men's t-shirt with the tutorial by It's Always Autumn. This is a fun one for the kids. If you've got an old shirt lying around you can use it as fabric for kids pajamas. No need to buy new fabric for these! Definitely a good way to upcycle a shirt you won't wear out of the house again.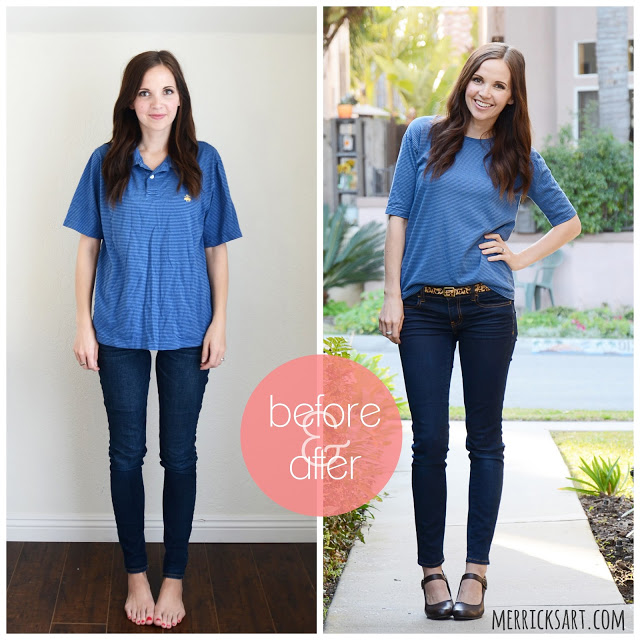 Polo shirt refashion by Merrick's Art. Wow! This is quite the shirt refashion! I wouldn't have thought to use a polo shirt but this is adorable on her. Definitely on my list of fun up cycle ideas!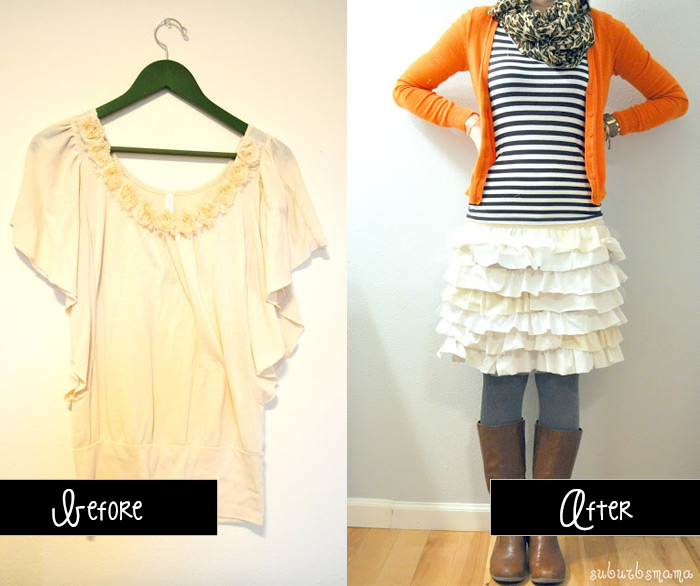 T-shirts to skirt upcycle by Suburbs Mama. Make a shirt into a skirt! I would imagine this takes more than one shirt to make that skirt! This would be really cute on a little girl. (tutorial no longer available)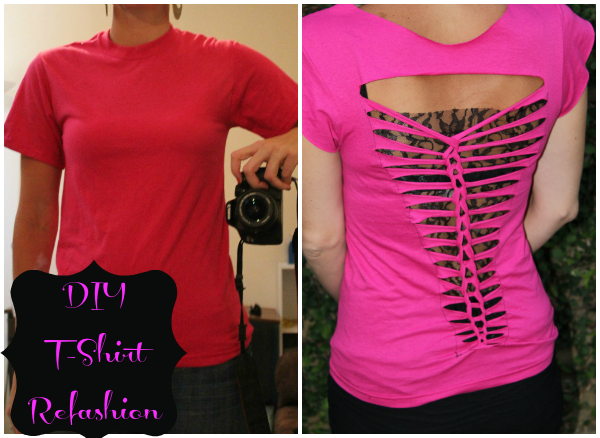 No sewing involved! Grab a shirt that fits and your scissors and have fun with this one! DIY t-shirt refashion by Ma Nouvelle Mode (post no longer available).
---
Don't be afraid to try t-shirt refashioning. With some basic tools and a little creativity, you can create unique, stylish clothes while recycling old garments. Whether you're an experienced DIY enthusiast or a beginner, this fun, sustainable hobby is a fantastic way to update your wardrobe.
So next time you're thinking about tossing out an old t-shirt, consider transforming it into something brand new. Your wardrobe, and the environment, will thank you.
---
See more great t-shirt refashion tutorials
---
Creating unique clothes from old garments is an amazing way to adopt sustainable fashion. This practice, known as upcycling, involves reusing materials that would otherwise be discarded, thus reducing textile waste. Upcycling is not only beneficial for the environment but also allows you to express your creativity and individual style.
Every year, countless garments are thrown away, contributing to a vast amount of textile waste. The fashion industry is known to be one of the most polluting industries globally. This is where sustainable fashion comes in. By upcycling old garments, we can significantly reduce the demand for new clothing production, thus reducing the strain on our planet.
Turning old garments into unique clothes is a creative way to engage in sustainable fashion. For example, an oversized t-shirt can be transformed into a stylish crop top or a fashionable tote bag. An old pair of jeans could become a trendy denim jacket or a handy storage pouch. The possibilities are endless!
This process is not only environmentally friendly but also economically smart. Rather than spending money on new clothes, upcycling allows you to repurpose what you already have. The resulting garments are unique, with a personal touch that no mass-produced clothes can match.