My kids absolutely love the television show Psych. I'm pretty sure they've watched the series multiple times. I originally began designing Psych t-shirts for my third daughter but I kept designing t-shirts and other things because I love the show. I hope you enjoy them or buy them as gifts for psych fans.
We have favorite episodes we like to watch again and again. One of our all time favorite episodes is Office Space. That's the one where Gus writes a letter of resignation to his horrible boss but then has second thoughts so he sneaks back in to the office to take the letter back.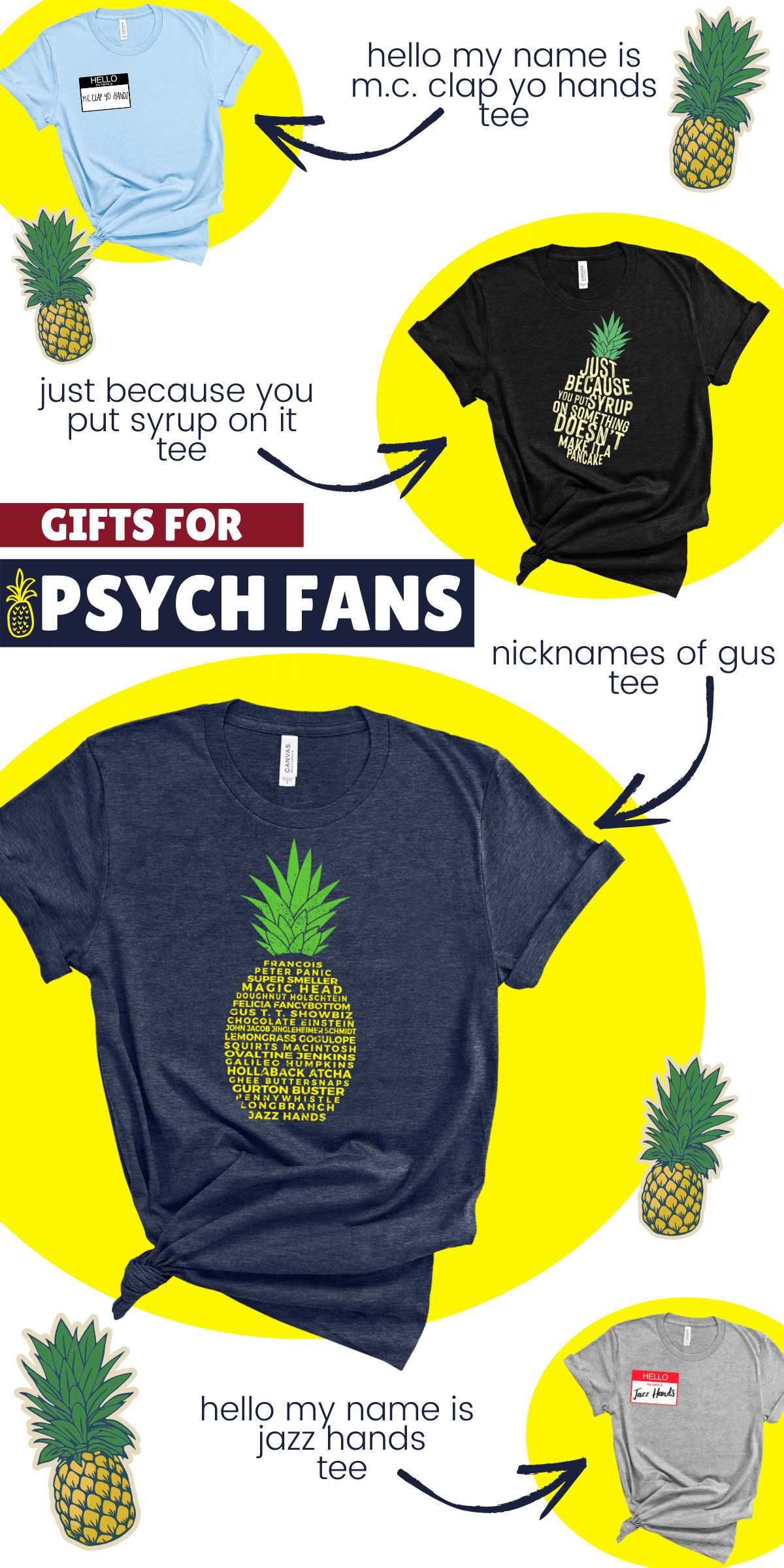 Once Gus is back in the office he discovered his boss has been murdered and is holding Gus' letter of resignation. Without clearly thinking through what to do Gus grabs the letter and eats it. Then he begins choking on it and a series of capers ensue. We laugh through it every time we watch it.
One of the funniest parts of the show are all the nicknames of Gus. Whenever Spencer introduces Gus to someone they've never met before he gives Gus a new name.
Some of the funnier nicknames of Gus:
Gurton Buster
Ghee Buttersnaps
Hollaback Atcha
Pelicia Fancybottom,
Magic Head
Ovaltine Jenkins
MC Clap Yo Hands
The pineapple is one of the symbols of the show as Psych fans will know. These nicknames of Gus can also be found on a water bottle or pillow as gifts for Psych fans. See below for more options!
This water bottle comes in different sizes. Super fun with the nicknames of Gus. If you like Burton Guster or Jazz Hands you'll love this!
Cute pineapple throw pillow with some of our favorite nicknames of Gus.
More Gifts for Psych Fans
This is one of our favorite nicknames of Gus!
This is the cuuuuutest Psych T-Shirt! It comes in lots of colors.
If you're looking for more gifts for kids check out this list of 101+ things for teens and tweens.