***This post is sponsored by HP. All content and opinions are my own, of course.***
I had the opportunity last week, while at the Seattle Vlogger Fair, to visit the Sprout Truck by HP. They're traveling around the country with this awesome truck, giving hands on demonstrations of the Sprout, an all in one double touchscreen desktop computer. I really wasn't sure what to expect because I don't have a Sprout. So if you don't have one either, let me show you what we're missing.
Sprout is the world's first immersive computer is also a fully integrated desktop 3D scanner. With Sprout 3D scanning solution and 3D object capture, now anyone can grab something from the real world, manipulate it in the digital world, and bring it to life in physical space. Which means you can take the stapler off your desk, 3D scan it then print one of your own, if you wanted to do that.
In this cute truck there were tons of demonstration stations. And even a 3D printer working on some fun projects. It made me realize how big the design world is. There are some people making some really crazy cool things with 3D design. You can now combine the digital and physical worlds, allowing you to capture any object, reimagine it digitally. My head is spinning with possibilities.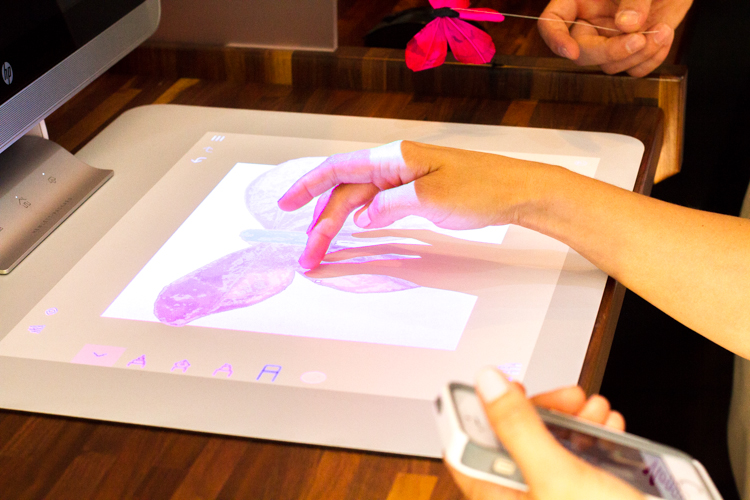 I kept it a little simpler. I took some cute little butterflies and used the Sprout to do a scan. That white mat is a touchscreen as well as so once you scan you can manipulate your new digital image. Change colors, add text, tons of options. If I had more time I would turn those butterflies into a fabric design. Or possibly a screensaver.
This is a quick video I uploaded to instagram during my visit to the Sprout Truck. You can see how easy it was to get that butterfly scanned and begin manipulating.
The Sprout has intuitive design and is a natural, hands-on way to interact with your designs.
Look who I ran into! Yes, that's Delia Creates. She's the sweetest in real life. If you've never met her you're definitely missing out. Not only does she have a great eye for design but she's an all around beautiful person. Had you seen my I SEW shirt yet?
Jojotastic was there doing a demonstration. She's used her Sprout to do some pretty fun things, like scan sprinkles and make garland. Great party idea, right?
The Sprout also has a lot of apps you can use, beyond it's scanning capabilities. Delia and I tried our hand at DJing and making some origami. Then we played the piano and had fun recording our music. I got a little video of her. She'll probably kill me for sharing this! (sorry, Delia!)
Curious what else the Sprout can do? They have a creator gallery. Browse through all the fun projects. If you want to go check them out yourself you can search for a retail location here.
More fun Sprout details:
Sprout is intended for use at home, the office or your creative studio
Sprout is a high-performance all-in-one PC with an Intel® CoreTM i7 Processor, 1 TB of storage, and a Windows operating system.
Sprout has apps! New apps are being integrated all the time.
The Sprout Truck is going to be near you soon! Check out the tour stops.
Enjoy some of my favorite Sprout projects from around the web:
Check out the tour schedule on their Facebook page to see if there is a Sprout Truck Tour Stop coming your way.
Disclaimer: This post is sponsored by HP. All content is my own. I was really impressed with the Sprout and I hope you get a chance to see one in action yourself!