S'mores are a beloved American summer dessert recipe. I've compiled a list of s'mores recipes that you'll want to try. The combination of marshmallow, chocolate and graham cracker can be made so many delicious ways!
Three classic ingredients make everything delicious. These recipes are a twist on the traditional s'mores recipe you make around a campfire with a piece of chocolate, graham cracker sheet and a marshmallow toasted on a stick. Or, if you're really feeling wild, a toasted marshmallow with a fudge stripe cookie on top and bottom.
S'mores Recipes
Let's start with the Banana Boat S'mores. Top your banana boat with marshmallows, chocolate chips and graham crackers. Or, if you want, use a cut up reese's peanut butter cup. We cook these under the broiler but you can make these on your next camping trip as well or on the grill in your backyard.
S'mores Cookies are a delicious homemade chocolate chip cookie topped with a toasted jumbo marshmallow and Hershey's chocolate bars.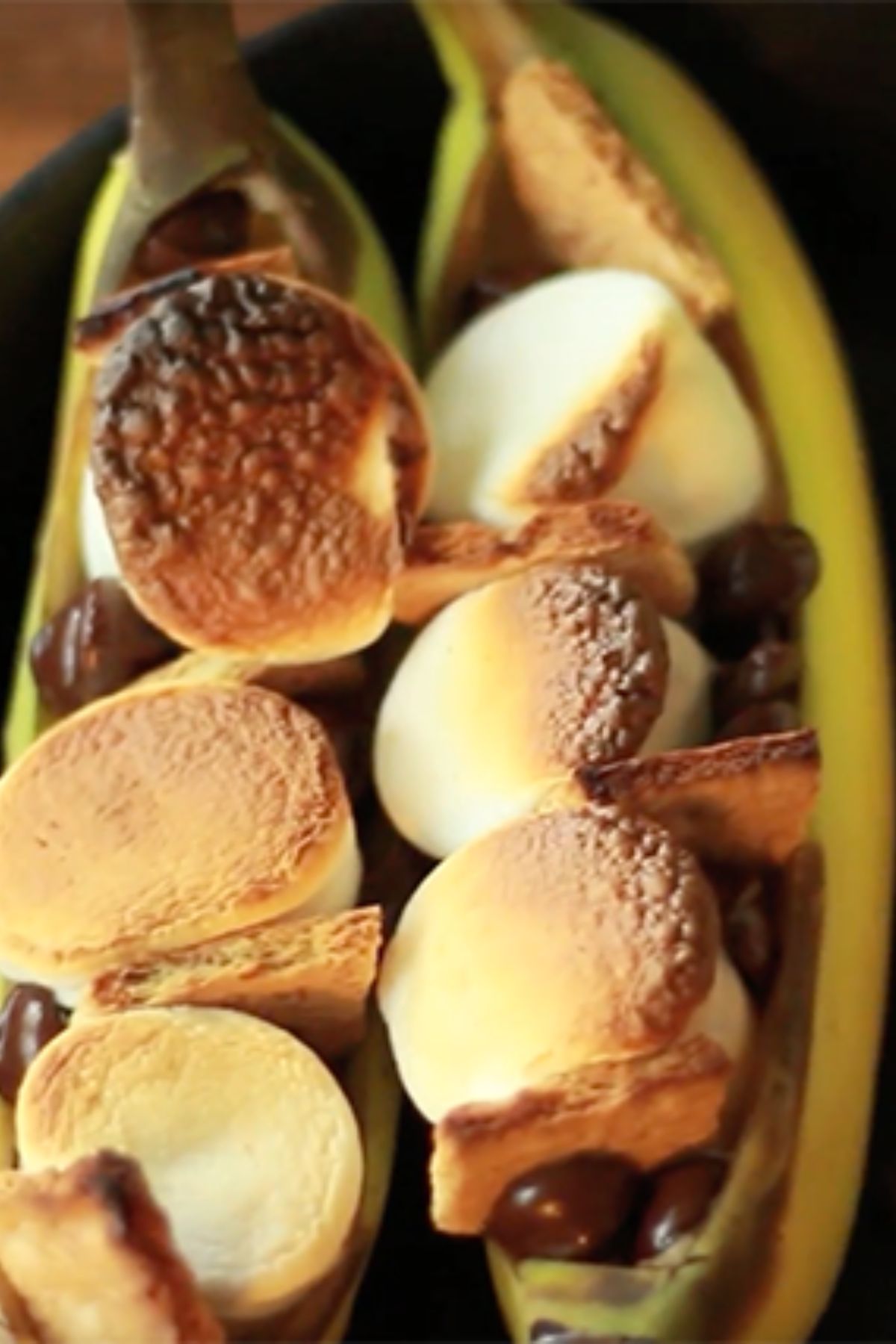 S'mores Skillet Cookies might be my favorite! Make a giant chocolate chip cookie then toast some marshmallows on top and dip in your graham cracker. These are great desserts to share.
Deep Fried S'mores might be the most American dessert after apple pie. I made these and they were a treat. Eat them while they're hot!
S'more Caramel Popcorn is delicious. This easy caramel popcorn recipe with chocolate and marshmallows is a fun movie treat.
S'mores on a Stick are an easy make ahead dessert for kids. Uncooked marshmallow dipped in melted chocolate and rolled in graham cracker crumbs. These would be fun for a birthday party.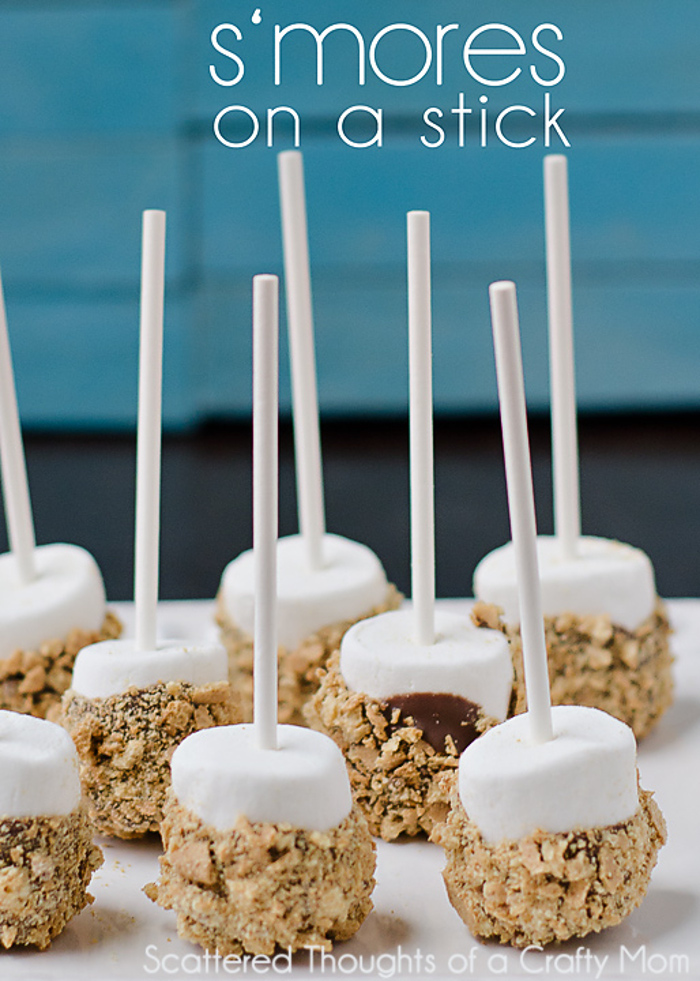 Use a muffin tin to make Easy S'mores Cups. Make a mini graham pie crust then fill it with chocolate and marshmallow and bake!
S'mores Treat Bars are like Rice Krispie treats but better! These s'mores bars have graham cereal, chocolate and marshmallows. Kids love these! If you can find the tiny marshmallows they're even more fun.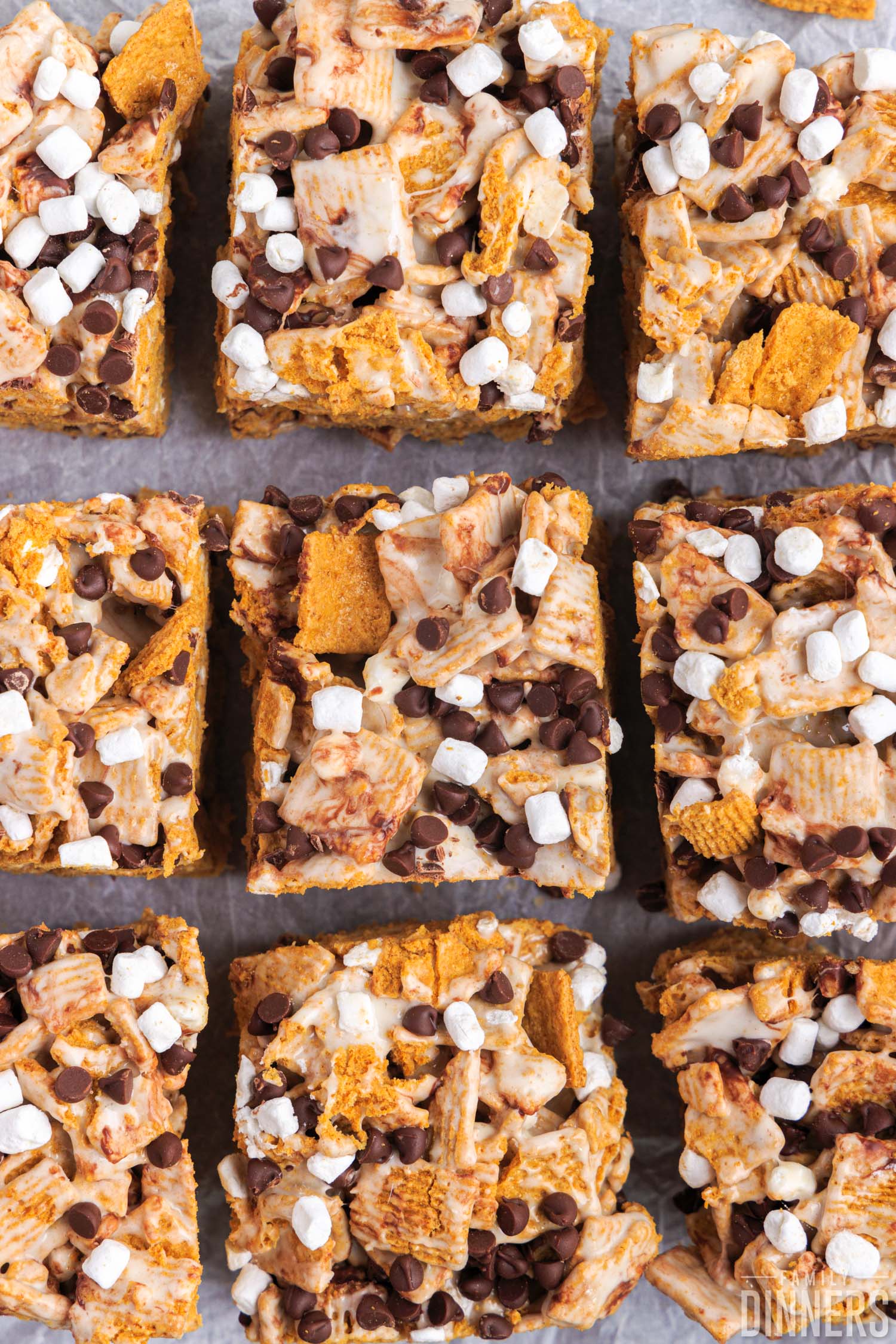 S'mores Pancakes are a treat for breakfast! This pancake recipe has graham crackers baked in with chocolate and topped with traditional s'more ingredients.
S'mores Chocolate Chip Cookies are a fun twist on the classic chocolate chip cookies.
Triple Chocolate S'mores Bark might be a new favorite candy bark recipe! Melt some dark chocolate, white chocolate, and mix with marshmallows and graham crackers. Delicious.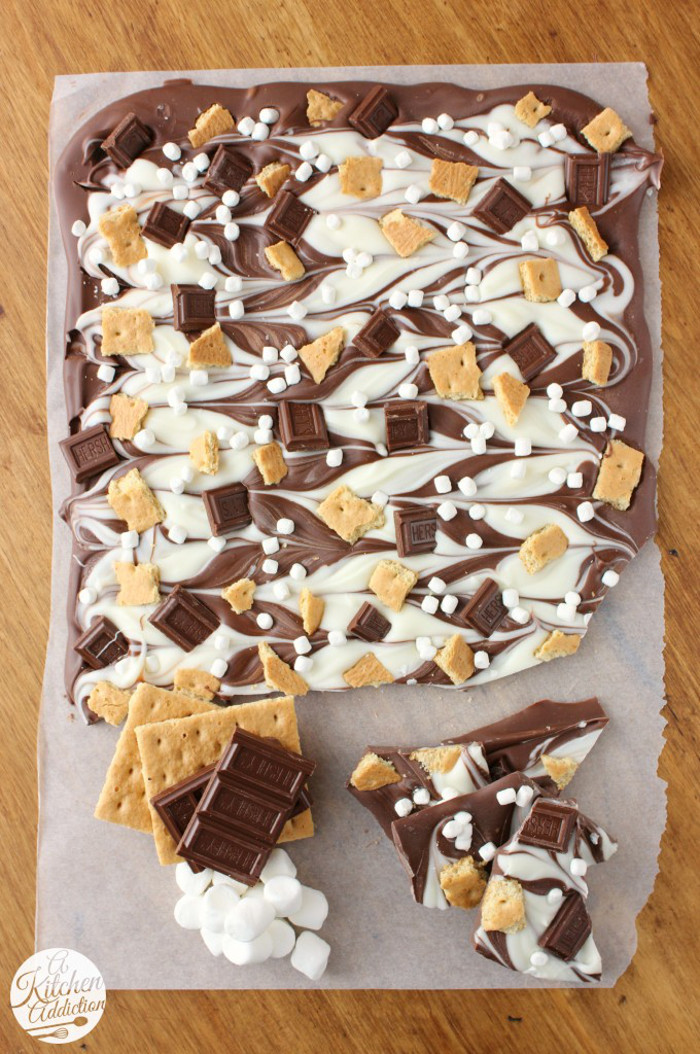 S'more Brownie Pie has a graham cracker crust, chocolate pie and marshmallow topping.
S'mores Cheesecake looks amazing. This is the cheesecake to make when you're having company. It's tasty and pretty! The toasted mini marshmallows on top look amazing.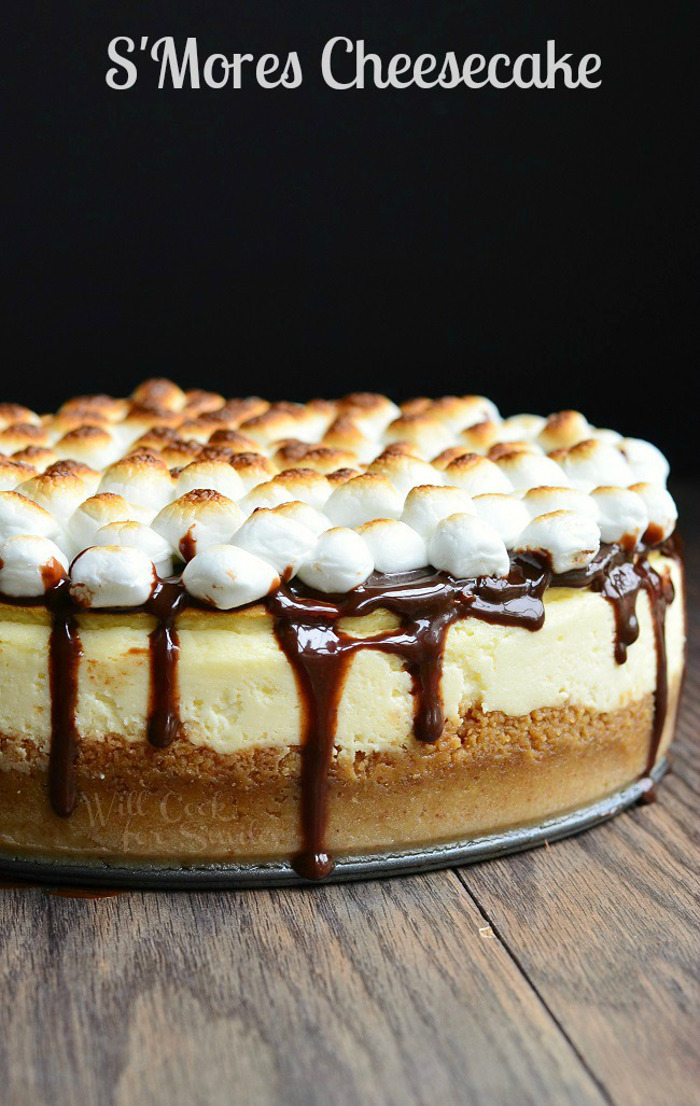 S'mores Dip is just chocolate and marshmallow broiled in a cast iron skillet. Then use your graham cracker to dip into this delicious goo.
S'mores Fudge Bars are a layered fudgy treat. These are gooey and rich! Just look at those layers of graham, chocolate fudge and toasted marshmallow.
S'mores Ice Cream Cake is surrounded by graham cracker and topped with toasted marshmallow.
S'more Chocolate Covered Strawberries are a fun treat for Valentines Day. These strawberries are dipped in chocolate, graham cracker crumbs and drizzled with marshmallow.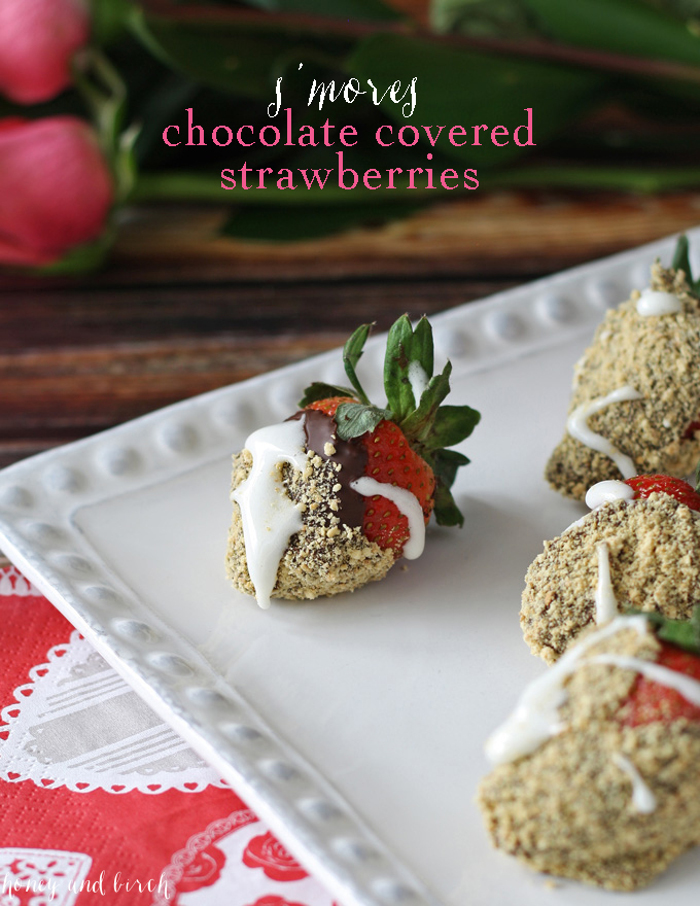 S'mores Cake has a fudgy brownie like cake and a sweet marshmallow layer. This would be a great birthday cake.
S'mores Bites are another version of the cute little miniature s'more pies.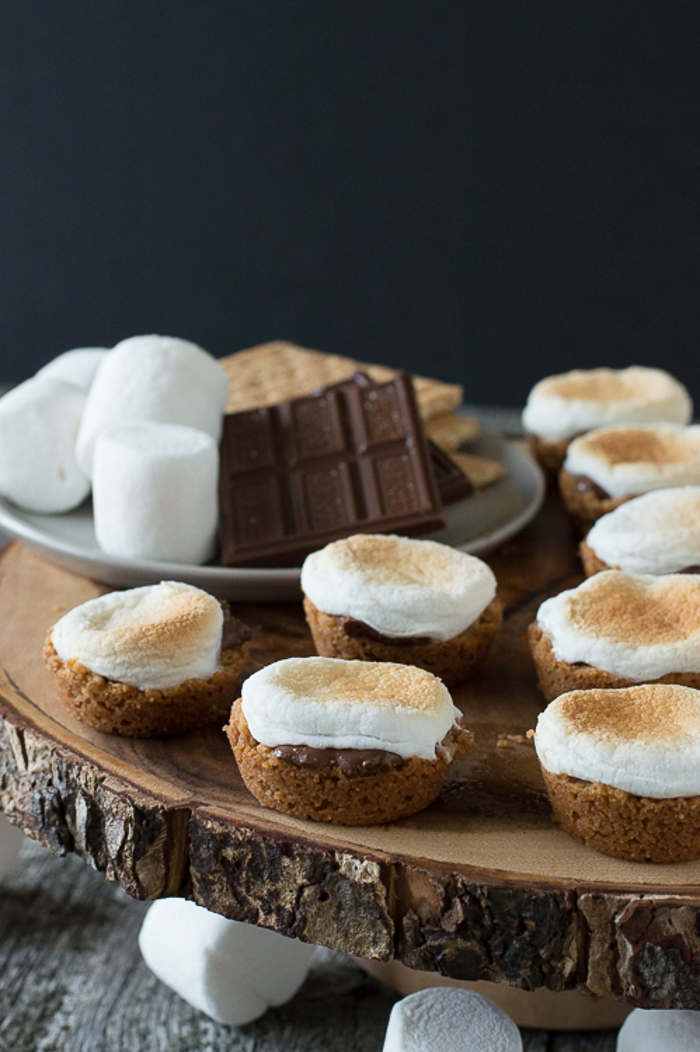 S'mores Peanut Butter Cookie Bars are like a peanut butter bar cookie with a chocolate and marshmallow twist.
S'mores Truffles are chocolate covered truffles with a graham and marshmallow center. They're not traditional s'mores but they look like a great holiday dessert. These would be fun to bring to a party.
S'mores Milkshake is made with vanilla ice cream and chocolate syrup. These are more fun than a plain chocolate milkshake.
S'mores Cupcakes are made from scratch. The graham cracker layer is topped with a dark chocolate cake and then the pretty marshmallow frosting.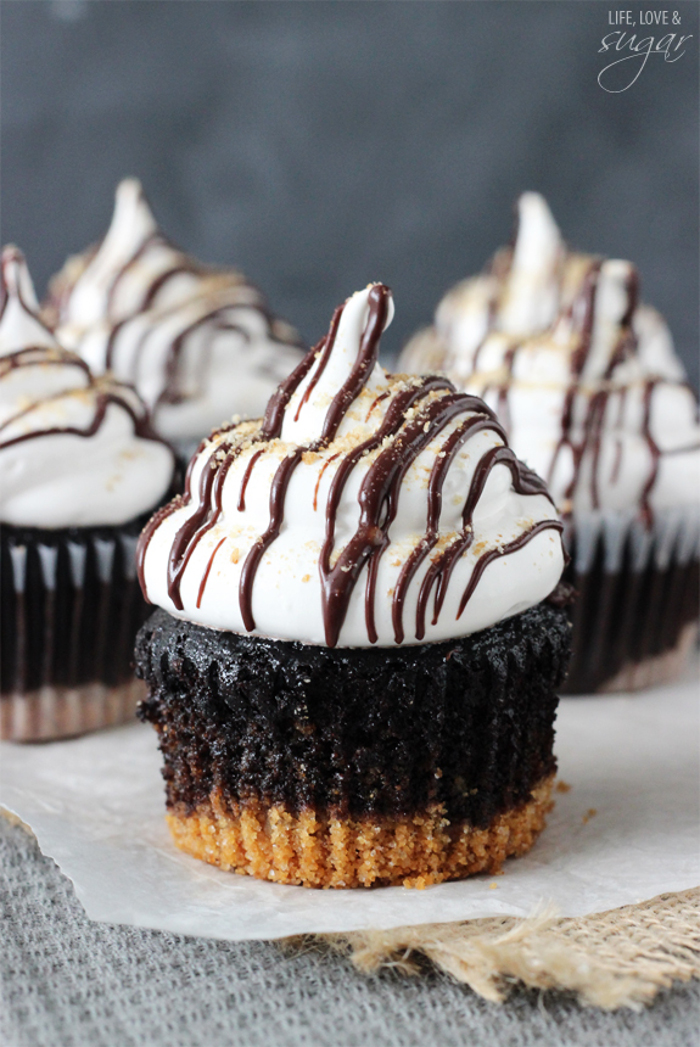 Peanut Butter S'mores Fudge is the creamiest fudge. If you love these flavors you'll want to try this fudge.
S'mores Rice Krispie Treat Pinwheels are another take on the cereal treat bars.
Mini Nutella S'more Cheesecakes are exactly what they say they are. These little dream desserts have toasted marshmallow fluff topping. Aren't they beautiful?
You might also love this White Chocolate Chex Mix. It's perfect for a holiday snack mix!
Questions About S'mores
Are s'mores vegan?
No, they are not. Marshmallows have gelatin, which is not vegan. And most chocolate is not vegan.
Are s'mores healthy?
Sadly, we do not eat these for the health benefits.