It's game night with teens or adults! I've got the top family board games and card games for ages 14 and up. These are perfect for family game night or a game night with friends.
If you're shopping for teens or adults get them a game they can enjoy over and over again.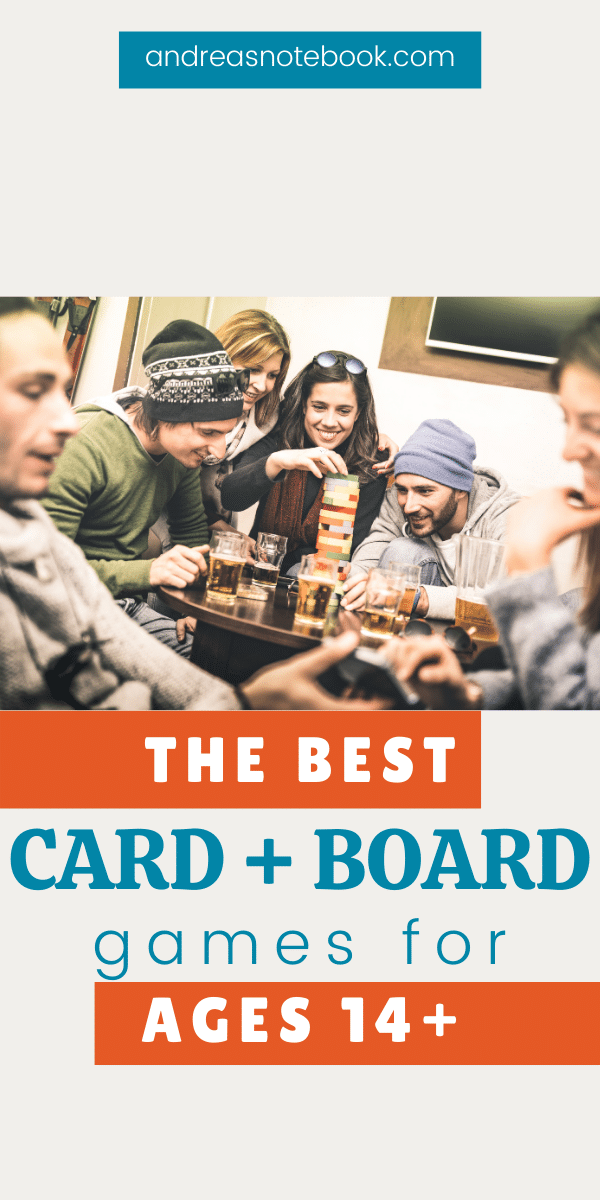 Some of these games can be played with younger players as well. The adult only games are at the end of the list and labeled as appropriate for ages 17+.
Sometimes adult game nights are a big more inappropriate than a game night with teens. If you've got a rowdy group of friends who love to play games make sure you check those out.
Most games for ages 14 and up are either irreverent card games or slightly complicated board games. But I've found some great mystery games and a few easy or quick games as well!
Not all games that are popular are equally as good. The games in this list of top family board games and card games are also ones that have high reviews.
Other Game Night Games & Ideas
Top Family Board Games
Trivia game for families and groups.
"Be the first to answer the Who, What, and Where Am I questions, and move closer to being the ultimate Smart Ass."
A fast-paced game of social deduction in which cannibals and pioneers face off in a fight for survival. Minimum of 4 players.
Fast paced murder mystery that takes about 20 minutes.
This is a mystery game with 5 interconnected mysteries to solve. Up to 5 players. It's a longer game that can take up to 2-3 hours.
More Games for 14+ Year Olds
Great games for people ages 14+
5 Star award winning game.
"It is a time of unrest in 1920s Europa. The ashes from the first great war still darken the snow. The capitalistic city-state known simply as "The Factory", which fueled the war with heavily armored mechs, has closed its doors, drawing the attention of several nearby countries
Lead your faction to victory, building mechs, working the land, and exploring the mysterious factory, all while protecting your territory from the mechs of other encroaching factions"
Think you know which came first – the invention of mayonnaise or decaffeinated coffee? Lincoln's Gettysburg address or John Deere's first plow? This fun game will test your knowledge.
We love all the Ticket to Ride games. Great for lots of ages.
This is not a quick game but it's a game the family will love for years. You can play with 2-4 players.
Vote for your friends on outrageous and brutal questions. Find out what your friends really think of you and get to know your friends better! Share crazy and ridiculous stories after each round
Short games of just 15 minutes. Adult-only miscommunication at its best: draw what you see then guess what You saw for hilarious, weird, irresponsible and just plain wrong outcomes!
So much fun if you like inappropriate humor.
Never have I ever for adults.
Get your team to guess the word on the card without saying the word on the card