Summer time means fresh fruit, fun in the sun and parties with friends. This Peanut Butter Cheesecake Dip is perfect for ALL three.
I highly recommend it for a get together or a date night or even just for a fun play date with kids. I guarantee this fruit dip will get kids eating fruit by the buckets.
I just threw a girl's night party and this Peanut Butter Cheesecake Dip was all the rage. Everyone was begging for the recipe. It's really so easy!
This Cheesecake Dip takes about 5 minutes to make and can be served immediately! I threw it together early in the day and then placed it in the fridge to chill before the party. My kids were intent on watching me make it and wanted to have some, but I told them they would have to wait until after the party.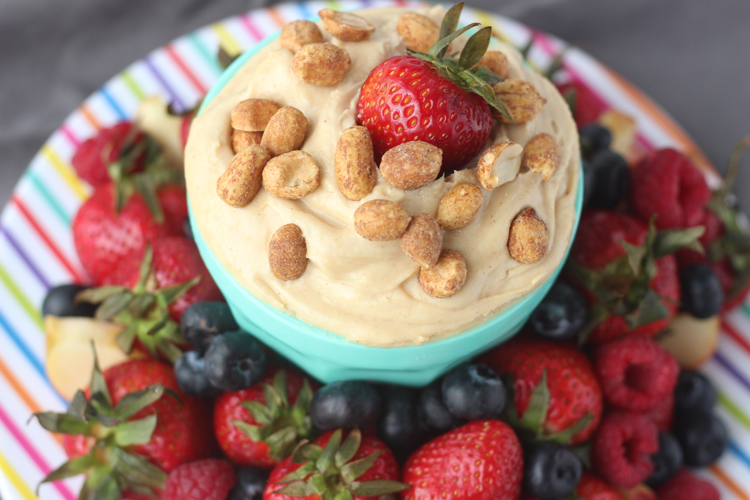 When they woke up the next morning, they were so disappointed that the dip was all gone. So I promised that I would make them some more. That way I'd get to enjoy some more too!
There's only 5 ingredients AND all you need is a blender or food processor.
Peanut Butter Cheesecake Dip
2016-04-25 15:01:14
A delicious dessert dip for fruit, crackers, cookies and more!
Nutrition Facts
Amount Per Serving
Calories 2520
Calories from Fat 1685
Trans Fat 0g
Polyunsaturated Fat 31g
Monounsaturated Fat 71g
Total Carbohydrates 153g
51%
Sugars 124g
Protein 61g
* Percent Daily Values are based on a 2,000 calorie diet. Your Daily Values may be higher or lower depending on your calorie needs.
Ingredients
8 oz cream cheese
¾ cup peanut butter
½ cup sugar
¼ cup heavy cream
1 teaspoon vanilla
Instructions
Combine all ingredients in a blender or food processor and mix well.
This can be served immediately, but tastes even better if it's chilled 10-15 minutes!
Enjoy with fruit, crackers, cookies or more! Strawberries and apples are our favorite.
Adapted from Messes to Memories
Adapted from Messes to Memories
Andrea's Notebook https://andreasnotebook.com/