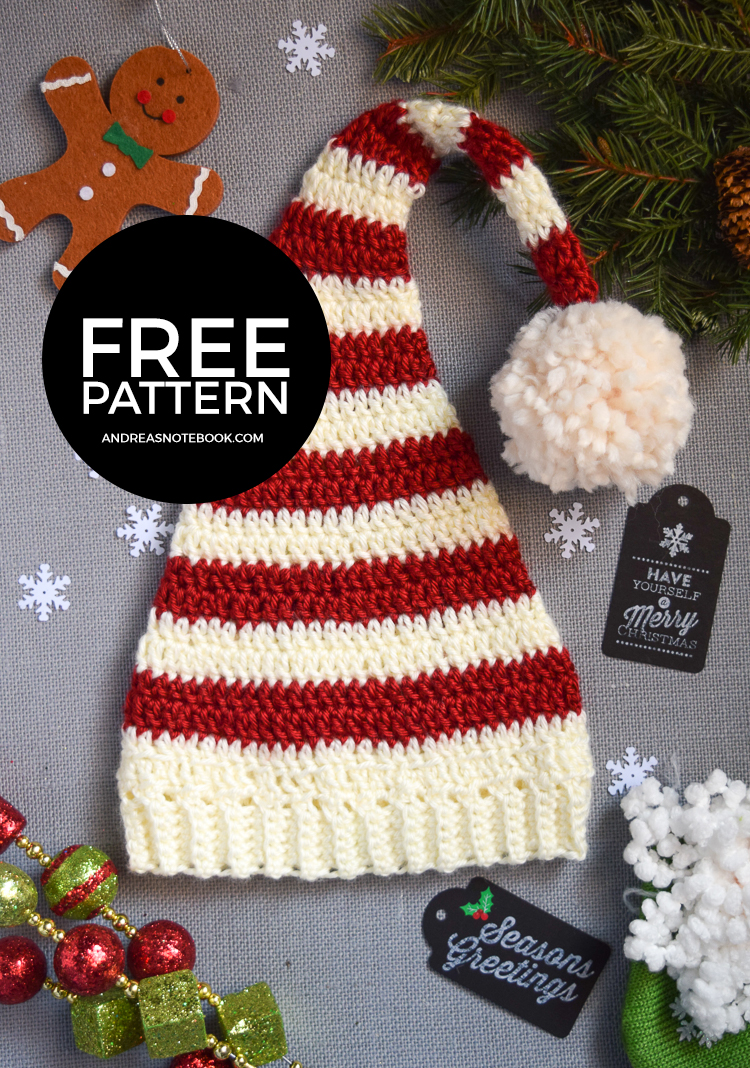 Winter is a time for cold weather fun, friends, and lots of giggles. So, what's the perfect accessory for all this holiday fun? A warm and silly hat, of course! This easy crochet hat makes the perfect holiday gift for a new Mom or Dad and is so wonderfully fast to make. Even if you are a beginner at crochet, go for it! The only skills you need to make this are double crochet, crocheting in the round using a magic loop, and seaming. This pattern is for a newborn baby-sized, long-tailed hat. For additional sizes of this hat, please check out this post.
This hat is designed in antique dark red and off-white for a vintage effect. If you prefer to have a bright red and white stripe, substitute other shades from the Caron 'Simply Soft' line or other similarly-weighted yarn and it will turn out great!
This newborn hat crochet pattern is made up of three parts: The body, the band, and the pom pom. You will stitch the pieces together at the end.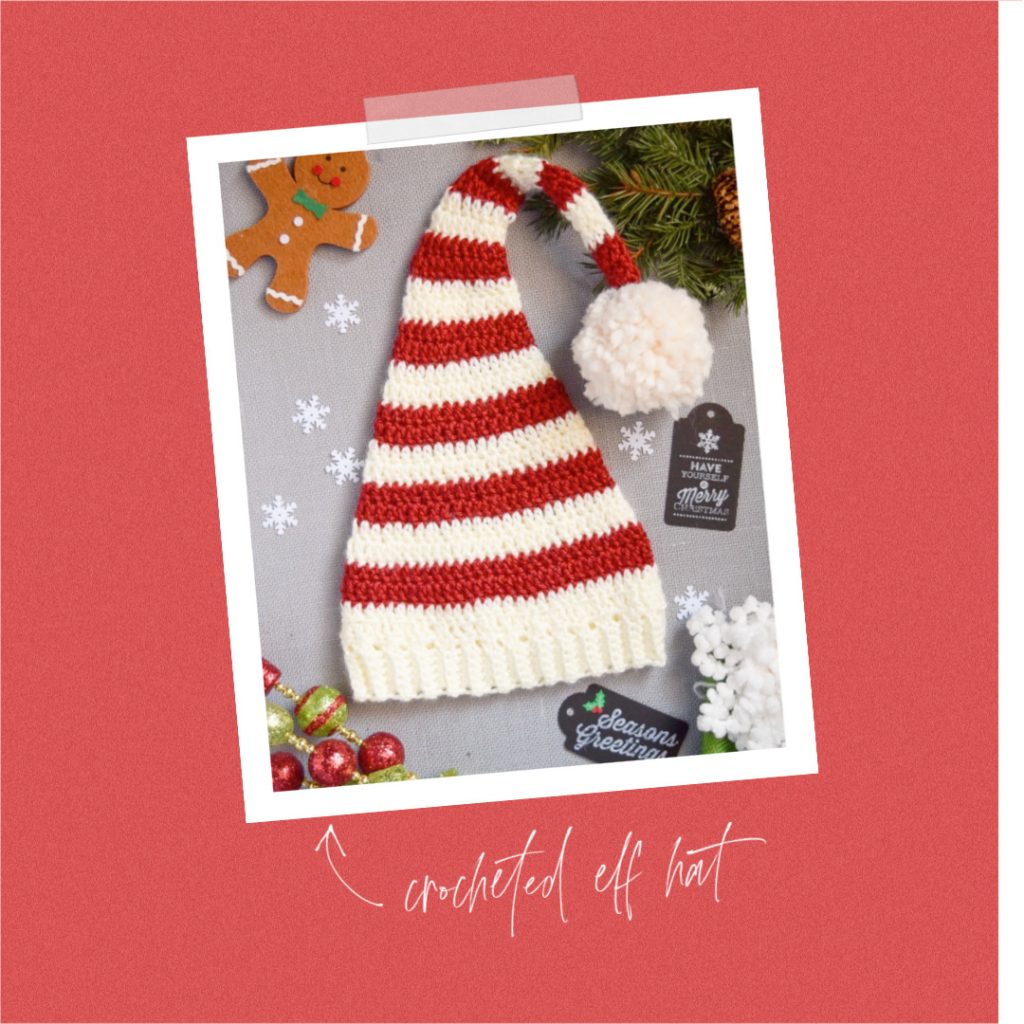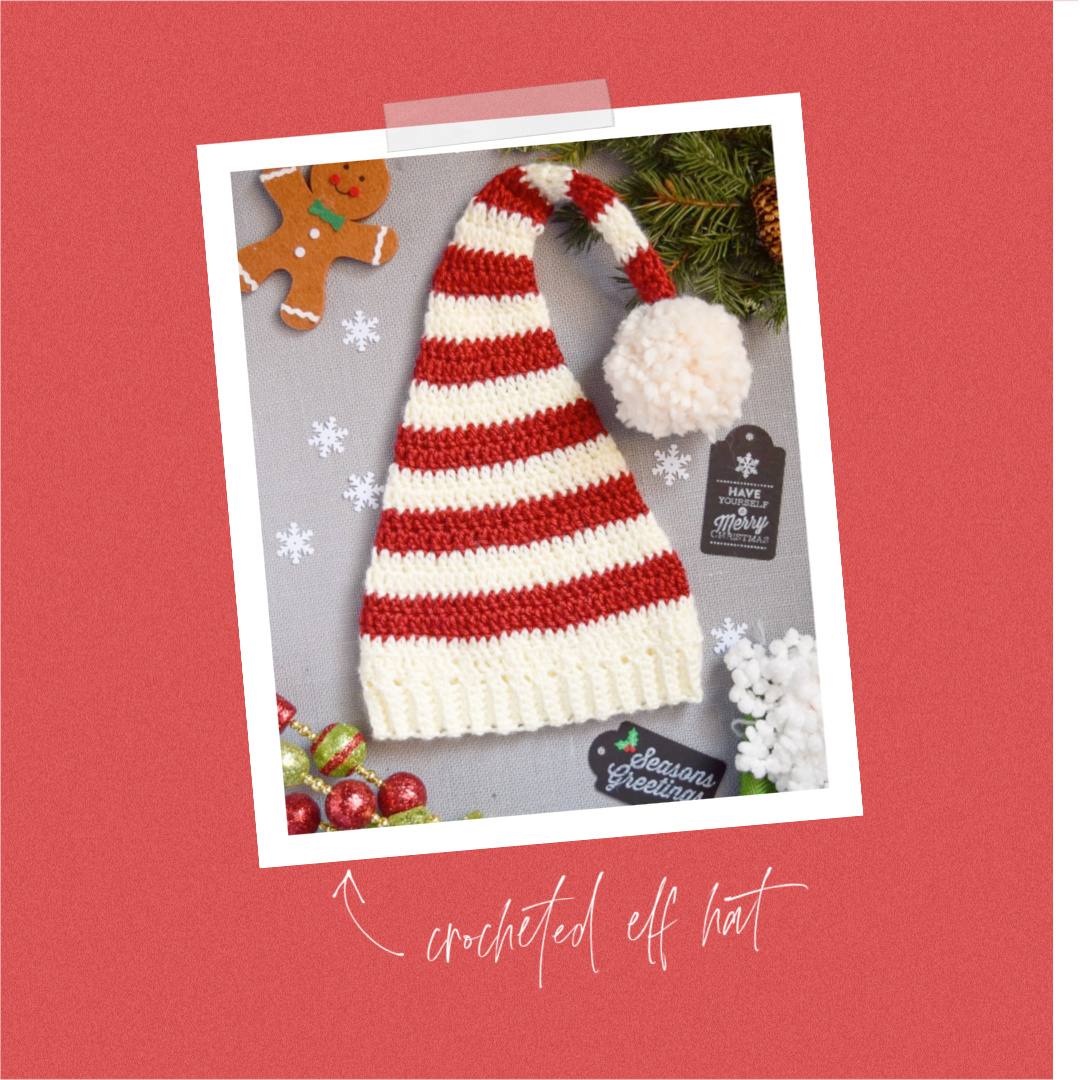 A note about crocheting stripes for this hat: The color change is completed by simply dropping the color and letting it hang until you need to pick it up again. To change color, you will complete the round and slip stitch in the old color, then use the new color to chain two, and begin the next round of double crochet in the new color. The transitions will look weird on the outside as you work, but don't worry. You will turn the whole thing inside out before assembling.
Pixie Elf Newborn Hat Crochet Pattern
Tools:
1 – crochet hook, Size U.S. H/8 – 5.00MM or size needed to obtain gauge
Blunt Needle for finishing
Yarn:
(For Hat)
Caron Simply Soft in Autumn Red (100% Acrylic, Worsted Weight #4)
— 1.5 oz or approximately ¼ of a ball —
Caron Simply Soft in Off White (100% Acrylic, Worsted Weight #4)
— 1.5 oz or approximately ¼ of a ball —
(For Pom Pom)
Lion Brand Yarn Thick and Quick Wool-Ease in Fisherman (80% Acrylic, 20% Wool, Twisted Weight #6)
—
Abbreviations:
Ch = Chain
Dc = Double Crochet
Rep = Repeat
Sl St – Slip Stitch
St(s) – Stitch(es)
(R) = Red Yarn
(W) = White Yarn
(T) = Thick and Quick Yarn
Finished Measurements:
20 inches tall x 6 inches wide
The patterns for additional sizes of this hat are available on CraftWeekly.com
Gauge: 3.5 st per inch x 2 st per inch tall
—-
Instructions:
– (For the body of the hat) –
Row 1: With (R), Chain 3 and join the 1st and 3rd stitch to create a magic loop. St 6 dc into the loop. Sl st and ch 2.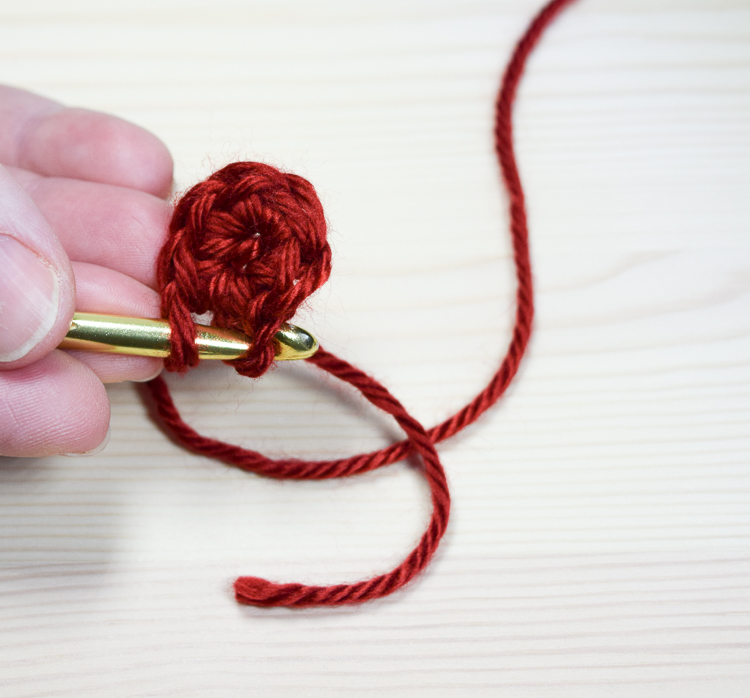 Row 2 – 3: With (R), continue to dc 6 stitches in each row. Sl st to complete row, drop red and pick up white to chain 2.
Row 4 – 5: With (W), double crochet 6 stitches around each row. Sl st to complete row, drop (W) and pick up (R) to chain 2.
Row 6-11: Repeat steps for rows 2-3 and 4-5, alternating colors like this for the rest of the hat body.
Rows 12-15: Increase by 1 double crochet for each row.
Rows 16-27: Increase by 3 double crochet stitches for each row. You should have a total of 42 stitches in row 27.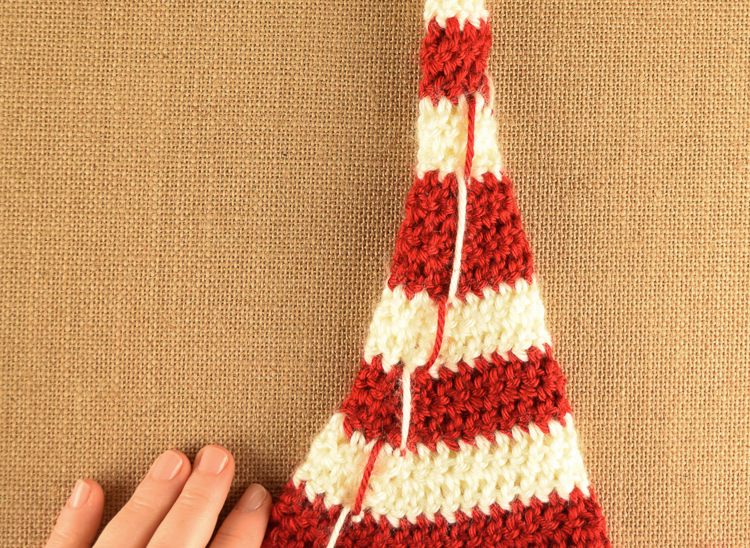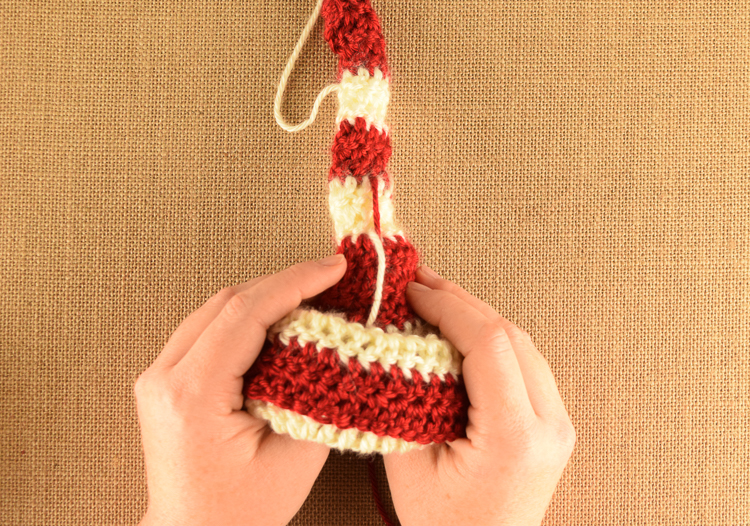 – (To make the ribbed band) –
Ch 7, begin sc into the 2nd ch. sc to the end of the row and turn. Rep until you have 42 rows. Making sure you don't twist it, fold in half and use mattress stitch or whip stitch to sew the ends of your rows together to create a band. Knot it off to finish and leave a long tail of yarn. You will use this yarn to attach the band to the body of the hat.
– (Attaching the ribbed band) –
Align the inside top of the band with the bottom of the hat body as shown. Whip stitch them together all the way around and knot off at the end. Pull the band down so the seam is not visible.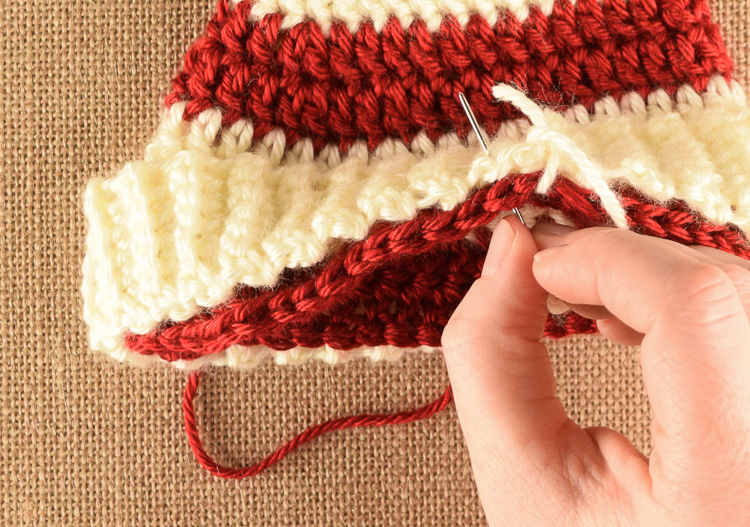 – (To make the pom pom) –
When I make these, I choose a thick yarn for the pom pom because I love the way it looks and swings on the long tail of this hat. You can use any yarn you like best. 🙂
Cut a strand of (T) about 7-8 inches long. Take the ball of (T) and wrap yarn securely (but not too tightly) around your hand about 25 times. Pull the yarn through the bottom of the yarn bunch between your 3rd and 4th fingers. Pull hard and knot it twice. Tie this tightly and keep your tie strands long – you will use them for shaping your pom pom and attaching it to the hat.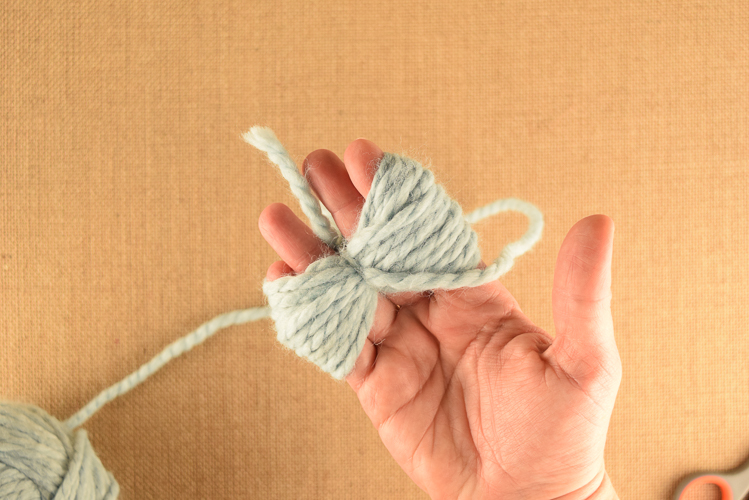 Shape the pom pom by holding the longer strands and cutting around it in a sphere. Turn it in every direction and cut little by little. (Learn more about making pom poms by hand here.)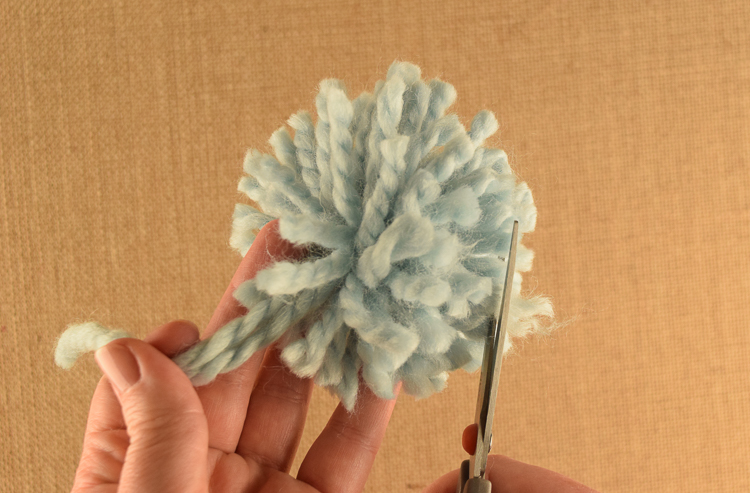 – (Attaching the pom pom) –
Find the magic loop you created at the beginning. Slip your crochet hook under the magic loop, between the six stitches you created. Pull one of the long strings through with your crochet hook. Secure with a double knot using your long yarn pieces and then trim them to the length of the other strands in your pom pom.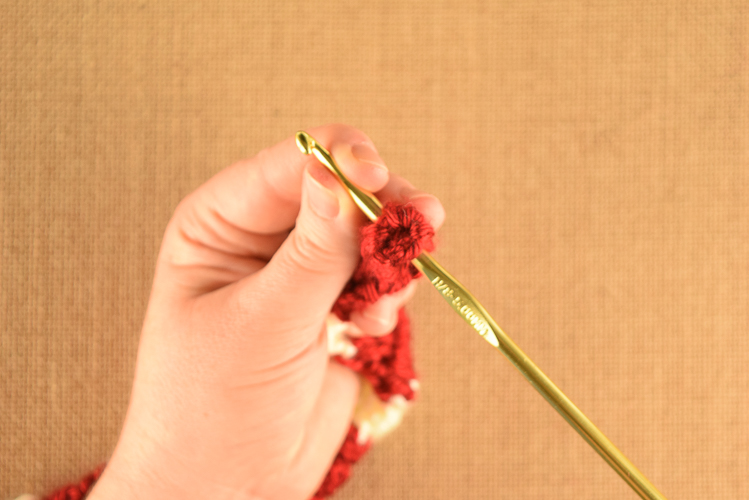 —-
Finishing:
Weave in loose ends. Block if desired. Enjoy all of the cuteness!
*Mom note – Because of the long tail, leaving your baby in this hat for naps or while you can't monitor them is not recommended.*