Welcome to our DIY Macrame Tutorials! Macrame is a craft where you tie knots to make beautiful designs. This craft is getting very popular again. Why? Because macrame is fun, and you can create lovely things for your house or to wear.
Are you new to macrame? Or have you been doing it for a while and want new ideas? This blog has something for everyone. We have lots of DIY macrame projects, like stylish macrame plant hangers, cool macrame jewelry, and big macrame wall hangings. And if you need things that are handy to use, check out our tutorials on macrame bags and macrame keychains.
We've also got helpful guides for you. You can learn the basic macrame knots, find out where to buy good macrame supplies, and learn how to look after your finished macrame pieces.
So, are you ready to start? Let's explore easy DIY macrame projects for beginners and more difficult techniques for those who are more advanced. Your fun journey into the world of macrame begins now!
What Is Macrame?
Macramé is a form of textile created using knotting techniques, as opposed to weaving or knitting. The term originates from the 13th-century Arabic word migramah, which means "fringe." This refers to the decorative fringes often seen on camels and horses in North African cultures.
In macramé, the basic materials are a cord or a thread, and one's hands. It does not require the use of any needles, hooks, or other tools, which distinguishes it from other forms of textile crafting like knitting or crochet. Instead, one creates a macramé piece by tying different knots in a specific pattern.
There are various types of knots used in macramé, including the square knot and the half-hitch knot, which can be combined and arranged in different ways to create intricate patterns and designs. Some of the most common items made through macramé include wall hangings, plant hangers, jewelry, and home decor items.
Over the years, macramé has seen periods of popularity and revival, particularly in the 1970s and again in recent years, where it's been a popular trend in home decor and design.
10 Different Purposes For Macrame
Ready to jump into the world of macrame? Let's explore our top 10 DIY macrame projects. Each one is unique, and we've included something for everyone, from beginners to advanced crafters.
1. Macrame Plant Hangers: A classic in macrame design, these plant hangers are a great starting point for beginners. They're simple, stylish, and perfect for displaying your favorite indoor plants.
2. Macrame Wall Hangings: Looking to add some texture to your walls? Try a macrame wall hanging! We'll guide you through the steps to create a stunning piece of art.
3. Macrame Jewelry: From bracelets to necklaces, macrame jewelry is fun to make and wear. Choose your favorite colors and create something beautiful.
4. Macrame Bags: Handy and stylish, a macrame bag is an excellent project for intermediate crafters. Follow our step-by-step guide to create your very own bag.
5. Macrame Keychains: Quick and easy to make, these keychains are a great way to get familiar with basic macrame knots. Plus, they make perfect gifts!
6. Macrame Coasters: Spruce up your coffee table with these unique macrame coasters. They're a fun, quick project that you can complete in an afternoon.
7. Macrame Curtains: For those looking for a challenge, try your hand at macrame curtains. They're a gorgeous addition to any window or doorway.
8. Macrame Hammocks: Imagine relaxing in a hammock that you've made yourself. Sounds good, right? Our detailed tutorial will help you make this dream a reality.
9. Macrame Bottle Holder: A practical and chic way to carry your water bottle, this project is great for those looking to level up their macrame skills.
10. Macrame Lampshade: Light up your room with a DIY macrame lampshade. This project requires patience and focus, but the results are truly worth it.
With these inspiring DIY macrame tutorials, you can create beautiful pieces that reflect your style and skill level. Happy knotting!
Supplies
Macrame Cord/Rope: This is the primary material used in macrame. It comes in different thicknesses and materials like cotton rope, jute, hemp rope, and synthetic fibers. Cotton cord is typically soft, flexible, and easy to work with, making it a popular choice for many crafters. Many also use jersey yarn made from t-shirts.
Rings: Metal or wooden rings are often used in macrame projects to provide a structure to work around. They're particularly common in macrame plant hangers and wall hangings.
Beads: Beads can be threaded onto your macrame cord for decorative purposes. They come in various materials like wood, glass, or metal. Wooden beads are most common with this craft.
Dowels/Sticks: Wooden dowels or sticks can be used to hang your macrame project, especially for wall hangings.
Scissors: A good pair of sharp scissors is essential for cutting your macrame cord.
Tape Measure/Ruler: To measure cord accurately, a tape measure or a ruler is a must-have. This ensures that your project turns out the right size.
S-Hooks/C-Clamps: These tools are useful for securing your macrame project while you're working on it. They can be attached to a secure surface like a table edge or a craft board.
Comb: A comb is useful for creating fringes in your macrame projects. It can help you unravel and fluff the ends of your cords for a softer look.
Macrame Board: While not necessary for all projects, a macrame board can be very useful for larger or more complex designs. It allows you to pin your work in place, keeping your cords organized and maintaining tension as you knot.
Needles: Macrame needles can be used for threading beads onto your cord or for intricate detail work in smaller pieces like jewelry.
Remember, the exact supplies you need will depend on the specific macrame project you're undertaking. Always check the materials list in your tutorial or pattern before you start.
Macrame Tutorials
Check out these free macrame patterns!
Macrame Plant Hangers: Plant holders are probably the most common use of macrame. This simple tutorial by Lia Griffith provides clear step-by-step instructions on how to make a basic macrame plant hanger. This Lia Griffith Macrame Plant Hanger Tutorial is perfect for beginners!
Macrame Handbag: This DIY tutorial is a stunner! Adorable macrame handbag tutorial from Rachel Denbow at A Beautiful Mess (image below).
Macrame Wall Hangings: This video tutorial from Made in May demonstrates how to make a beautiful feather wall hanging. Video Tutorial by Made in May.
Macrame Jewelry: Macrame Necklace Tutorial by Lia Griffith (image below) – These necklaces would make really cute gifts. Everything Lia Griffith makes is gorgeous and these are no exception.
Macrame Bags: This detailed tutorial from Hallmark Channel guides you in creating a trendy macrame purse. Link: Hallmark Channel Macrame Bag Tutorial
Macrame Curtains: DIY Macrame Curtain by A Beautiful Mess (image below)- Get your 70's on with a fun macrame door curtain.
Macrame Coasters: This coaster tutorial from Rikiniki DIY shows you how to create your own macrame coasters with cute fringe. This would be a fun beginner project.
Macrame Wall Hanging: DIY Macrame Wall Hanging by Brit + Co (image below)- This is a super simple way to get your feet wet with macrame. It doesn't get much easier than this one. If you're just starting you might want to start with this easy macrame wall hanging.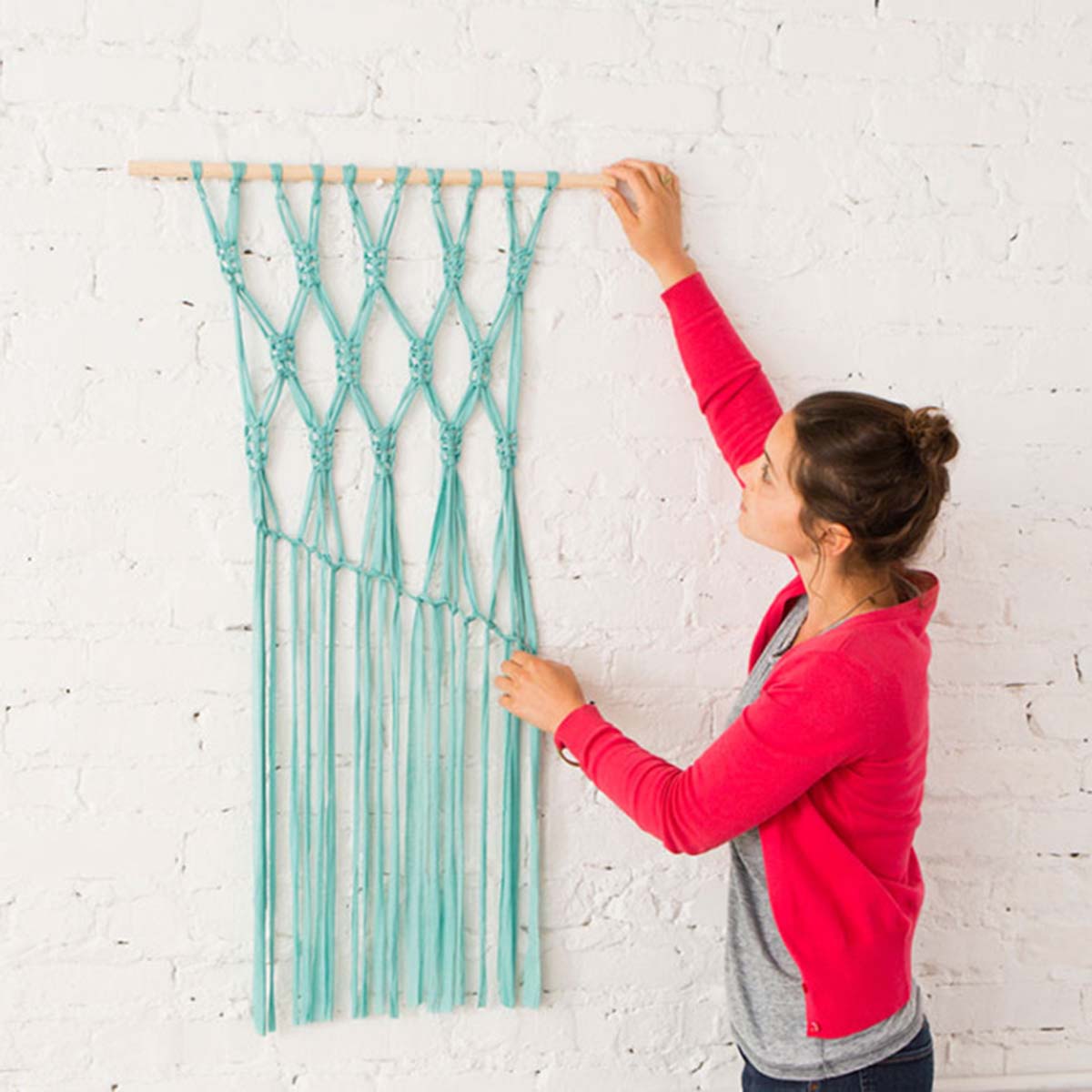 Macrame Keychains: This tutorial from The Pretty Life Girls takes you through the process of making a cute and simple macrame keychain.
T-Shirt Macrame Plant Hanger: Macrame Plant Hanger Tutorial at Brit + Co (image below) – Macrame with t-shirt yarn! A bold and fun twist on a classic.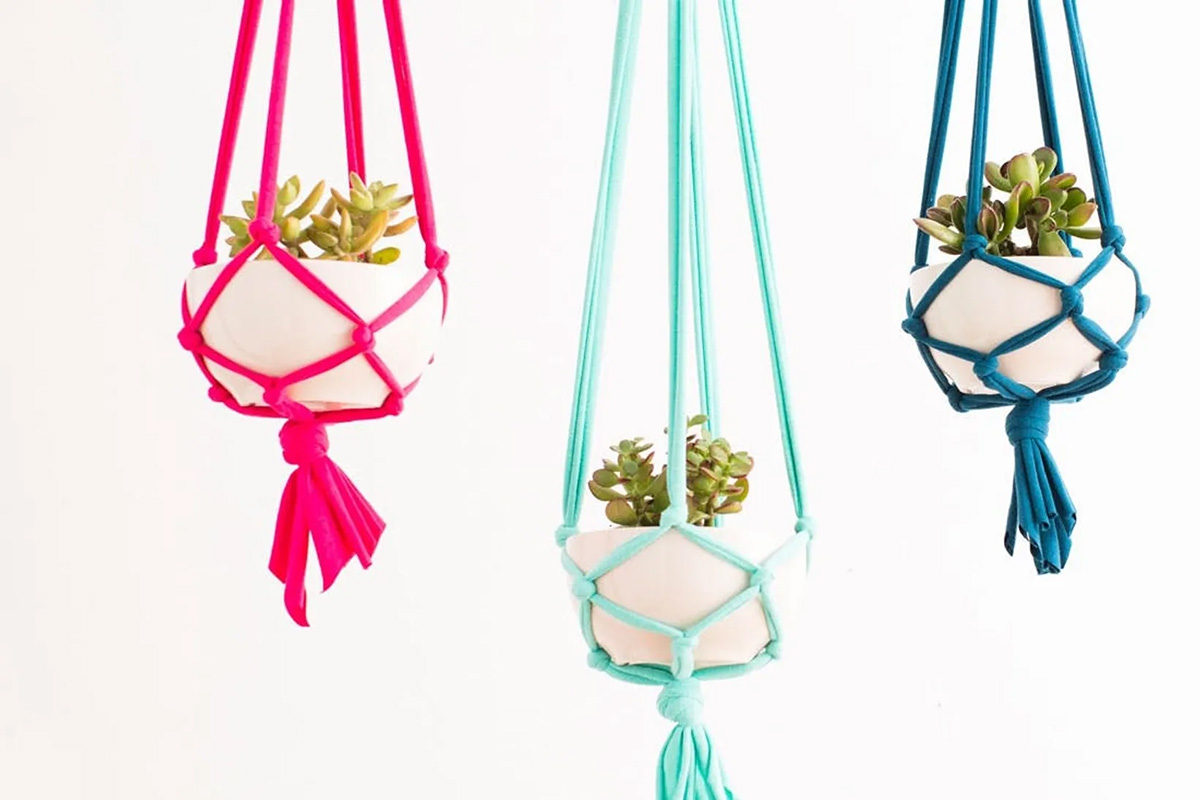 Macrame Hammocks: This advanced macrame video tutorial from Megan Bell guides you through the process of making a macrame hammock.
Macrame Hanging Chairs: Macrame Chair Tutorial by Classy Clutter (image below)- I love this one so much! It would look great in a teen bedroom or even a living room. Make it out of rope and hang it outside on the porch!
Macrame Bottle Holder: This video tutorial from Funem Studio walks you through creating a practical and chic macrame bottle holder.
Macrame Lampshade: This step-by-step tutorial from Collective Gen guides you in creating a unique and beautiful macrame lampshade chandelier.
Remember, practice makes perfect! Don't be discouraged if your first attempt doesn't turn out exactly as you hoped. With patience and persistence, you'll continue to improve and create beautiful macrame pieces.
Tips And Tricks For Perfecting Your Macrame
Macrame is a wonderful art form that can yield beautiful results. But as with any craft, it comes with its unique challenges. To help you create your best work, here are some tips and tricks for perfecting your macrame skills using DIY macrame tutorials:
1. Understand Macrame Knots: The essence of macrame lies in knotting. Start by understanding the basic macrame knots such as square knot, half hitch, and lark's head. As you progress, explore more complex knots to add variation to your DIY macrame projects.
2. Quality of Cord Matters: Whether you're creating a macrame wall hanging or a macrame plant hanger, the quality of your cord can make a significant difference in the outcome. Opt for cords that are sturdy yet flexible for the best results.
3. Maintain Tension: Consistency is key in macrame. Ensure you maintain even tension in your knots throughout the project. This can dramatically improve the look and structure of your final piece.
4. Take Care of Your Hands: Knotting for extended periods can be tough on your hands. Take breaks, do some hand exercises, and moisturize your hands regularly to keep them in good shape.
5. Practice, Practice, Practice: The more you knot, the more comfortable you'll become with the technique. If you're just starting, don't be disheartened if your first few attempts don't turn out as expected. Keep practicing!
6. Embrace Creativity: Macrame offers endless possibilities for creativity. Don't be afraid to experiment with different macrame knots, patterns, and designs. For instance, creating your own DIY macrame curtain or a unique macrame lampshade can be a satisfying and fun endeavor.
7. Stay Organized: Keep your workspace tidy and your cords organized. This will make it easier to work on your projects and prevent your cords from tangling.
8. Learn from Others: Join macrame communities online, watch tutorial videos, or attend workshops. There's a lot to learn from other macrame enthusiasts, and it can be a great source of inspiration.
Remember, macrame is supposed to be fun and relaxing. Don't rush the process. Take your time to enjoy the art of knotting and create pieces that you love. And, if you're ever in doubt, our DIY macrame tutorials are always here to guide you!
Frequently Asked Questions
What materials do I need for DIY macrame projects?
The materials you'll need will depend on the specific project. However, most DIY macrame tutorials will require macrame cord or rope, scissors, and possibly beads, rings, or dowels. Some projects might also need S-hooks or C-clamps to secure your work.
Where can I buy macrame supplies?
You can find macrame supplies at most craft stores or online. Some popular online platforms for buying macrame cords, beads, and other materials include Etsy, Amazon, and specialized craft supply websites.

How do I care for my finished macrame piece?
The care for your finished macrame piece depends on the material used. For most macrame items made from cotton cord, a gentle hand wash should suffice. Always allow your piece to air dry completely before using or storing to prevent mold and mildew.
How much time does it typically take to complete a macrame project?
The time it takes to complete a macrame project can vary widely depending on its complexity and size. A small project like a macrame keychain might take an hour or two, while a large project like a macrame curtain or macrame wall hanging could take several hours or even days.
Can beginners attempt DIY macrame projects?
Absolutely! Beginners can definitely try DIY macrame projects. Start with simpler designs that use basic knots and gradually move to more complex projects as your skills improve. Our blog has many beginner-friendly DIY macrame tutorials to help you get started.
Can I use different types of cords in one macrame project?
Yes, you can mix and match different types, sizes, and colors of cords in one project. This can create interesting textures and effects in your DIY macrame pieces.
Macrame isn't going anywhere! It started making a comeback a few years ago and is still here. When I think of macrame I think of dusty jute wall hangings. But it doesn't have to be! Enjoy creating!