I'm always looking for another good book to read. I love a book that sucks you in and carries you away to another time and life. Something you can't put down and feel lost when it's complete. Of course, I love books that are light and fluffy as well but my favorites run much deeper. I recently asked people on facebook what their all time favorite novels were. There were tons of responses and lots of agreement on which are the favorites. I've compiled a list for you! Here are 10 must read novels. Everyone's favorite books in one list! Read the list then leave me a comment telling me YOUR favorite novel!
This is a sponsored conversation written by me on behalf of Del Monte. The opinions and text are all mine.
I've been taking time to relax this summer and really enjoy the outdoors. I bought an adirondack chair for my yard and it's the perfect place to sit and read for the evening when I'm not working or riding bikes with the kids. It has been so nice to sit in the yard and just read (and snack). It's been years since I've done that during the summer and it's a welcome new tradition. I highly recommend it.
I partnered with Del Monte Fruit Refreshers to bring you this great book list. It was the first time I've tried Del Monte's new, delightful twist on a fruit cup. These feel like the grown up version of a fruit cup. Perfect pairings of delicious chunks of fruit and a slightly sweetened flavored fruit water make for a light, not too sweet, snack. It's better than grabbing a bag of chips (because I'll eat the whole thing without knowing while I read!). I tried both tasty flavors; the Pineapple with Passion Fruit and the Mandarin Oranges in Coconut Water. The oranges were definitely my favorite because I'm a huge orange fanatic, but both are really good and make a perfect adult snack. So go get yourself some of these at your local grocery store then stop by your library and pick up one of these books and start yourself a new summer evening tradition!
That's my dog above. And my neighbor. Because sometimes reading and snacking is done best with friends!
Here they are, in no particular order! And I think you'll notice this list is lacking any classics. I asked people their favorite novels and this is what we got!
Outlander by Diana Gabaldon. What can I say about Outlander? It's the best. Definitely my favorite and was the overwhelming winner of my poll. It is an 8 book series set mostly in 18th century Scotland and the American Colonies, with a stint in France and the Caribbean. There is some time travel in this series, but I wouldn't really classify it as a science fiction novel. That's just part of the storyline but not really THE story. This series is LOOOONG and super addictive. It's an adult novel, definitely not appropriate for kids or young teens. But there's a reason everyone raves about this book. Just read it.
The Bronze Horseman by Paullina Simons. This is another fabulous (and adult) historical fiction novel. Set during WWII in Russia, the characters will begin to feel like an extension of yourself. This is also a series. There are three novels. I've only read the first two. the first is far superior to the second, but I still couldn't put down the second. I started reading the third and then was afraid it was going to ruin my relationship with the characters so I stopped. Have you ever felt that way?
The Pillars of Earth by Ken Follett. I have yet to read this series. Many, many people said this was their favorite. This is set in 12th century England and seems to be based around the battle between good and evil. Many reviewers say this is their favorite historical fiction novel. And there's a sequel!
The Kite Runner by Khaled Hosseini. I can't say enough good things about this novel. There's a good chance you've already read it because Oprah gave it her stamp of approval many years ago. But there's a reason it's so highly acclaimed. The writing and storytelling is absolutely superb. It begins in Afghanistan in the 1970's and gives you a real vision of what life was (and is) like. The story is gripping.
The Help by Kathryn Stockett. Set in 1962 Mississippi, this book weaves the stories of the black maids and the uppity, young white women that employ them. Chances are you've read this. But if you've only seen the movie and not read the book, it's time to read the book!
The Night Circus by Erin Morgenstern. Everyone tells me this novel lives up to it's hype. From Bookreporter, "The Night Circus is the real deal, the kind of novel that will appeal to romantics, history buff, circus aficionados, mystery fans, and lovers of a good story. . . . Steeped in circus lore, filled with evocative scenes of magic and illusion, enriched by characters as varied as the clockmaker who crafted the circus's iconic timepiece . . . The Night Circus is worth staying up for."
The Nightingale by
The Thorn Birds by
The Alchemist by Paulo Coelho. Another one I haven't read! From Amazon, "this masterpiece tells the mystical story of Santiago, an Andalusian shepherd boy who yearns to travel in search of a worldly treasure. His quest will lead him to riches far different—and far more satisfying—than he ever imagined. Santiago's journey teaches us about the essential wisdom of listening to our hearts, of recognizing opportunity and learning to read the omens strewn along life's path, and, most importantly, to follow our dreams."
The Poisonwood Bible by Barbara Kingsolver. Anything by Barbara Kingsolver is worth reading but this one seems to touch the most people. "This is a story told by the wife and four daughters of Nathan Price, a fierce, evangelical Baptist who takes his family and mission to the Belgian Congo in 1959. They carry with them everything they believe they will need from home, but soon find that all of it—from garden seeds to Scripture—is calamitously transformed on African soil. What follows is a suspenseful epic of one family's tragic undoing and remarkable reconstruction over the course of three decades in postcolonial Africa."
Well, now tell us YOUR favorite novel!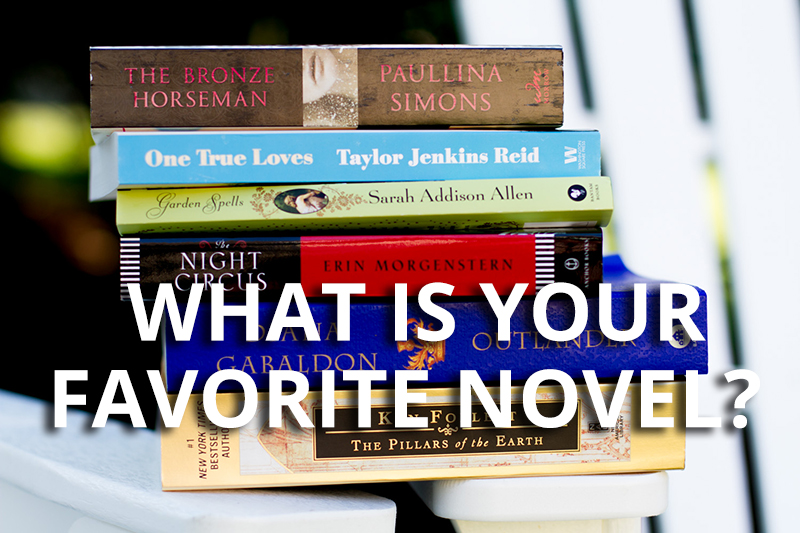 Comments submitted may be displayed on other websites owned by the sponsoring brand.
This is a sponsored conversation written by me on behalf of Del Monte. The opinions and text are all mine.