This post may contain affiliate links.
I sewed a pair of adorable gold baby booties ! Look at these lovely gold cuties. These baby booties have heart cut outs in the front and lace up. These literally take 5-10 minutes to sew. I even sewed a couple pairs by hand. It takes longer to decide on what leather you want to use.
Notice they even have a cutout for the laces to thread through the tongue to keep it in place!
Supplies:
Instructions:
1. Cut bootie pieces.
Cut these out with Cricut Explore™ machine. Use the heavy duty mat and the deep cut blade. I also used a repositionable spray adhesive to secure the leather to the mat even better. The pattern may become available in the Design Space soon! Currently you also download it as a PDF for hand cutting. If you plan to hand cut you might search out a leather die cut for the hearts! The pattern piece is for a size 1 bootie. Just print larger for larger sizes! If you will be hand sewing, attach the little round dots on the pattern (around the edges). If you don't attach them they'll be cut separate rather than on the same piece.
2. Sew the back piece.
Sew the right side of the back piece with the wrong side of the sole. Use binder clips or clothespins to hold the leather together. Make sure to position the piece so it is even. Sew ⅛" from edge to secure.
3. Sew the front/tongue piece.
Line up the right side of the front piece with wrong side of the sole. This piece will overlap the back piece some. Sew ⅛" from the edge to secure.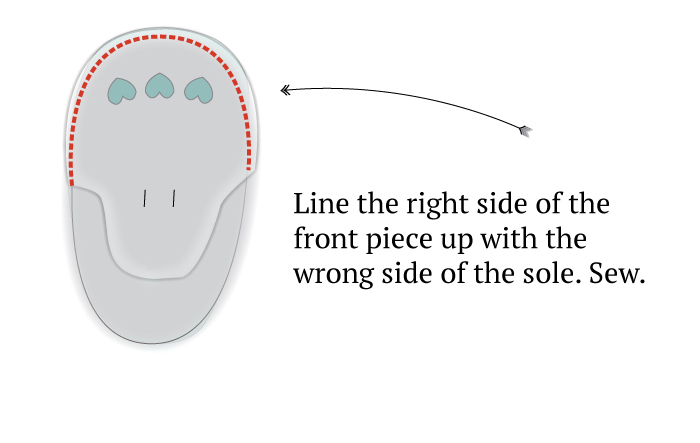 4. Turn right side out.
Carefully turn the bootie right side out. Lace them up! Note the slits in the tongue to help secure the laces.