Shopping for pet lovers is easy because there are so many fun gifts for pet lovers.
I've found 15 gifts any dog or cat lover will enjoy. From cute artwork to clothing to home goods there is something for anyone and everyone who loves their pet.
Gift for Pet Lovers
People who have pets usually love their pets more than most people. I'm not wrong! There is something about having a sweet, furry friend who is are always there for you to cheer you up when you're down, or lick your face while you're trying to sleep.
If you're a DIY type person, consider making gifts for pet lovers. This DIY elevated dog dish holder is great for people who have medium to large dogs. And this DIY water bottle dog toy is fun to sew. Make a DIY sisal cat scratcher toy. Or make the world's easiest DIY cat toys.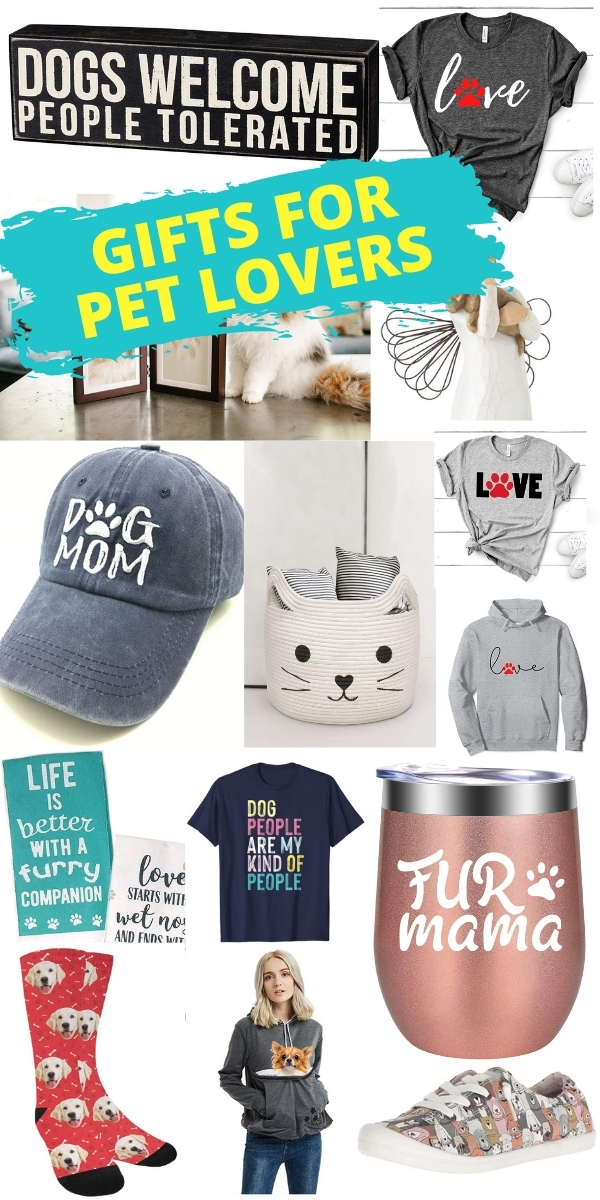 Sculpted Hand-Painted Figure
Artist Susan Lordi hand carves the original of each Willow Tree figure in her studio in Kansas City, MO. They are cast from her original and painted by hand. The adorable figure celebrates our friendship with pets. Great for pet lovers. Comes in a box ready for gift-giving.
---
Pet owners can make an impression of their pet's paw with no mess. What a wonderful keepsake.
---
Adorable hat comes in many colors. They have an adjustable back to fit any head size. Super cute!
---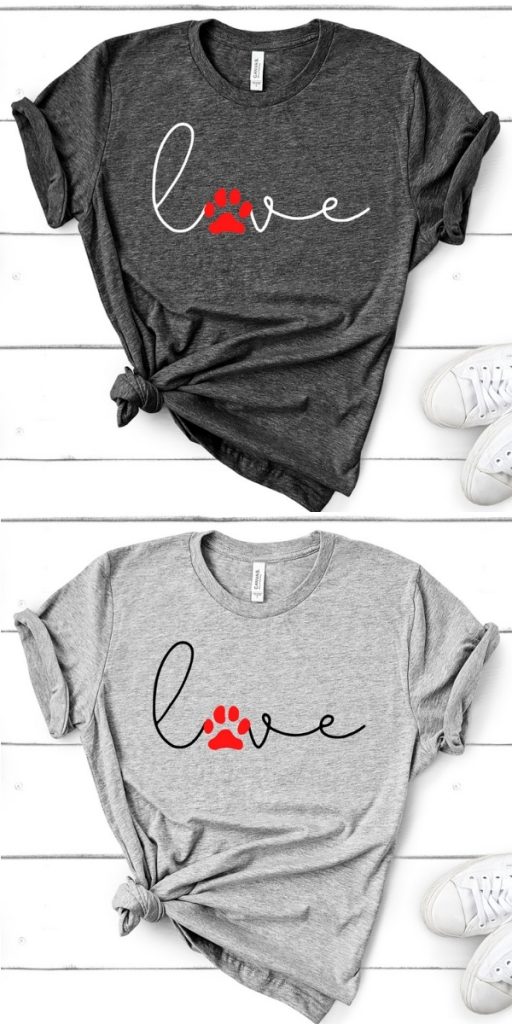 LOVE Pet Lover Script Tee – Adorable pet lover tee with white or black print. Lots of shirt colors available. These are perfect gifts for pet lovers.
---
For women who love their dogs and their wine!
---
Great sign to put in a stocking as a stocking stuffer!
---
Dog People Are My Kind Of People T-shirts + Sweatshirts – Lots of colors and sizes.
---
Sketchers Women's Beach Bingo-Dog Party Sneaker – Aren't these adorable!! Any dog lover would enjoy walking her dog wearing these.
---
Kitchen Hand Towels for Pet Lovers – These towels come in a 3 piece bundle with cute sayings about your furry companions!
---
10. Pet Lover Sweatshirt – Lots of colors available. These are perfect gifts for pet lovers.
---
Woven Cotton Cat Rope Basket – Great basket for clothes, gifts, planets, toys or anything you need to store.
---
Custom Pet Socks in Many Colors - Upload a photo of their pet to make cute custom socks because... PET SOCKS! How fun are these?
---
Pet Lover Brush Stroke Tee – Lots of colors available!
---
Unisex Pet Carrier Hoodie Sweatshirt – Perfect for someone who loves carrying their little dog or cat. They come in a few colors and I'm sure anyone who lives in a cooler climate would love these.
---
We're Dog People Wooden Hanging Sign – Cute sign for the door or anywhere on the wall because dog people want everyone to know they're dog people. Right?
More Gift Guides You'll Love: