Do you have chic fairies that love to lounge poolside? Then this miniature garden will be the perfect addition to your backyard. I was inspired by this adorable miniature patio garden but I wanted to give it a modern twist. Complete with a crystal clear pool, sleek patio, lush plantings, shade canopy, and modern lounges, this mini garden is as cool as they come. Creating this fun little DIY fairy garden is a great afternoon activity for you and your kids.

Supplies:
A square flower pot about 14" wide
Potting soil
Rectangular plastic mirror
Small tiles
Sand
Succulents
Scrap of outdoor fabric
Bamboo skewers
Polymer clay
How to create a modern fairy garden:
1. Fill your pot with soil, stopping about 2 inches from the top. Pack and level the soil.
2. Place your mirror and lay strips of tile around the edge. Hint only peel back the edges of your mirror's film until your garden is complete. Create a patio and walkway with more tiles.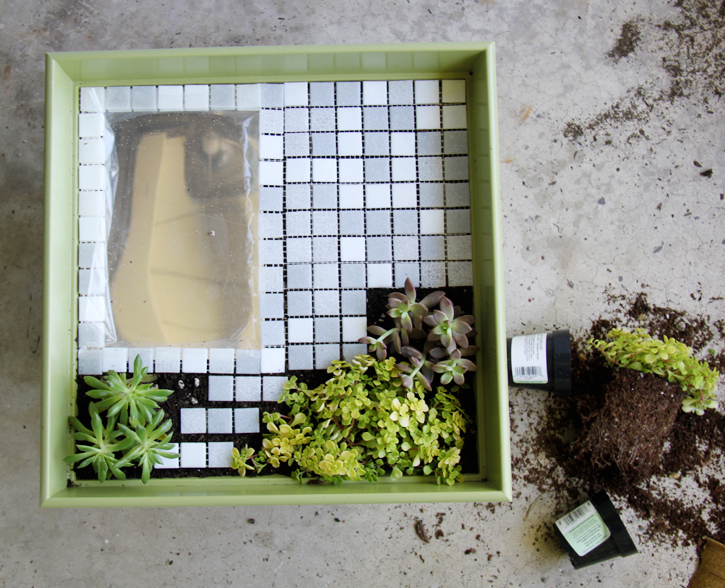 3. Plant your succulents in the blank spaces around your patio and pool.
4. Carefully pour sand over the tiles. Use a paint brush to sweep the sand into the cracks between the tiles.
5. Create your shade sail by cutting a triangle shape from your fabric with pinking shears. Pierce your skewers through each corner and then drive them into the soil over your patio.
6. Use polymer clay to create your lounges. For each lounge roll a section of clay into a rectangle about ¼" thick, use a knife to cut a nice clean rectangle. Then bend the clay into a lounge shape and bake according to the manufacturers instructions.
7. Set everything up, peel back the film, give it one last sweep, and wait for your posh fairies to arrive!
I hope you and your fairies enjoy this fun little DIY. I plan to place this on my patio and dream of installing a real life version!