Chicken is one of the meats we cook the most around here. I find myself getting bored with the same old recipes from time to time. Here are 21 chicken skillet recipes that are sure to get you out of your dinner rut. From my favorites to some I've been dying to try. Enjoy!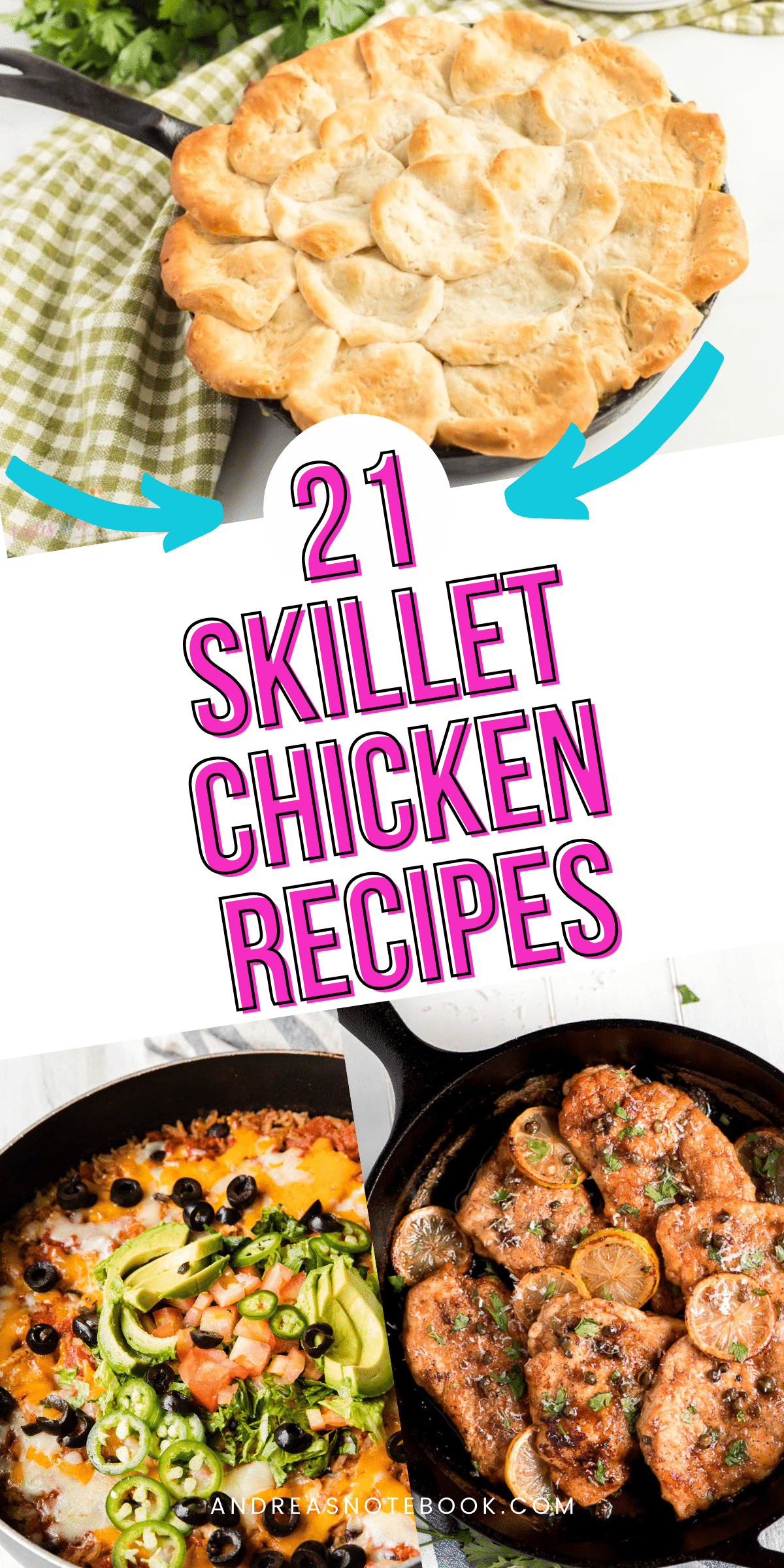 What is a chicken skillet recipe?
I've loosely defined a chicken skillet recipe as any recipe that cooks chicken in a skillet. This can include other foods or not. Some are one pot meals, others require sides and other components of the meal.
And don't forget the bread on the side! These Lion House Rolls copycat recipe are always a favorite. Or make this tasty garlic french bread. And don't miss this rice-a-roni copycat recipe that's amazing.
Tips for making chicken in a skillet
Make sure your chicken is fully defrosted. Chicken that's a little frozen or extra cold in the middle will end up being dried out before it's done cooking.
Use thin cuts or pound your chicken to make it thinner. This will cook up quicker and more evenly and prevent drying.
Use an instant read meat thermometer. Put the thermometer in the side of the chicken to help prevent juices from flowing out through a hole in the bottom. Remove your chicken as soon as it hits 165 degrees.
21 Tasty Chicken Skillet Recipes To Try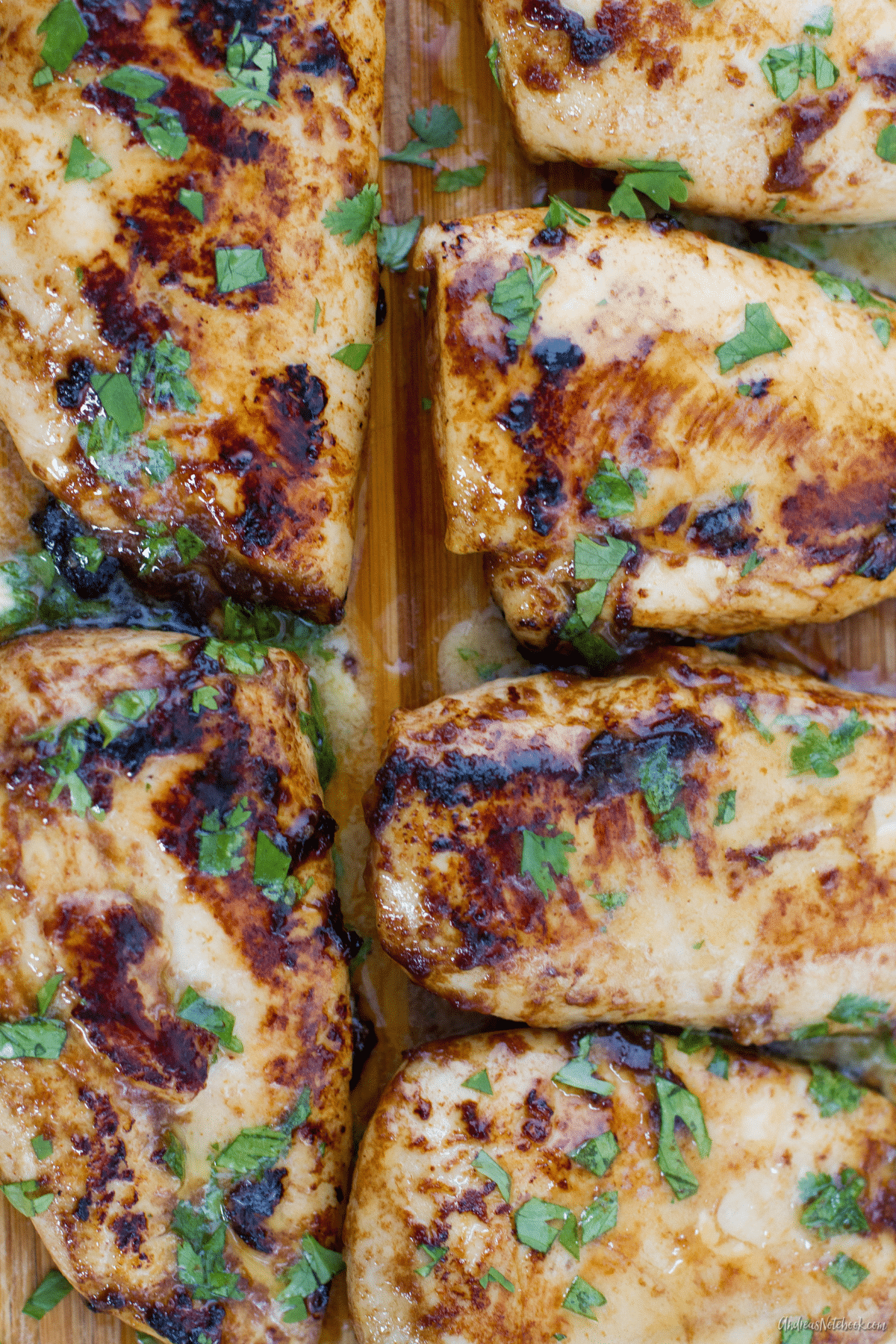 Barbecue Cilantro Lime Chicken: Andrea's Notebook
This is the juiciest, most tender way to cook chicken. These flavors are absolutely amazing together. I'd eat this every day! I like to serve this with cilantro lime rice or copycat rice-a-roni and tortillas. I use leftovers in these easy burritos.
---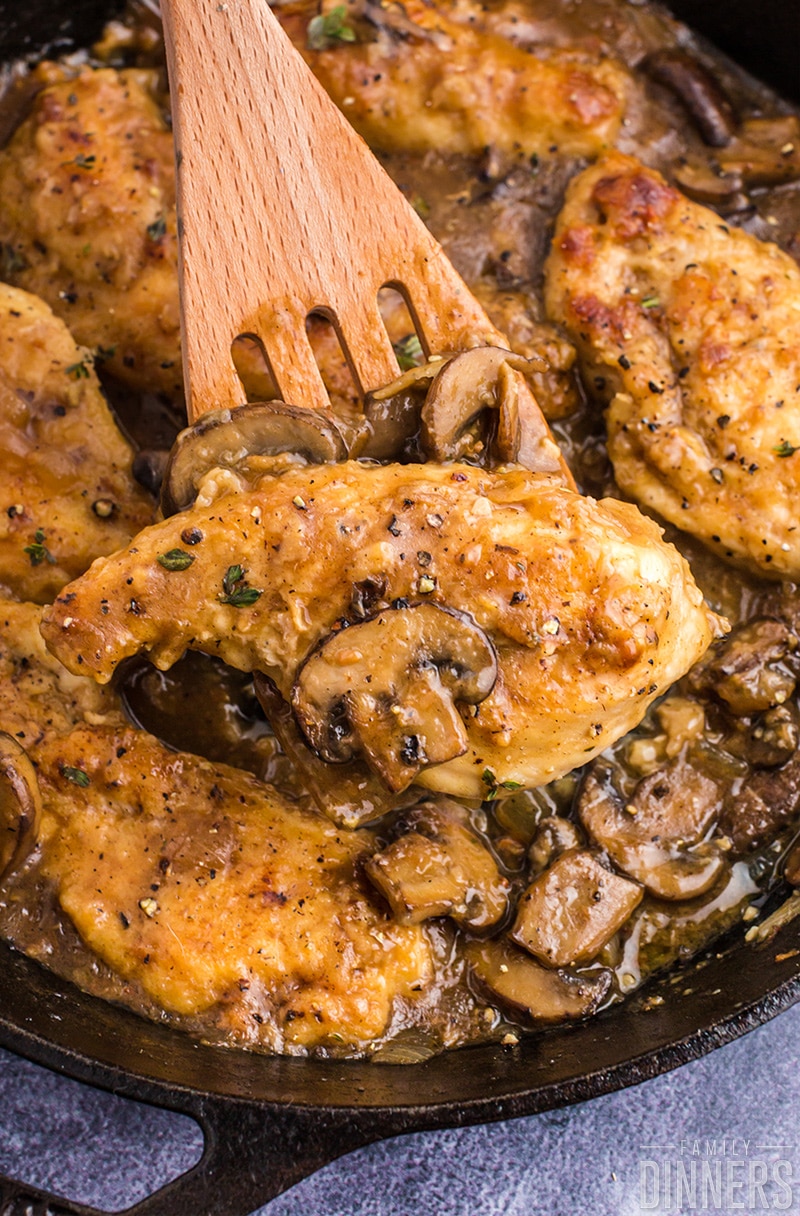 Chicken in White Wine Sauce: FamilyDinners.com
This is another family favorite. Everyone loves this. It's so rich and flavorful. We love making it with broccoli, mashed potatoes and garlic french bread.
---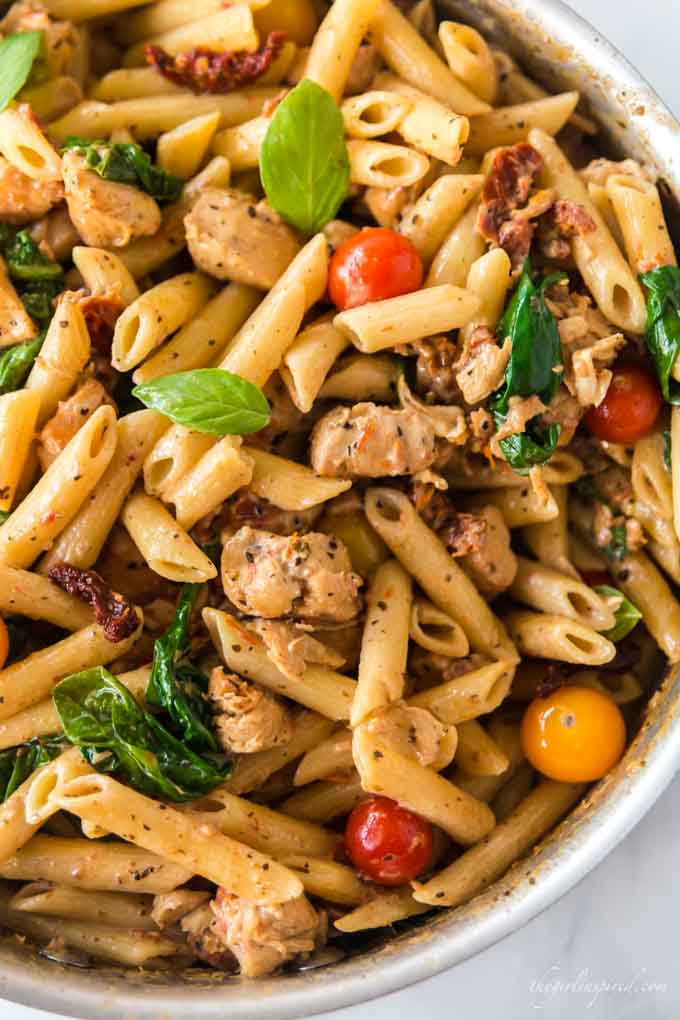 Creamy Chicken Pasta Skillet: thegirlinspired.com
Yum. This skillet chicken and pasta looks so good! I bet it even tastes good cold the next day!
---
More Skillet Chicken Recipes You'll Love
Photo Credit: tastesofhomemade.com
On the table in less than an hour, this skillet recipe is loaded with chicken and vegetables.
Photo Credit: theflavoursofkitchen.com
15 minutes to make this spicy chicken and vegetable skillet. Great when you're short on time!
Photo Credit: www.persnicketyplates.com
One pot and 30 minutes! If you love Rotel you'll love this chicken skillet.
More Chicken Skillet Recipes You'll Love
Photo Credit: cassidyscraveablecreations.com
YUM! Doesn't this look amazing? Perfect recipe to make if someone in the house is gluten free or keto! Add a side of pasta for those who aren't.
Photo Credit: www.smalltownwoman.com
If you have a little time, this looks amazing. Stuffed chicken creates a full meal in one skillet.
More Skillet Chicken Recipes You'll Love
Photo Credit: www.thetravelpalate.com
Burrito bowls are a winner for the whole family. This one looks delicious!
Photo Credit: www.wenthere8this.com
This is one of the best ways to cook chicken thighs. Just enough sweet and savory!
Photo Credit: soyummyrecipes.co.uk
I've never tried this but the flavors look delicious!
Skillet Chicken Recipes You'll Love
Photo Credit: spanishsabores.com
You'll find this recipe in Spanish kitchens! Delish!
Photo Credit: www.garnishandglaze.com
Chicken piccata is always a winner. This recipe looks delicious.
Photo Credit: simplelivingrecipes.com
Add your favorite starch or more veggies to make this a meal!
More Skillet Chicken Recipes You'll Love
Photo Credit: www.thefeastlocal.com
This chicken skillet is seasoned with Middle Eastern spices. Delicious!
Photo Credit: foodandjourneys.net
If you love garlic you'll want to make this garlic chicken.
Photo Credit: www.savorywithsoul.com
These crispy chicken strips are perfect for kids or as an appetizer.
More Skillet Chicken Recipes You'll Love
Photo Credit: littlesunnykitchen.com
This creamy chicken is a crowd pleaser!
Photo Credit: www.powered-by-mom.com
Photo Credit: straighttothehipsbaby.com
Serve this spicy Thai style chicken with rice and your favorite steamed veggies!
I hope you enjoyed those and found something you want to make! You might also enjoy these recipes: