There are SO many recipes out here on the web. Do you ever see beautiful photos of some good looking meal only to discover that when you make it the taste doesn't match up with the pretty pictures? Well I really hate that. So I'm starting a new series called the 5 Star Meal. I'm cooking new recipes and only sharing the ones that were a hit. Let's take a look at meal number 1, shall we?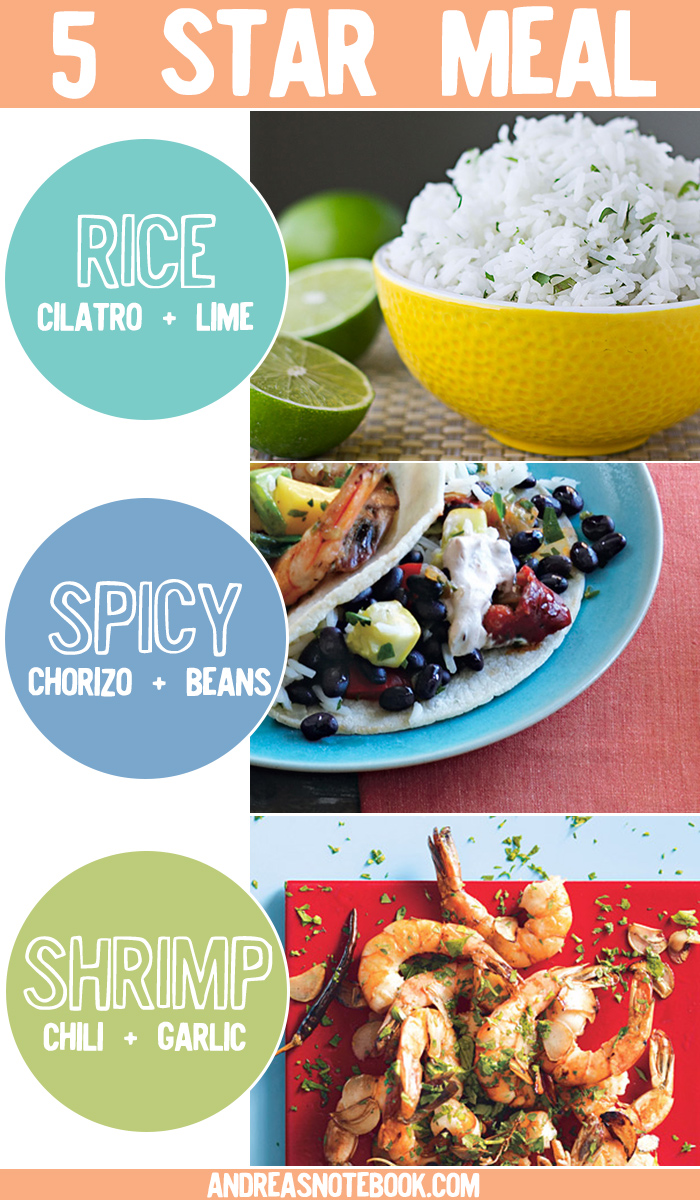 Those are some great looking photos, right?? Scroll down for recipe links.
Here's what we made:
Spicy Chorizo and Black Beans
Chili and Garlic Shrimp
Active Cooking Time:
30 minutes
Recipe changes:
The Spicy Chorizo and Black Beans includes a recipe for that delicious looking chipotle sour cream. I omitted that. It would have been tasty but we didn't eat these as a taco like in the beans photo so it wasn't essential.
Speaking of the beans, I used canned beans. I rinsed them then covered them with water and threw in the halved onion as the recipe calls for. They simmered for a short time then I removed from the heat.
I used my rice cooker for the rice. I made it in the cooker then rinsed the rise and followed the rest of the instructions.
I didn't have chilis for the shrimp dish so I used chili flakes.
What we all thought:
There are 6 people in our house. We've got super picky eaters and super adventurous eaters and everything in between. 4 out of 6 eaters thought this was a 5 star meal. 1 eater thought the beans were fantastic, loved the rice and took half a bite of shrimp. And one eater was in a foul mood and was sure to claim she disliked even her favorite foods and is thus disqualified from all voting.
What did I think? Amazing. Everything is so full of flavor. All different flavors but they worked really well together. The lime rice blends really well with the chorizo and beans but I do think the shrimp were my favorite. Though I really hate to choose.
Recipes
This Chipotle Copycat Cilantro Lime Rice recipe is amazing! So easy to make and tastes delicious with almost anything.
This Spicy Black Beans with Chorizo is delicious! I made it with canned black beans but you can make them like this recipe or make your black beans in the Instant Pot.
This Chile Garlic Shrimp recipe is delicious! I made it with peeled shrimp and it's delicious!
Enjoy!