Decorate your home or office for Christmas with this printable "Oh Joy" Christmas banner. Print it and hang it anywhere you want to bring a little extra joy.
This printable bunting has a print that looks like sweater knit, making it especially cute for anyone who loves knitting or a handmade look.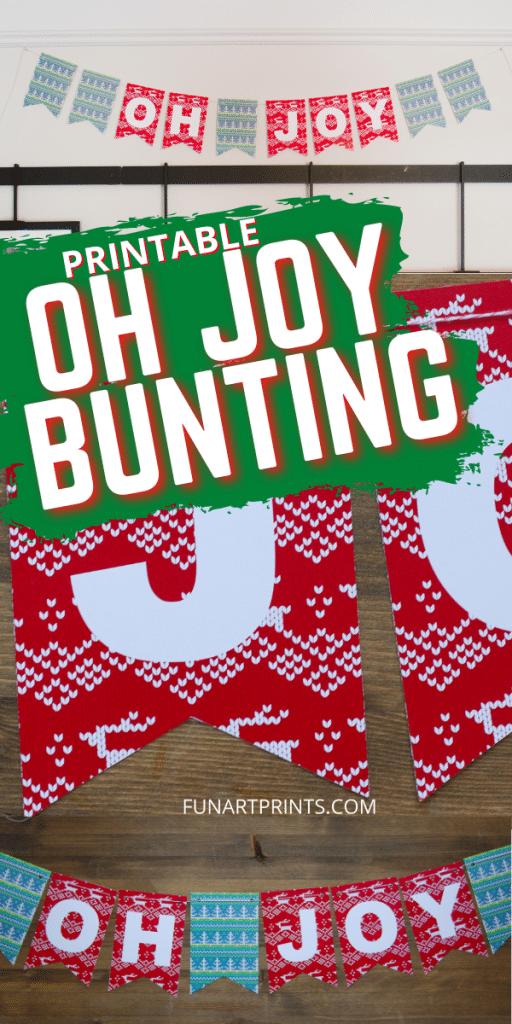 I made this Christmas bunting 4 years ago and have been hanging it in our home every year. I'm finally ready to share it with everyone else! You can buy this in my new etsy shop, FunArtPrints.com.
You can hang it with or without the green and blue buntings. I like it with all the pieces together but you can do it however you want.
Printable Oh Joy Christmas Banner
Below you can see a closeup of what the sweater knit print looks like. The blue piece has blue, green, turquoise and white with a tree print.
The red piece has red and white knit deer and the "OH JOY" letters on top.
I used a red and white twine to connect the bunting pieces. You can also use ribbon or a jute twine. Anything you love will work. Or tie a cute Christmas bow to decorate the ends.
I usually hang the bunting on the wall but a couple years I've hung it in a wide doorway in our entryway. You could also hang this off your mantel or your office desk! Click here to view on my ETSY shop.
Check out my new ETSY shop to see the other things there! You'll find a cute buffalo plaid "Merry" Christmas bunting as well. We always hang that one in a doorway each holiday season. I'll be adding new projects soon as well.