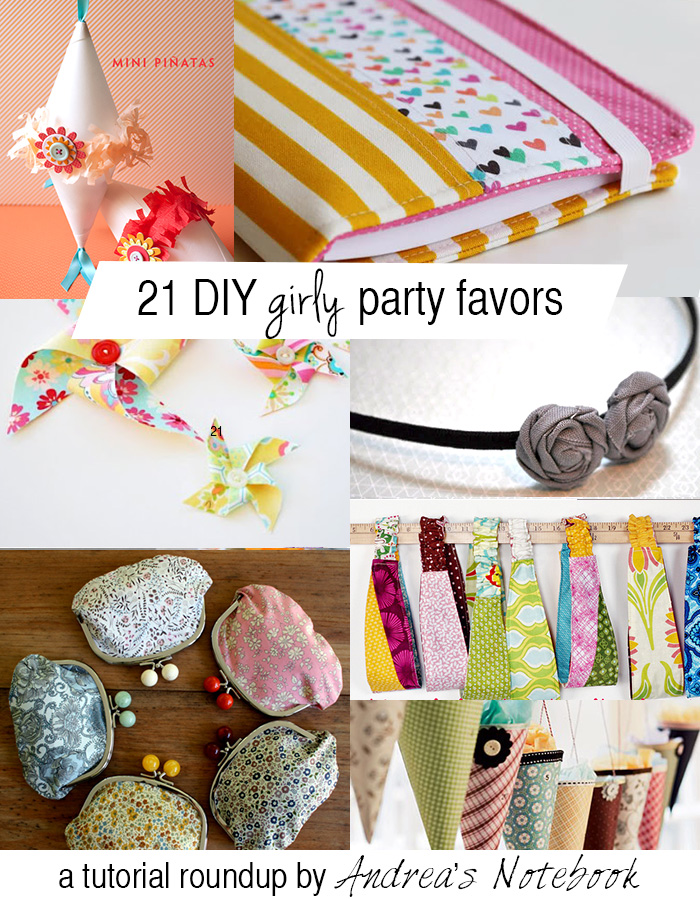 My 6 year old is about to be 7. I can hardly believe it. It is true what they say about it all going too fast. Right now I'm planning her birthday party. A simple party in the back yard with games and cupcakes. I want to make the party favors this year though. Something 7 year old girls would love and their parents wouldn't groan about more junk they don't need (hopefully). I haven't decided what I want to bake, craft or sew yet so I've narrowed down a little list of great DIY party favors of the girly variety.

The Sassy Bag Pattern from PegAnders etsy shop would be very cute!

Pencil Rolls
Mini Piñatas from One Charming Party

Cowgirl Cookies mix from Bakerella

Soft Notes Notebook from PegAnders. I know my girls would love this.

Ruffle Headband from Punkin Patterns

simple rosette headband tutorial from Small Things

double sided fabric headband

Double Strand Lace Headband by elisa mclaughlin

Braided Headband by Alisa Burke

Rosettes for clips, headbands, picture frames, etc. by Craftaholics Anonymous

Pinwheel Hair Clips from The Mother Huddle

Button Hair Clips from Martha Stewart

Felt Hair Clips from Come on, Ilene

Adorable Hair Bows from Living With Punks

Paper Cones

Coin Purse from Me? A Mom?

Coin Purse Kit by Purl Bee

Zip Itself Coin Purse from Craft Passion

Art Journal tutorial from Little Big Girl Studio

Chalkboard Placemat from Flamingo Toes