I spent a lot of time on Pinterest and google images looking for inspiration for my daughter's quilt. I never really found what I was envisioning so I created this Gathered Quilt or Duvet Cover. I'll show you how to make this top with a tutorial and you can quilt it or turn it into a duvet cover if you choose. I actually made it a duvet cover because I thought my daughter would prefer that but I might quilt it down the road. All you need is the ability to sew a straight line and you can make this cover yourself!
I chose some bright quilting cotton fabrics but you could go monochromatic or even use sheets for this. An all white cover would be really cute as well. My daughter just loves, loves color so that is exactly what she got!
Gather your supplies for the top:
neutral or white thread
63– 21″ x 10.5″ fabric pieces for top (more if you are making this larger than twin)
63– 10.5″ x 10.5″ fabric squares in white or unbleached woven fabric for a "backing" piece. I used muslin.
UPDATED: For 63 squares like this one you'll need 9.25 yards of fabric for the top (assuming 44″ wide fabric). You'll get 6 cut pieces per yard if you want to think of it that way. I think I used 9 different fabrics. The squares are 10″ square when finished which should help with your math if you are making a different size quilt.
For the backing fabric you'll need 4.6 yards of 44″ fabric or a full sized flat sheet.
Step 1– Gather long sides of fabric pieces. Use a long stitch or a ruffler foot to make the gathered side 10.5″ long just as the short side. It will be a square.
Step 2– Sew gathered piece to a backing piece to stabilize.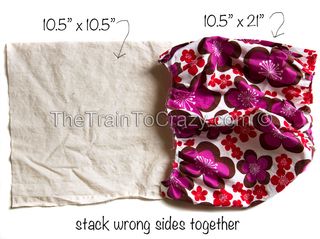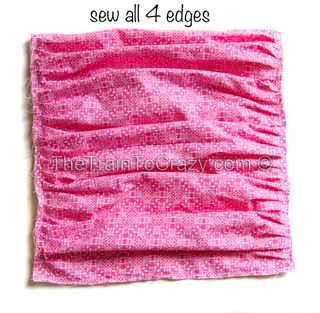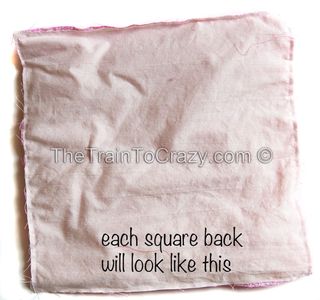 Step 3– Sew squares together! I recommend laying them all out to decide how you want them arranged. I chose to alternate the direction of the gathers to create the look I was going for. Then sew one row together at a time with a ¼″ seam allowance. After the rows are sewn you can finish the edges. I serged mine but you can use a zig zag stitch or pinking sheers if you'd like. This will prevent fraying.
After you have all your rows sewn, sew the rows together. Make sure to pin well and match the corners. Then finish the remaining edges.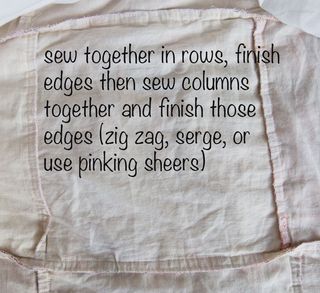 Step 4– Make your cover into a Duvet or Quilt! I used a flat sheet and stacked the cover, right sides together and sewed around the edges leaving a 4 foot opening on one end to stuff the duvet inside. Design Sponge has a tutorial for making a duvet cover if you want more instructions. To make a quilt you'll sandwich the backing piece (the same size as the top), top and cotton quilt batting. Stitch in the ditch (the seam) in a grid to sew the whole thing together. Sew on a binding around the edge. There are tons of quilt tutorials and you tube videos if you need help!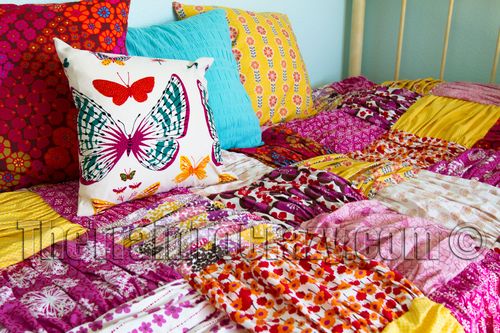 Be warned, this is not a super quick project. It is very easy but takes time!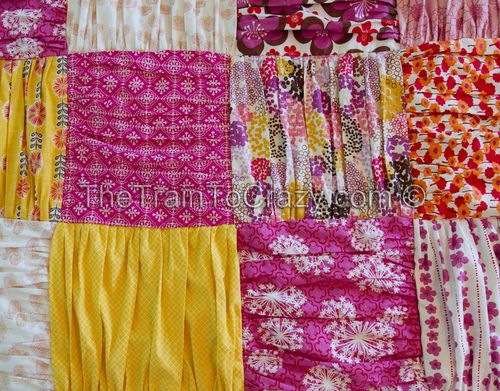 ***Edited: You will save a LOT of time buying a ruffler foot for your sewing machine but if you don't have one you could also save time doing the basting (long) stitch and then pin the top piece to the backing piece THEN pull the thread to gather. I actually don't love this method but a few people have mentioned they like it.