I love to Re-Fashion! It's simple, quick and you are re-using a piece you already have and/or already love! You can whip up this "TEE"zer skirt in no time! It's comfortable, original and eye catching! She will love it and so will her friends!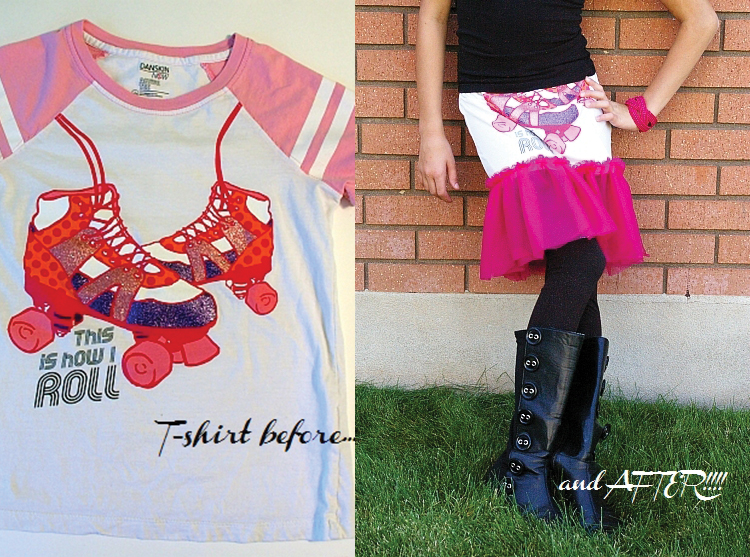 Supplies:
1 t-shirt
scissors
measuring tape
sewing machine
elastic
nylon chiffon or tulle
Instructions:

Cut the t-shirt just under the sleeves. Determine the length you want the knit part of the skirt to be (from waist to just below bum) and add 1 inch for the casing. Measure and cut the t-shirt to that measurement. (My measurement was 10.5 inches)
Cut your chiffon or tulle in long strips so you can gather it a bit. I like create this skirt with 2 layers of chiffon or tulle. (I cut mine to be 8″ high by whatever length I had on hand). The great thing about chiffon and tulle is you can slightly overlap the materials or "snug" them up close together when 1 strip runs out to create a continuous look.
Gather the fabric but running a basting stitch along the top of the strip. Do NOT back stitch at either end. Pull the thread from the underside of the fabric to gather or ruffle it. You can gather it a bit or a lot depending on the look you want how much material you are working with.
Place the fabric 1″ up from the bottom of the skirt piece. Pin into place all the way around. Using a straight or zig zag stitch sew the ruffled fabric to the skirt piece sewing over the stitching line creating from ruffling it.
Fold the top edge of the skirt piece over 1″ and pin to create a casing for the elastic to go through. Sew the casing leaving about a 2 – 3″ opening. Thread your elastic through, sew the ends of the elastic together and then sew the opening closed.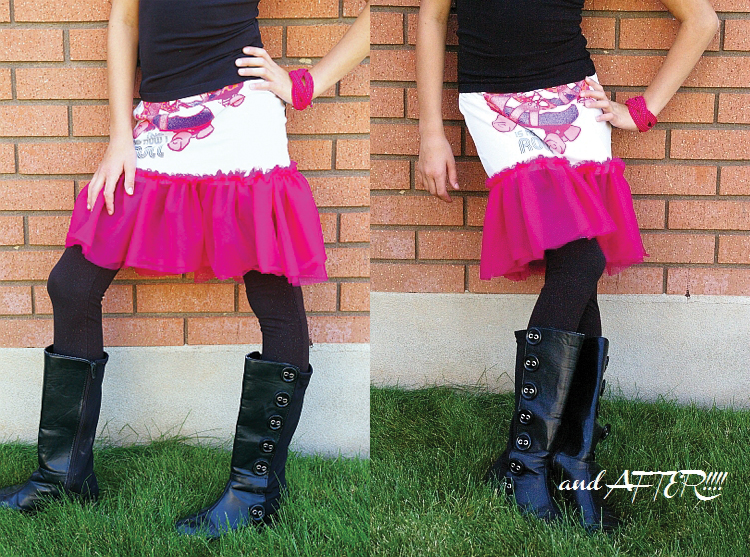 The skirt is done! It is meant to be worn with leggings underneath it. Just a fun pop of color in a lightweight, flouncy, girlie skirt!