DIY Wooden Car Mat – the perfect DIY gift or project for your kids!!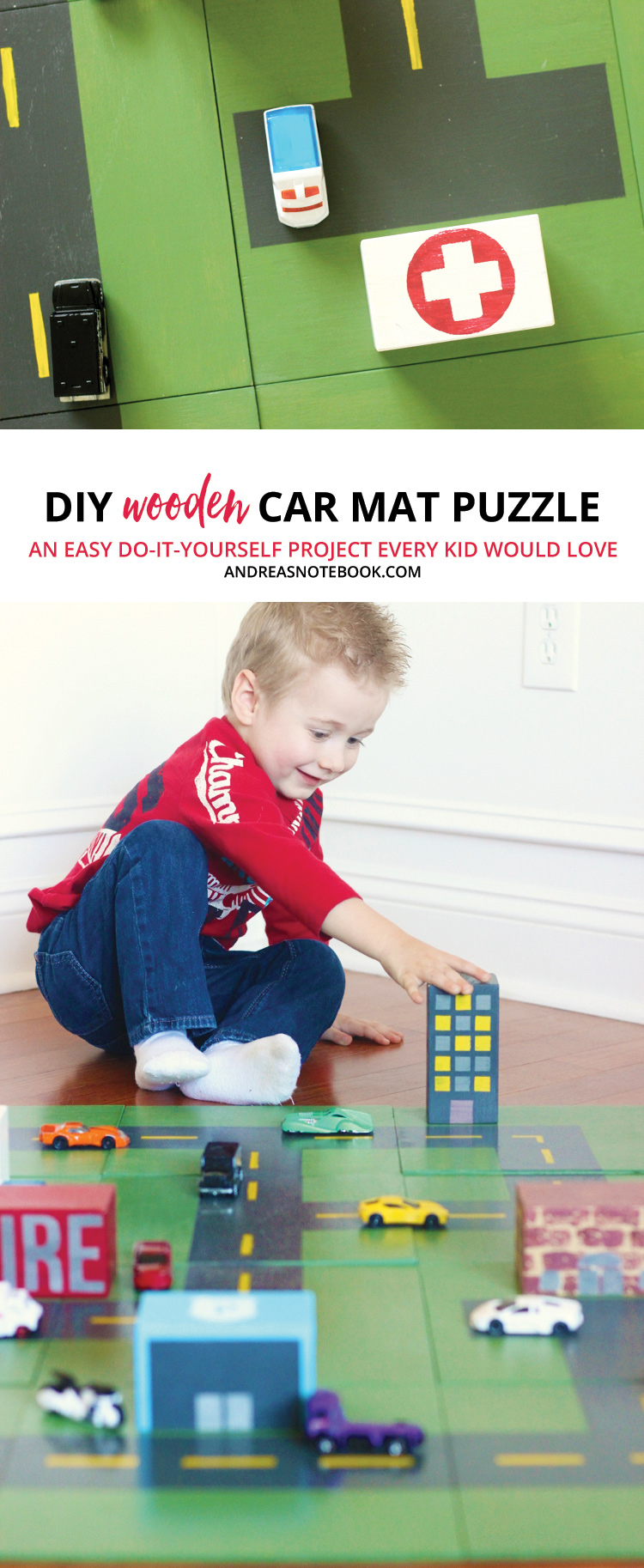 My little boy is obsessed with cars, so my husband came up with this brilliant idea to make a wooden car mat puzzle for him. If you have a car lover like I do they will be absolutely thrilled with this fun DIY project.
My husband is actually just a really big boy at heart. He finds joy in the simplest things like drip castles, movie night and nerf gun wars. Every year he helps me brainstorm DIY gifts for the kids and this year he was set on making a car mat puzzle.
He was so excited about making this for Owen that he actually went to all the trouble to figure out what materials we would need and priced it out and everything. He's pretty amazing like that!
Here is what we used to make 16 10×10 wooden squares and 10 buildings.
Supplies:
Ply wood (RevolutionPly Birch Plywood @ Lowes)
Circular or Chop Saw
Paint/brushes
Sand paper
Tape measure or Combo Square
Wooden blocks for the buildings (also found @ Lowes)
After gathering all the supplies, we used several date nights to make it while watching movies. These are totally the best date nights ever! Being creative together, making something for our kids, and just chilling!
Instructions:
The first step was cutting the boards down. Because we don't have a table saw we had Lowes cut 4 10" x 4' strips. We then used our chop saw to cut the strips down to 10″ squares. After they were all cut we lightly sanded them.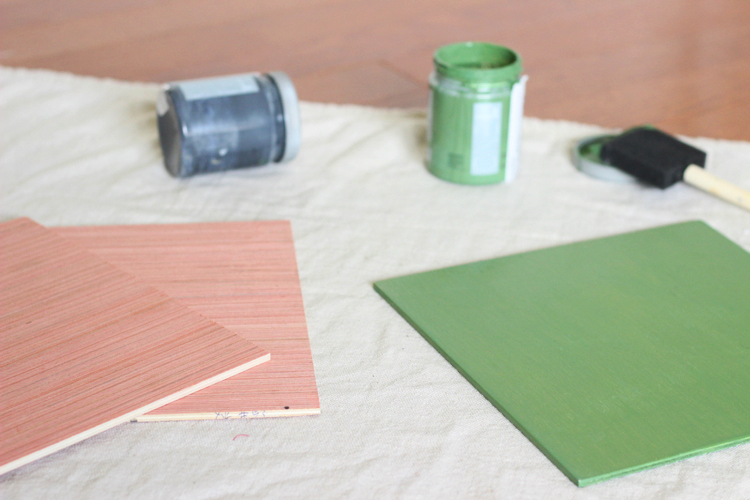 We painted ours green for the base. Did you know that you can get sample paint for super cheap at Lowes?? We only used half of a sample paint jar to cover the whole project – both sides of the boards!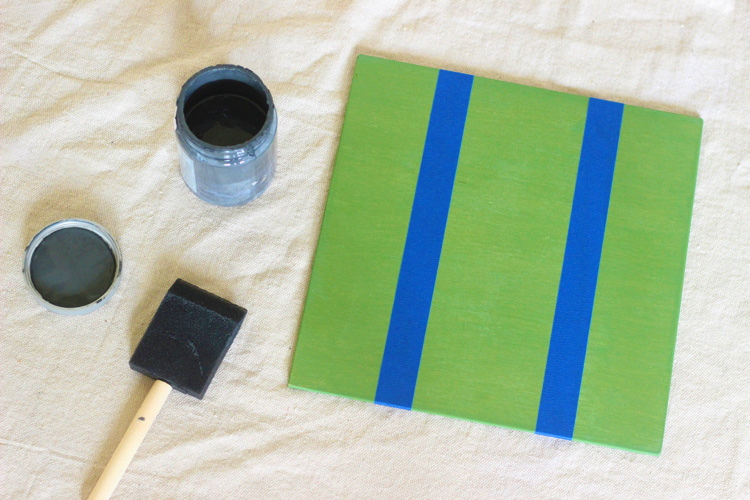 Let it dry and then tape where you want your roads to be! We painted our roads black. Then we let it dry again and painted on yellow lines! Let it dry one more time and give it one final protective coat!!! Make sure to let it dry before playing on it. That's a lot of drying time!
For the buildings we just designed windows, doors and made stencils of the words and symbols we wanted to paint onto the building. We made the stencils out of contact paper and then just stuck it onto the wooden block. I love how the word FIRE turned out.
The hospital symbol was difficult trying to get clean edges on the circle.
The kids love making different roads and cities and it's still one of their favorite things to do together. The fun thing about the mat is that the boards are double sided which gives them so many more options for creativity!
Their favorite buildings are definitely the police station, hospital and fire department!! I love all the little details that we were able to put in. To make the church we used a bigger block and then we glued a smaller block close to the front. After drilling a whole in the top we glued the end of a wooden skewer in to make a spire.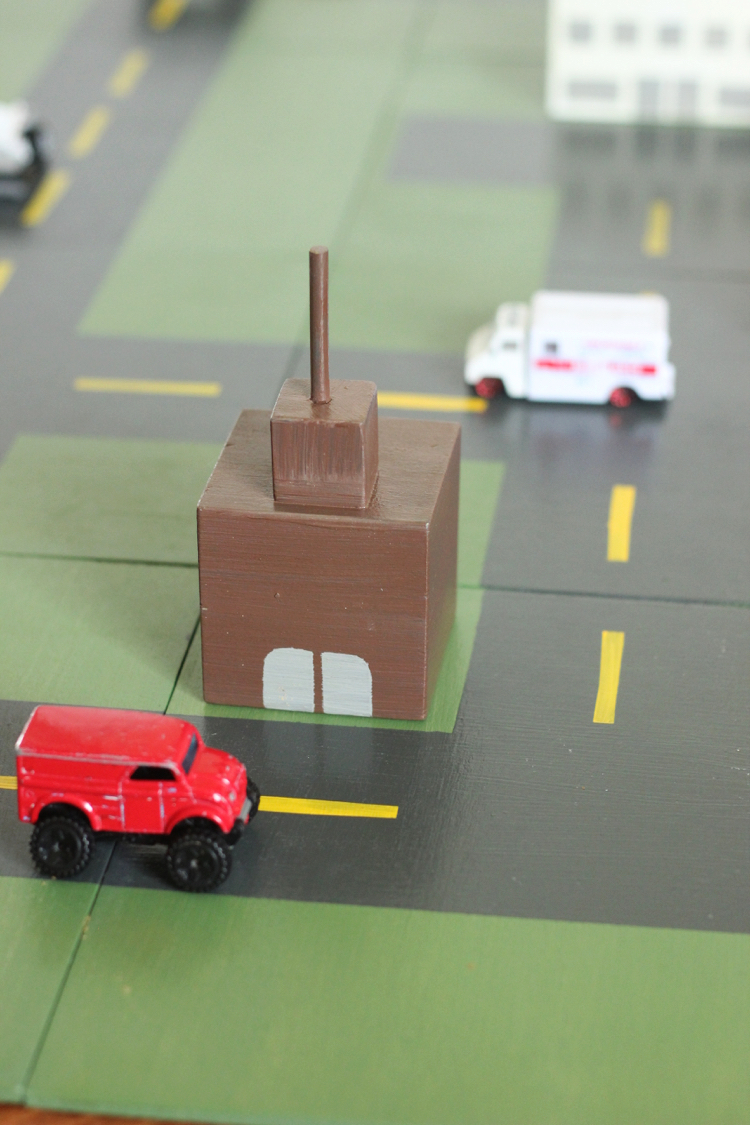 The gas station was another simple but cool design. We glued two wooden blocks together, one slightly longer than the other to make a cover. Then we glued a smaller block to the front of the block!
The kids have such a great time playing and their imaginations go wild! I think the extra details help them be more creative.
Bring on play time!