Today I am sharing with you the perfect DIY side tables. I love how the His & Hers tables face each other and are open, so that it's easy to use them while laying in bed! They are super easy and look fantastic… if I do say so myself!
My husband and I designed the side tables ourselves to match our new DIY platform bed that we just completed. However, they are so versatile and would compliment almost any room.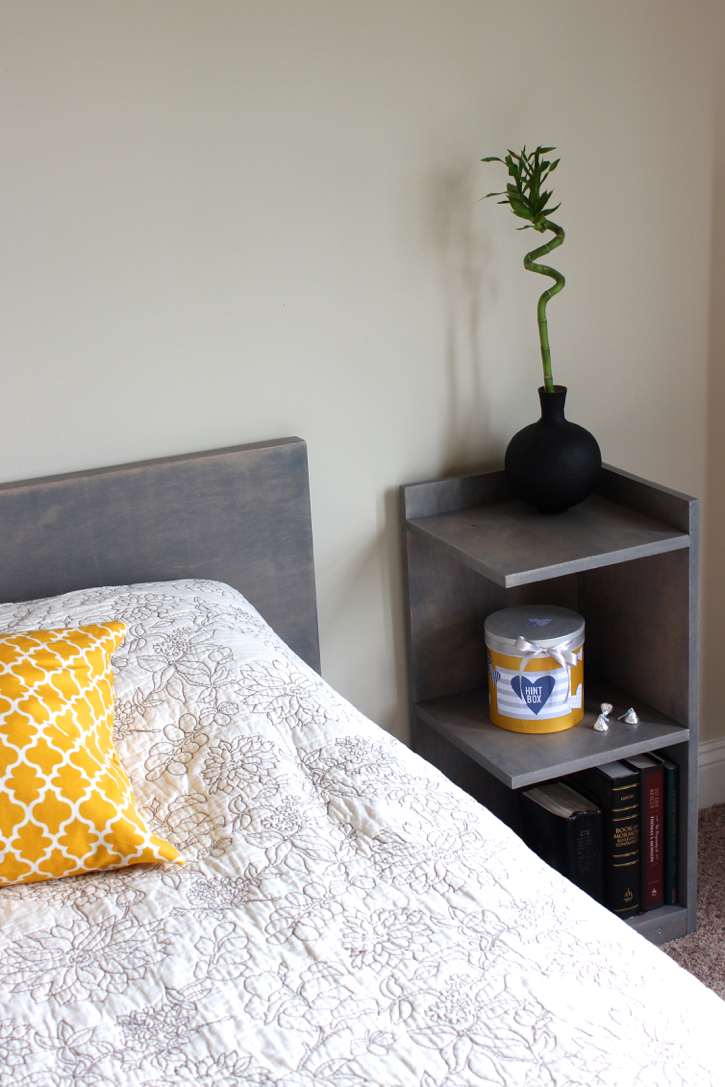 Supplies:
1 sheet ¾ inch 4×8 maple or oak plywood
Wood Veneer Edge Banding ¾ inch by 25 feet — Red Oak
#8 1 ¼ inch Flathead Wood Screws
Sand Paper
Wood stain or paint depending on how you want to finish your tables
Tools:
#6 Adjustable Counter Sink Bit
Tape Measure
Table Saw or Circular Saw
Drill
Large Clamps
Instructions:
1. Using the diagram and cut list, measure and cut out all your pieces!
2. Apply the veneer by using a hot iron to melt the glue so that it sticks to the edge of the plywood. Immediately after applying heat to melt the glue, use scrap wood to press the veneer edging until it cools and dries. There will be a little bit hanging over the edges which you will want to sand off to give it a nice finished look.
* Don't use an electric sander because it generates too much heat and will melt the glue and shift your veneer edging.
** Only apply veneer to the edges that will be visible once the side tables are completed.
3. Assemble your back and side pieces by clamping piece A to piece B. Evenly space 6 screws ⅜ in in from the back edge and pre-drill your holes using the counter sink bit.
3.1 Make sure edges are flush as you are driving your screws, you don't want any shifting!!
4. Assemble the base of your side table by clamping piece D to piece C. Once it is clamped in place, clamp a piece of scrap wood (no longer than 11 inches) up against piece D. This will provide the backing that piece D will screw into so that you don't have any screws going through the top of your shelf, giving you a nice CLEAN look!
5. Screw scrap wood to piece C using 2 screws. Unclamp the scrap wood and screw piece D into the scrap wood, using 3 screws evenly spaced. Don't forget to pre-drill your holes.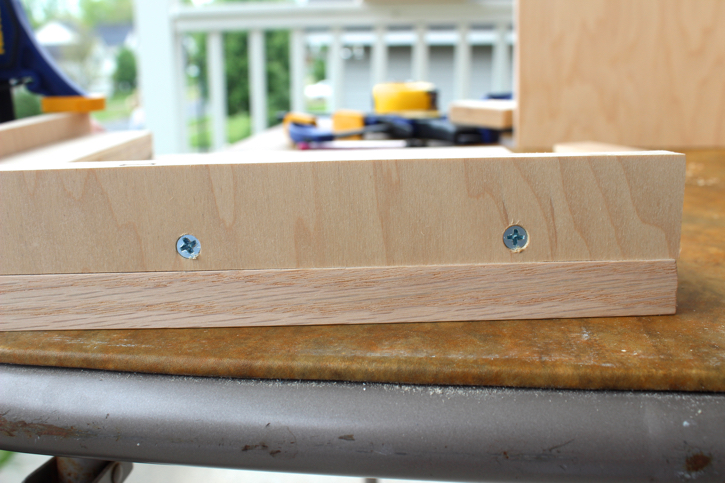 6. Repeat steps 4 and 5 with piece E. Carefully line up the edges, clamp, screw… ta da! Your base is done.
7. Mark your shelf height on the assembled back and side (pieces A and B) of your side tables. The base will be 2 inches from the bottom. We evenly spaced our shelves so that the middle shelf is 14 inches from the bottom and the top shelf is 26 inches from the bottom. Mark on both edges of piece A and B to make sure your shelf is level.
8. On the back of your assembled back and side pieces, mark and pre-drill holes for your shelves ⅜ in lower than your shelf height.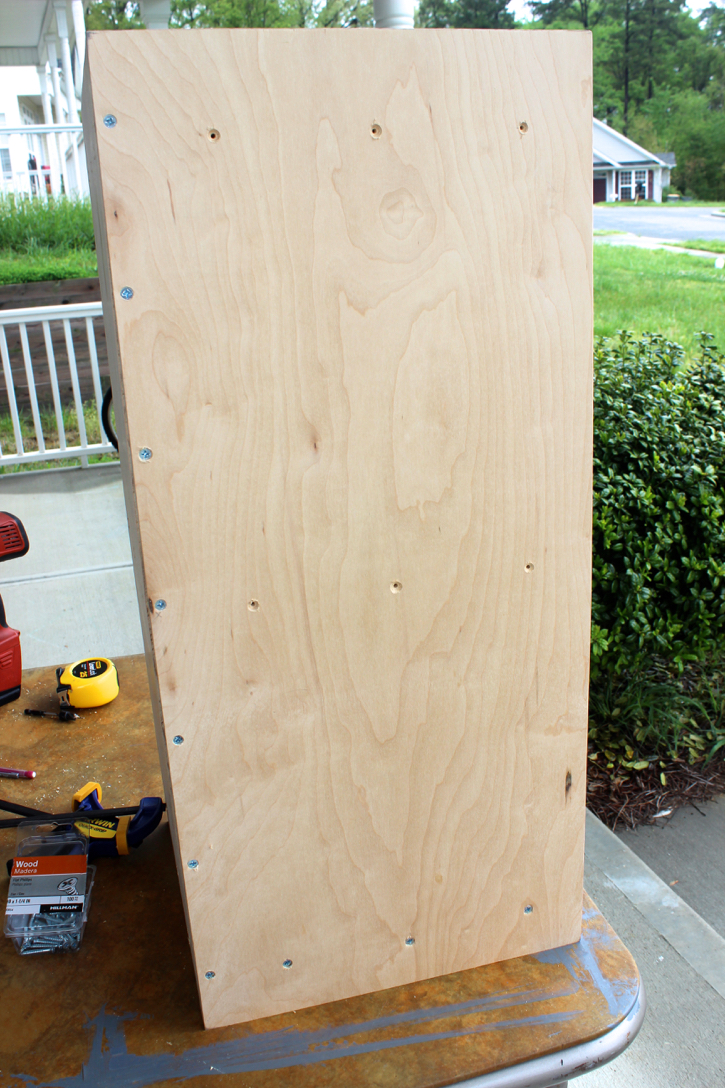 9. Attach the base by clamping it into position. The bottom of your base shelf should be flush with the bottom of the back and side pieces. Screw outside screws into place first and triple check the inside corner to make sure it is still lined up. Then screw your inside screws into place.
10. Clamp your middle shelf into place using your marks. Screw into place using the same procedure as you did with the base. Repeat for your top shelf!
11. Finish your side tables however you want!! We used Rustoleum's Weathered Grey Stain and a couple coats of Polyurethane to protect our side tables.
12. Congratulate yourself on a job well done! Decorate and start using your side tables!! This is the most exciting step I think!
I absolutely love how they turned out! They are unique, fun and extremely functional!
Lovely, right? Check out the platform bed tutorial too!