Make a trip to your farmers market or your garden and grab some grape tomatoes or cherry tomatoes! Here are 27 cherry tomato recipes to satisfy your fresh tomato craving!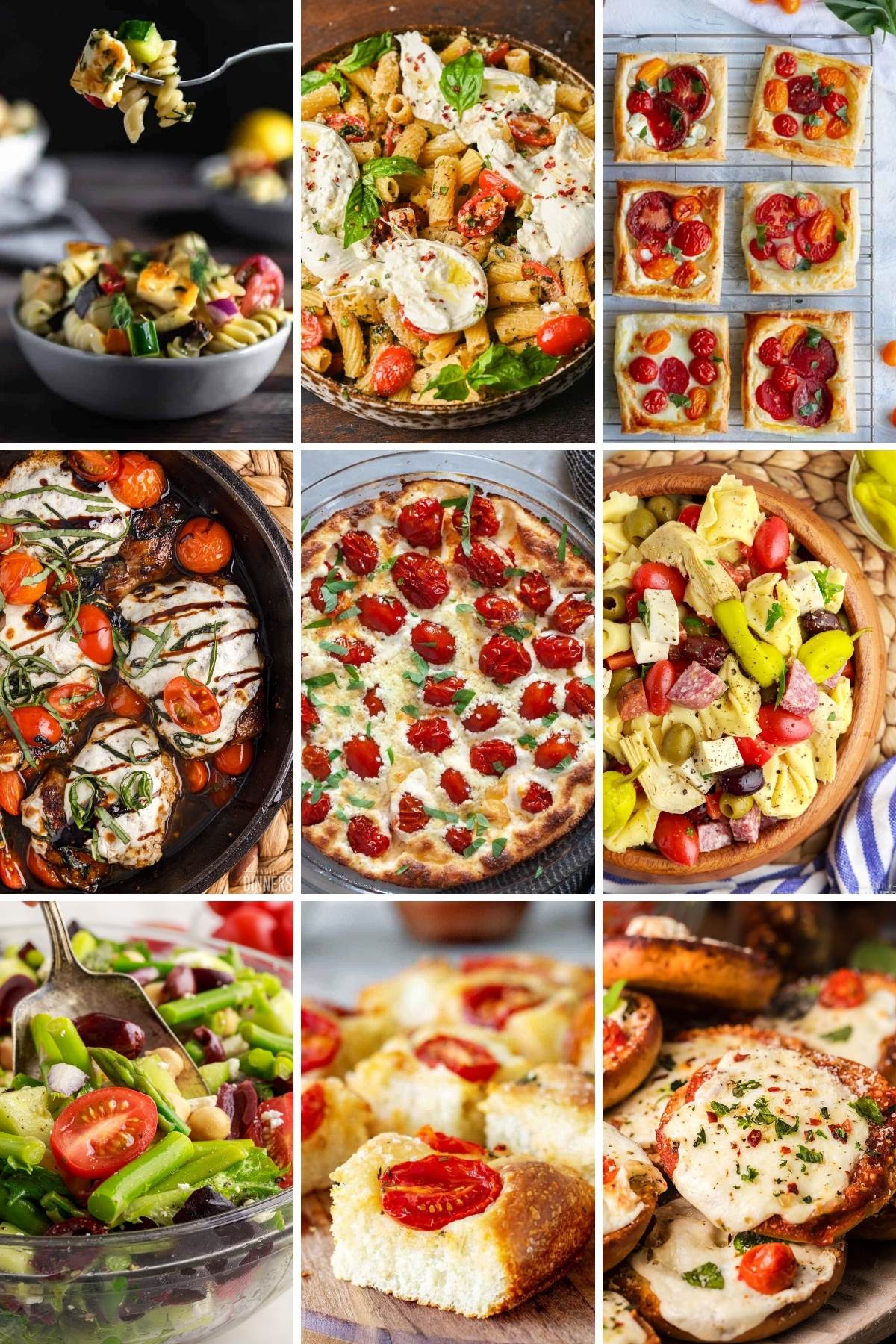 Dinner Recipes
Baked Fish Fillets with Cherry Tomato Sauce: Make a healthy dinner with baked white fish topped with a sauce made from cherry tomatoes, orange zest, lemon zest, sweet Thai chili sauce and more. Healthy and flavorful.
Steak and Asparagus Stir Fry: Steak and Asparagus stir-fry is a quick and delicious weeknight dinner and a great way to extend a steak. Mushrooms and red peppers are tasty additions and a delicious sesame ginger sauce completes it all.
Caprese Chicken Thighs: Mouth watering chicken thigh skillet recipe! Gather your boneless skinless chicken thighs, olive oil, balsamic vinegar, juicy cherry tomatoes, fresh mozzarella, fresh basil and you'll have this delicious meal in 35 minutes.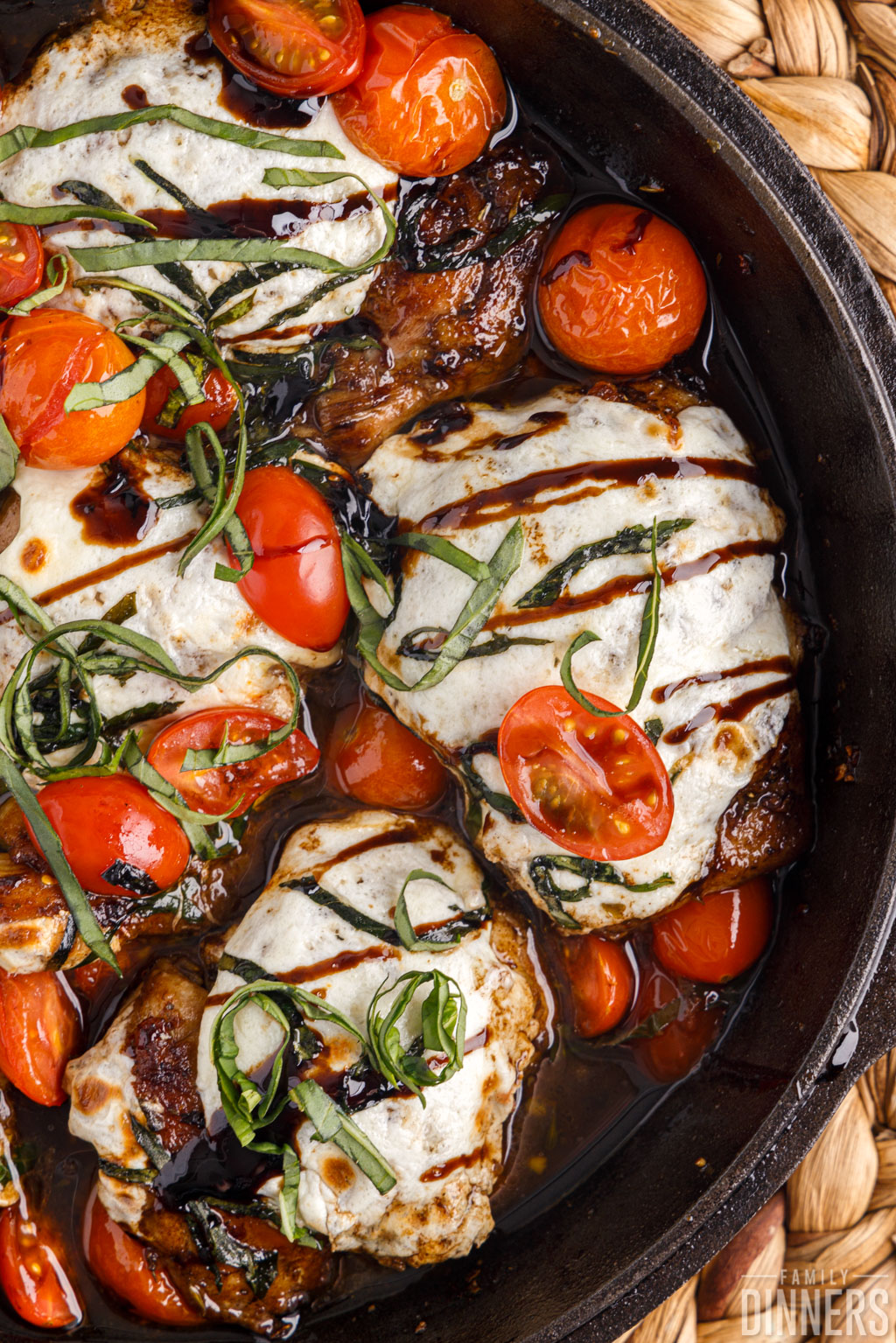 If you love chicken recipes, check out all these smoked chicken recipes or whole chicken recipes.
Salmon with Tomatoes and Spinach: This salmon with tomatoes and spinach is seared salmon fillets seasoned and cooked to perfection. Topped off with juicy tomatoes and fresh spinach. Made with just a handful of ingredients in under 40 minutes!
Veggie Kabobs with Halloumi: These grilled veggie kabobs with halloumi are like sunshine on your grill! They're so delicious, flavorful, and really fun to make! A great grilling side (or main) that your whole family will love.
Authentic Indian Chicken Curry: Authentic Indian curry in under an hour. Made with Madras curry paste, coconut milk, chilis, cherry tomatoes, bell peppers, ginger, Garam Masala and more.
Pasta Recipes
Creamy Cherry Tomato Pasta: Make this extra creamy cherry tomato pasta alla vodka in less than 30 minutes! Using sweet summer cherry tomatoes for the best flavor, along with fresh herbs and plenty of parmesan cheese, this creamy sauce is bursting with fresh, craveable flavor.
Baked Feta Pasta with Chorizo: Baked Feta Pasta is one Tiktok-viral food trend that is definitely worth the hype! This bold variation calls for the addition of chorizo and hot peppers for a zesty one-pan dinner.
Halloumi Pasta Salad with Green Herb Vinaigrette: This Halloumi Pasta Salad recipe is a delicious and colorful addition to any Summertime spread! Pasta, lots of veggies, olives and halloumi cheese make this easy recipe so crave worthy!
Tuscan Salmon Pasta: This dish is such a guilty-free pleasure. It is ready in less than 30 minutes and makes an excellent cherry tomato recipe. That makes this a healthy, low calorie meal the entire family can enjoy!
Rigatoni Burrata with Blistered Tomatoes: This Rigatoni Burrata contains blistered tomatoes, fresh basil, and complementary seasonings, and is ready in less than 30 minutes!
Lazy Slow Cooker TikTok Feta Pasta: Slow cooker TikTok feta pasta is a crockpot version of the internet famous recipe. This adapted and slightly tweaked version of the original is easier, cheesier and so delicious!
Antipasto Tortellini Salad: Made with cooked tortellini, olives, fresh mozzarella, salami, pepperoni, artichokes and more. It's beautiful and delicious. As far as cherry tomato recipes go, this is one of my favorites.
Side Dishes
Vegan Couscous Salad: Made with Israeli couscous, avocado, balsamic vinegar, cherry tomato, lemon juice, salt, pepper, coriander and more delicious flavors. All in only 20 minutes from start to finish!
Chopped Asparagus Salad with Lemon Vinaigrette: This fresh salad topped with fresh cherry tomatoes, asparagus, chickpeas, feta cheese and kalamata olives is perfect for any meal. You could always swap out the asparagus for cucumbers or green beans as well.
Easy Zucchini and Tomato Casserole: This is a great way to use your garden vegetables. Make this baked casserole with an onion, garlic, zucchini, cherry tomatoes, fresh basil, grated Parmesan cheese, crumbled feta cheese, cream cheese, eggs and butter. Yum!
Tomato Focaccia Bread: Homemade focaccia is made with yeast, all-purpose flour, sugar, sea salt, olive oil, cherry tomatoes and fresh oregano and thyme. Bake and enjoy!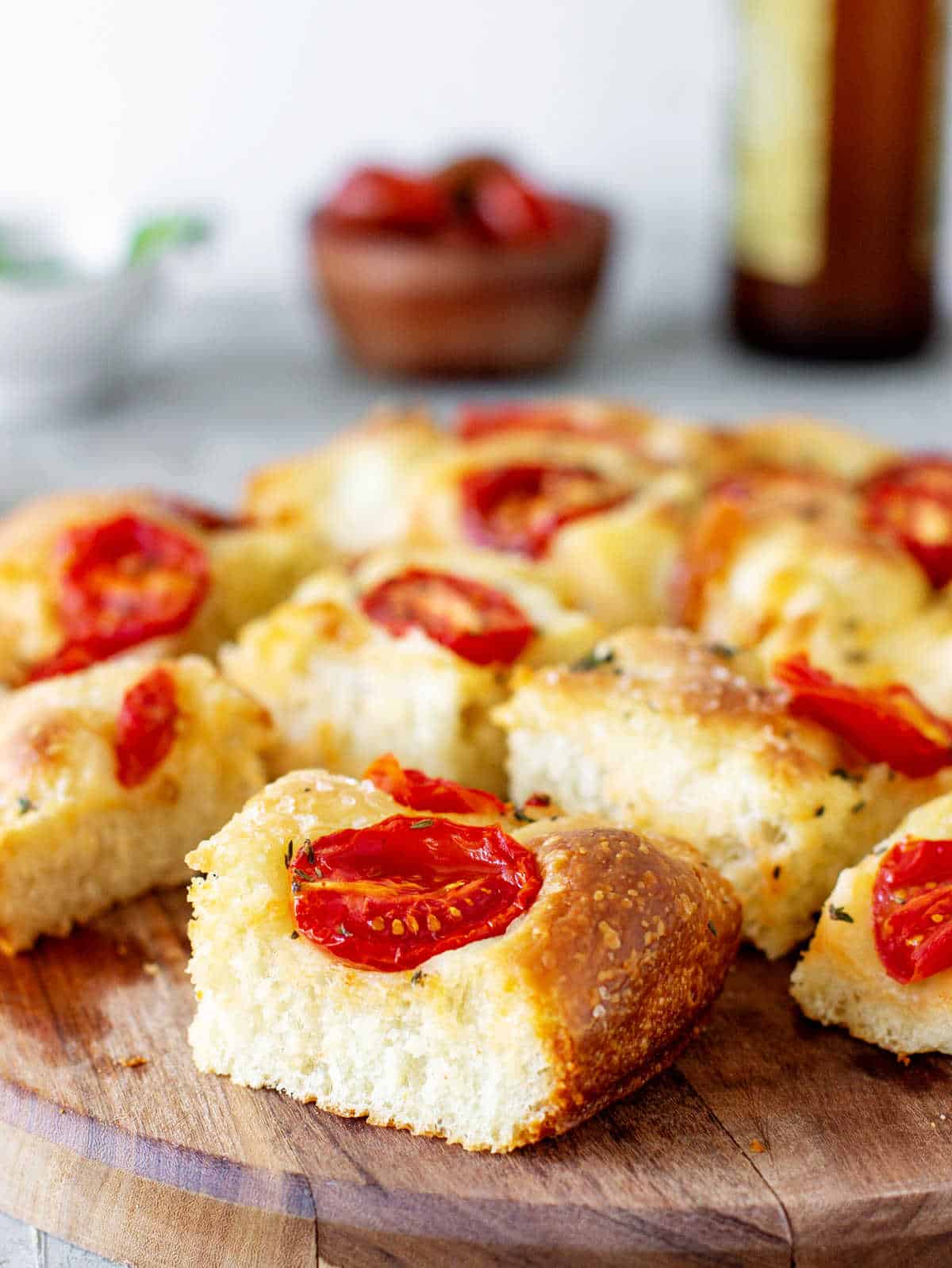 Arugula Caprese Salad: A traditional caprese salad with the addition of an arugula base.
Cobb Salad: A traditional cobb salad is full of delicious toppings, including tomatoes. This cobb salad has bacon, avocado, eggs, blue cheese and turkey.
Roasted Cherry Tomato Soup: Easy to make and full of Summer flavors, this Roasted Cherry Tomato Soup is a delicious soup to make in the Spring! You'll never go back to the canned soup after you make your own!
Other Recipes
Cherry Tomato Confit: Gather your cherry tomatoes, extra virgin olive oil, fresh rosemary, thyme and basil, garlic, honey, lemon zest and a few more seasonings to make this delicious condiment.
Homemade Mini Pizza Bagel Bites: These homemade mini pizza bagel bites are just as more-ish as they sound! That's right – one is never enough. Once you know how to make bagel bites, you'll want to rustle up this bite size pizza snack all the time.
Homemade Salsa Recipe: Make fresh homemade salsa with vine-ripened cherry tomatoes, bell peppers, red onions, garlic, and jalapeño peppers roasted in the oven to bring out their flavors.
Cherry Tomato Confit: Similar to the recipe above, this one is a bit simpler and quicker to roast cherry tomatoes. It looks delicious!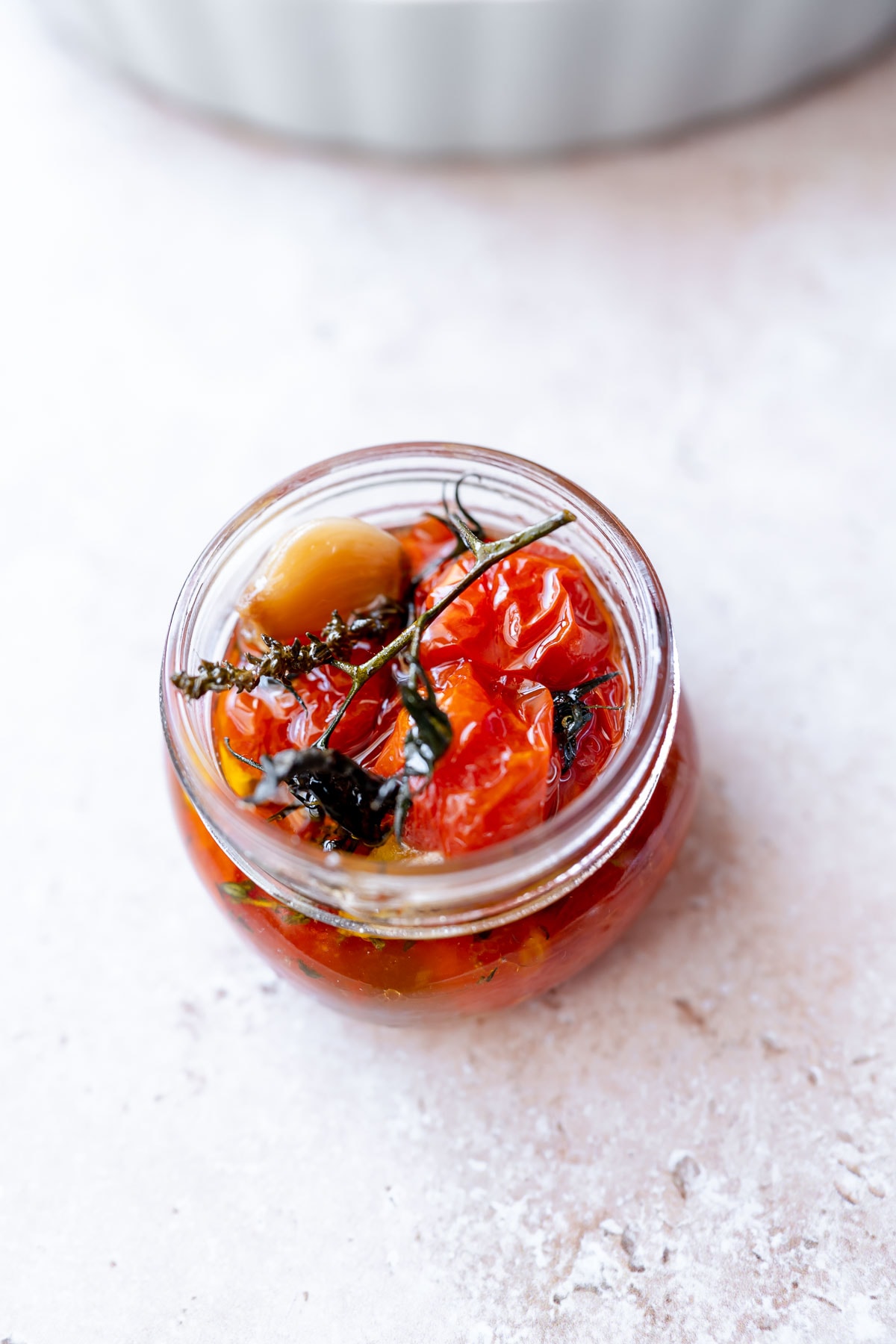 Puff Pastry Tomato Tarts: This easy tomato tart is made with garden fresh herbs, summer tomatoes, soft cheese, and golden puff pastry.
Cheese and Tomato Quiche: This Cherry Tomato Quiche with Cheese and Basil is perfect for brunch, a light lunch or even dinner. With its homemade flakey pastry, cheesy filling, sweet cherry tomatoes and fragrant herbs, this quiche will be delicious for any meal of the day!
Baked Goat Cheese Dip: Creamy dip topped with roasted tomatoes. This dip makes the perfect appetizer for any occasion. Serve it bubbling hot straight from the oven with little toasts or pita chips.