As Thanksgiving approaches, many parents are thinking of ways to teach their kids the reason for the season. Thanksgiving is about being thankful for what you have, and many kids and adults alike have lost this. Here are 20 ways to teach your kids to be thankful!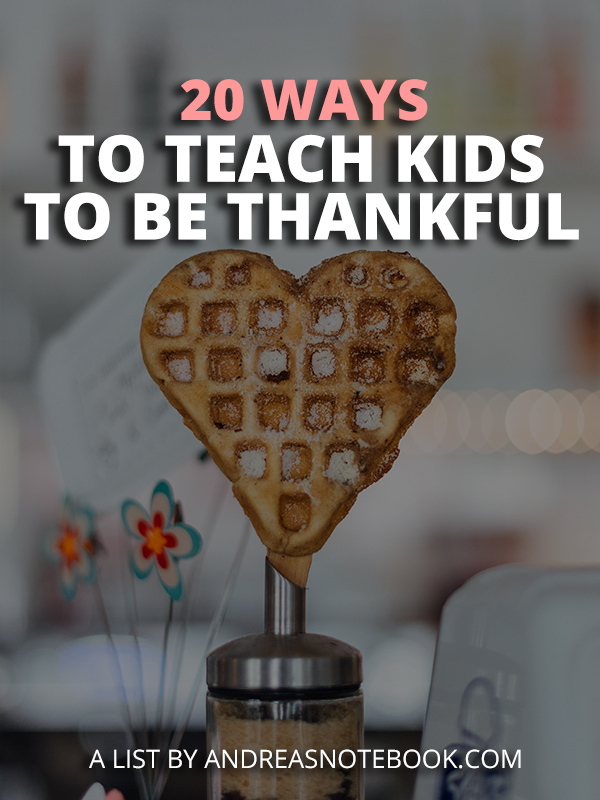 20 Ways to Teach Kids to Be Thankful
Be a role model. This is one of the greatest ways to teach your kids to be thankful. Show them what it means through being thankful yourself.
Have a thankful day. Take a day out of the week in which each member of the family tells one thing they are thankful for.
Take your kids to a homeless shelter. Take time to volunteer at your local homeless shelter so your kids can see the value in having a home to live in.
Make a thankful jar. From November through December, have your kids write one thing they are thankful for each day of the week.
Make them save for something expensive. Saving money is a great way for your kids to realize the value of money and so appreciation for what you buy them.
Don't do everything. It is important for kids to know the work that goes into raising them. Keep them accountable for chores around the house.
Give praise to your kids. Thank them for the little things they do for you and others.
Show them how to give. Giving to the needy is a great way for your kids to see the needs of others and be thankful for what they have.
Send thank you notes. Have your kids write one sentence per grade they are to a friend or family member thanking them for something.
Talk to your kids. Talk to your kids about being thankful and how they can show.
Do thankful crafts. Kids love crafts like the thankful turkey and thankful hands that give your children opportunities to think about what they are grateful for.
Make please and thank you for a part of your speech. When your kids ask for something, make it a routine to always say please and thank you.
Encourage giving to others. Whether to a local church or program in the community, encourage your kids to give time, energy, or money to others.
Read books together. Books like The Giving Tree, Have You Filled a Bucket Today, and Just So Thankful teach kids what it means to be thankful in ways they can understand.
Create lists of needs and wants. Have your kids create lists of things they want as well as things they need.
Adopt a family for the holidays. Not everyone is as fortunate to have their needs met let alone their wants. Adopting a family gives your kids the opportunity to give to those in need.
Teach your kids less is more. Giving your kids everything their heart desires doesn't teach them to appreciate what they get especially if they break it.
Complain less. Sometimes we have bad days, but make complaining less and thankfulness more. Allow 15-20 minutes to complain then end the conversation with something positive.
Research 3rd world countries. Compare things your children have with things children in other countries have. Show them what life is like in other parts of the world.
Love each other. This may seem easy, but loving one another even in the midst of fighting can be hard. The more you show love, the more thankful you will all be.
Teaching your kids to be thankful creates strong, independent, and respectful adults. What other ways do you teach thankfulness in your home? Share in the comments below!
More Posts You'll Enjoy