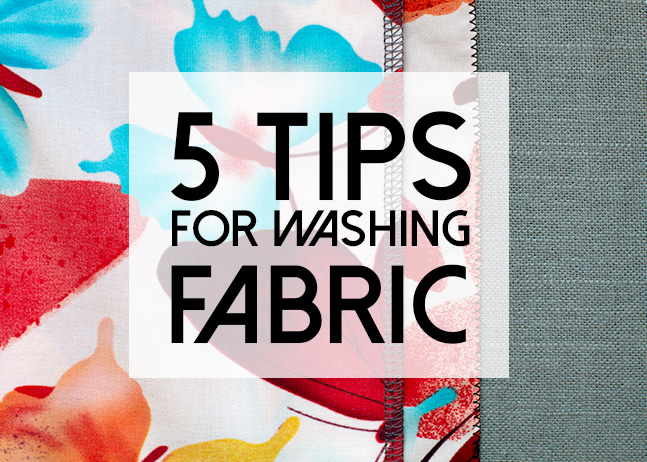 Pre-washing fabric is one of those things that everyone knows is important but so many people dread because the fabric comes out of the dryer in a tangled, wrinkled mess. Never fear, it doesn't have to be that way! I've found the best tips that I've tried and love.
1. Put the fabric in the washing machine before putting it away.
I never put unwashed fabric with washed fabric. First, because I'll likely forget which is washed and which isn't. Second, because when I want to start a project I want the fabric to be ready to use!

2. Serge or zig zag stitch the raw edges.
Serge or a zig zag near the edge to help keep edges from fraying. This keeps the fabric from getting tangled and prevents some of those wrinkles that come as a result of the giant ball of fabric that just tumbles and twists around together.

3. OR, Serge the raw edges together.
Cheri has a genius little trick she uses (shared on facebook). It's a great way to keep wrinkles at bay as well. Keep in mind that you will lose about an inch of fabric because you'll have to cut it apart.
4. Wash according to fabric care needs.
Pay attention when you're buying fabric! If it says dry clean only, guess what. If you forgot to look at the washing care here's a great list of how to care for which types of fabrics.
5. Fold as soon as you remove it from the dryer.
Even if you don't have time to iron it right away, fold it. Give it a good shake, then put the selvedge edges together, then fold in half that way again. Take out your 6″ ruler (or just "wing it") and fold the fabric evenly. This will keep your fabric near until you're ready to use!