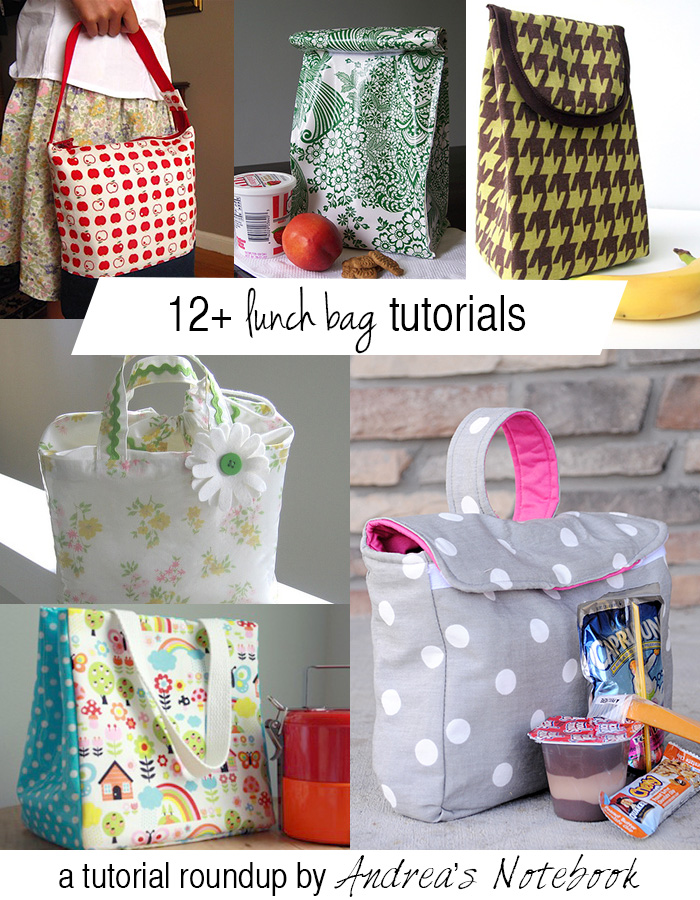 Sew a lunch bag! Here are 12 great lunch bag tutorials you'll enjoy! Of course, when making a lunch bag or snack bags for your kids, be mindful that these are for food. Stay away from fabrics that are not safe for food.
12 lunch bag tutorials
Zippered top lunch bag by Blissful: I actually made a couple of these last year and really liked them.
Washable lunch bag by the Mad Quilter
Lunch Bag by The Long Thread
Fabric Lunch Bag by Crazy Little Projects
Handled Lunch Box by the Pink Penguin
Lunch Sack by Lemon Squeezy Home
Panelled Insulated Lunch Bag by Savvy Seams
Lunch Bag from Bend The Rules With Fabric via The Storque
Oil Cloth Lunch Sack by Tumbling Blocks
Cute Enough To Eat Lunch Bag by JoAnn's: I actually enlarged this pattern for the last lunch bag I made.
Then make yourself an ice pack, a cute ice pack cover, a few napkins, a sandwich wrap & mat, or snack bag and you're good! But please (PLEASE) don't use oil cloth, PUL or other fabrics that aren't supposed to be against your child's food. I say, who cares if it doesn't wipe clean, just wash it!
Have you made a lunch bag or box? Did you create your own pattern or use one you found?
You may also like: