The following is sponsored by Girl Charlee.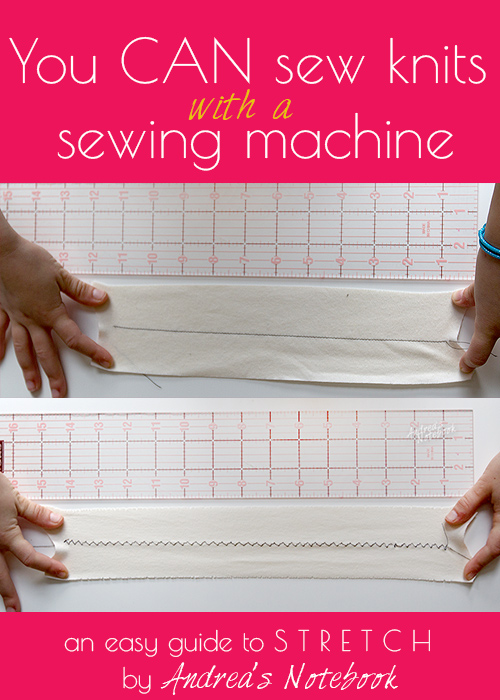 Sewing knits can be mysterious. don't be intimidated! While every sewing machine handles knits a bit differently, there are some universal tips that will help you get the best results. Let's talk about what stitch you should use on your sewing machine. I think it's good to note that a serger is ideal for knits but definitely not necessary. You'll be on your way to sewing your favorite top in no time!
Let's test out some stitches, shall we? First, cut some equal strips of the fabric you want to use. I cut mine 3″x10″. I measured the stretch of the fabric, which turned out to be about 40%. This is a good amount of stretch for any top, dress or skirt.
Now let's start testing our stitches!

Not all sewing machines have fancy stitches. If you only have a straight stitch you CAN sew knits but, as you can see, you will need to stretch your knit as you go and it will end up slightly puckered.
A zig zag stitch is on nearly all machines and is a great option. Make it a little narrower so your seams will lie flat. You may want to test out the difference between your 3 step zig zag and your regular zig zag to see which you like best.
A knit stitch is a nice, straight stitch that also has stretch. It's durable as well. As you can see, it doesn't have as much stretch as some other stitches but it does make your seams lie flat.
A faux serger stitch is GREAT if you have it!
Ready to learn more about sewing with knits?? Head over to these other great blogs for tips you don't want to miss!
See Kate Sew: An intro to knits, the first post you want to read!
Melly Sews: An up close look at the differences in types of knit fabrics
Shwin & Shwin: Knits 102, understanding the coverstitch and overlock stitch
March 24th is the LAST day to buy the Just Add Jeans Collection! Please don't miss out! The patterns will be for sale individually beginning March 25th.
UPDATE: This is what my stitches look like on my machine.