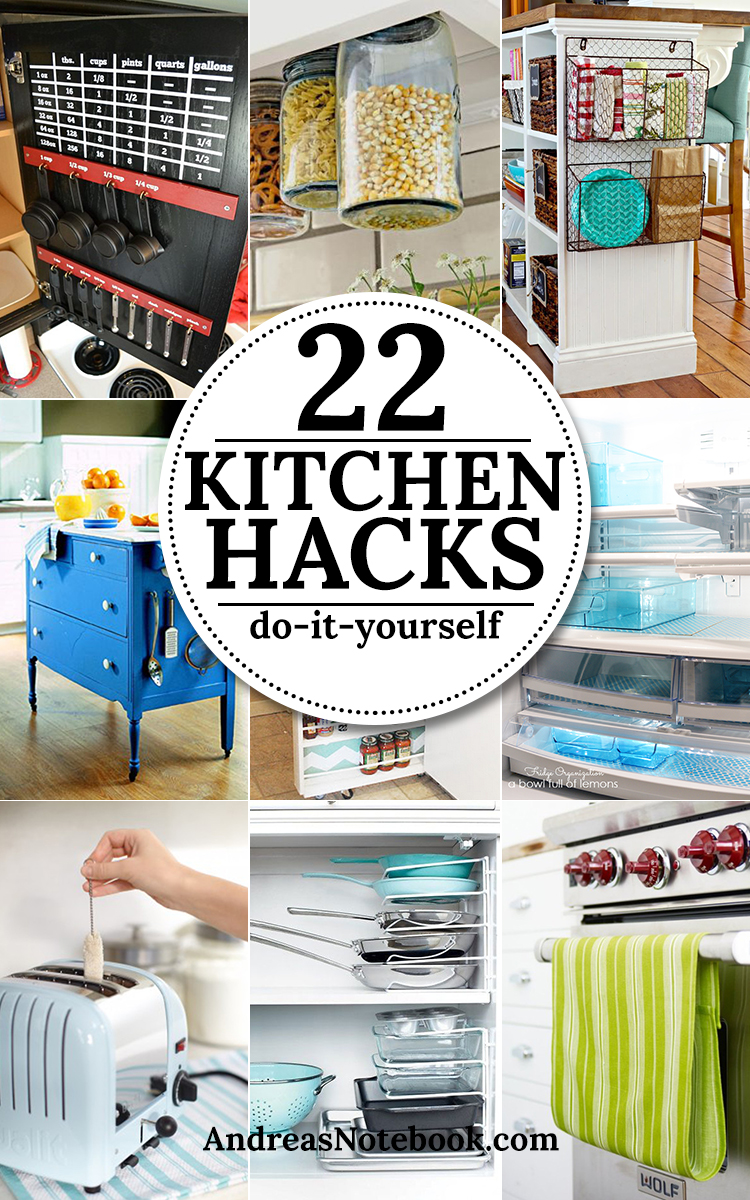 I am a total neat freak! I thrive off of clean and beautiful spaces. But sometimes when you have kids, or a job, or a life… you just don't have that much time and energy to clean and organize. So I'm excited to be sharing some of my favorite kitchen organization tricks that I've found! I definitely already do some of these things and others I'm saving for my dream home… You know, when I'm like 100.
---
1. Cutting Board over the Garbage Can
I love this idea. The wood cutting board is beautiful and I love that it's so easy to discard the unwanted parts that usually just take up space on your cutting board!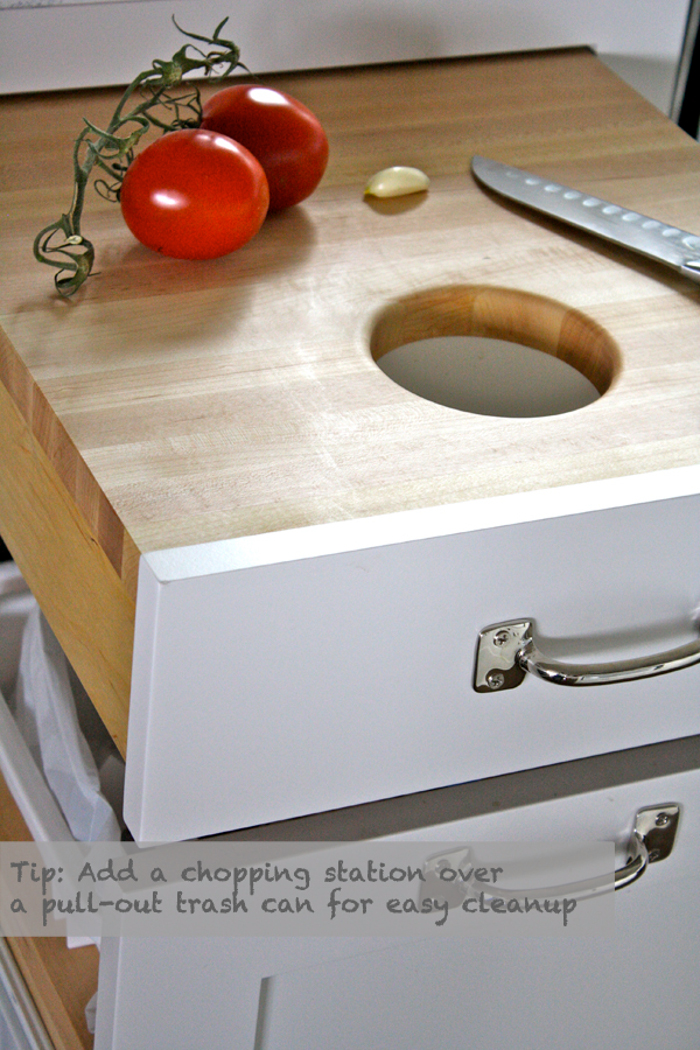 ---
2. Hanging Herb Mason Jars
This is a great way to brighten up your kitchen! Plus, it is definitely very functional as well.

---
3. Hand Soap Cake Stand
Want to find a cute and inexpensive way to keep your dish soap organized? This is a simple and inexpensive way to keep your counters looking clean.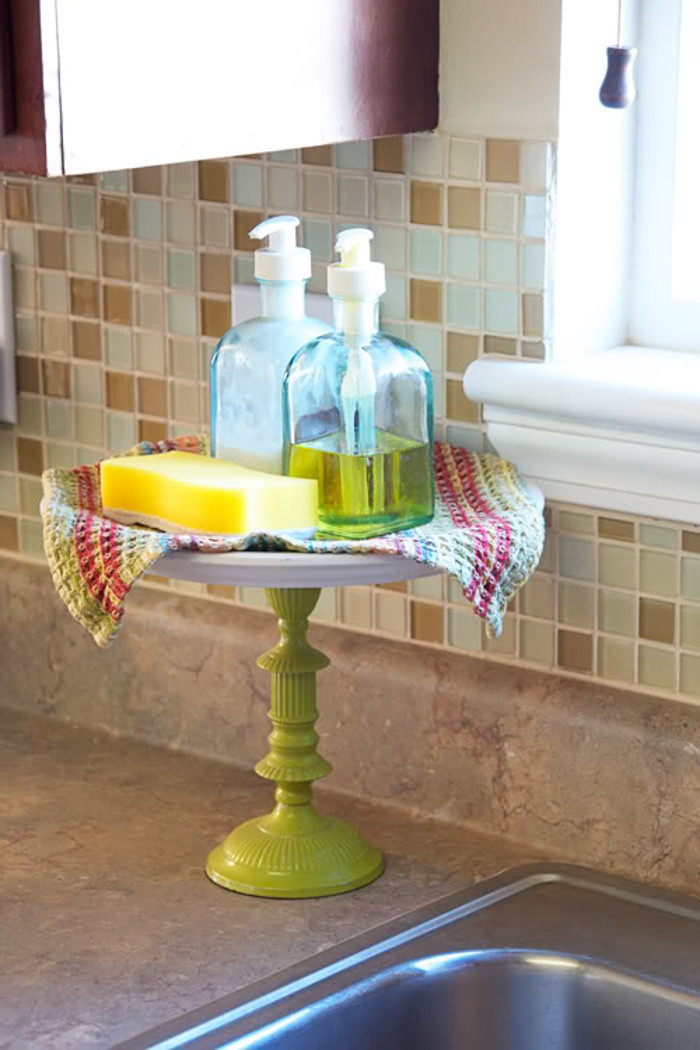 ---
4. Organization for Trays
Sometimes I have a hard time finding the right trays, muffin tins, etc. These dividers would definitely make life a lot easier!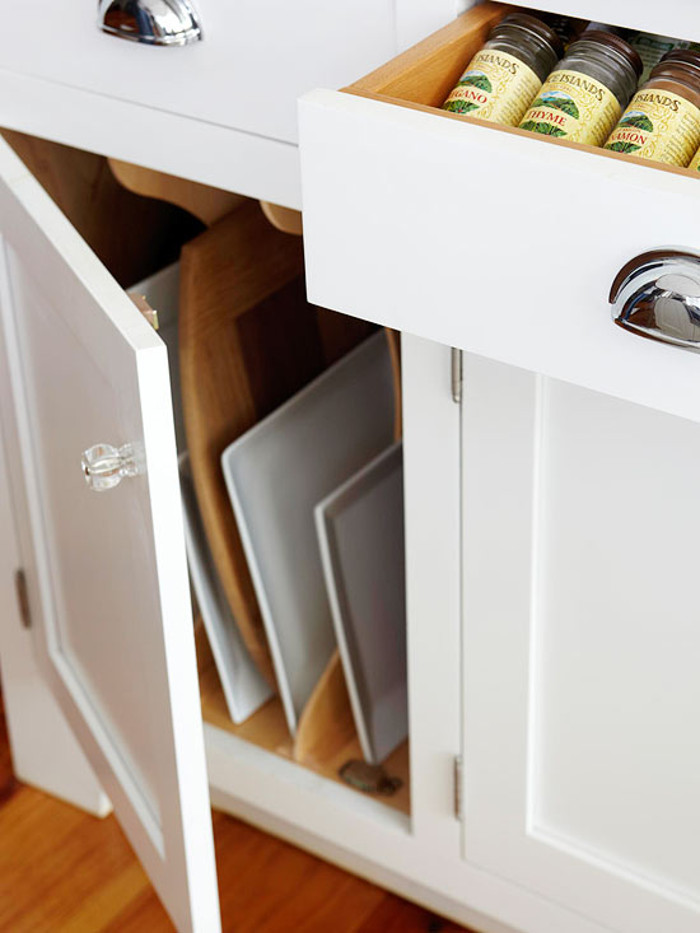 ---
5. Hanging Mason Jars
Keep the snacks and other pretty cooking supplies handy with this clever idea. It is definitely also a great way to add some variety and decor to your kitchen!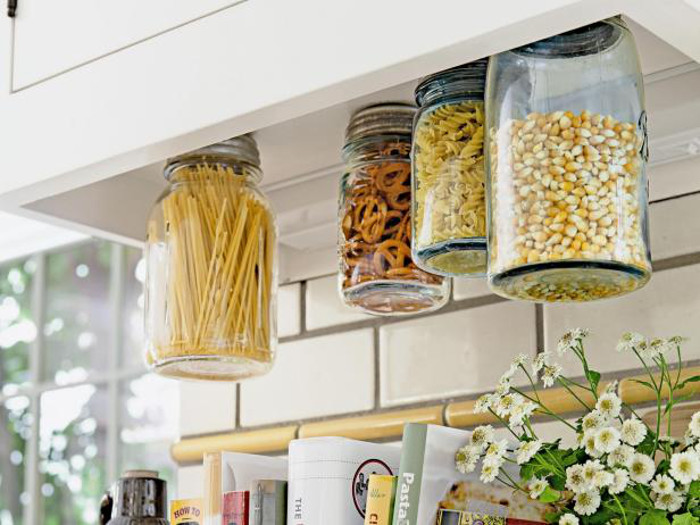 ---
6. No-Slip Kitchen Towel
I have actually done this! It really helps when you have kiddos around… Plus it looks so nice to have your towel draped nicely over the front of the oven door.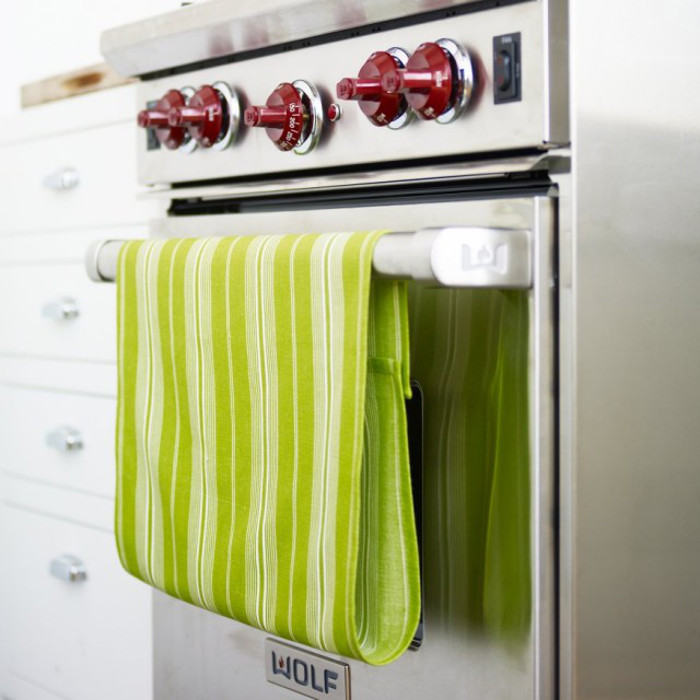 ---
7. Clean and Organize your Fridge
Isn't this fridge absolutely gorgeous!? A Bowl Full of Lemons has some great ideas to getting your fridge to be organized and easily manageable.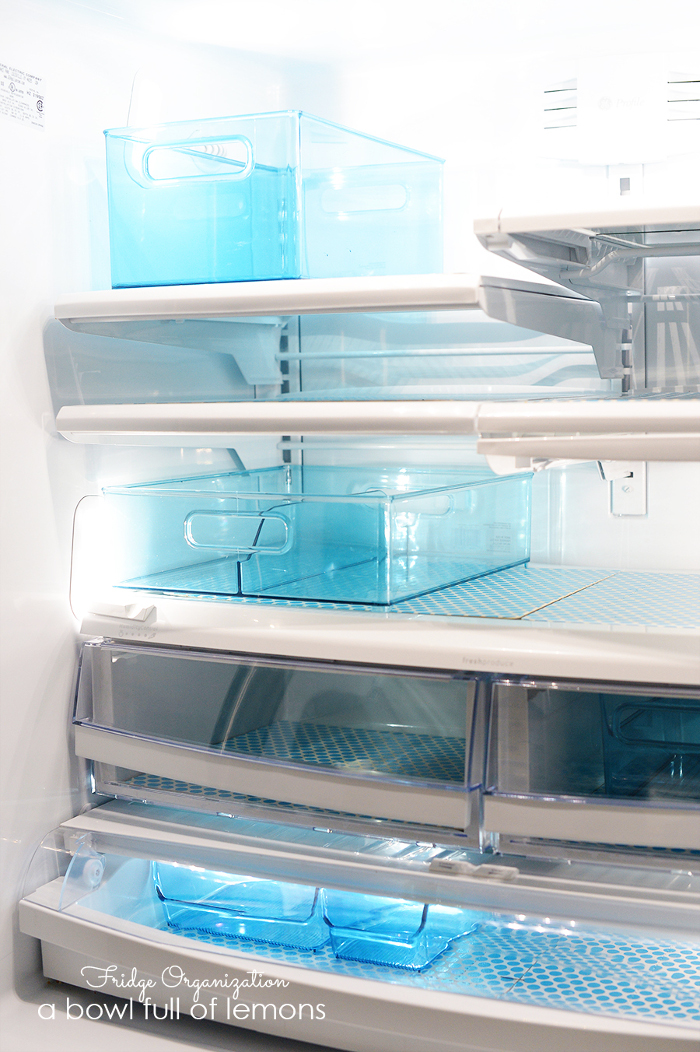 ---
8. Storing Utensils
What a cute and clever way to organize your utensils!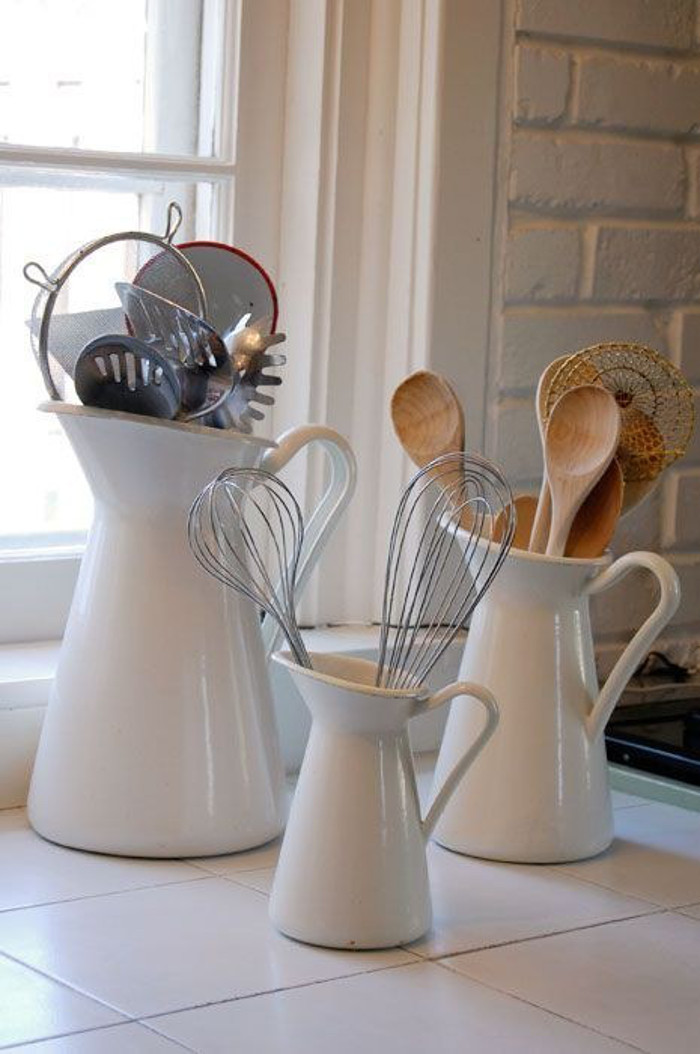 ---
9. Hidden Storage Cupboard for Cans
Classy Clutter is using space in a clever way. I love how organized these cans are, as well as how easy they are to find!!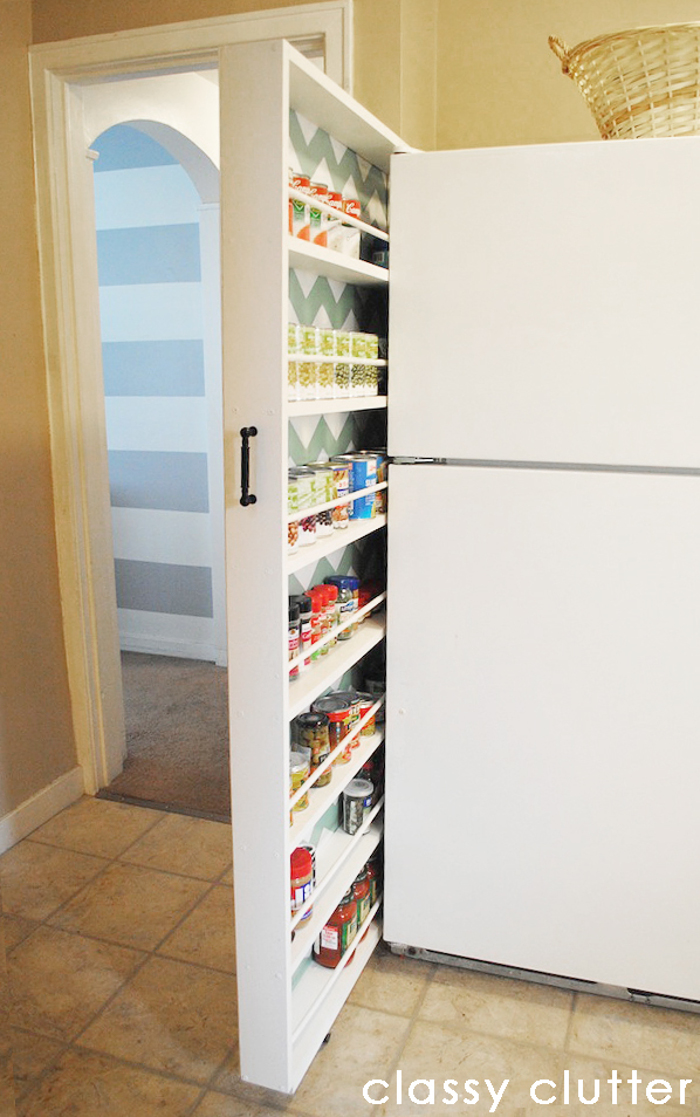 ---
10. Mason Jar Pantry
I love how pretty this looks and what a great way to stay on top of those every day pantry supplies. Yay for being organized!! Check out what kinds of things you might want to store in a Mason Jar Pantry.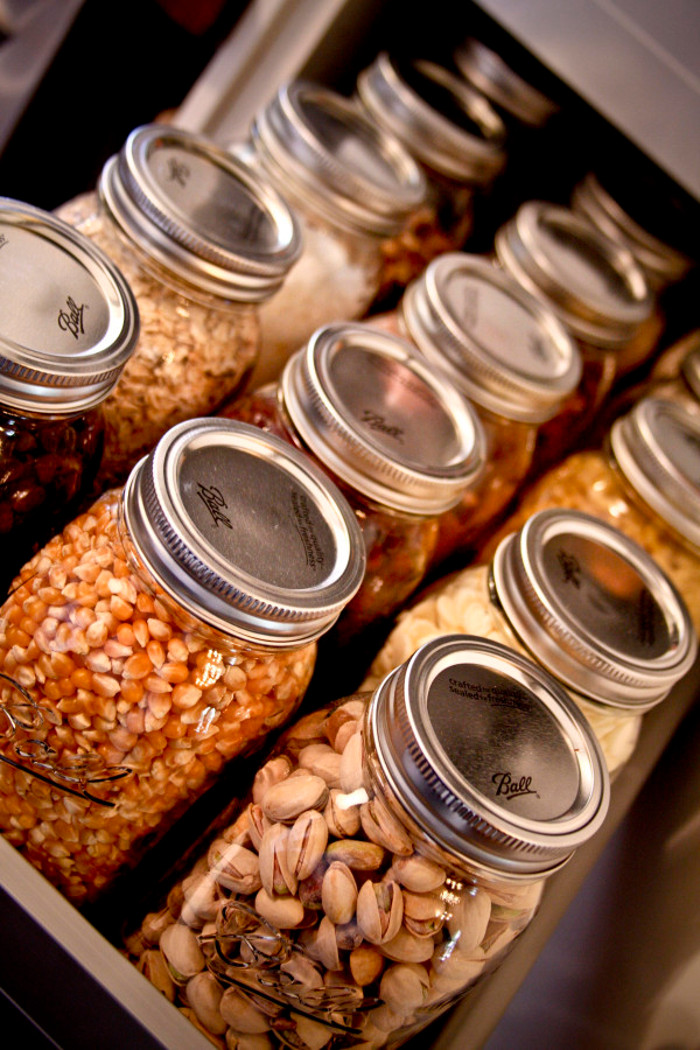 ---
11. Hanging Wire Baskets
I am in love with this idea. Use baskets to store items that you use on a daily basis. The Golden Boys and Me made her baskets into a lunch station… I think it would be great to use baskets to make fruits, veggies and other snacks easily accessible for the family!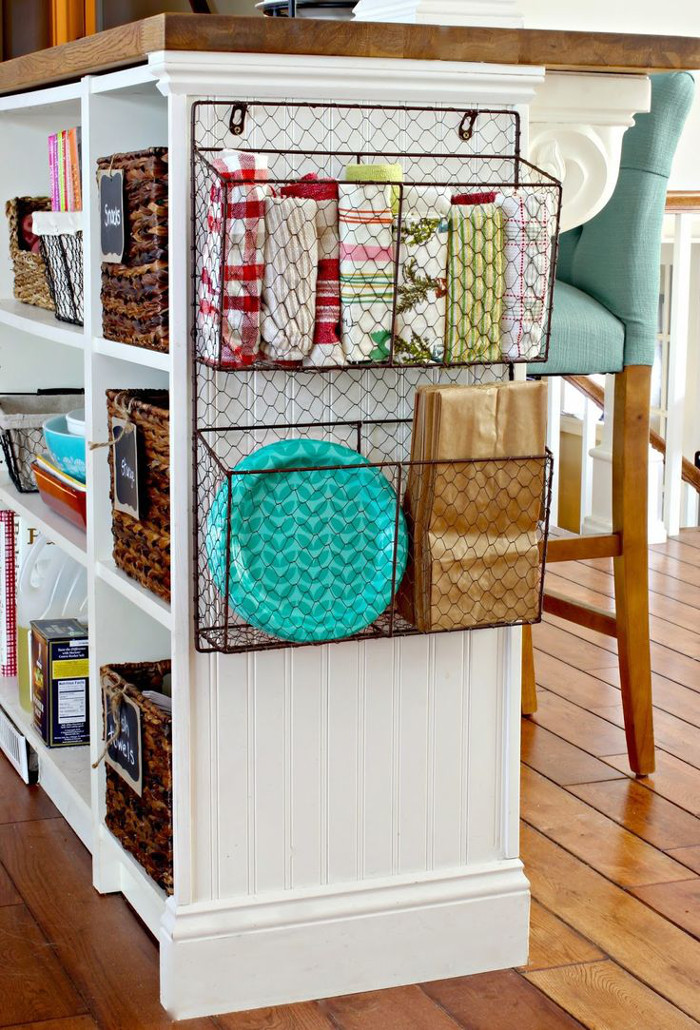 ---
12. Vertical Bakeware Storage
Besides the aqua in this picture being absolutely adorable!! I love how easy this cupboard would be to keep organized and you would always be able to find the right pot or pan!!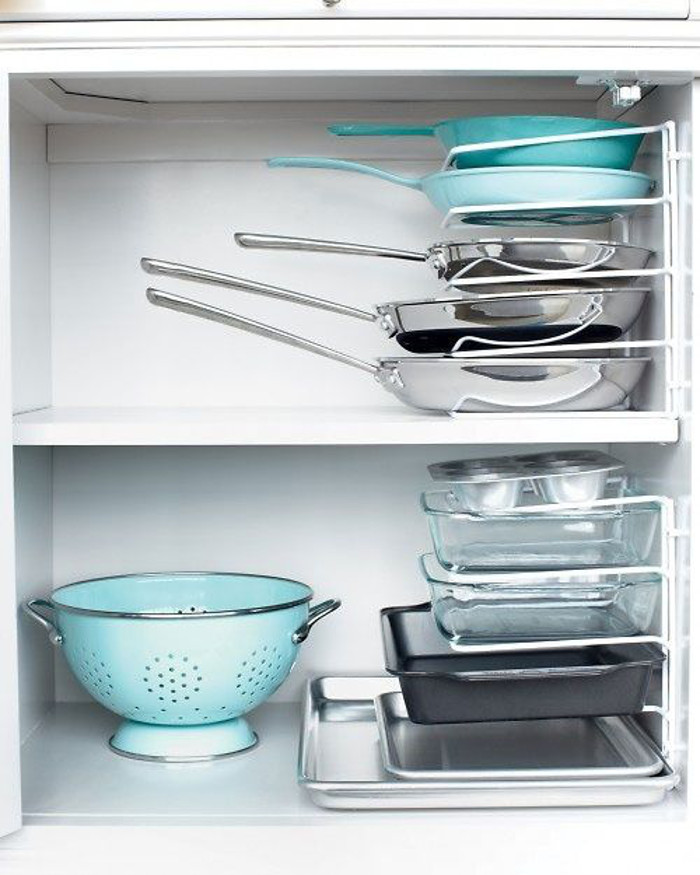 Martha Stewart
---
13. Drawer Around the Sink
This is a great storage idea for all those odds and ends that clutter your sink… and this is a great use of space that is usually just wasted.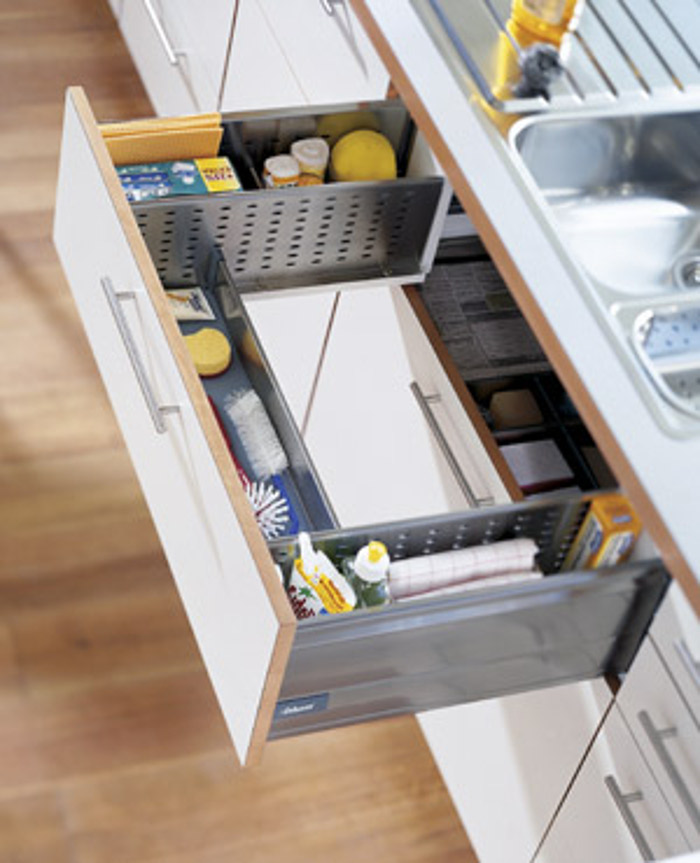 ---
14. Organize Diagonally
I have never seen this done but can imagine that it would definitely be a space saver and make your drawer a little bit less of a headache!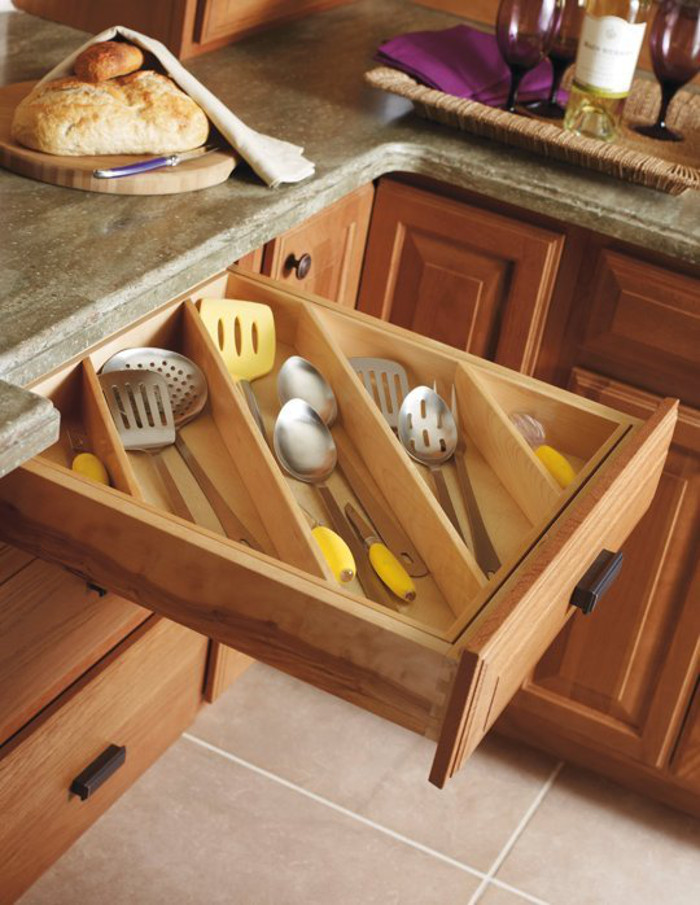 ---
15. Dresser to Kitchen Island
What a crazy idea right?? I think this is amazing because it doesn't take up much space, but adds storage, plus some precious workspace!!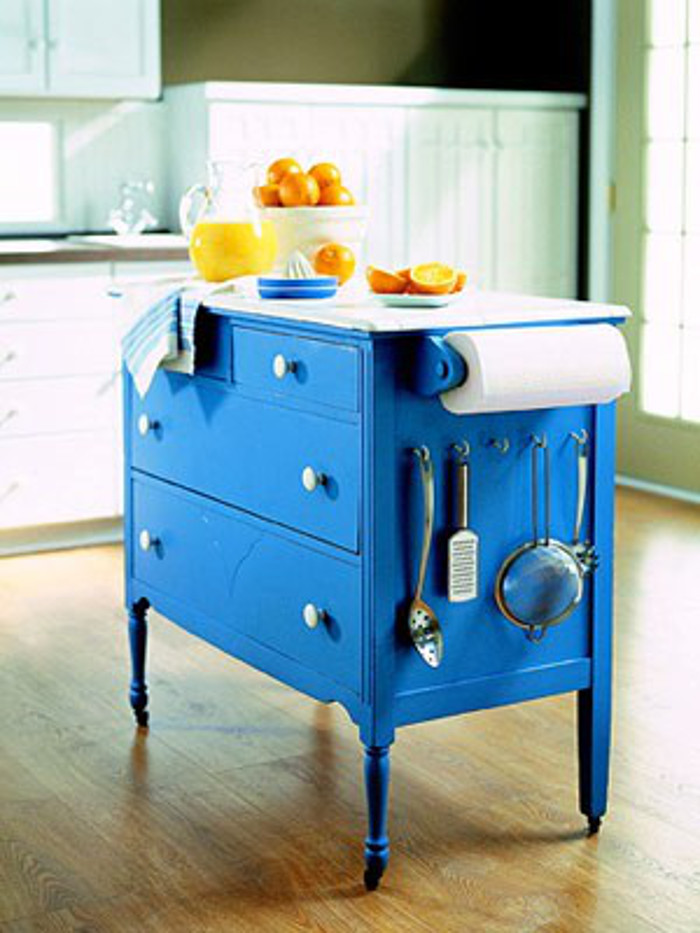 ---
16. Kitchen Cleaning Hacks including the Toaster
Every wondered how to clean the toaster the easy way?? Martha Stewart has all kinds of kitchen hacks up her sleeve!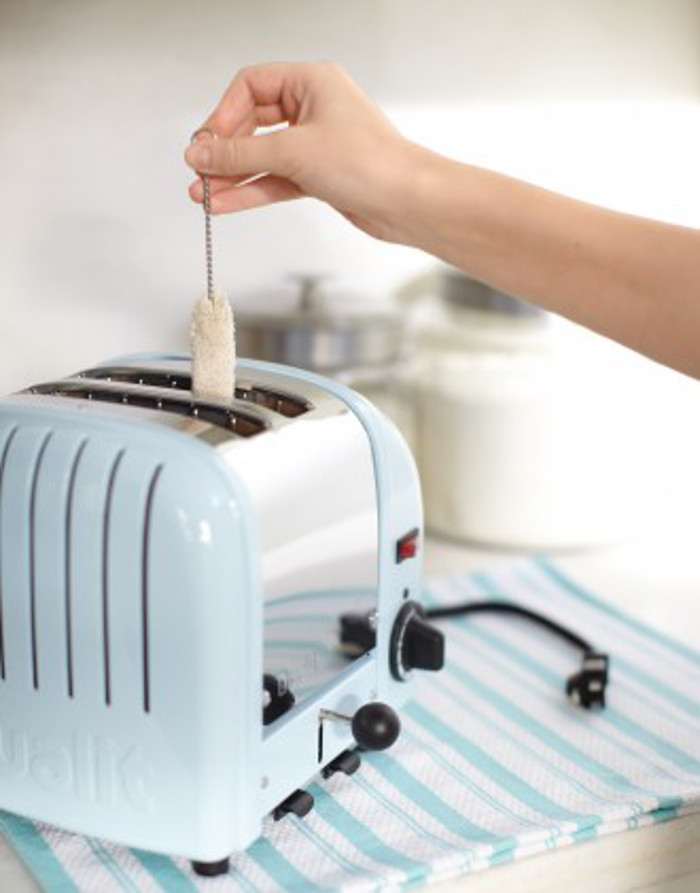 ---
17. Command Center
Curious how to create the perfect command center to organize your kitchen–and your life?? This is a gorgeous example.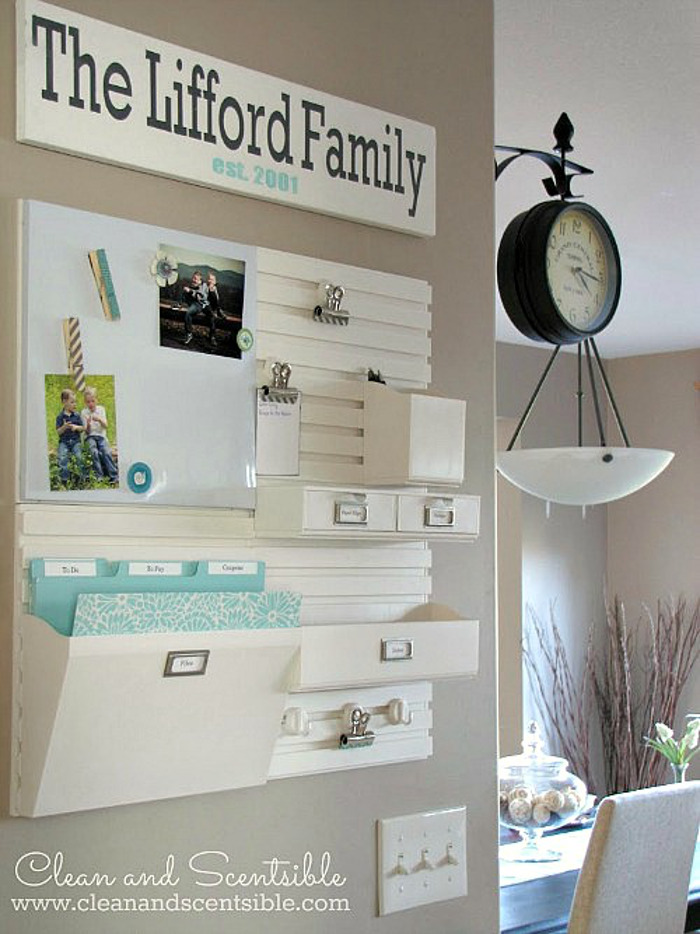 ---
18. Old Fashioned Handles
This is definitely making a beautiful statement in the home! Use old fashioned handles to hang towels.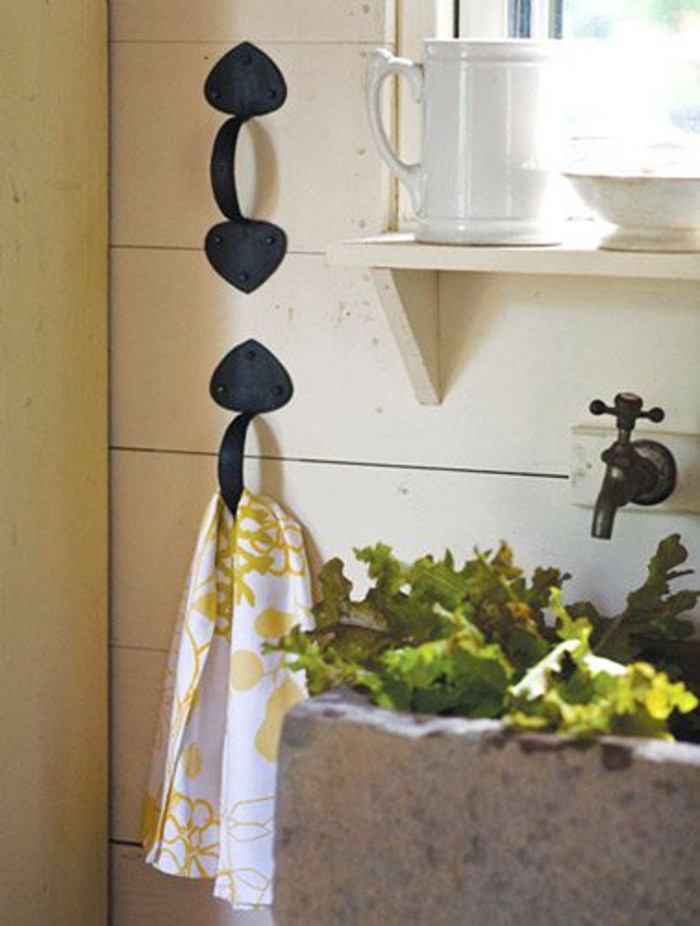 ---
19. Conversion Chart
A conversion chart in the kitchen is extremely helpful for any bakers and cooks out there!! This is a genius chart from Infarrantly Creative.
---
20. Hanging Utensils
Love how bright and organized this space is. Hang a towel rack and store your favorite utensils in an easily accessible place!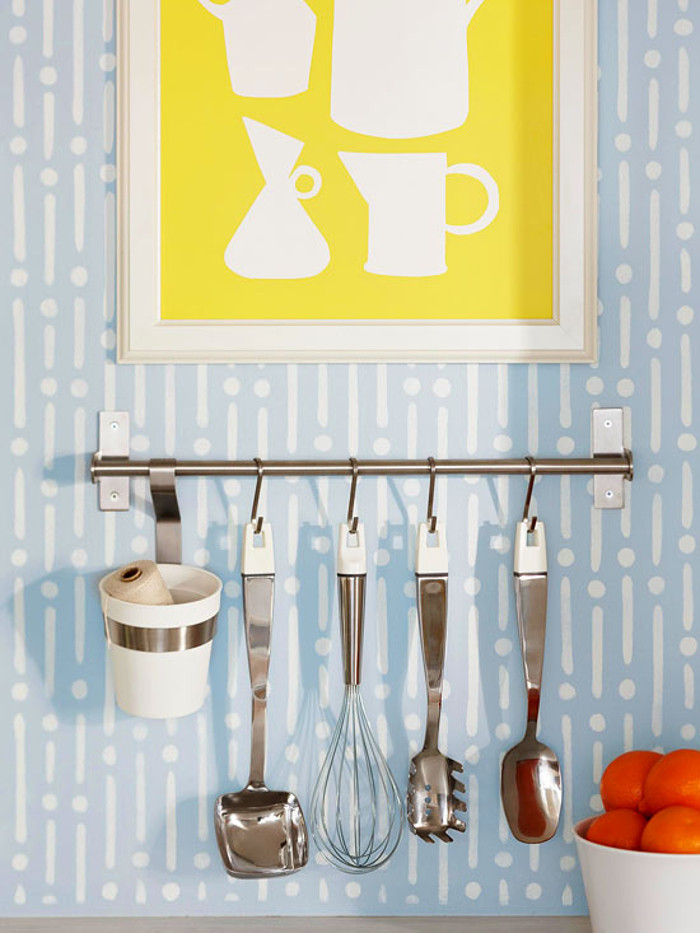 ---
21. Pegboard
Who knew that pegboard had so many uses? Use a pegboard to help you stay organized. This would definitely be helpful in a smaller kitchen where you don't have a lot of storage options. Or maybe even on the inside of a cupboard!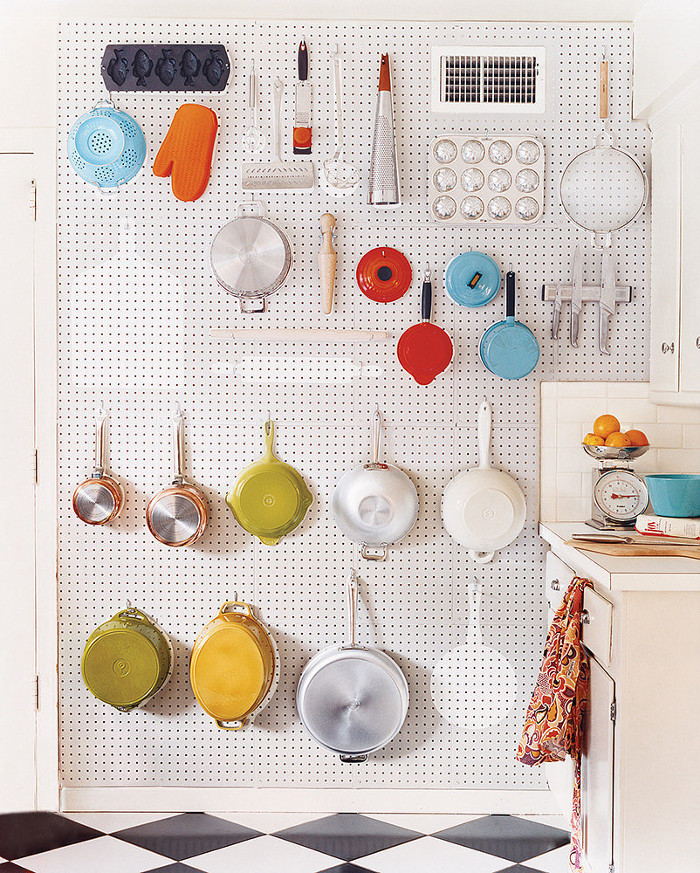 ---
22. Pantry Storage Labels
Labels definitely help make any space a little more organized. I love these labels from Better Homes and Gardens!