The air fryer is a great way to cook a meal using less energy than an oven. It's quicker, and many people say it produces a tastier result! I've compiled some of my favorite air fryer recipes for beginners.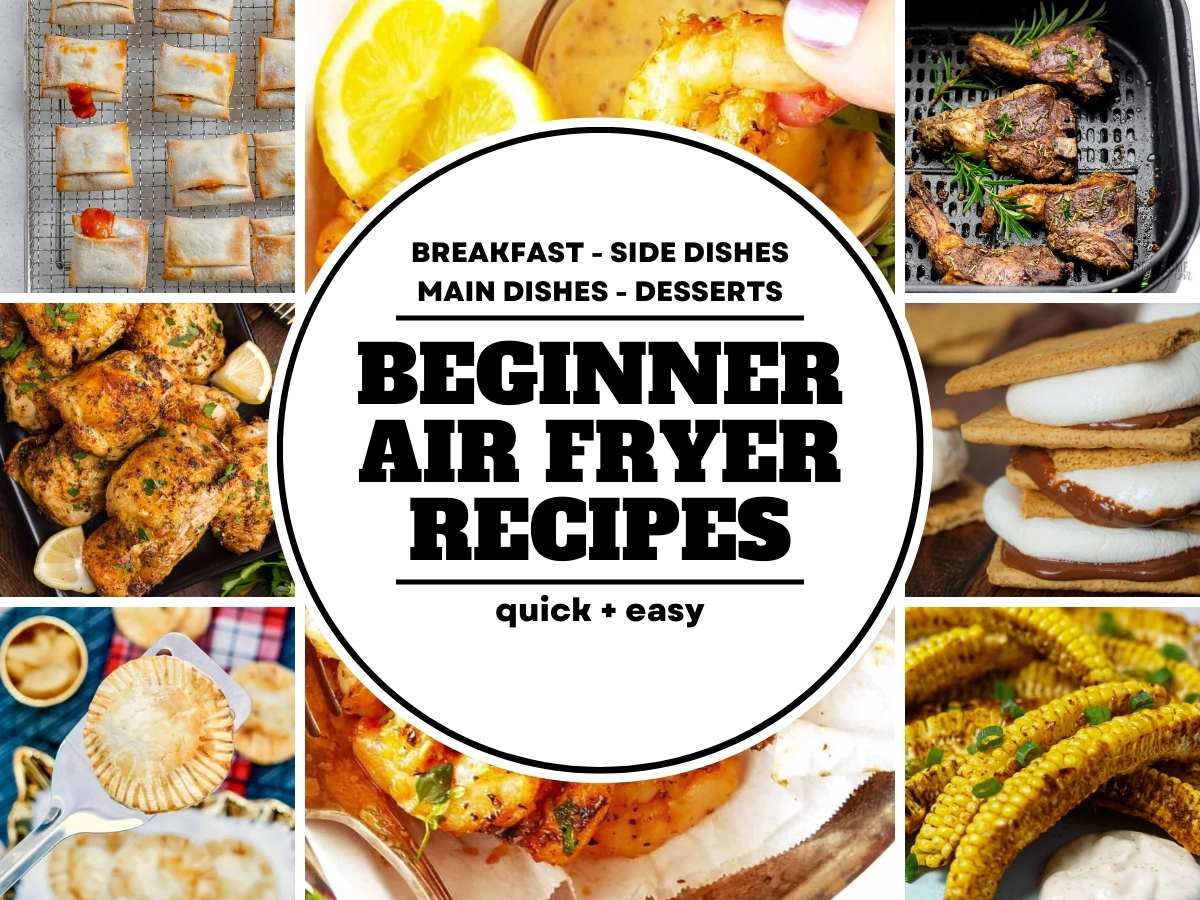 What You Need To Know
What Is An Air Fryer?
An air fryer is a countertop appliance. It is essentially a little convection oven. There's no actual frying involved. It uses forced air to cook from all sides. You can buy them in multiple styles and sizes. Buy a smaller one if you're cooking for just 1-2 people and a large one if you're cooking for a family. Any air fryer will work to cook these air fryer recipes for beginners.
How Do You Use An Air Fryer?
Air fryers are simple appliances. Much like an oven, you set the temperature then cook for whatever amount of time you want. Some recipes will suggest you pre-heat the air fryer but it usually only takes an air fryer a minute or two to preheat. I usually skip preheating and keep an eye on whatever I'm cooking to turn it off when it's done. But, as a beginner, follow the easy air-fryer recipes until you're more confident in your own skills.
Air Fryer Breakfast Recipes
One of my favorite breakfast recipes in the air fryer are these sausage and egg biscuit bites. Use refrigerator biscuits, scrambled eggs, cheese and cooked sausage. You can assemble these the night before then pop them into the air fryer in the morning.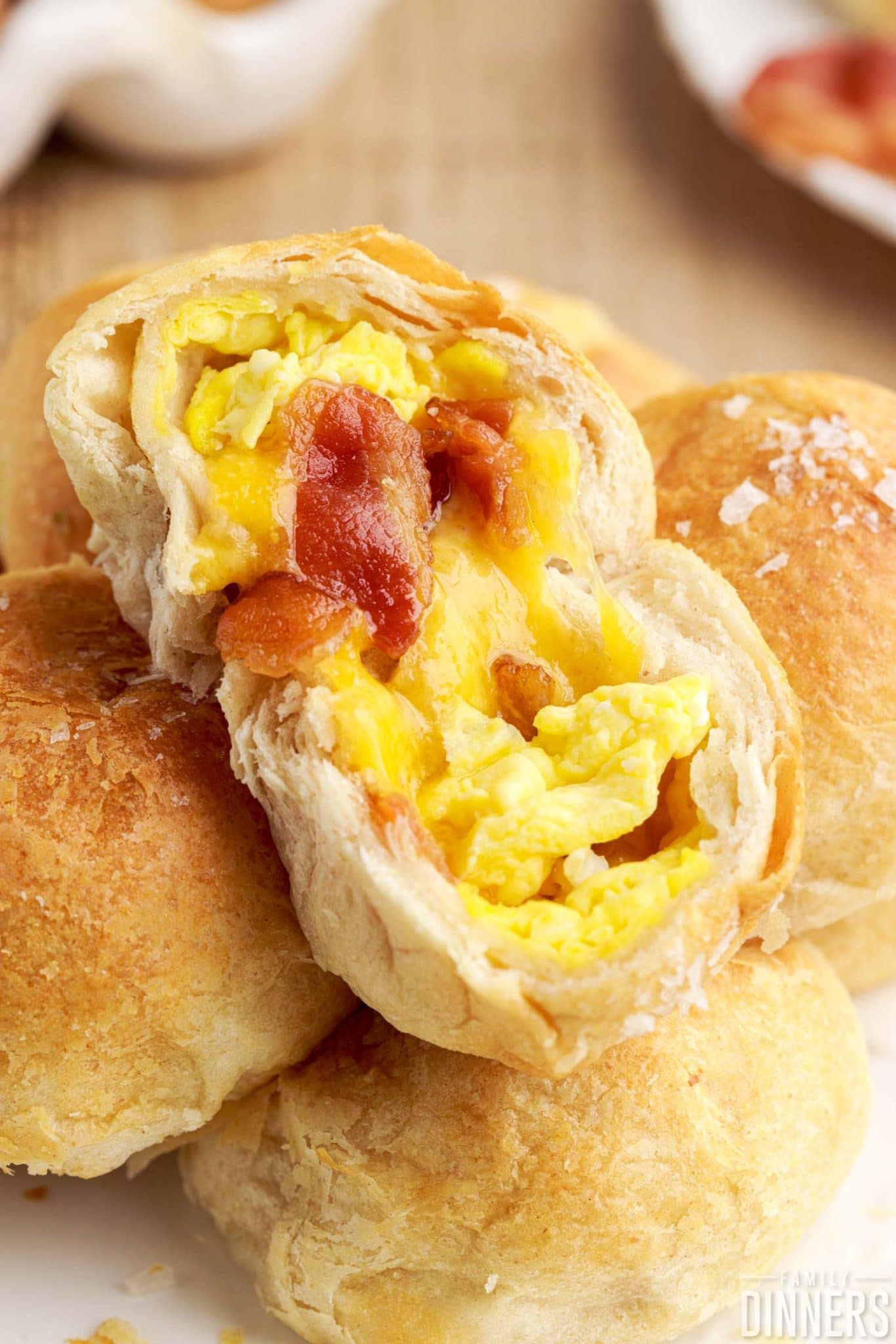 Want an easy hard boiled egg? Try making them in the air fryer. These air fryer hard boiled eggs couldn't be easier. I didn't even know you could hard boil an egg without water until I tried this!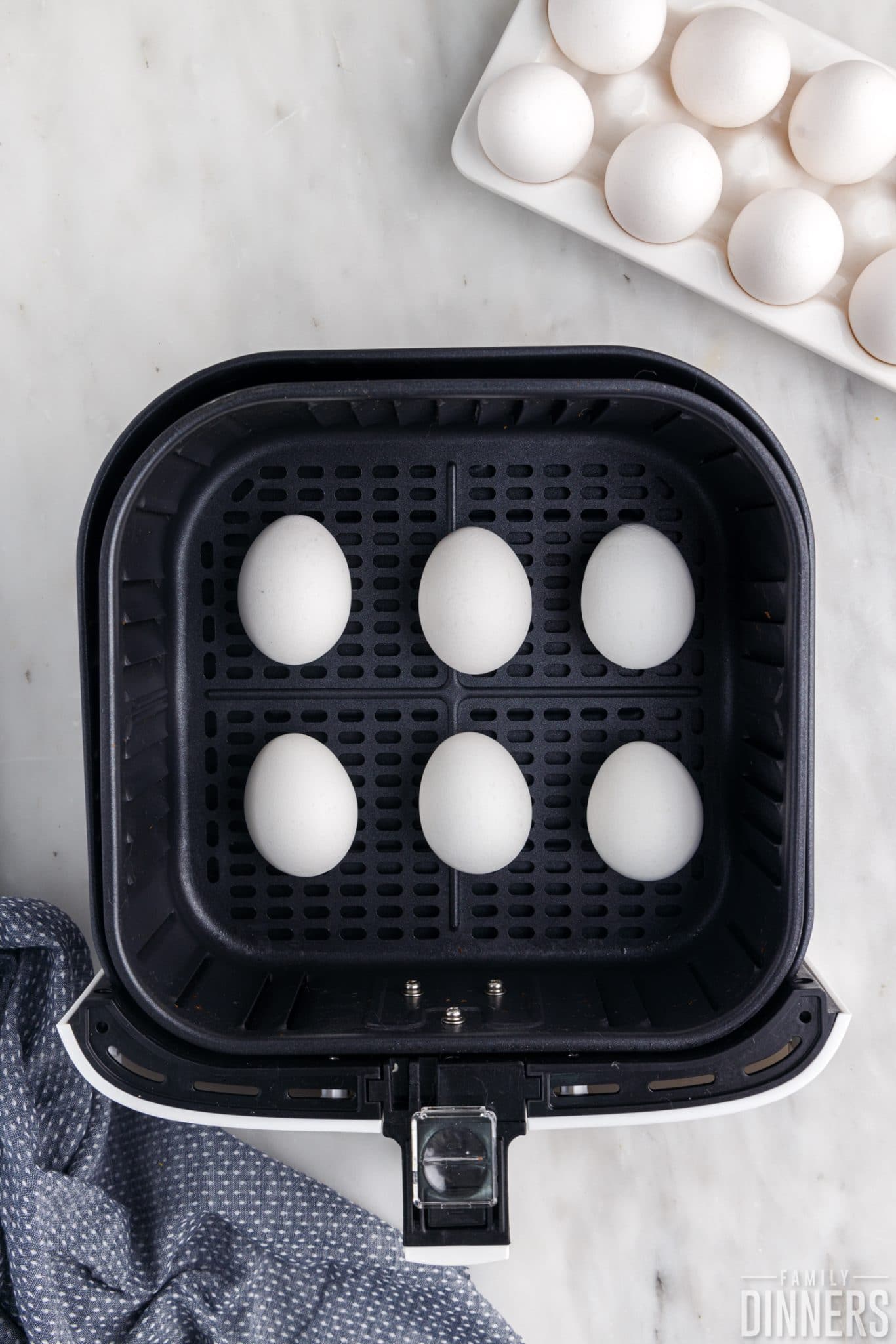 Air Fryer Bananas are a simple and healthy fruit dessert, pancake topping and so much more! Only four ingredients and no added sugar!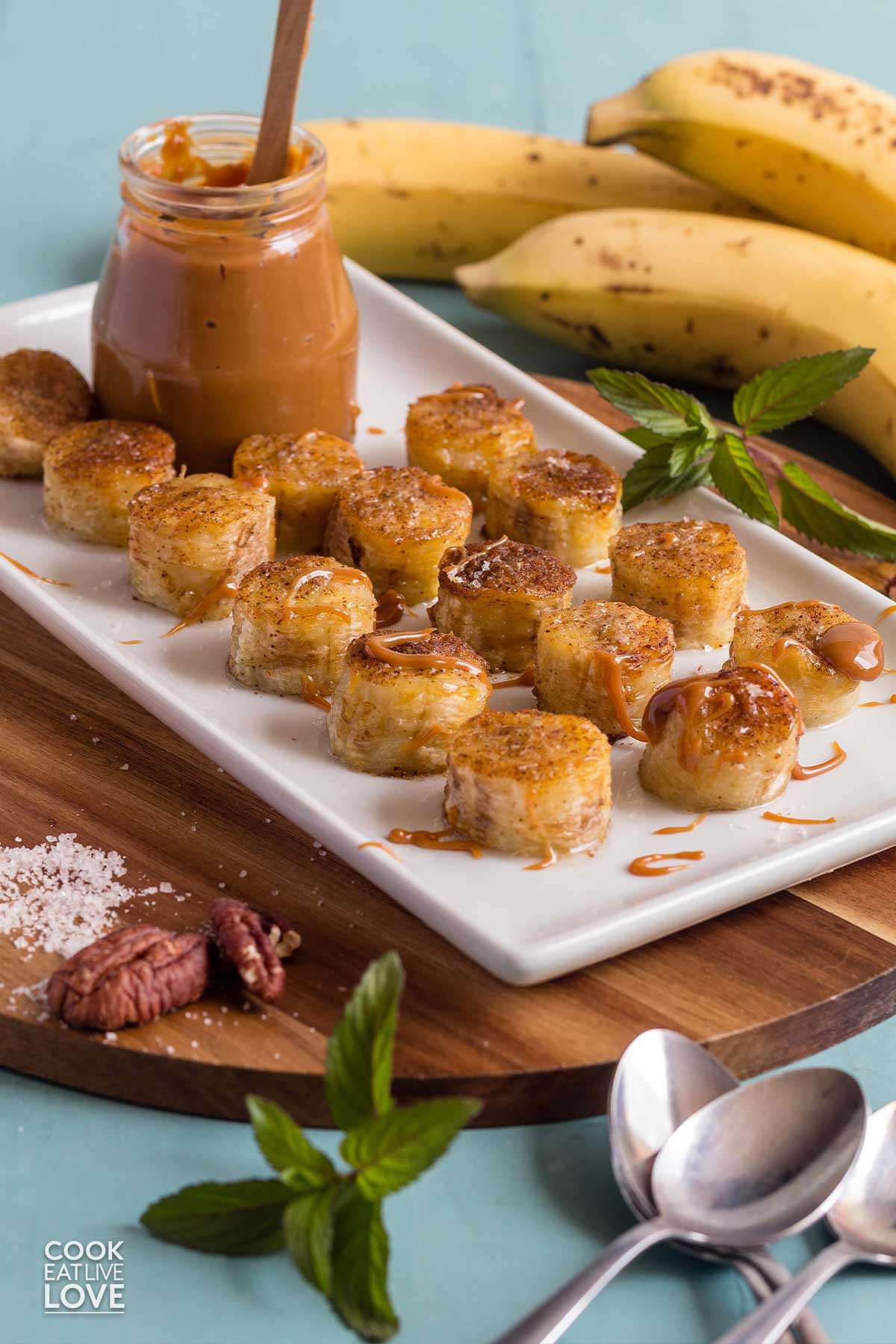 Love a nice breakfast of poached eggs for Eggs Benedict but don't have the time? Well poached eggs and peameal bacon can be easily done in the Air Fryer while the Hollandaise sauce is being made, and the english muffin is being toasted. You can easily and quickly make this fancy and delicious breakfast dish any day of the week!
Air Fryer Appetizers And Snacks
Make and cook meatballs in the air fryer to save a little time. This is especially great if you want to do a small batch. This air fryer meatball recipe is a winner! They're full of flavor and cooked perfectly.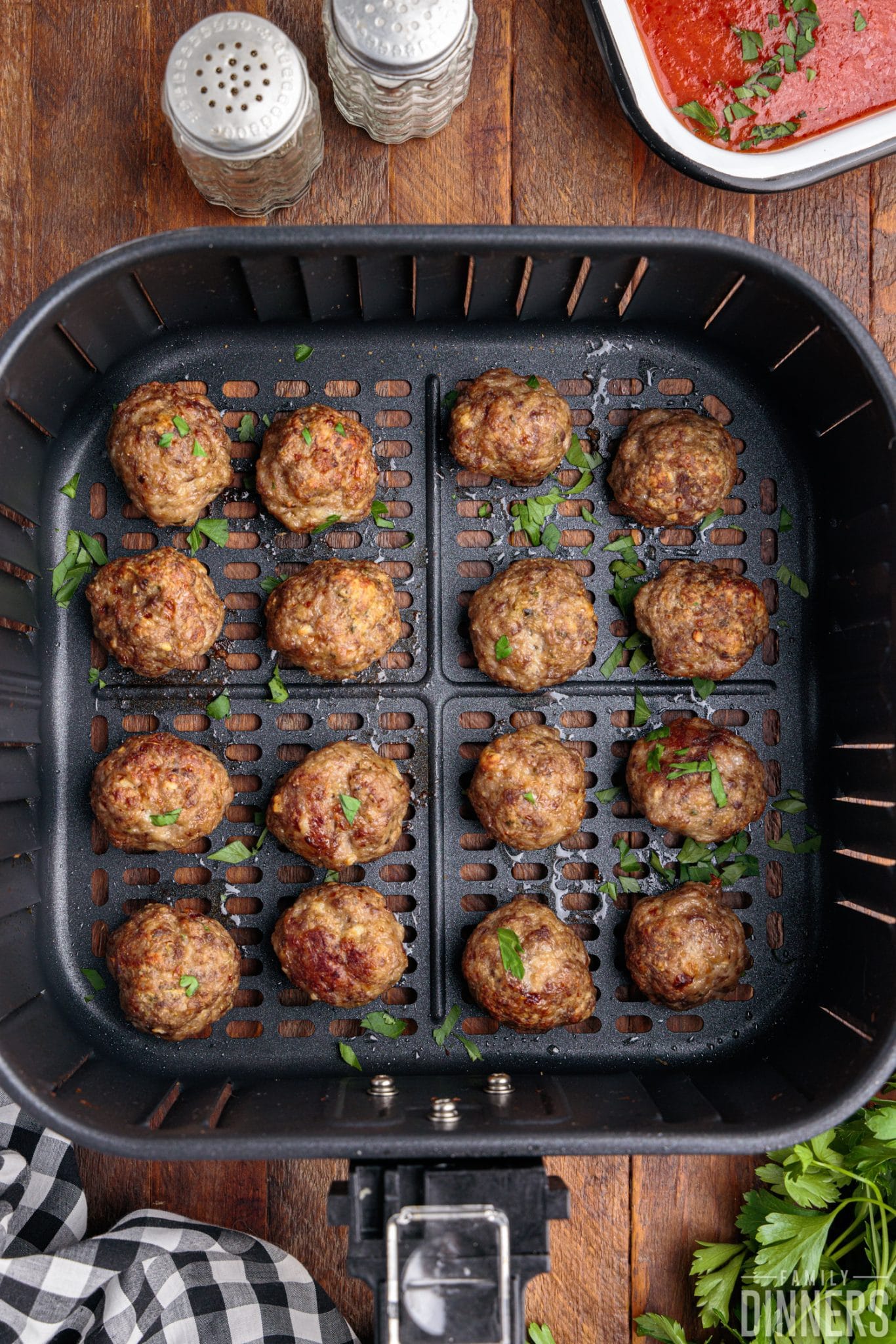 This Air Fryer Garlic Bread is ridiculously quick and easy. With just six ingredients it's on the table in ten minutes. A great side dish or a delicious snack.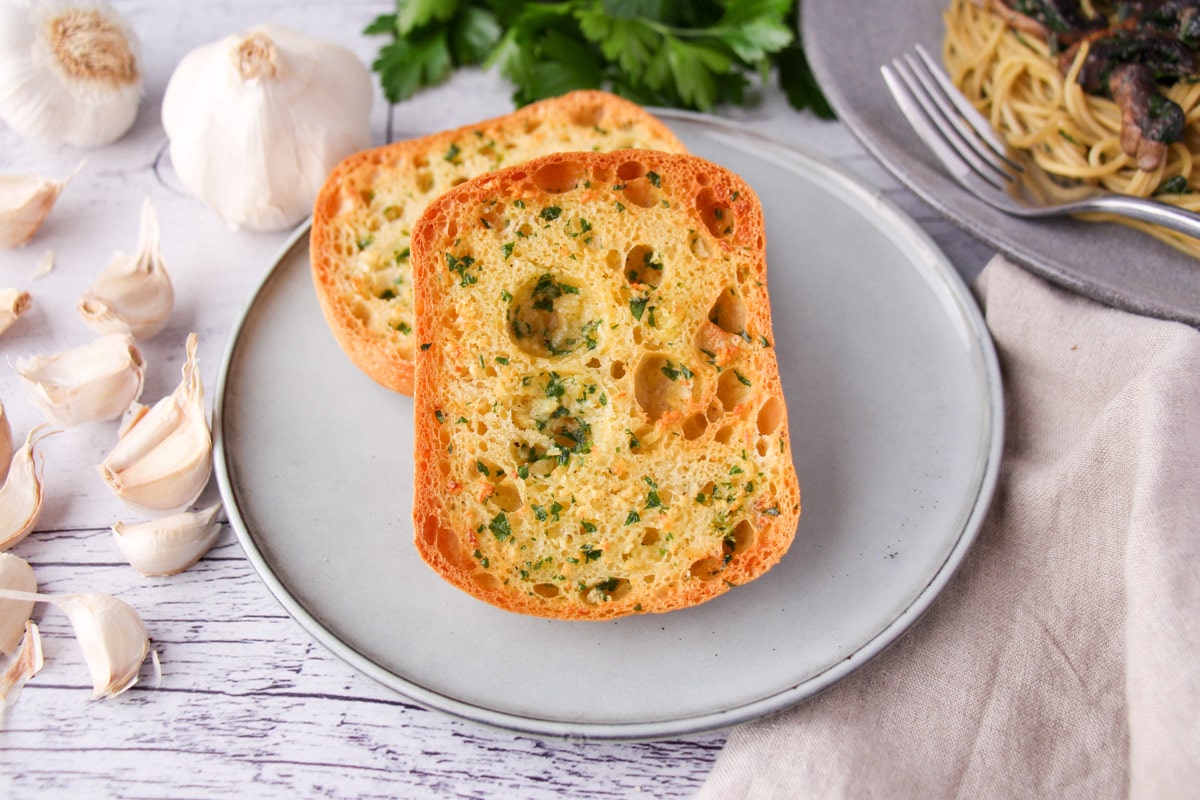 Make these cheesy bites in the air fryer by wrapping cheese in a refrigerator biscuit. I like to make these ahead then pop them into the air fryer when it's time to eat them. You can make air fryer cheese bites or try an air fryer ham and cheese sandwich bite. These are one of the best air fryer recipes for kids.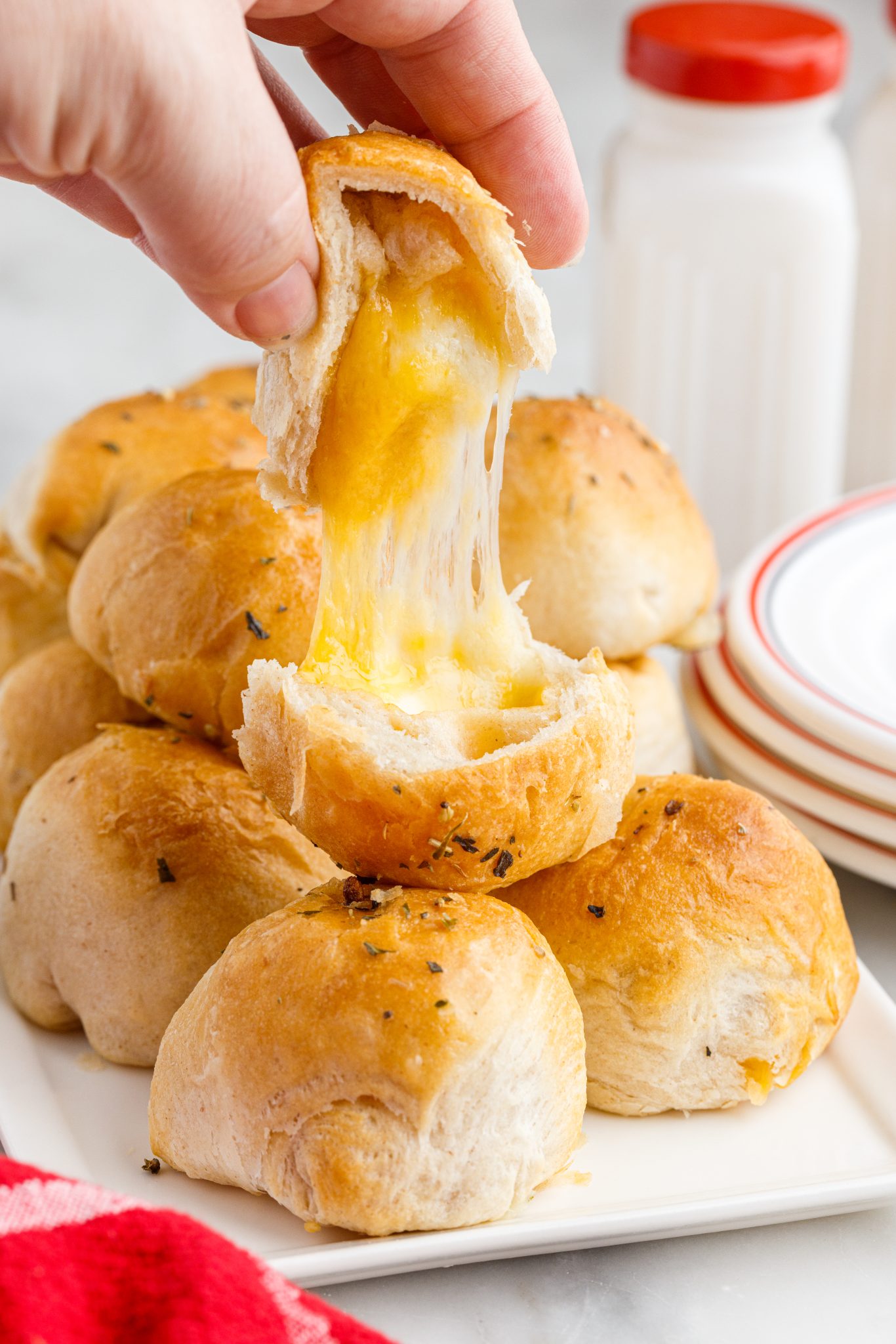 Have you seen these before?? You cook the giant pasta shells, stuff them with meat and cheese then air fry them. They're crunchy, like little mini tacos. Definitely a fun appetizer or even a meal. There's a Chipotle Chicken Stuffed Pasta version or a Cheddar and Carnitas Stuffed Pasta Taco version. If you love pasta chips you'll love these.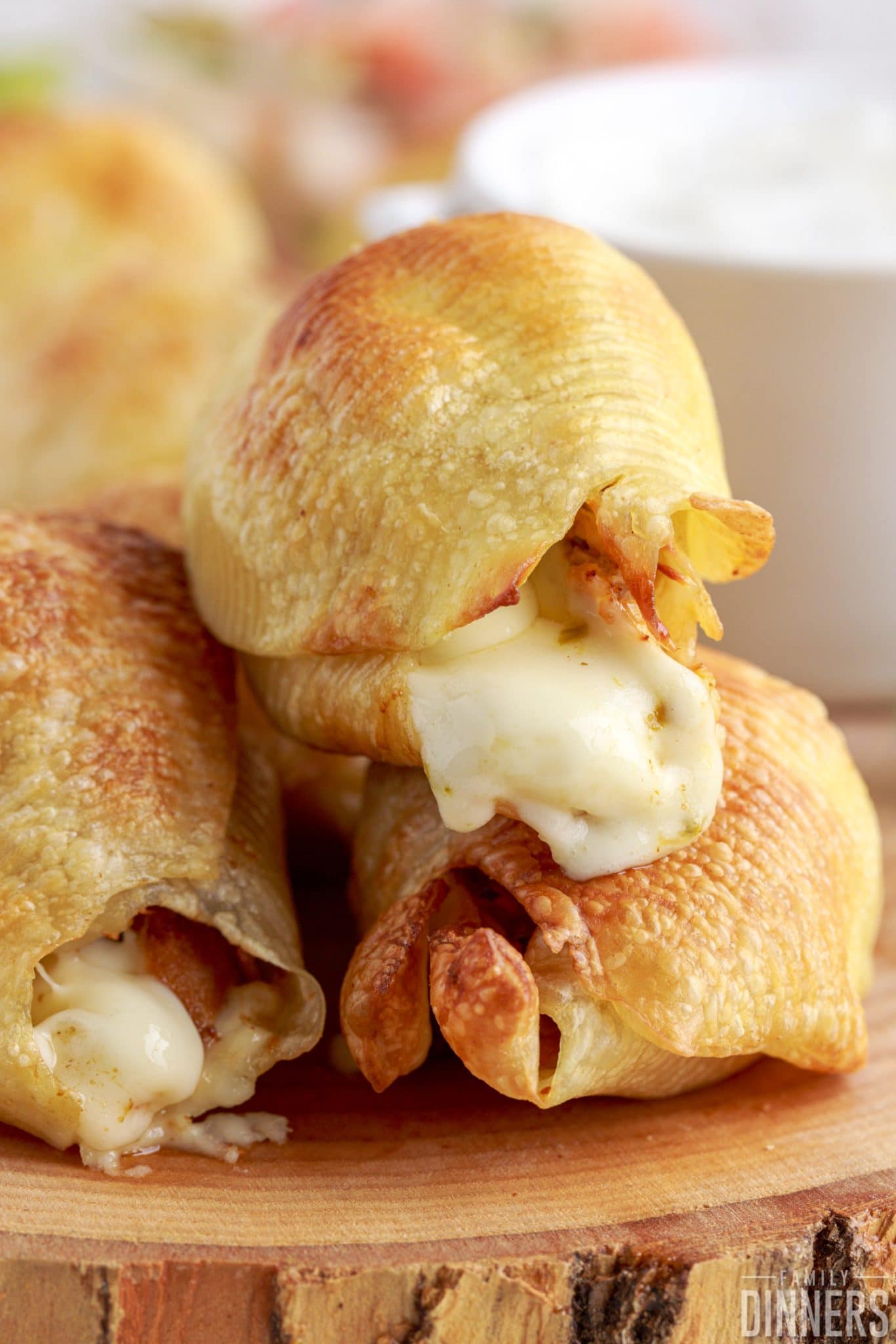 Making chicken wings in the air fryer is definitely my favorite way to make wings now. I usually marinate the wings in this yummy chipotle marinade for a day before cooking them. My kids eat them up in minutes. This Air Fryer Chipotle Chicken Wings recipe is the only chicken wings recipe you'll need. Want to cook them from frozen? Check out the instructions for Air Fryer Frozen Chicken Wings.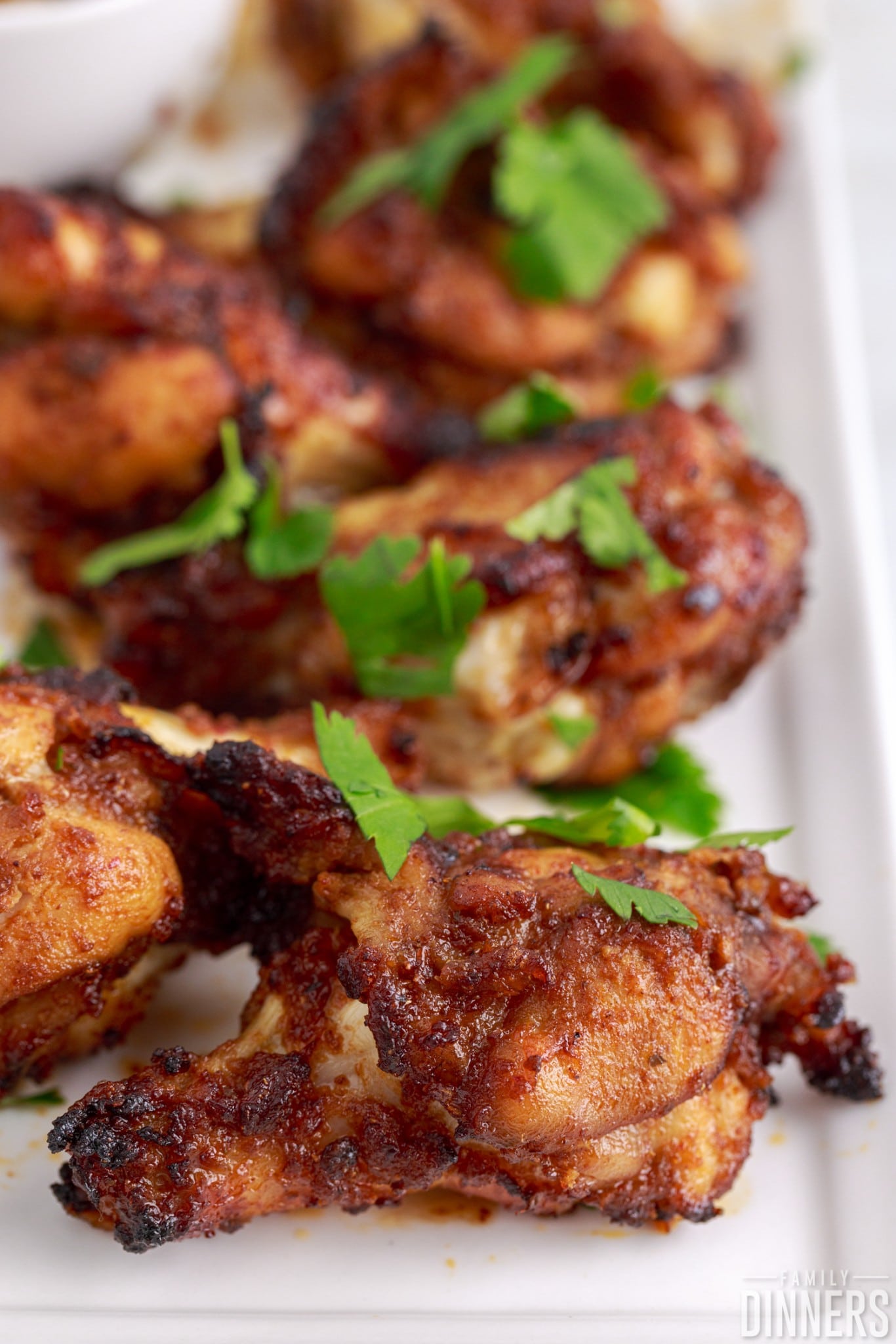 Roasted garlic is delicious on steaks, spread onto warm bread or in marinades. Air Fryer Roasted Garlic is easy to make anytime. Yum!
These Air Fryer Pigs in a Blanket are not only easy but they're absolutely delicious! Kid-friendly and adults if all ages are fans! Dip in ketchup or eat on their own.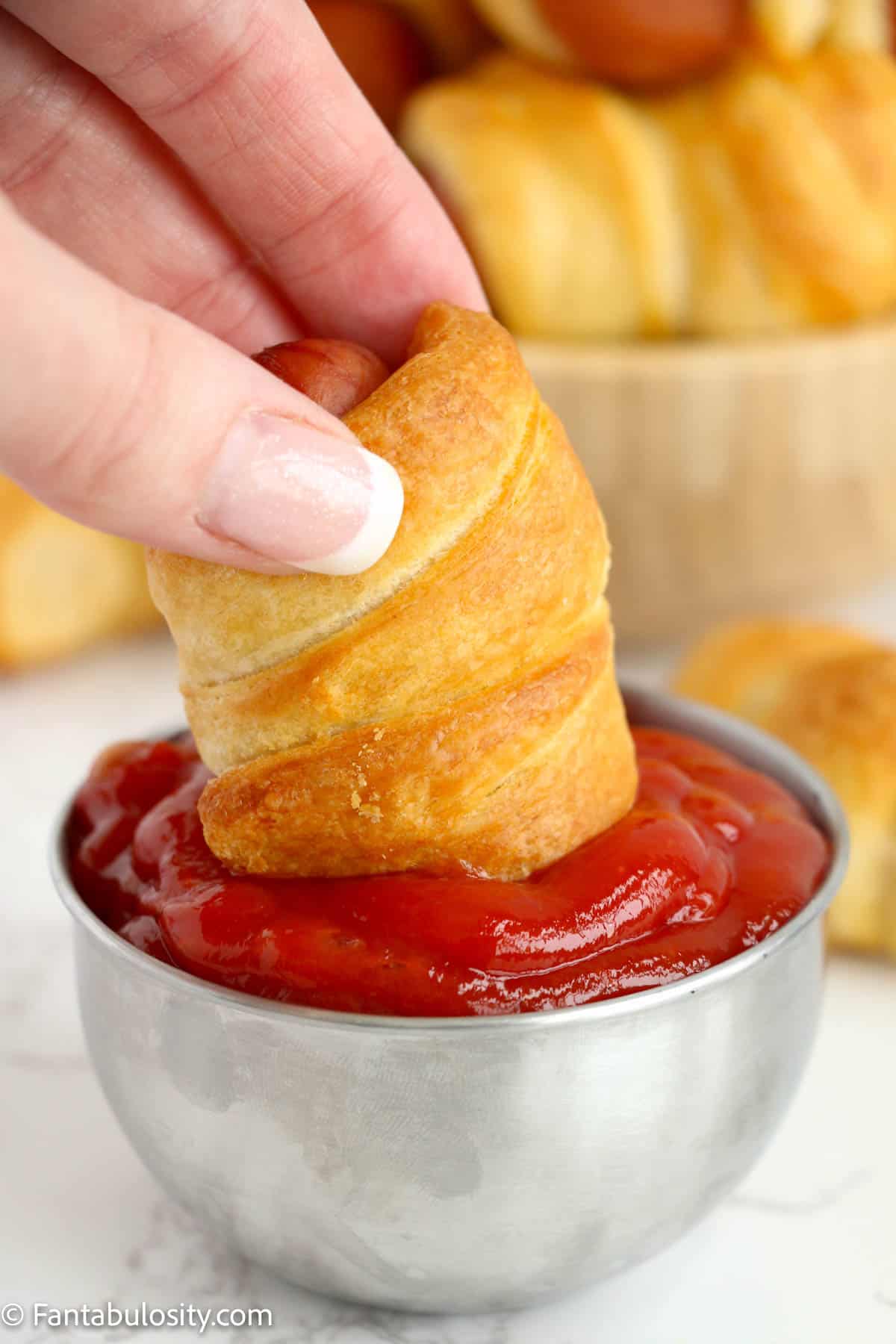 Air fryer pizza rolls cook evenly, crispy (no soggy results here!), golden, and in just 7 minutes! Perfect for enjoying as a quick snack, appetizer, game day treat, or party nibble!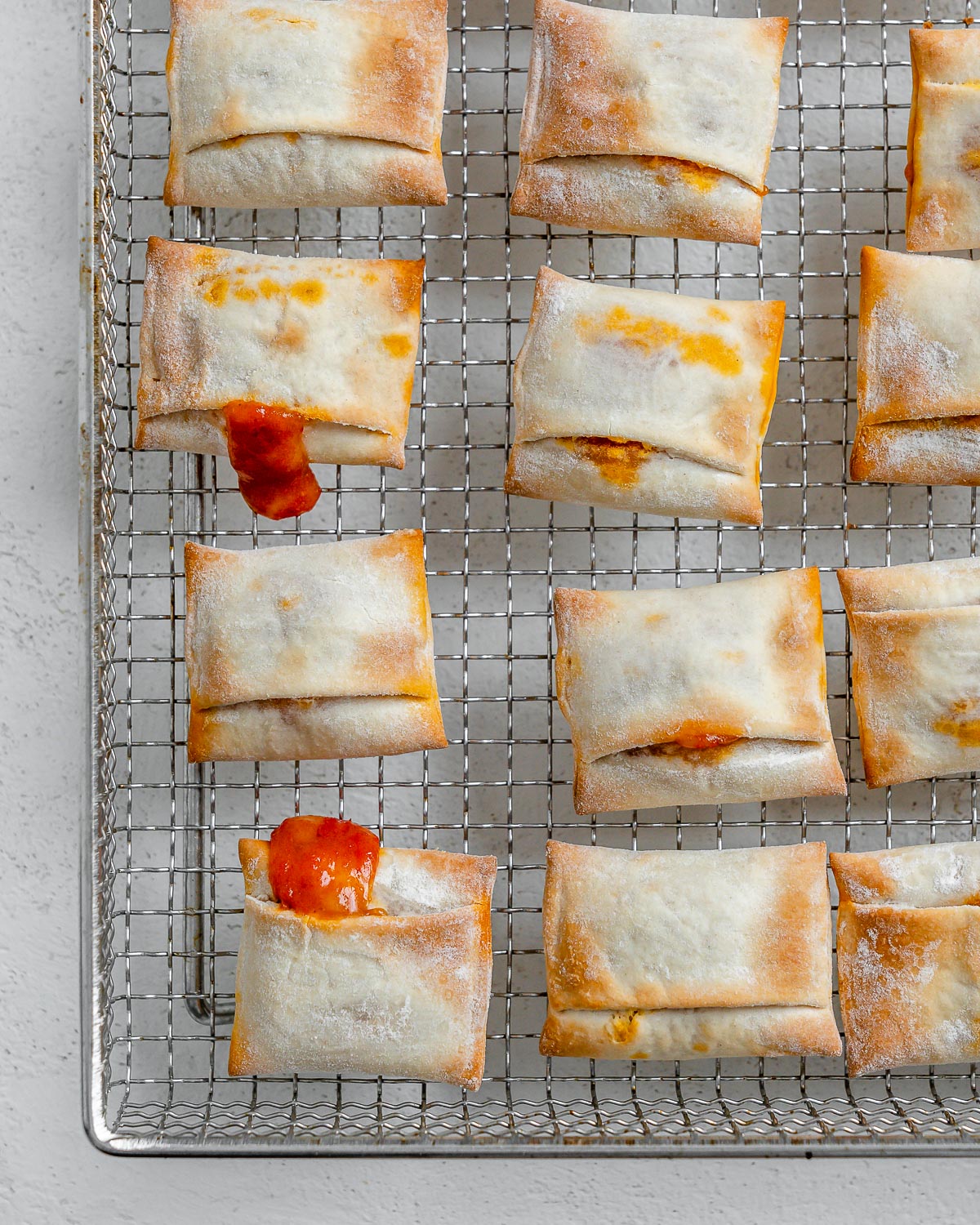 Preparing nachos just got easier with this simple air fryer nachos recipe. It comes together in under 10 minutes so you can enjoy your favorite snack on game day, or any time the craving hits!
Air Fryer Side Dish
Baked potatoes in the air fryer are the way to go. I tested out every method of making baked potatoes and now I'm firmly in team air fryer camp. Air Fryer Baked Potatoes are a bit crispy on the outside and totally cooked on the inside. Yum. These make a perfect side dish.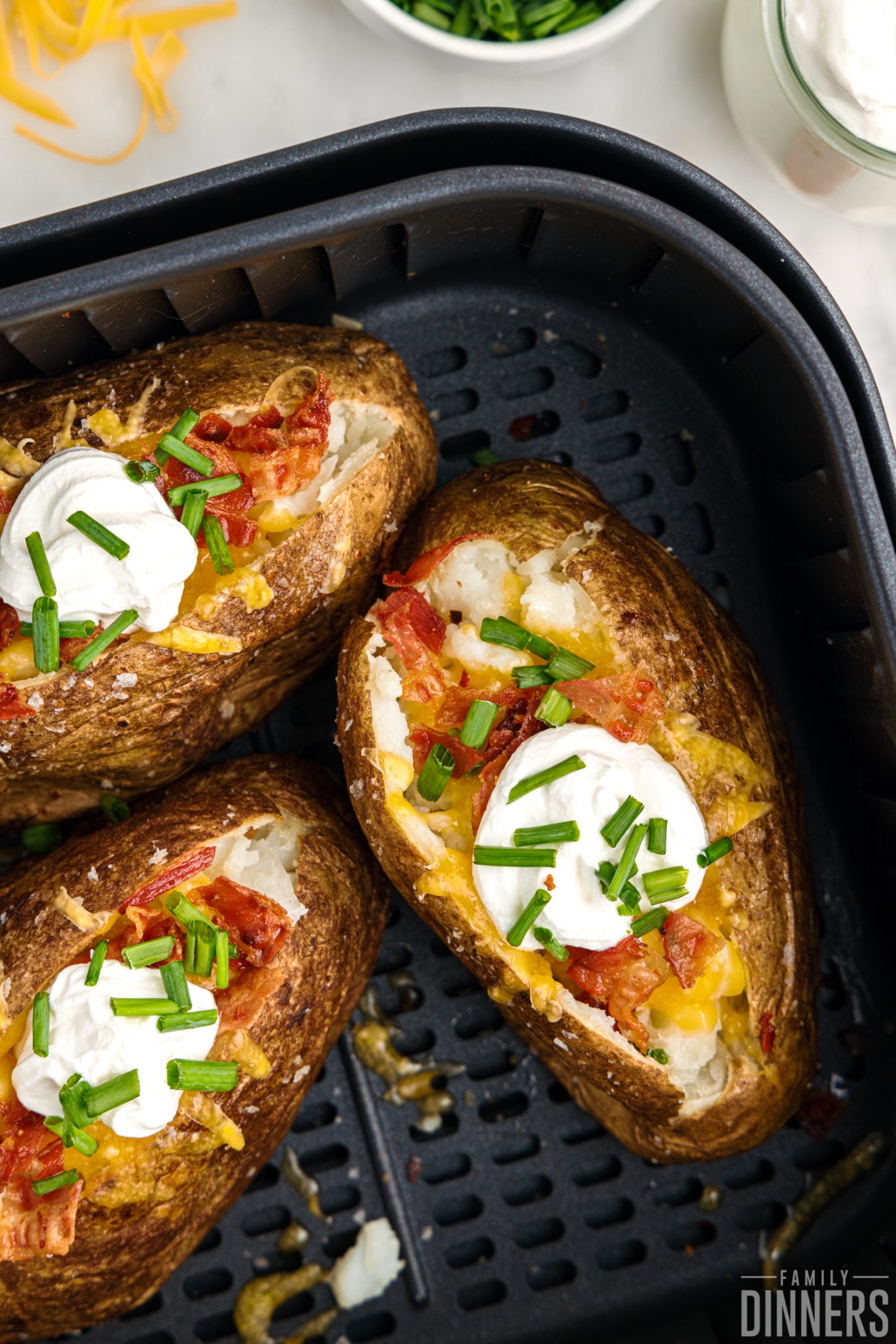 If you prefer sweet potatoes, those are easily baked in the air fryer as well. Air Fryer Sweet Potatoes are very easy to cook. Pop them in to go with any meal.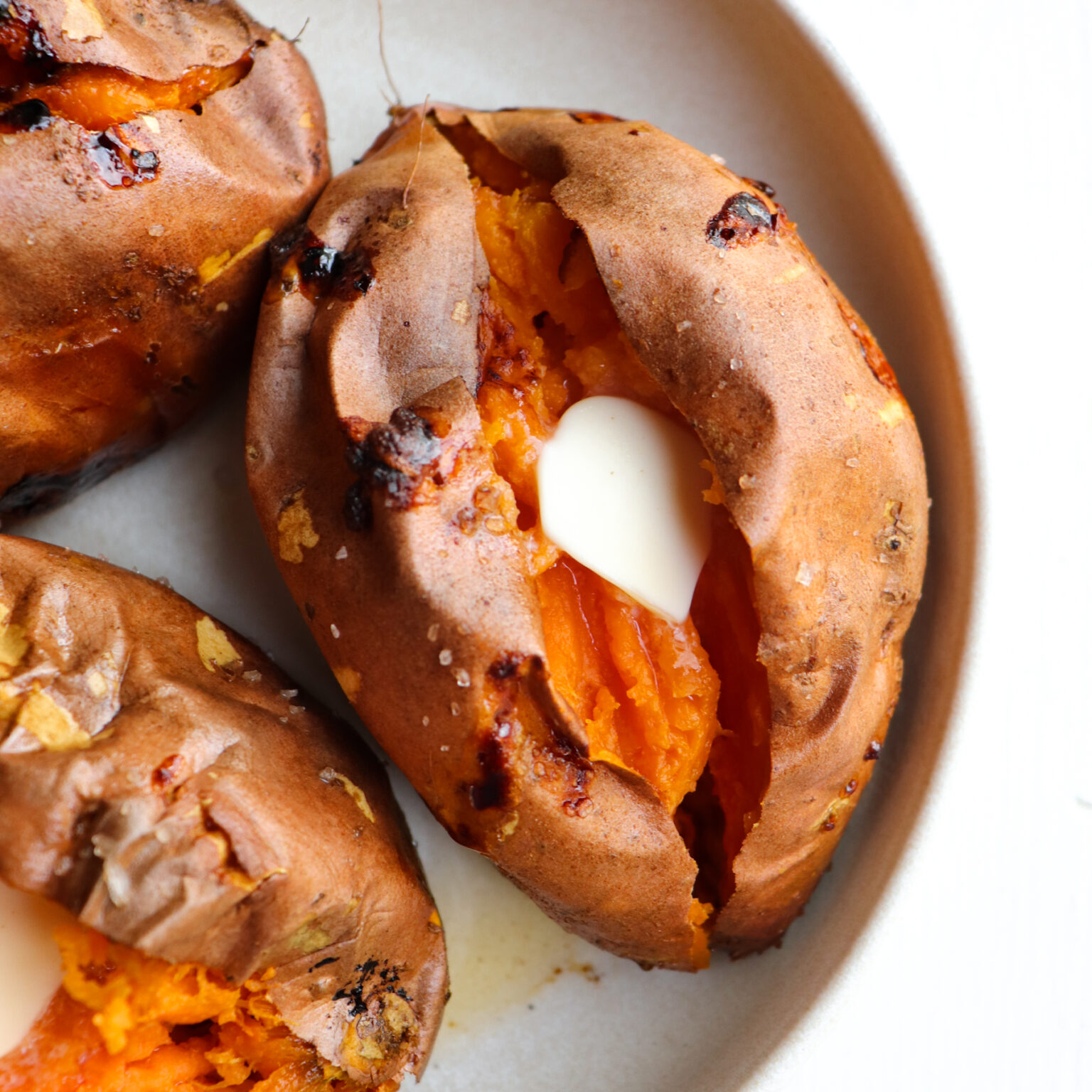 Making your own onion rings has never been easier. These Vegan Air Fryer Onion Rings are not only easy to make but they even have some protein! If you love onion rings don't miss this recipe.
If you love asparagus, there are so many ways to cook it in the air fryer. Try this Spicy Air Fryer Asparagus, or just Air Fryer Roasted Asparagus, or the ultimate, Prosciutto Wrapped Asparagus in the Air Fryer.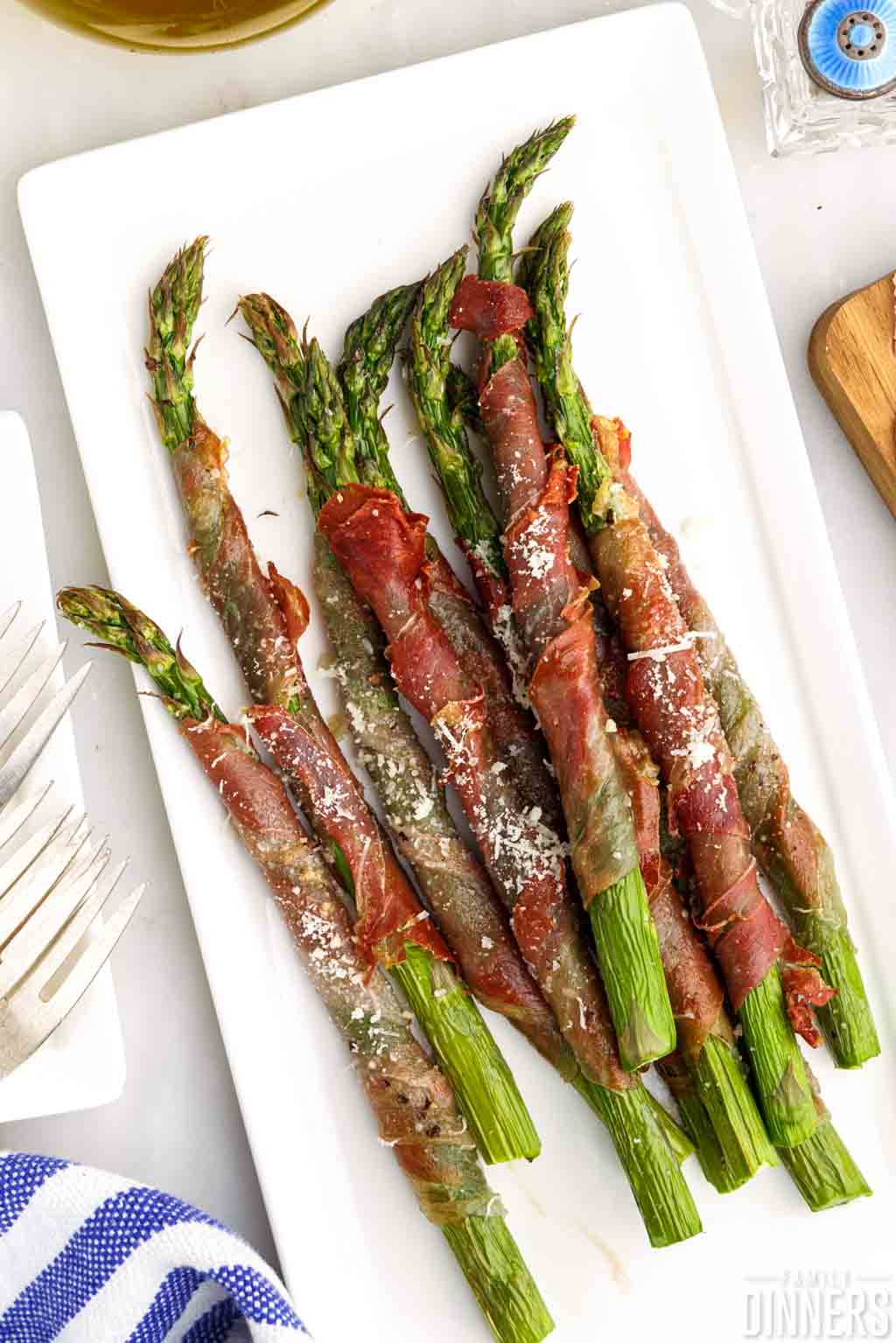 If you love potatoes, you need to try Air Fryer Hasselback Potatoes. These are easy to prep and are the perfect combination of crispy and tender. Or try the cheesy version. YUM.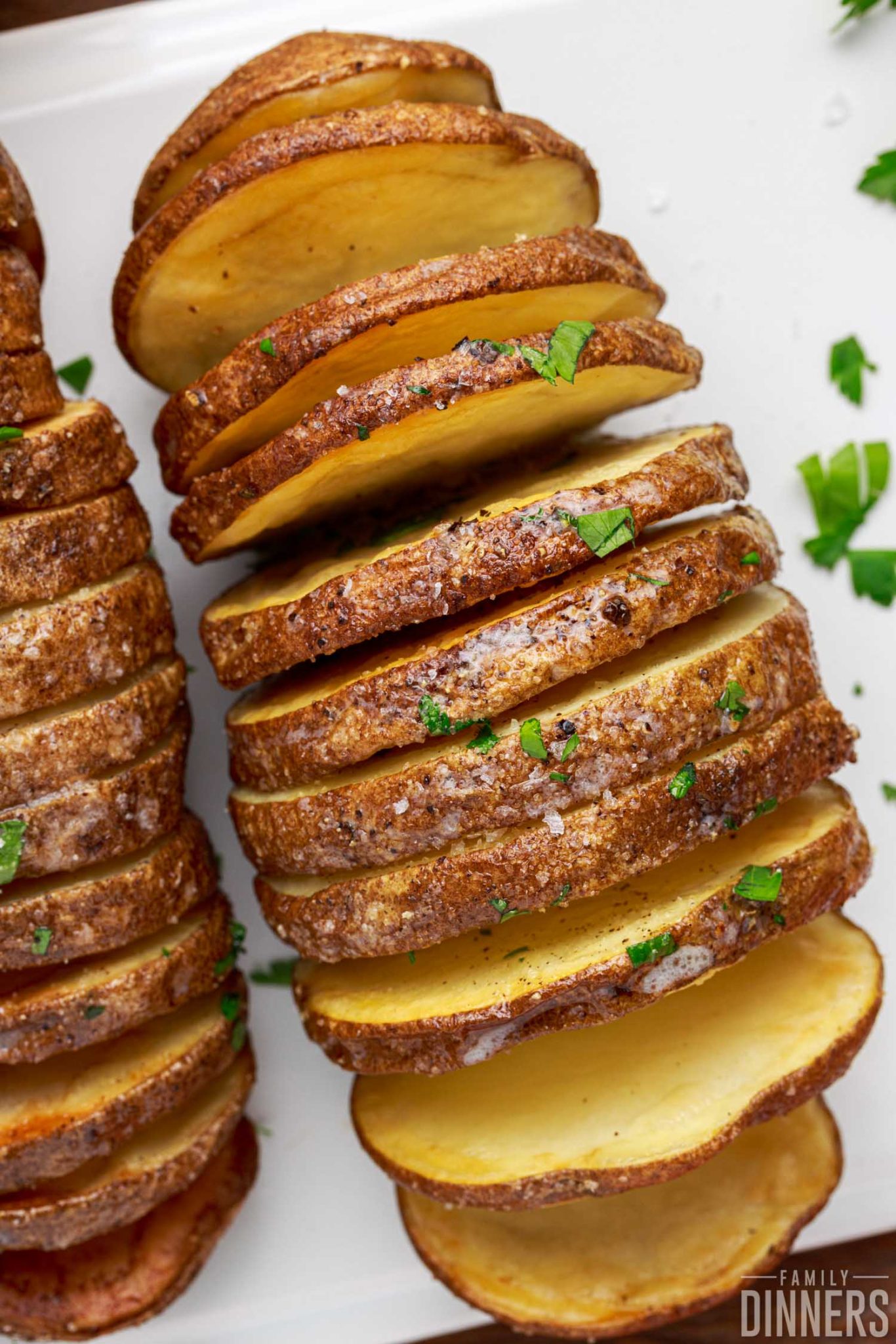 Eggplant can be intimidating. There are so many ways to cook it poorly but this method in the air fryer will make it easy. This Air Fryer Eggplant (Begun Bhaja) is seasoned with turmeric, which is so good for you. We can't wait to try this recipe.
Sometimes you need to cook frozen vegetables. Air Fryer Frozen Brussel Sprouts are a great way to cook Brussels sprouts. Or kick it up a notch and cook Air Fryer Brussels Sprouts with Bacon. Yum.
Air Fryer Corn is easy as well. Have you ever cooked corn in ribs like this? I haven't before but I'm definitely going to now. It's fun!
Air Fryer Zucchini is a great way to use up some of your summer bounty of zucchini. This is quick and makes a great side dish.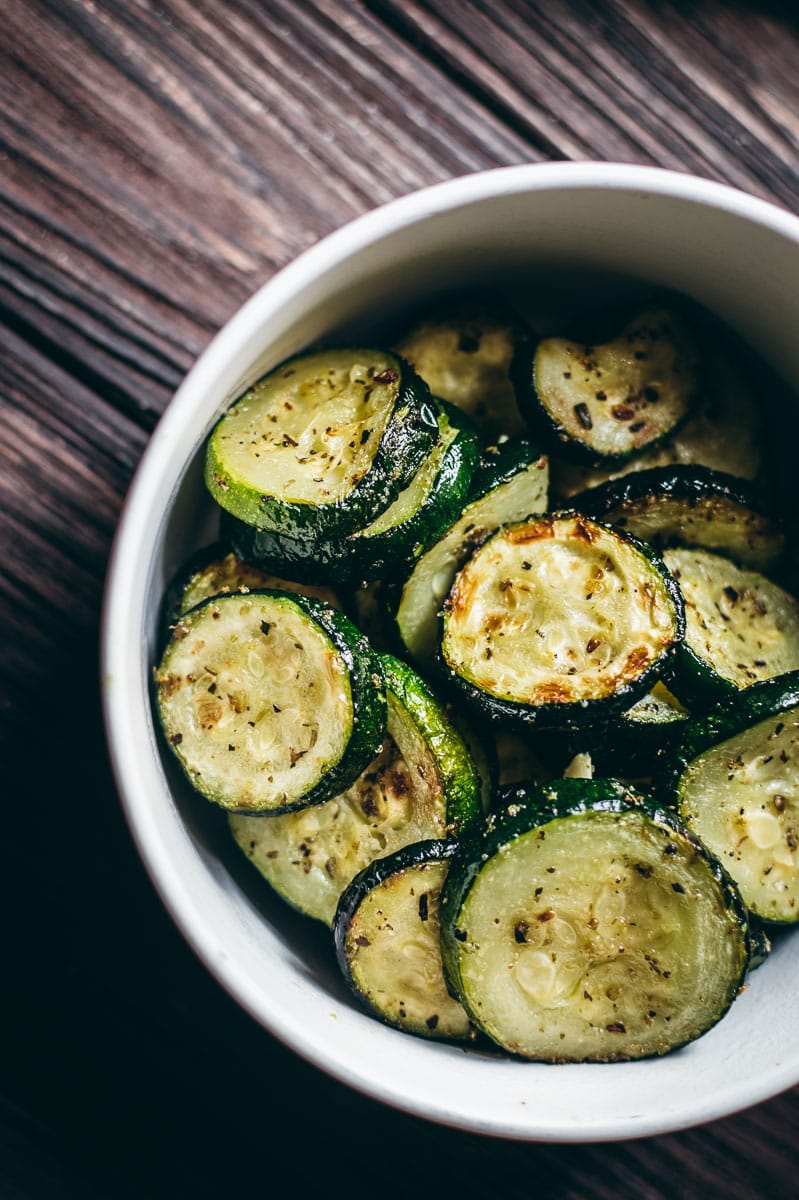 Air Fryer Meal Recipes
One of the easiest meals to make in an air fryer is a pizza on naan bread. Buy the bread at your grocer and top with your favorite sauce and toppings. In this version we made a caprese pizza with mozzarella, tomatoes and basil. But try any toppings you like! Just follow the Air Fryer Naan Pizza instructions.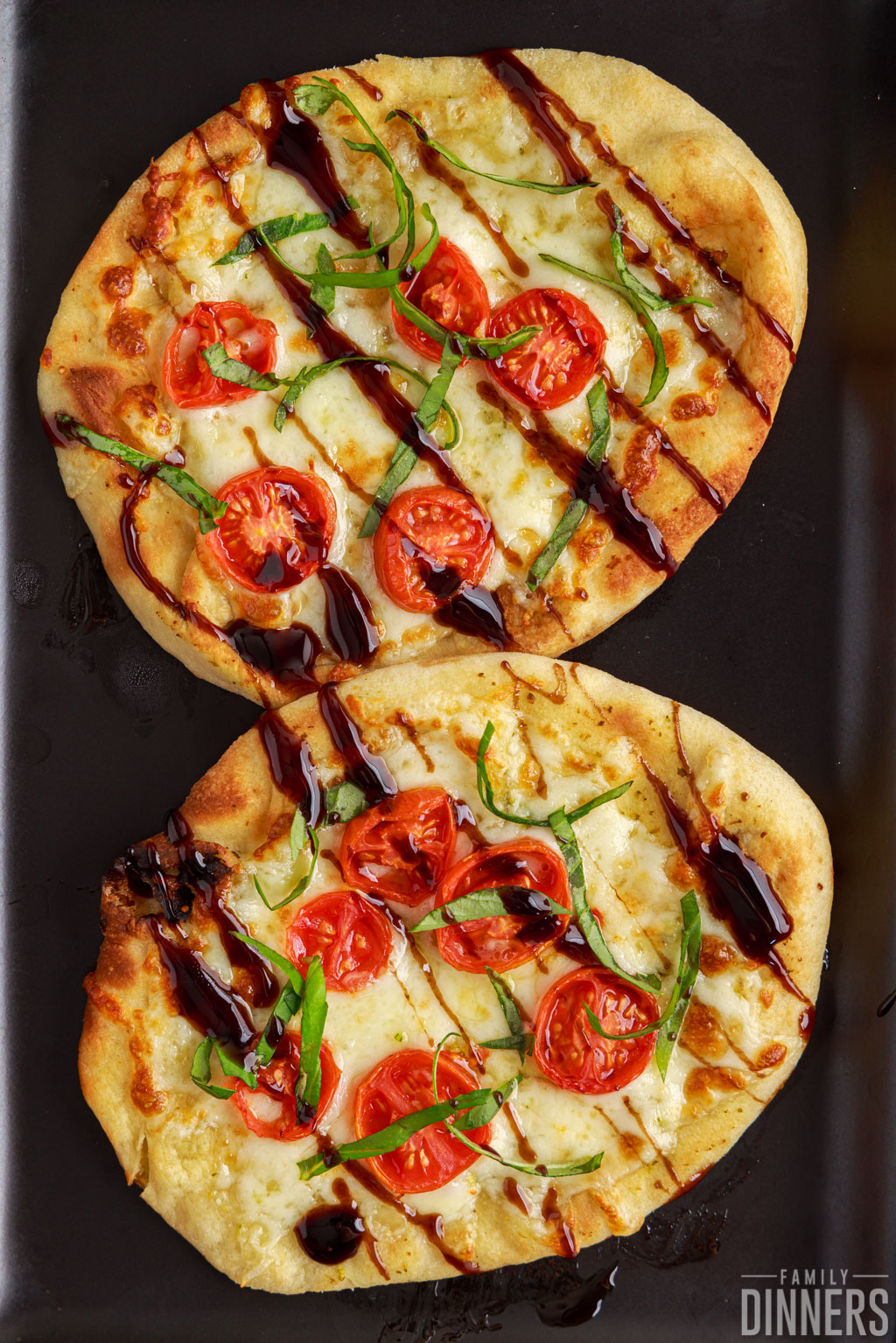 Chicken thighs cook up beautifully in the air fryer. Use your favorite marinade or try this one and follow the instructions on this Air Fryer Lemon Chicken recipe. This recipe is so good though, you should definitely just use these spices. Yum. Air fryer chicken thighs are one of my favorite meats to cook in the air fryer. It uses a lot less energy than the oven and cooks up perfectly.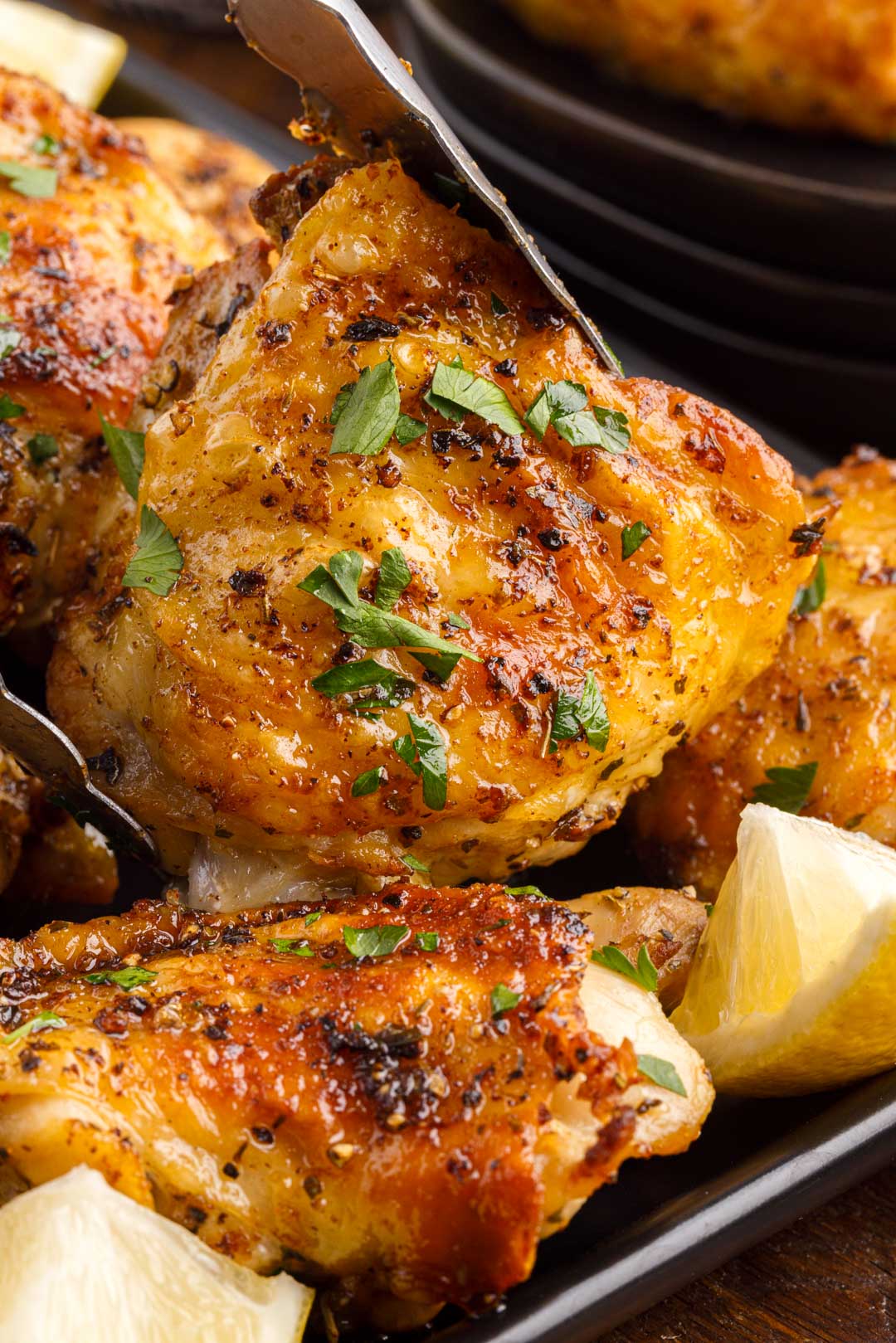 I love cooking fish in the air fryer. It cooks up quickly and has a great texture inside and out. This is my favorite Air Fryer Lemon Garlic Salmon recipe. It has a delicious lemon garlic rub that sets it over the top, for me.
Cooking a spaghetti squash has now gotten easier. It makes a great vegetarian and gluten free pasta substitute. This Air Fryer Spaghetti Squash recipe will show you how to cut it, cook it and serve it.
If you're looking for a more economical meal, this Air Fryer Tilapia is really delicious. The spice combination makes plain tilapia really tasty.
The question many people ask is, can you cook breaded fish in the air fryer? Yes! This Air Fryer Fried Fish recipe is delicious. You can't use a battered fish because the batter will just drip off in the air fryer, but breading works great. Just follow these instructions and you'll have fried fish cooked easily.
We love falafel! We usually eat it in a pita with cucumbers and tomatoes and our favorite sauces. I'm excited to try this Crispy Air Fryer Falafel recipe! It looks so good.
This isn't a whole meal, but turn your regular corn tortillas into a crunchy taco shell with these Air Fryer Taco Shell instructions.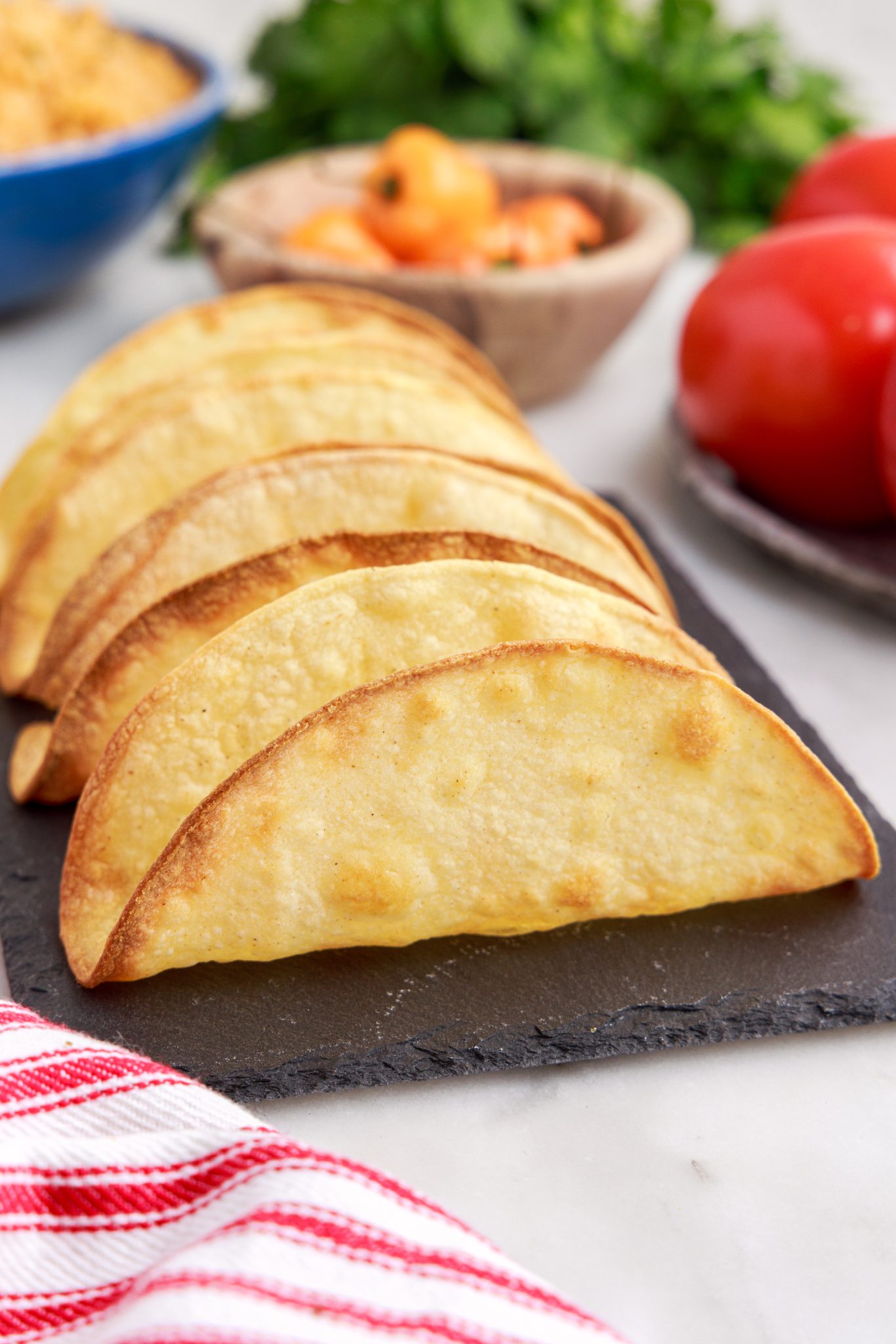 If you don't have an outdoor grill, or the weather isn't good, you can cook a hamburger in the air fryer. We tested cooking the frozen Costco hamburger patties in the air fryer and they cooked up great. Learn how to cook a frozen hamburger in the air fryer.
Use an air fryer to cook your scallops before pan frying. This Air Fried Scallops recipe shows you how to defrost and air fry your scallops then finish them on the stovetop.
Air Fryer Shrimp made from frozen or fresh in up to 10 minutes. It is plump, tender, keto, and super delish, making the perfect main dish or appetizer for beginners!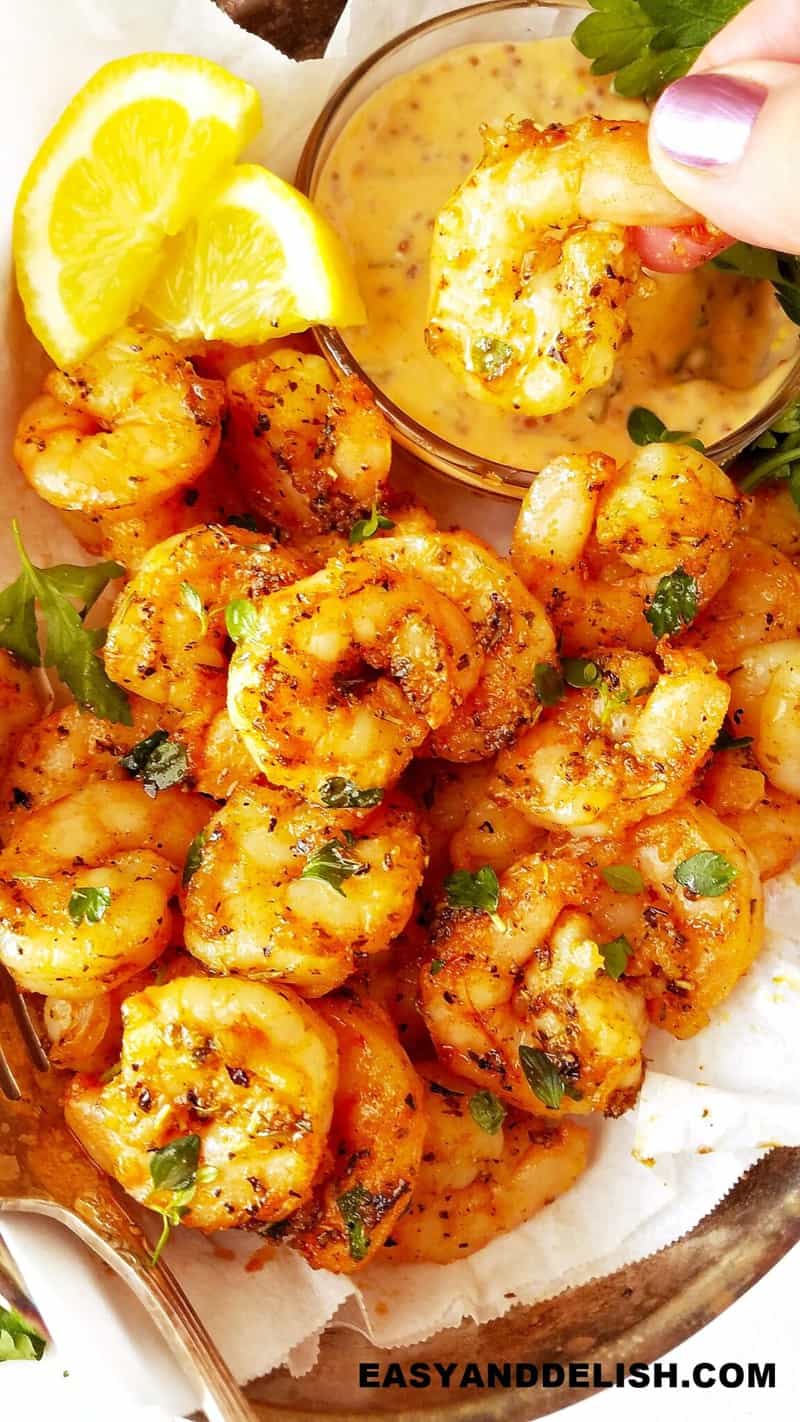 You will love how quick and easy it is to whip up Air Fryer BBQ Chicken Breast that is smothered in thick and sticky BBQ sauce. Ready in just 20 minutes with a crispy outside and so juicy. A simple dinner recipe the whole family will love!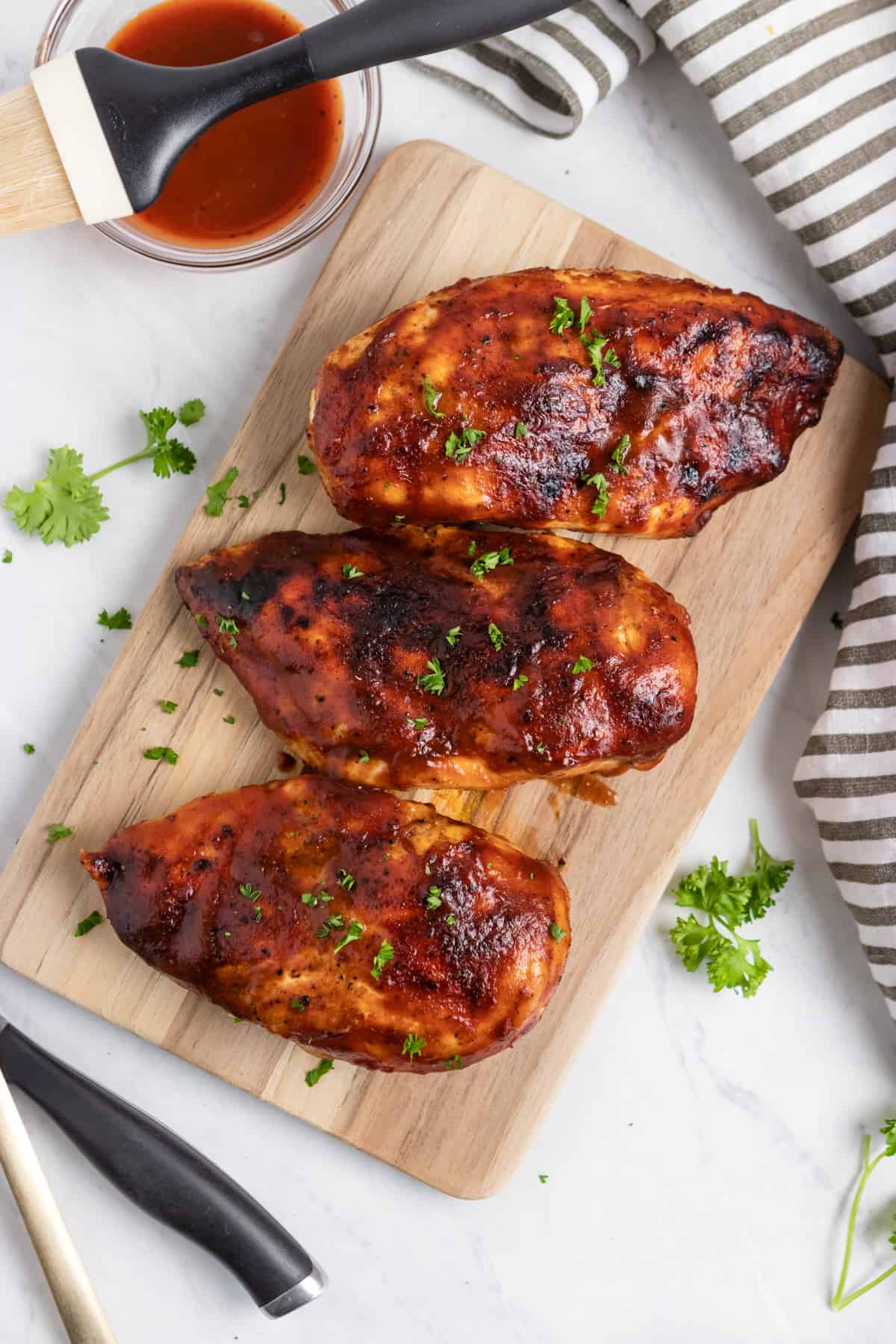 This easy Air Fryer Tofu is golden and super crispy in just 15 minutes of cooking time and practically as crispy as deep-fried with minimal oil!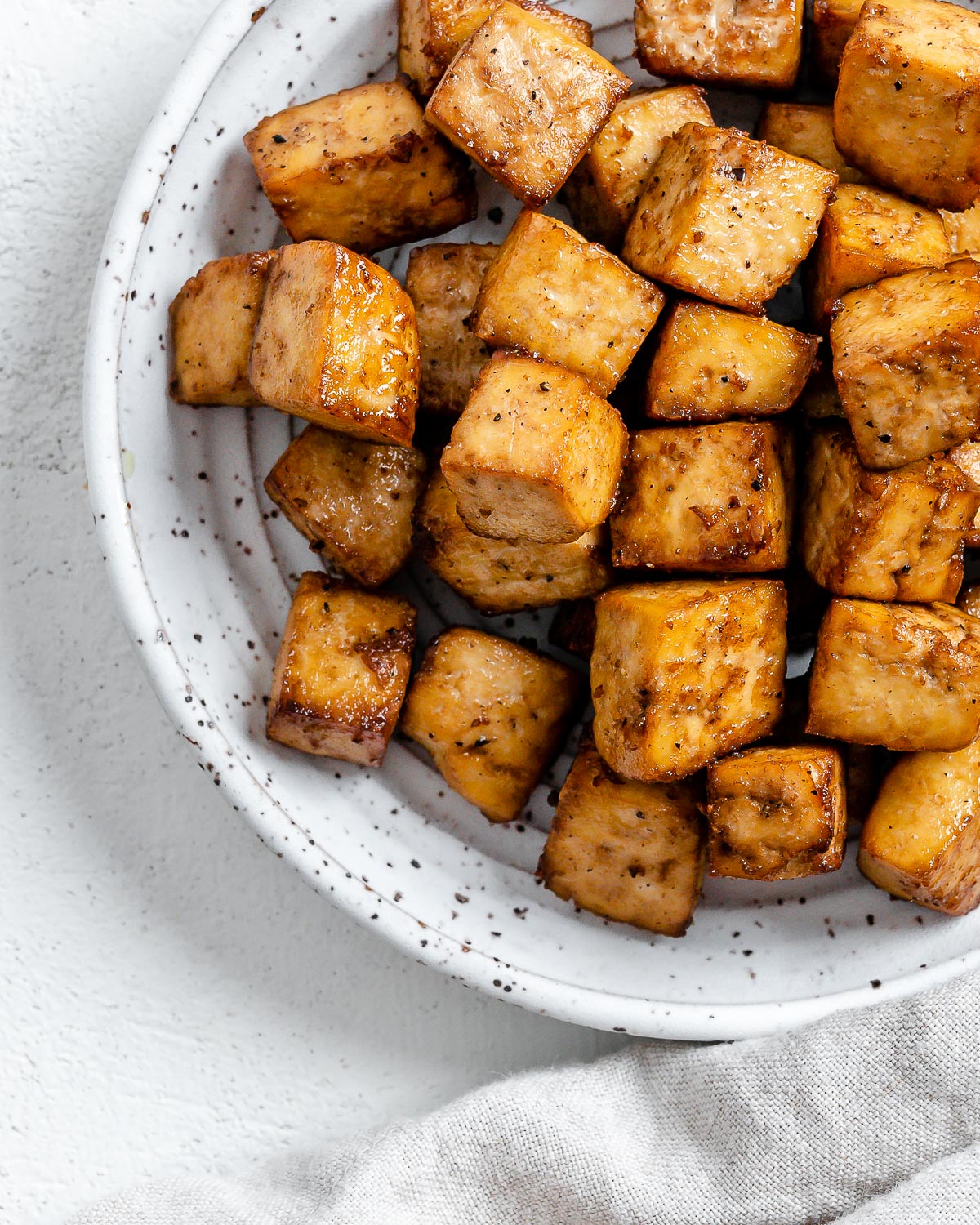 Make some easy chicken tenders for the kids. These Coconut Chicken Tenders are delicious crispy little chicken strips! Kids love them.
Air Fryer Enchiladas are a delicious change from tacos or burritos, but they're just as easy to make!
Hot and crispy quesadillas with ooey gooey cheese made in the air fryer in under 4 minutes start to finish!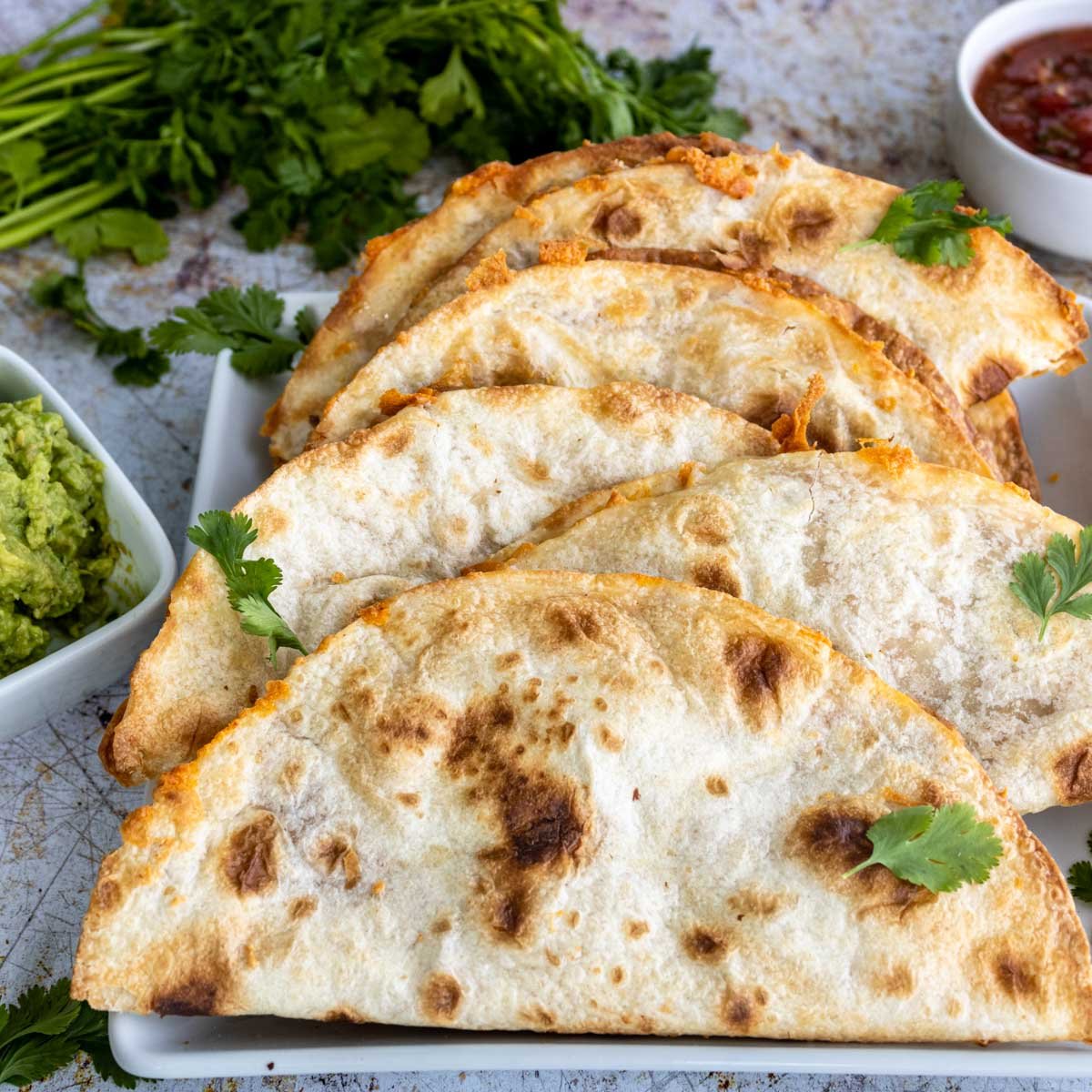 Learn how to make lamb chops in the air fryer perfectly every time! These easy air fryer lamb chops are juicy, flavorful, and ready in less than 15 minutes.
Air Fryer Dessert Recipes
Make cookies in the air fryer. Either make your own recipe or use refrigerator cookie dough. These Air Fryer Cookies instructions will tell you what temperature and how long to cook them. If you want to cook a bigger cookie, follow these instructions for cooking one cookie in the air fryer. These don't cook well right on the air fryer basket so use some parchment paper in the air fryer.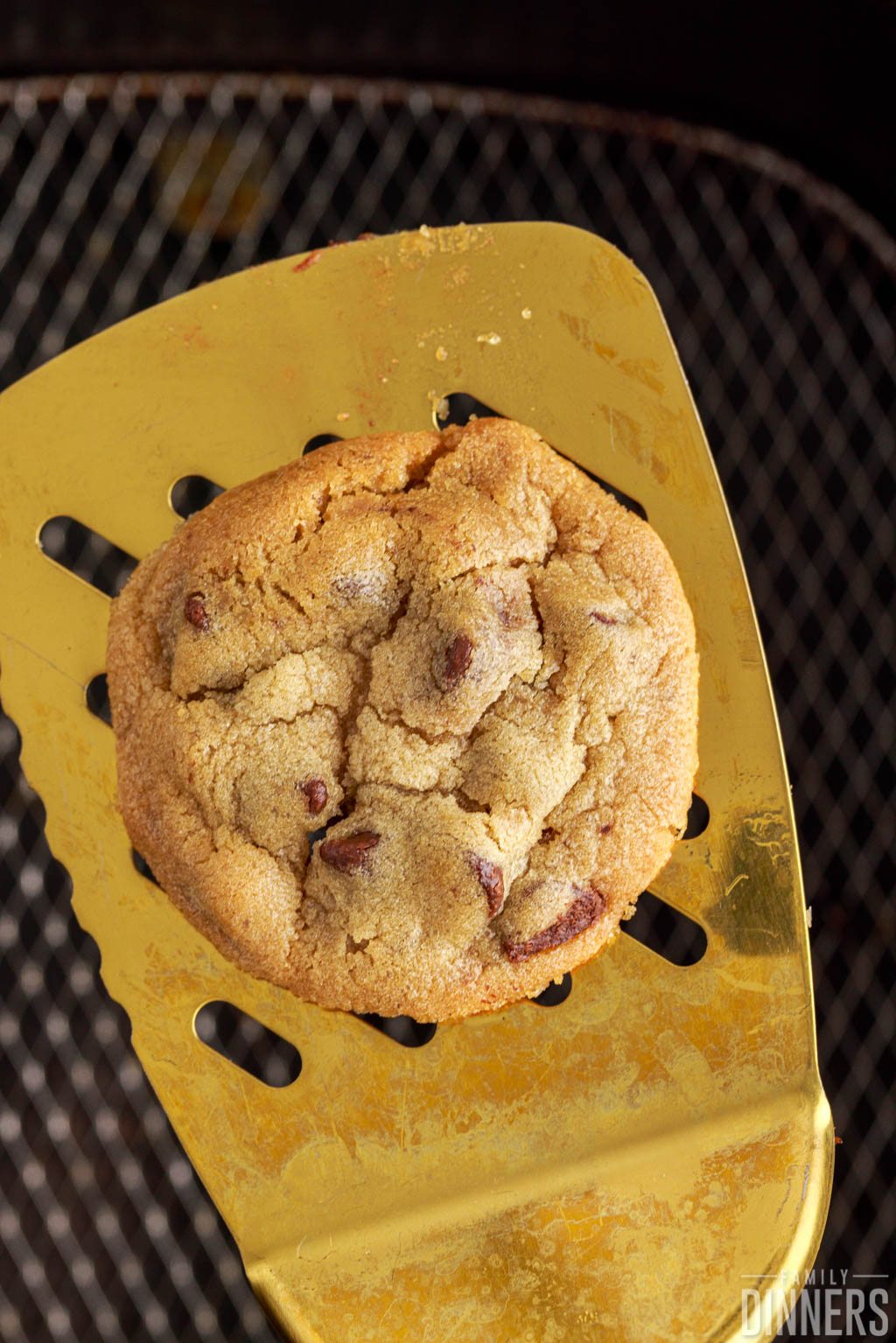 I love making hand pies. They're little pies that are made with pie crust (I usually buy mine) and pie filling. They cook up easily in the air fryer. These Air Fryer Apple Hand Pies are so tiny and cute! They're practically bite size! If you love the idea of hand pies, try these Turtle Hand Pies or a Cherry Cheesecake Hand Pie.
Air Fryer S'mores are a quick and easy treat made in your home. Gooey marshmallows, and melted chocolate, all between two grahams.
Easy and very tasty air fryer banana bread. It is the perfect breakfast that you can make at any time with just a small cake pan and an air fryer: