Get ready to zest up your meals with the tangy delight of lemon! In this post, we bring you an exciting collection of 50 diverse lemon recipes that truly showcase the versatility of this vibrant citrus fruit. Each recipe allows you to explore the wide-ranging culinary applications of lemon – from appetizers that pique your palate to scrumptious desserts that offer a refreshing finish to your meals. You'll also find ideas for delectable main dishes, like Lemon Chicken, and invigorating drinks like homemade Lemonade.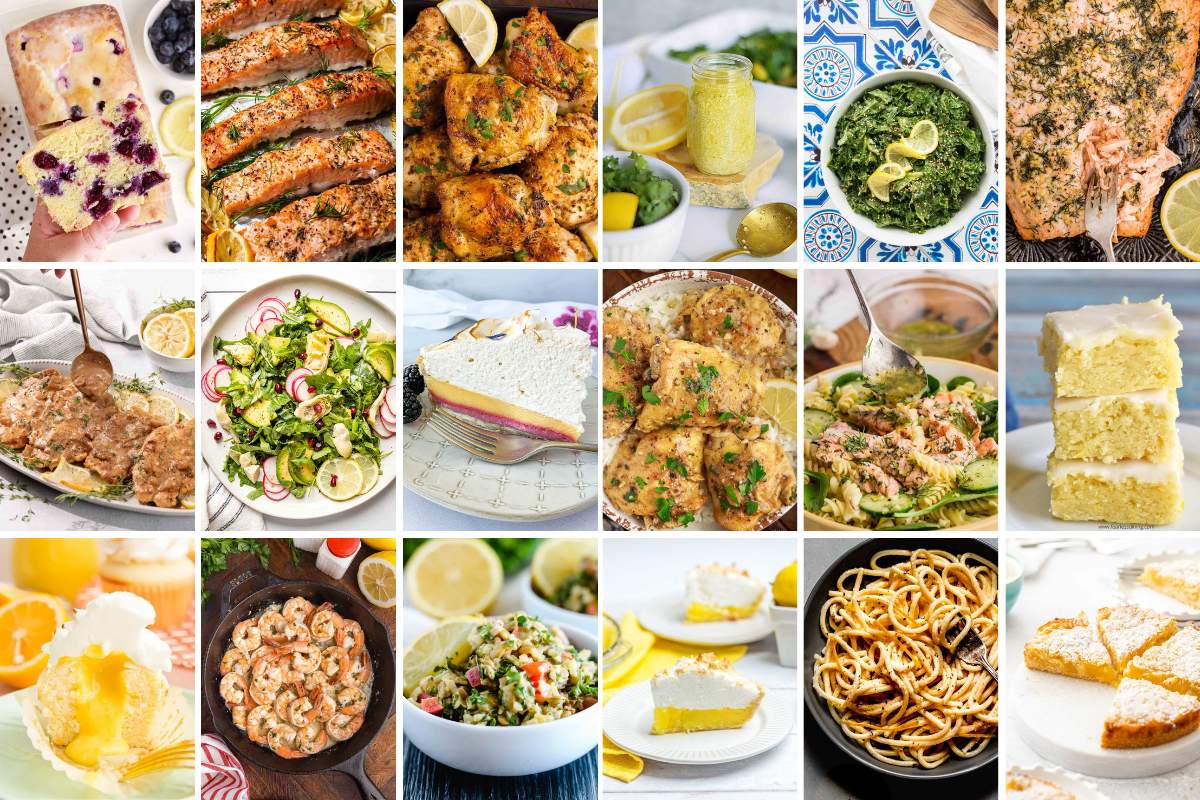 Lemon's bright, acidic flavor profile can truly invigorate your cooking, infusing a freshness that's simply irresistible. Whether you're whipping up a quick Lemon Sauce to drizzle over your dinner, looking for easy lemon recipes to serve on a hot summer day, or hunting for the best lemon desserts to satisfy your sweet tooth, we've got you covered. So let's dive in and squeeze the most out of this wonderful ingredient. It's time to embark on a culinary journey that lets you enjoy the full spectrum of flavors that lemons bring to your kitchen!
Dessert Recipes with Lemon
There's something uniquely captivating about the marriage of sweet and tangy flavors, and no other ingredient does it better than our star of the show – Lemon. This section is dedicated to an array of dessert recipes that harness the bright, zesty essence of lemons, proving that this citrus fruit is not just for savory dishes and drinks.
From tangy Lemon Bars that strike the perfect balance between sweet and tart, to a lusciously creamy Lemon Cheesecake that simply melts in your mouth, we've curated a variety of desserts that let lemon take center stage. Looking for a simple but refreshing treat? Try our easy Lemon Sorbet. Or maybe you're in the mood for something comforting and warm? Our Lemon Pound Cake won't disappoint.
These recipes will show you that lemons can indeed be the main ingredient in your desserts, bringing a burst of flavor that is as surprising as it is delightful. So put on your apron and preheat your oven – it's time to turn lemons into the sweetest of treats!
Gluten Free Lemon Desserts
Dive into the delicious realm of gluten-free lemon desserts in this section! Experience the magic of lemons in a whole new way, and see how effortlessly they brighten up gluten-free treats. From delightful Gluten-Free Lemon Bars to a zesty Gluten-Free Lemon Cake, we've curated a variety of recipes that fuse the tangy essence of lemons with the dietary benefits of gluten-free baking.
Are you on the lookout for easy gluten-free lemon recipes? We've got you covered. Our recipes use simple, easily accessible ingredients, ensuring you can enjoy these desserts without a hassle. Whether you're seeking the best gluten-free lemon desserts for a special occasion, or just fancy a tangy sweet treat, this is your one-stop destination.
So, ready to add a burst of citrus flavor to your gluten-free baking? Let's embark on this sweet journey and delight in the zesty goodness that awaits!
Dressings, Sauces and Special Recipes with Lemon
In this section, you'll discover a variety of recipes that capitalize on the zesty punch of lemons. From zingy lemon dressings that can transform any salad, to savory lemon sauces that add a bright twist to your main dishes, these recipes prove how versatile and essential lemons are in our kitchens. Get ready to bring an explosion of tangy flavor to your meals with our curated selection of lemon sauces and dressings.
Vegetables and Side Dishes with Lemon
Explore our vibrant collection of vegetable side dishes heightened with the zing of lemon! Here, you'll find an assortment of recipes that let the fresh tanginess of lemon transform ordinary vegetables into extraordinary delights. These dishes showcase how a squeeze of lemon can invigorate your veggies. Get ready to brighten your mealtime with these easy and delicious lemon-infused vegetable sides!
Dinner Recipes with Lemon
Step into a gastronomic journey of main dish recipes with the zesty star – Lemon! This section showcases a variety of main dish recipes where lemon truly shines, adding a bright, acidic note that wonderfully balances and enhances flavors. From Lemon Chicken that's marinated in a tangy blend and then roasted to perfection, to a Lemon Risotto that's beautifully creamy with a citrus kick, you'll discover how lemons can redefine your savory dishes.
These recipes are not just about using lemon as a mere garnish; they celebrate lemon as a focal point that can elevate your cooking to new culinary heights. Are you seeking easy lemon recipes for a weekday dinner or hunting for the best lemon main dishes to impress at a dinner party? You're in the right place! Let's start this flavorful adventure and zest up your meals with the delightful tang of lemons.
Frequently Asked Questions