Thanks everyone for linking up your fashion creations on Thursday! There were 74 entries, which is a record so far. As I mentioned, I thought it would be fun to showcase some of your projects in the Women's Fashion category. So, here they are! (Note: they were all great, I chose 10 but please go check out the others as well!)
Vote for your favorite. The winner gets the satisfaction of winning and this button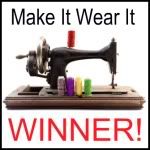 So, in no particular order, here are your 10 choices!
1. 
Mama Says Sew made this tiered circle skirt.
2.
An Iowa Expat Wanders About The South made a tie skirt
3.
Sew Kansas made this pencil skirt
4.
Sugar Bee made this snowball skirt
5.
Little Eme made this Desert Rose Skirt
6.

Mama Smiles drafted this long skirt
7.
Dame Design Studios made the Femme Capelet
8.
Posh Pilar made the Kasia Skirt
9.
Sew a Straight Line made this Jackie O. Jacket
10.

Domestic Deadline made this Anthro inspired refashion
Use the Poll on the sidebar to vote!! Voting closes Wednesday evening!
Thursday I'll do another special Make It Wear It Competition. Get ready to link up your "Accessories"