Finding meals that are easy and that the whole family will love is sometimes challenging. Fortunately, a baked pasta dish is almost always a hit at our house. The heartiness of pasta with a good marinara is comfort food everyone can get behind. This RAGÚ® Homestyle baked tortellini with peppers and spinach was a huge hit. Everyone was sad there were no leftovers the next day.
For a good baked tortellini you need to start with a good marinara sauce. We picked up a couple jars of RAGÚ® Homestyle sauce the other day and everyone raved about it. I love that it is thick and hearty, like a homemade sauce but it's handy for days I just need quick. This sauce is made just like you'd make your own sauce with simmered tomatoes, onions and spices so it's thick enough to hug the pasta. Plus there are no artificial flavors or high fructose corn syrup in RAGÚ® Homestyle sauces.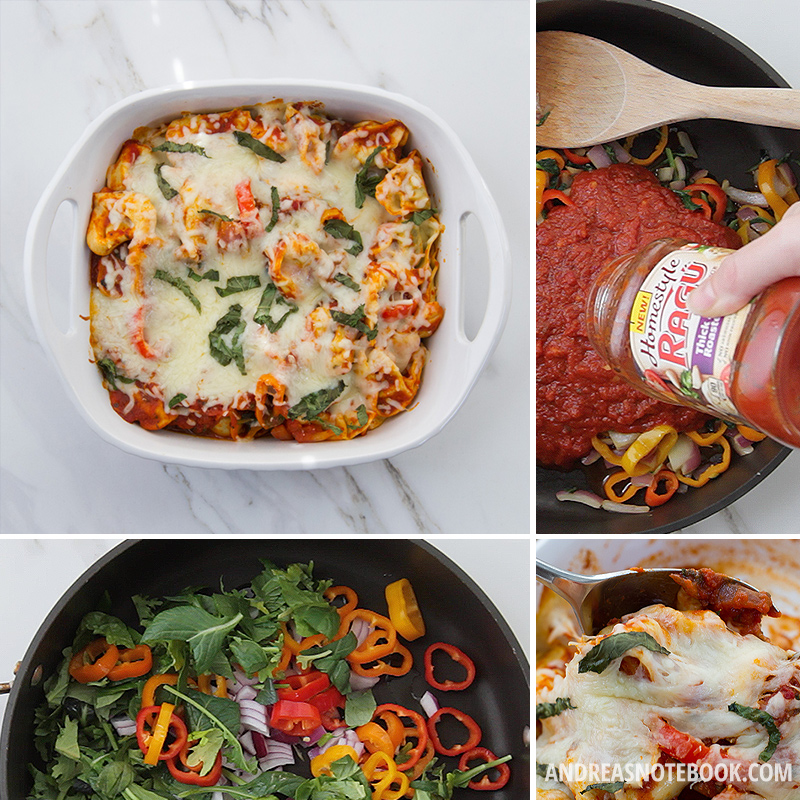 I made this recipe on a weeknight, which is always hectic for us. It took about 15 minutes to prep the dish and then it cooked in the oven for 25 minutes. So it really isn't time consuming as far as hands-on time goes. Though it does require that you are home about 40 minutes before you need to eat. All in all I'd definitely rate this good for busy weeknights. Healthy, hearty and easy to make.
If your family isn't big on peppers you could add in sliced raw mushrooms or even blanched broccoli. If you need meat, consider adding some diced, cooked chicken. Though there is plenty of protein in this meal so it doesn't need meat at all.
This meal would go really well with the Lion House Rolls or the Easy Cheesy Garlic Knots. A side salad like this simple greek salad would pair well if you need a side dish. Or consider one of these great sides you can make in the crock pot.
Ingredients:
1 Tbsp olive oil
1 cup chopped sweet peppers
2 cups chopped spinach or kale baby greens
½ cup chopped onions
1 package cheese tortellini, cooked al denté
1 cup shredded mozzarella cheese
2 Tbsp chopped fresh basil
Instructions:
Preheat oven to 375°.
Boil pot of water and cook tortellini al dente.
Heat a large pan over medium heat. Add olive oil. Sauté onions, peppers and baby greens until soft, about 6 minutes.
Add marinara sauce and tortellini. Mix.
Spray 9"x9" baking dish with non-stick cooking spray. Spoon the tortellini mixture into the baking dish. Cover with cheese and basil.
Bake at 375° for 25 minutes or until the cheese is melted.
Share this recipe video on facebook with your friends!
Visit the campaign landing page to learn more about the new line of Ragu Homestyle sauces and find a taste of home.