I found a top on Pinterest a while back that caught my eye. A large circle pocket on the front of a shirt. So easy and fun. I made these tops for my girls months ago and they always get compliments. Here's the tutorial for you!
I love sewing simple, quick dresses. And I especially love to sew with knit fabrics. They are comfortable and cute and I find my girls prefer them to other dresses. If you've never sewn with knits, take a deep breath. It isn't as scary as it seems. And no, you don't need a serger. It is completely possible to sew knit with your regular sewing machine. If you have a zig zag stitch, or better yet, a "knit stitch" then you'll be able to sew this project just fine. Of course, you don't have to do this in knit but I like the way it looks.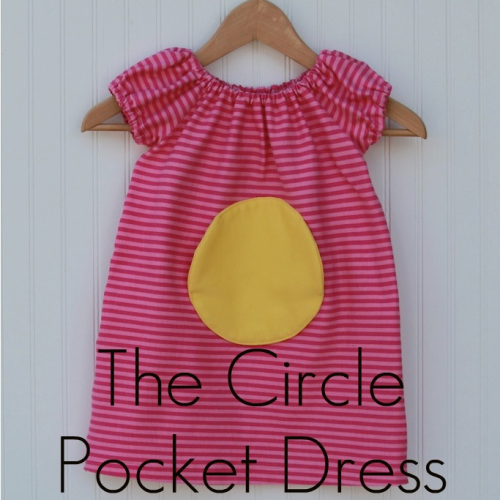 For this dress, find an existing dress and create your own pattern, use my free Go To Dress pattern, a peasant shirt pattern, or any favorite pattern of yours. This is a simple, easy way to switch up a favorite pattern and create something new and unique.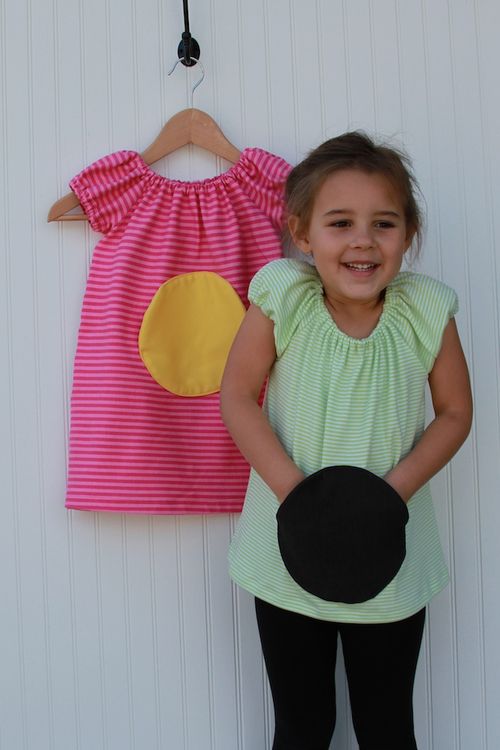 You can crop it and make a cute shirt as well.
This tutorial is very simple. First find a round bowl just slightly larger than you would like the pocket.
Trace a circle onto freezer paper.
Iron the circle onto your fabric and cut 2 circles.
Sew circles, right sides together, leaving a 2″ opening.
Turn circle right side out. Iron flat.
Pin your circle to the front panel of your dress BEFORE you sew your dress together.
Sew the circle on the dress as the diagram below shows sewing as close to the edge as possible. Ensure your 2″ opening is now sewn closed.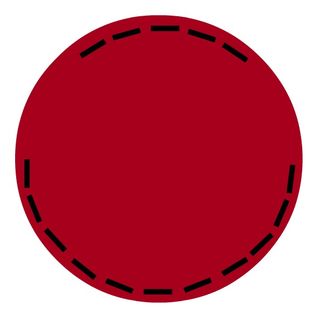 **When working with knits you may find it helpful to use a stabilizer. I used a tear away stabilizer when I sewed the two circles together. Before turning the circle right side out I carefully cut out the center of the stabilizer leaving ¼″ of stabilizer along the inner edge. This will help when stitching the circle pocket to the dress by preventing odd puckering and gathering.**
Now sew your dress together! There you have it! A simple way to reuse a pattern you love and make it unique.
Thanks for having me Shanna! I'm loving this series and can't wait to see the rest of the projects!