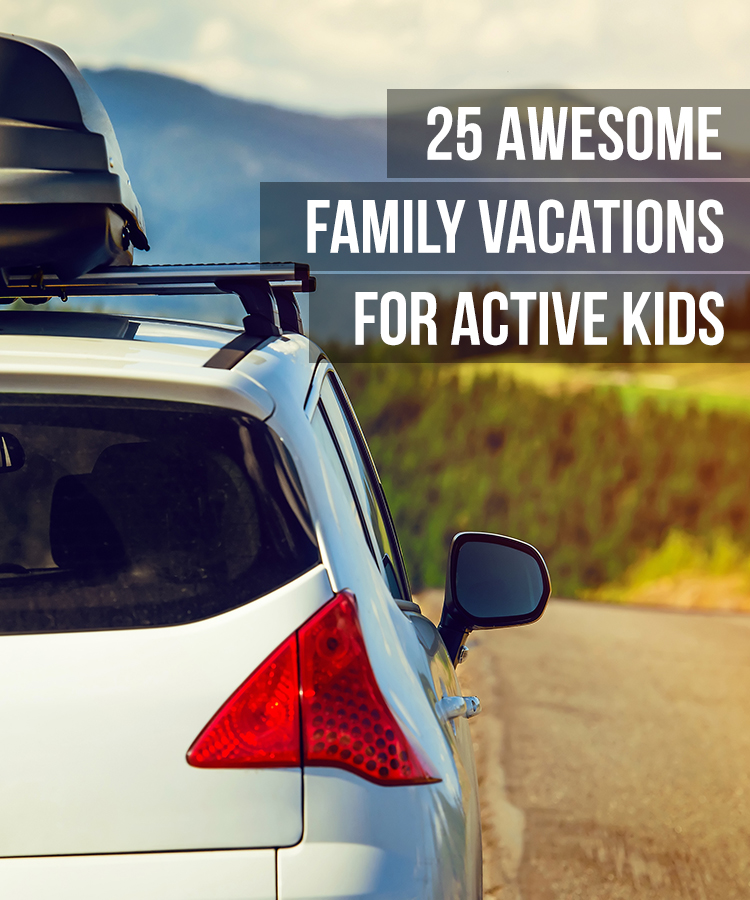 As the parent of two very active kids I know it is crucial to plan a family vacation packed with activity and access to the outdoors. Let's be honest, a slow morning with the newspaper in a fancy hotel room just isn't the same when the kids are jumping on the beds. So skip it. Pack hiking boots and firewood and head out on an epic adventure that will get everyone moving. With activities for all ages (and budgets) in all parts of the country, these 25 family vacations for active kids are sure winners. And don't miss my favorite things to do in San Diego.
---
1. Boundary Waters Wilderness Area in Northern Minnesota
You cannot beat this area for stunning wilderness. On the border of Minnesota and Canada, this pristine natural setting is perfect for canoeing into an isolated camping spot where you can swim with loons and hike with moose. Let these skilled outfitters set you up with everything you need for this grand adventure (photo courtesy National Geographic).
---
2. Ecola State Park on the Oregon Coast
With nine miles of coastline along the crashing surf, this stretch of Oregon has opportunities for hiking, tide pooling, picnicking and the chance to catch a glimpse of deer, elk, eagles and even whales. The final scenes from the movie Goonies was filmed here, so a pre-screening might be essential. (photo courtesy Oregon Parks Dept.)
---
3. Grand Canyon in Arizona
This one is not to be missed. Explore the stunning beauty of the Grand Canyon on this guided tour designed to make it manageable for kids. (photo from National Geographic)
---
4. Wild Wyoming
Take the family on a Wyoming adventure exploring the Grand Tetons and Yellowstone. Make it memorable with a kayak alongside the Tetons and lunch beside Old Faithful. What kid could forget a vacation like that? (photo courtesy Austin Destinations)
---
5. Acadia National Park in Maine
Set within the already stunning landscape of Maine, Acadia boasts a Junior Ranger program, educational boat cruises, sandy beaches and dazzling hikes and biking trails on old carriage roads. (photo from Acadia National Parks)
---
6. Priest Lake, Idaho
Priest Lake, Idaho is a remote lake 30 miles south of Canada. Stay in a luxury cabin at the nearby Elkins Lodge and enjoy tubing, swimming, kayaking and water skiing after a day of hiking among ancient cedar trees. (photo courtesy National Geographic)
---
7. Ricketts Glen State Park, PA
While all of Pennsylvania boasts an extensive network of rustic cabins nestled in the Pennsylvania wilderness, Ricketts Glen boasts waterfall-filled hiking trails and a laid-back, lakeside beach with nearby ice cream stand, perfect for young kids to roam. (photo courtesy stateparks.com)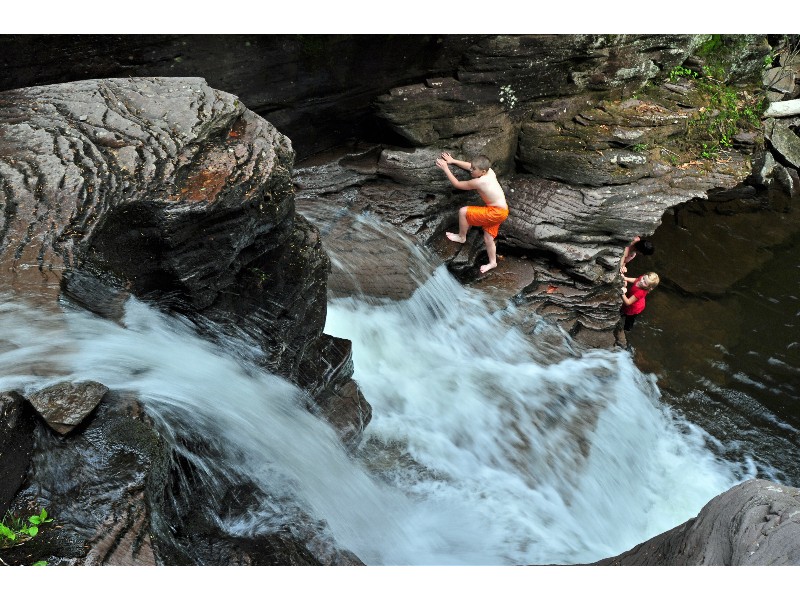 ---
8. Mackinac Island, MI
An island located inside of Lake Huron, Mackinac Island bans motor vehicles making it perfect for biking, walking and exploring. Be sure to check out the architecture including the Grand Hotel and enjoy its famous fudge. (photo courtesy mackinacisland.net)
---
9. Lake Champlain Area, NY
At the top point of the Great Appalachian Valley, Lake Champlain borders the US and Canada and offers long stretches of undeveloped coastline. Take the chance to explore where tectonic plates converge, go golfing, enjoy stunning hiking trails, kayaking, boating as well as shopping and museums. (photo from LakeChamplain.org)
---
10. Anchorage, Alaska
It might not be the easiest to get to but few other places offer a better chance at catching the Northern Lights. Add to that an unparalleled natural habitat within reach of a big city and Anchorage has to be on the bucket list. (photo from travelalaska.com)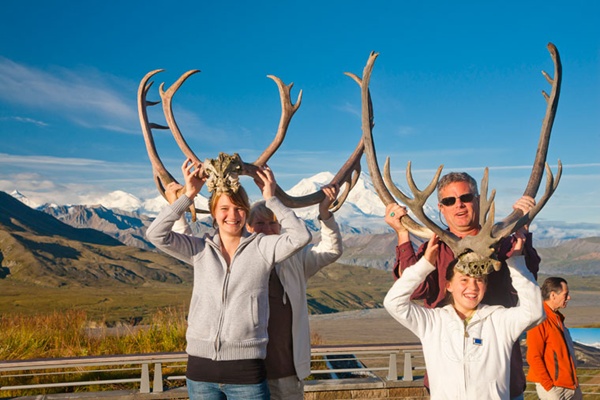 ---
11. Outer Banks, NC
This narrow strip of barrier islands off the coast of North Carolina is a prime spot for free-range kids. The Outer Banks is where the kids run on the beach but grown-ups still have access to restaurants and shops. Be sure to dive into local history at Kitty Hawk, where the Wright Brothers took one of their first flights! Book one of the many vacation homes available and live like a local. (photo courtesy outerbanks.com)
---
12. Sequoia National Park, CA
Nothing motivates tree-hugging quite like the awe-inspiring Sequoia trees of California. Sequoia National Park is not to be missed for the adventurous family. (photo from Visit Sequoia)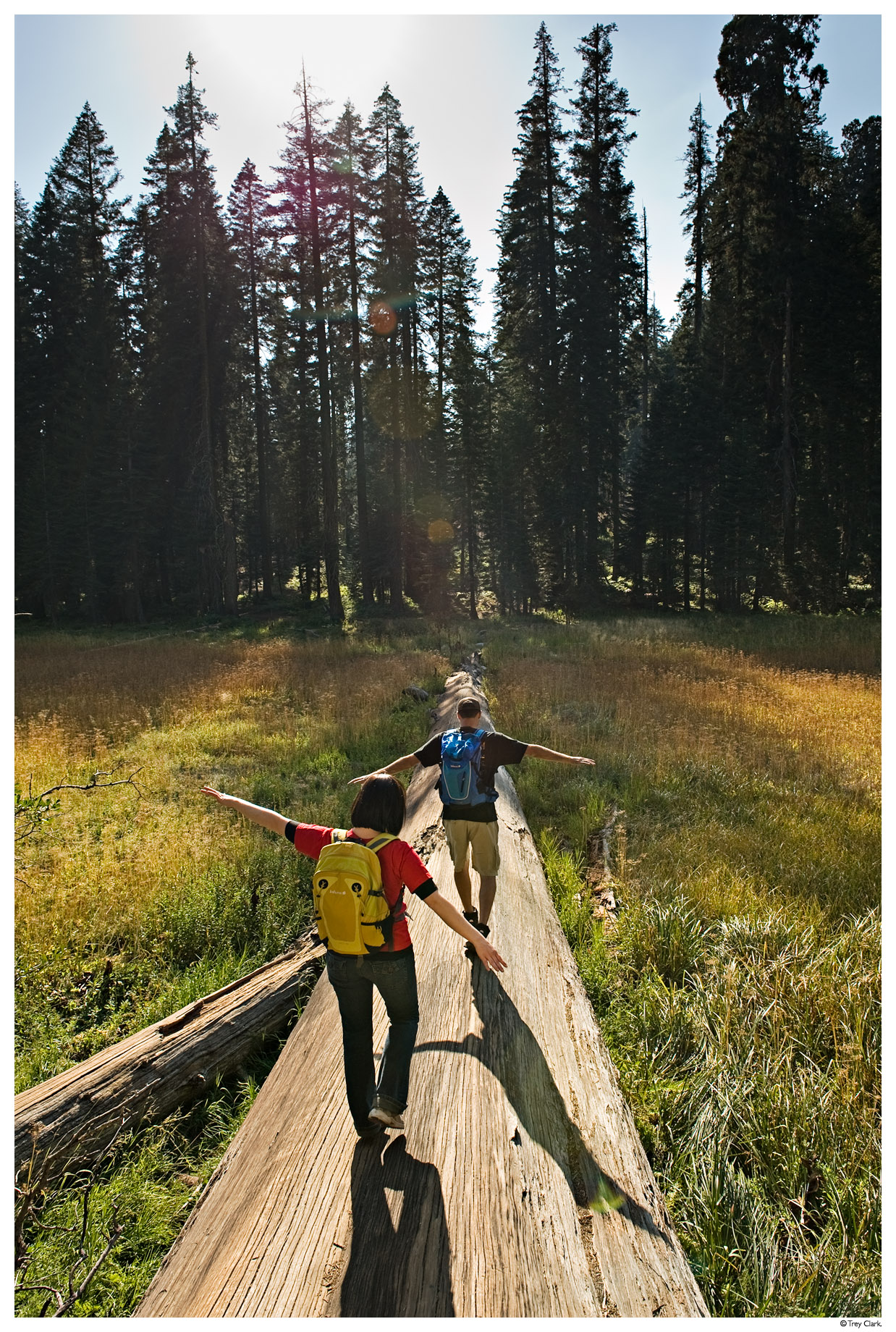 ---
13. Boulder, CO
This city surrounded by nature is full of family-friendly happenings including hiking, the Pearl Street Mall and the luscious Farmer's Market. Don't miss a visit to the historic Chataugua Park at the base of the Flatiron Mountains. (photo from Boulder Downtown)
---
14.The Everglades, FL
This unique swath of land is home to a multitude of endangered species and designated a World Heritage site. In the Everglades you can kayak through the mangrove trees with an eye out for manatee, wild Ibis and the Florida panther unique to this area. In addition to hiking and canoeing you can even rent a houseboat and live on the water. (photo from National Geographic)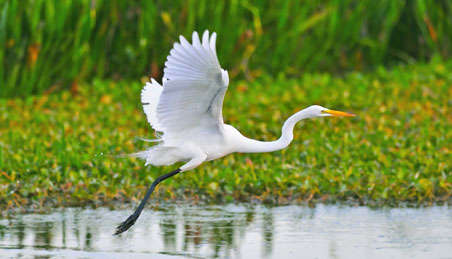 ---
15. Portland, OR
This funky, creative city sits only one-hour from the base of Mt. Hood. Capture both nature and the city vibe by booking one of the many listings on airbnb for a cabin near Sandy River and you can drive into town for the fantastic food and sights of this amazing city. (photo from Travel Portland)
---
16. San Juan Islands, WA
These stunning, hidden islands off Washington State have lots of room for kids to run-free as well with a ferry ride to get there that is sure to be exciting. Add to that a zip line that takes you through the forest and you have a winner. (photo from Visit San Juans)
---
17. Asheville, NC
Asheville is a nature-lovers paradise. Explore waterfalls, hike along the Blue Ridge mountains, whitewater raft and stargaze to your hearts content. Then, take in the famed local food and creative, hippy culture over a microbrew at the end of the day. (photo from Carolina Mornings)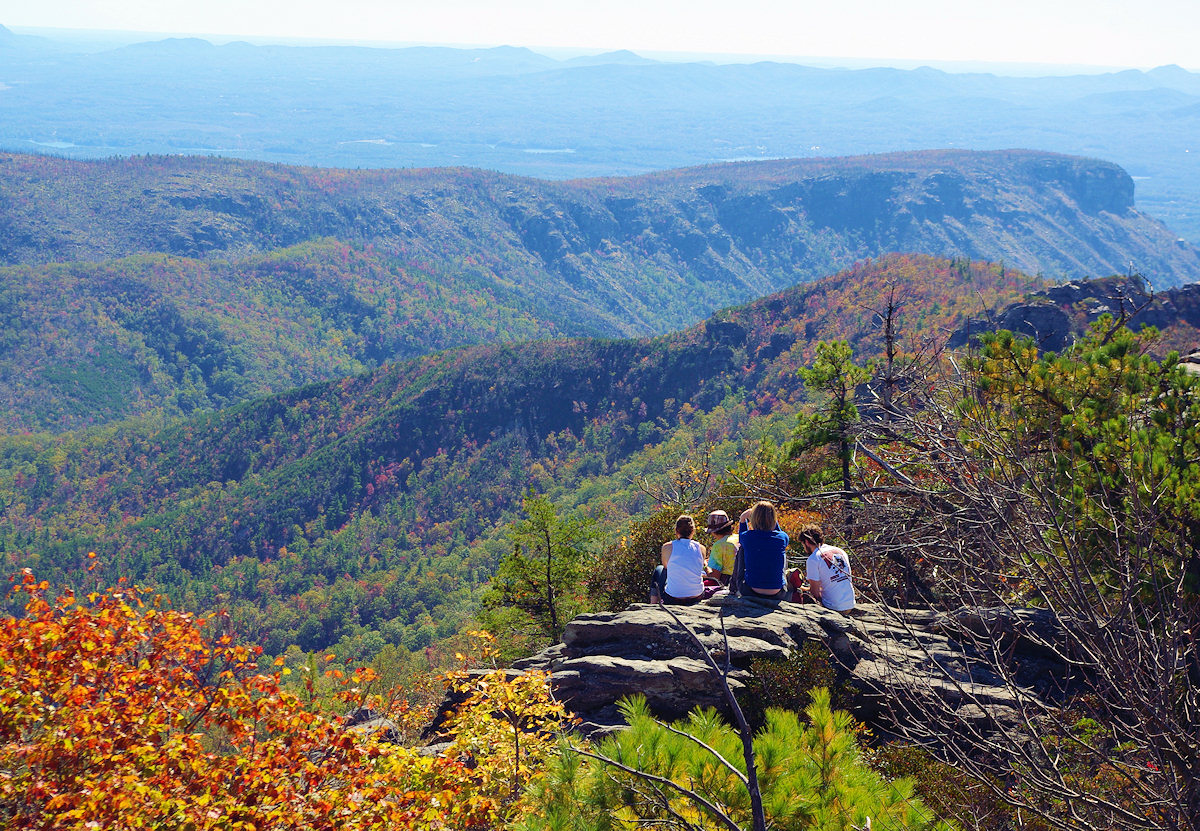 ---
18. Mt. Rushmore/Badlands, SD
Nab a luxurious mountain cabin and enjoy the BadLands and Mt. Rushmore in luxury and style while taking advantage of the horse rides, hiking and amazing history in the area. (photo from South Dakota Tourism)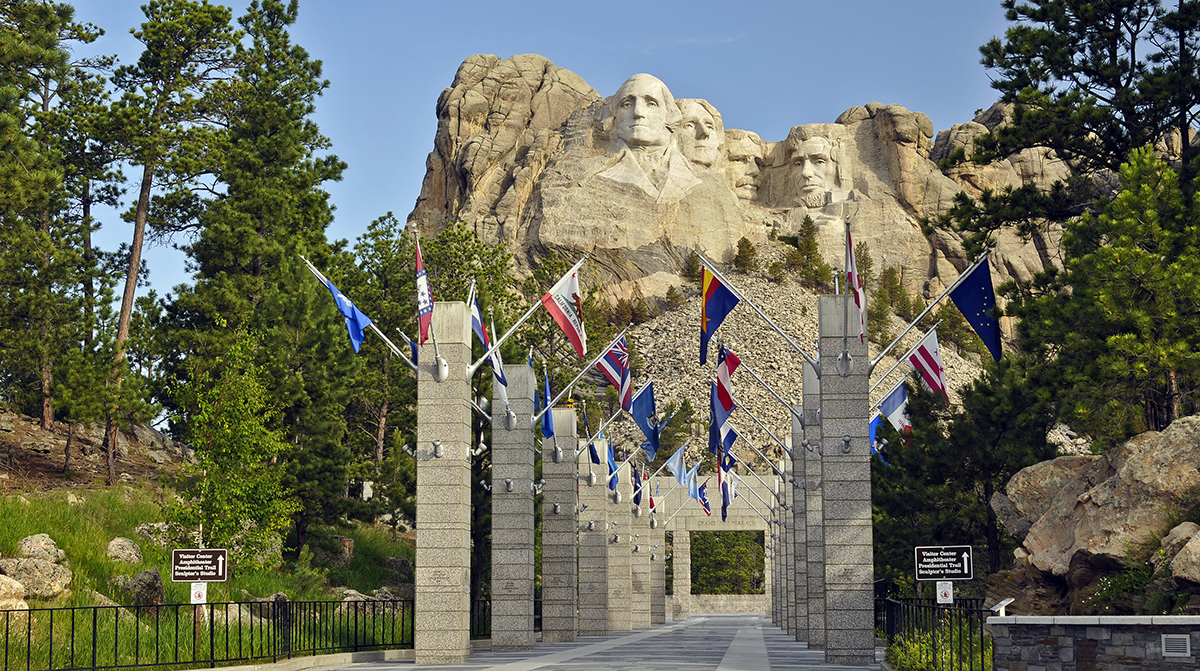 ---
19. Burlington, VT
Situated near Lake Champlain, the vibrant city of Burlington, VT is full of opportunities to get outside. In addition, it boasts an outdoor, walker friend shopping district. Don't miss the Dragon Boat festival in early August. (photo from Government of Vermont)
---
20. Portland, ME
With its spot right along the rugged sea, Portland is the perfect spot to stroll the harbor, climb rocky shores, explore historic lighthouses and then take in the arts and gastronomic offerings (hint: be sure to try a Lobster Roll here). (photo from Best Maine Vacation)
---
21. North Shore, Lake Superior,MN
Bask in the natural beauty that inspired the woeful Bob Dylan. The North Shore of Lake Superior offers up natural wonders galore. Be sure to take in Gooseberry Falls, birdwatch at Hawk Ridge and Split Rock Lighthouse. (photo from North Shore Fall Colors)
---
22. Santa Fe Foothills, NM
Nestled in the Sangre De Cristo mountains, the Sante Fe Foothills provide a unique Southwest experience. A stay at The Bishops Lodge, is simultaneously spa-like and action-packed. Its sports program includes horse-riding and outdoor adventure. (photo from Bishops Lodge)

---
23. Madeline Island, WI
Kayak through ancient geology on a sea kayaking and camping adventure right in the Midwest with an adventure to Madeline Island near Bayfield, Wisconsin. (photo from Northwest Passage)
---
24. Isle of Palms, SC
This barrier island of Isle of Palms, off the coast of South Carolina is sand and sun-filled. Stay at the Wild Dunes resort and enjoy biking, fishing, swimming and even sailing. (photo from Wild Dunes Resort)
---
25. Hocking Hills, OH
Unlike its flat surroundings, the Hocking Hills series of state parks boasts waterfalls, caverns and several other awe-inspiring rock formations alongside opportunities for camping, canoeing, hiking, horse-riding, and hunting. Cabins, cottages and hotels populate the area for all levels of luxury. (photo from Hocking Hills Tourism)
---