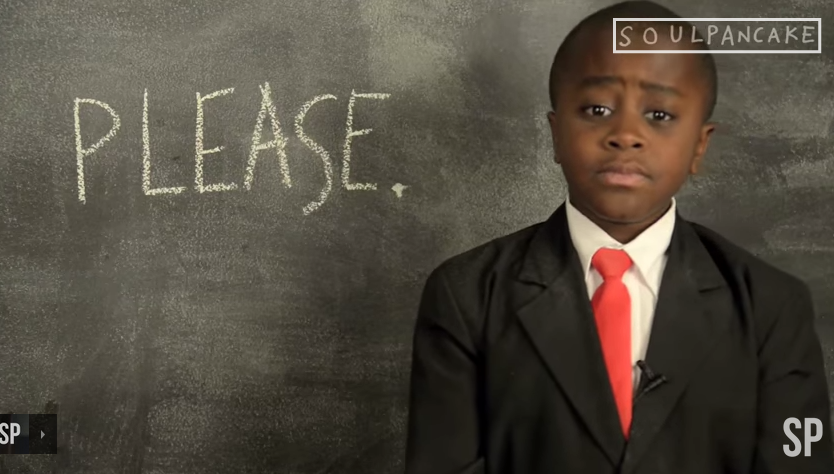 Kid President is one of my favorite young Youtubers. His uncle is the creative guy behind Soul Pancake (a very popular Youtube channel). But Kid President is the cutest and the things he says are always insightful and hilarious. He's the kind of kid you want to live next door and don't mind when he stops by for dinner again because he's so awesome.
This is one of my favorite Kid President videos. He's talking about things we should say more often. And he's so right. These are not just lessons for kids. These are for you and for me. Take a minute to rate yourself on how well you do on all 20 of these. Except maybe number 18. But maybe you do well on that too.
A few of my favorites:
20. Thank you.
19. Excuse me.
18. Here's a surprise corndog I bought you because you're my friend.
17. I'm sorry.
16. I forgive you.
14. I've got barbeque sauce on my shirt too. Before you say something about the barbeque sauce on your own shirt, take a look at the barbeque sauce on your own shirt.
13. Please.
6. Nothing. Sometimes that's the best thing you can say.
4. I disagree with you but I still like you as a person.
2. Life is tough but so are you.
1. Something nice. Anything. If you can't think of something nice to say you're not thinking hard enough.
Learn all 20 things you should say more often
[iframe width="725" height="408" src="https://www.youtube.com/embed/m5yCOSHeYn4?rel=0" frameborder="0" allowfullscreen]
He's the cutest, right? Did I mention he's got a book now? Go Kid President! (That's an affiliate link)